I love meeting all sorts of bloggers across the blogosphere.  From big homes to small cottages and everything in between, blogland has some beautiful homes out there to browse.  When I came across Cailan's shining spot on the web, Everyday Lovely, I was immediately drawn in to her beautiful photos and her simple elegance and the way she puts her home together.  She is a thrifter, like I am and aren't we drawn to those who share the same ideas we do about home and life and family?  Cailan has created a warm and hospitable home for her family of 5 out of vintage and thrifted finds and I think you will enjoy it as much as I do.  Cailan is my kind of girl!
Cailan shared with me via email that after all the hard work on putting her home together, that they have recently found out they are moving for a new job from Colorado to Iowa.  Hopefully, change will be good and they will be settled into another lovely home.
Say hello to Cailan, a pretty young mom of 3 (2 of them are twins).  You can imagine how busy Cailan must be.   A newly painted black door makes her home inviting.
Inside the front door, Cailan stenciled the inside of the coat closet and gave it some organization.  Isn't it fun how a simple stencil project like this can add so much to a lowly closet?   Oh, and she added old botanicals to the top of the closet too.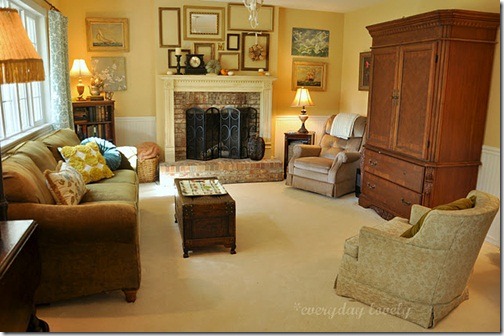 Their living room is cozy and inviting as well.  I love sharing real life smaller homes that live well and Cailan's is a great example.
She's added some of her vintage treasures to the mantel, along with old books.  You can never go wrong with decorating with books.
The dining room feels nostalgic too.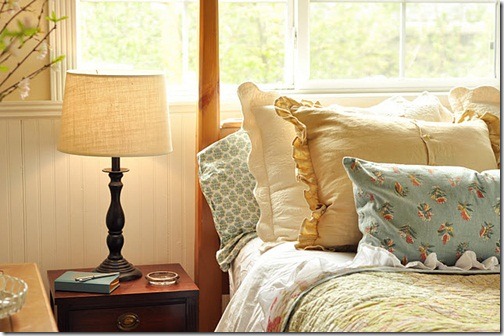 Master bedroom with cozy linens.
Cailan created this neat botanical wall too, above her beadboard and dresser.  Very pretty way to display old book plates.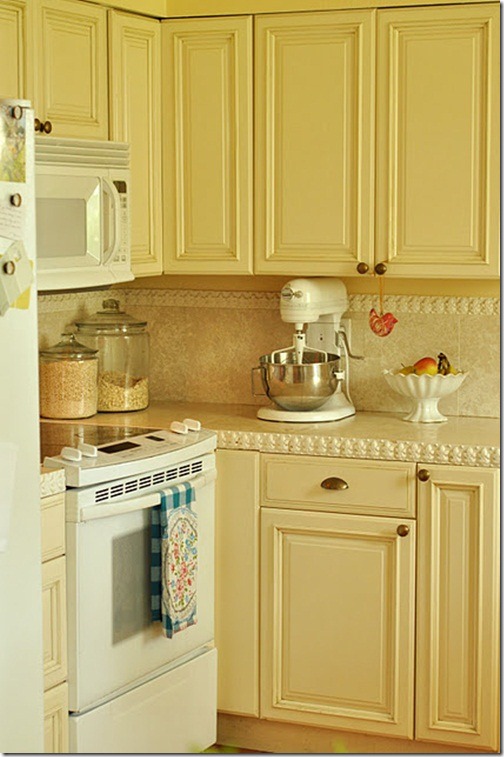 Love her kitchen with creamy white cabinets.
I totally adore the big fat lantern above this beautifully painted turquoise table.  You can totally mix things up these days and it works.  That is what I love about design style now. There is no right or wrong, but training your eye to mix things up, you can get a totally unique look using older furniture together.
She has twins, a boy and girl and they share this sweet room, done traditionally, but with vintage accents.  How cute is this?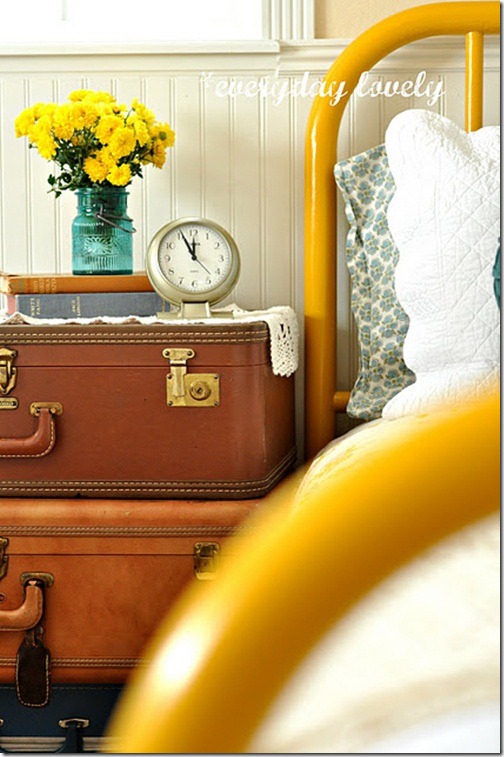 Cailan found this old iron bed out thrifting and recently painted it a glossy bright yellow for her son's room eventually.  She set it up for a photo shoot and boy, does it shine.
Isn't is sweetly pretty with the blue pillow on the bed?
The flowers add a wonderful touch too.
Thanks for stopping by for today's Feature Friday!  I hope that I've introduced you to yet another fun and inspiring blogger.  Be sure to stop by and say hello to Cailan, tell her I sent you, and browse Everyday Lovely.
Her blog certainly lives up to its name!
Happy Friday!  I'm heading back up to a lovely spot myself this weekend, back to Angela's beautiful Waynesville cottage that I shared with you a few months ago.  I'm taking a couple of my girlfriends for some R&R time in the NC mountains.  You can be sure I'll come back newly inspired!
Don't Miss a Post, join my list!