Oh, you are in for another treat today.  I say that almost every week, don't I?  But really, really I'm serious on this one!  Meet Lisa, of Lee's Hideaway.  She lives on 4 acres in a beautiful white 1960's Colonial farmhouse that's been completely renovated (I know, I'm jealous too!).  I loved her story of growing up in the Bronx, NY and she had always wanted to live in the country, in a farmhouse.  The way she and her hubby found this farmhouse is just amazing.  It was meant to be!
Lisa is a girl in love with the South, even though she lives in Bucks County, PA.  When you take a look at her farmhouse, you would swear it has to be somewhere down South, but it's not.  That just goes to show that Southern style can happen in any state in the country.
Lisa dreamed big dreams as a young girl and was obsessed with the South, especially Gone With The Wind. She dreamed of a house like Tara that she could live and nest in.  Her dreams finally came true and she and her hubby found this beauty and completely renovated it top to bottom.  You can read Lisa's story here, it's so sweet and inspiring!
They added the front porch a few years after moving in and it looks like it's always been there.  What a beautiful porch this is and yes, so Southern!
Do you spot the pretty blue ceiling? I think I have to do this on my back porch too.
They even have a barn.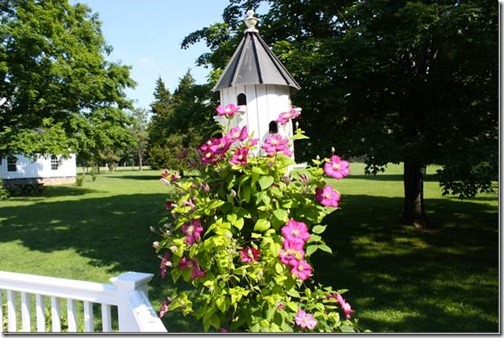 And apparently both have prolific green thumbs, judging from all the beauties that are blooming around their place, like this clematis.
And these exploding with color hydrangeas.  Oh my, isn't this pretty?
Lisa tells me these are David Austin roses, but all I know is they are gorgeous!
I imagine the scents must be amazing too.
This beautiful arbor is covered in roses and check out how green the grass is.
Even Wisteria is growing and that is so Southern too.
Barn and chair outside, I can imagine an outdoor party out here.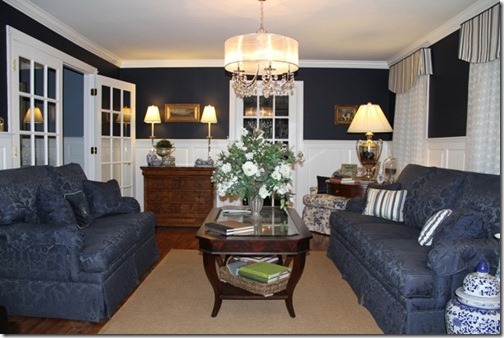 Let's go inside now, shall we?  Lisa loves blue and you'll see lots of that around her house.  She's also a big time fan of Mary Carol Garrity and talks about meeting her here.  Love this story too, she has all Mary Carol's books (I have 2 of them!) and can understand why she is a huge fan of Nell Hill's style, Mary Carol's shop.
Family room is cozy in deep blue, Twilight Blue by Nell Hill.
Dining room is another shade of blue.
Lisa's home is so cozy and welcoming and I'm sure you can feel that in this pics.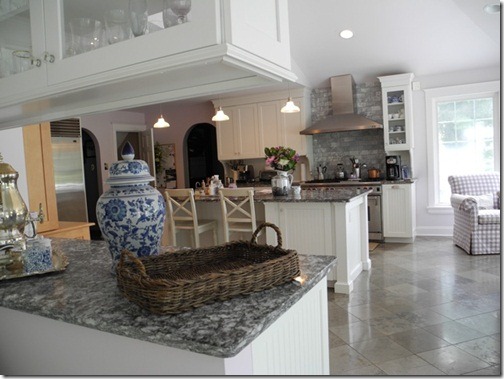 Her beautiful kitchen is a sight to behold.
Check out the view out that back window.
Large and spacious, it has all the bells and whistles.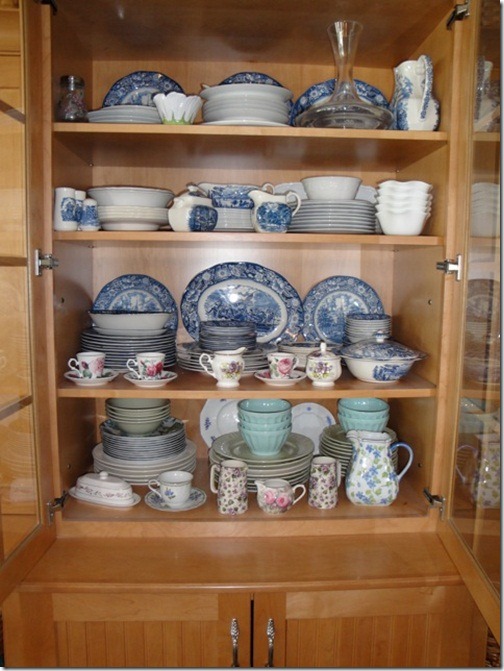 Including a built in hutch that might be a piece of furniture.
Master bedroom is lovely.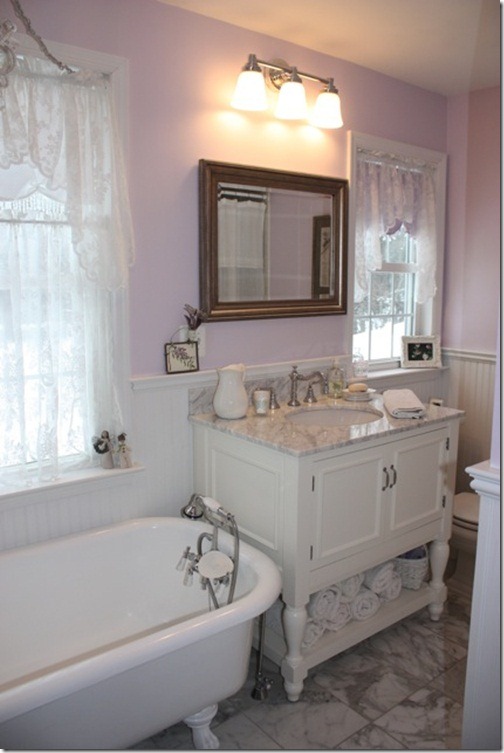 As is the master bath.  I love the vanity and that marble floor.  Oh and the clawfoot tub too!  See, I told you that you would love this farmhouse, am I right?
The study is warm and cozy as well.  I love the Southern feel Lisa has accomplished in her house, it really is so pretty.
The guest bath is equally  pretty.
Let's not forget the back patio, it is a party space waiting to happen.
With 4 acres, they have a big backyard.
And it snows in Bucks County.  This looks like a postcard.
Sigh.
Who wants to live in a farmhouse in the country now?
I hope you enjoyed Lisa's beautiful, beautiful home in PA.  Truly a lovely spot on earth to call home and put down roots.  I love Lisa's writing and how she expresses herself and hope you'll go on over to her blog and say hello. I know she would love to hear from all of you!
Don't Miss a Post, join my list!