Some girls just know their style and stick with it.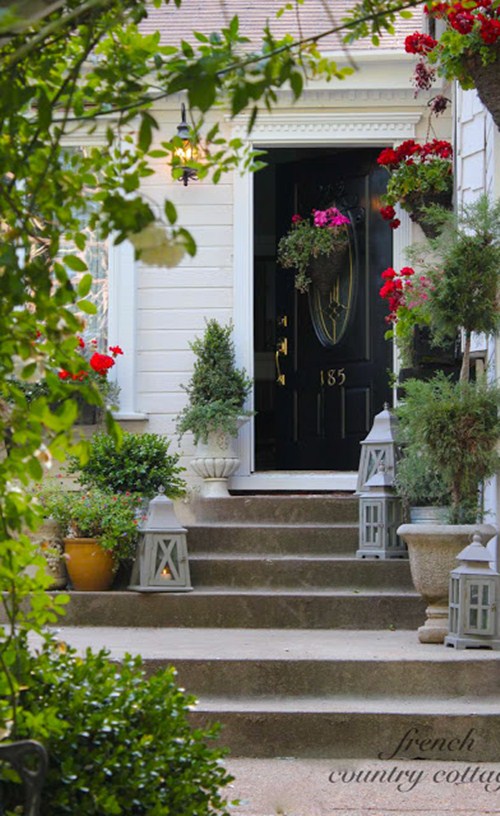 Born and bred California girl, Courtney, from French Country Cottage, is one of those talented gals who definitely knows her style and how to achieve it and her beautiful blog is full of inspiring pics of her house and how she puts it all together.  She's a great photographer too and her pics look like they're out of a magazine.  Romantic, cottage, French country, that's Courtney's style, so if that's the way you lean too, you'll love today's feature.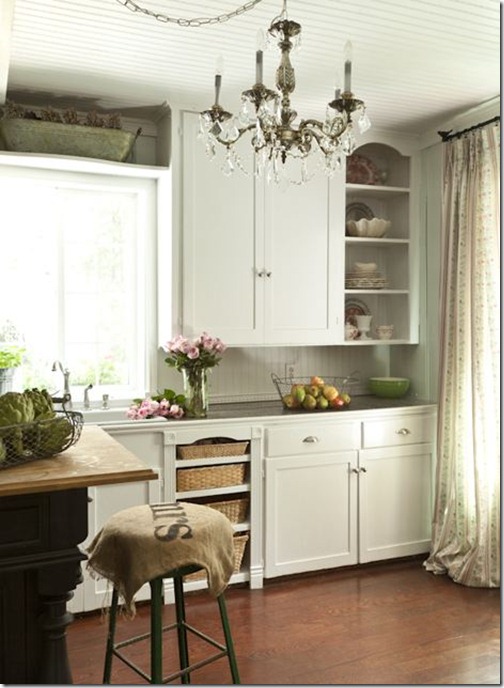 Courtney is a stay at home mom to three young adult children and she says she is a day-dreamer.  She and her hubby took an old neglected vacation home and turned it into their dream home with a lot of blood, sweat, and tears.  I can relate to that one!
Starting in the kitchen, Courtney has really personalized her spaces, making it just the way she wants it and I love the relaxed, down-home feel of Courtney's home.  It just feels welcoming.
Plates on the wall, wainscoting, and beadboard are in abundance at Courtney's house.  She loves old and vintage things and I love her pics, they are so pretty.  You could just get lost in them.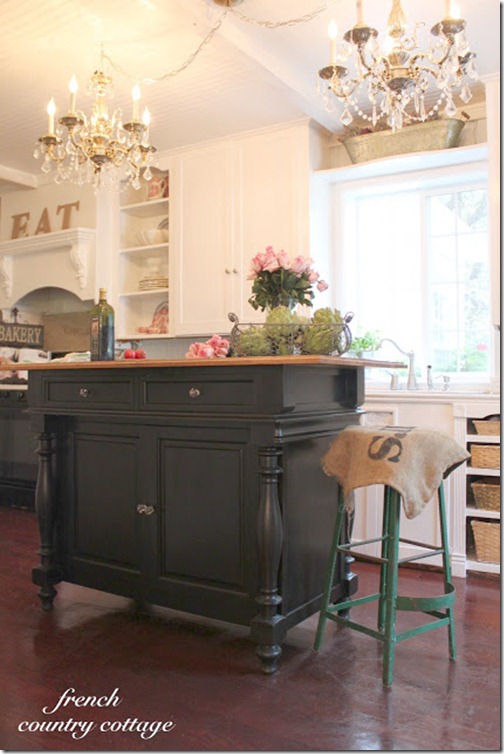 A free-standing island in the kitchen is so pretty.  I love her Shaker style white cabinets too.
Check out the beadboard ceiling, always a fave way to bring charm to a room.  Those blingy chandeliers help in that area too!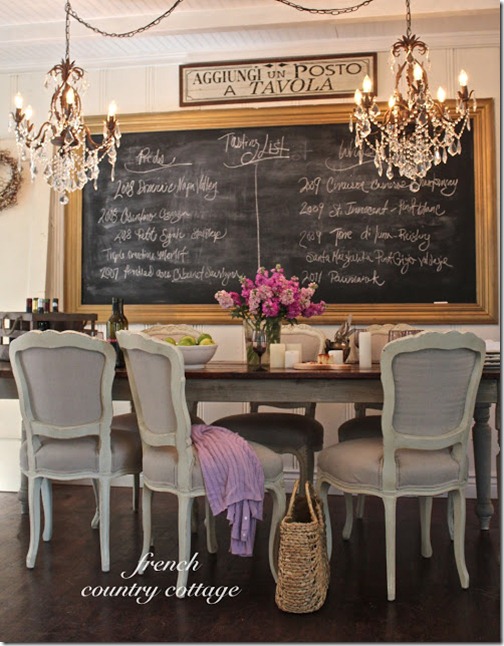 The dining room is equally charming with the large chalkboard, French chairs, rustic table and those beautiful crystal chandeliers.  What a pretty space to dine.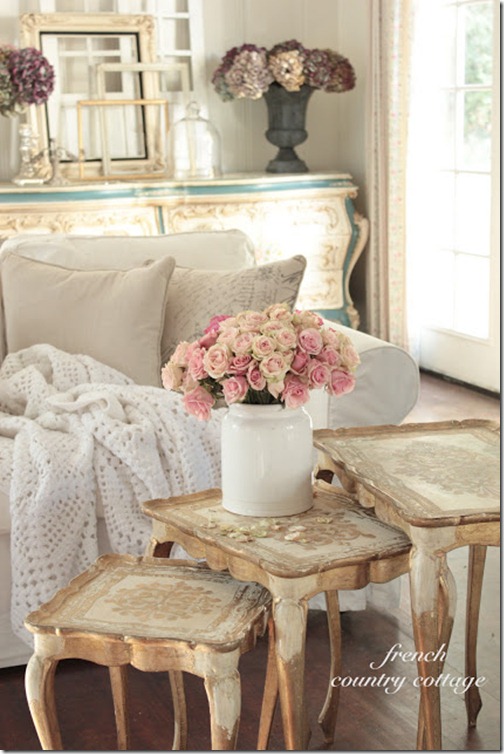 Courtney loves to bring in fresh flowers to her space, with faves being roses and hydrangeas.  They look right at home at her house.  I love those Italian nesting tables.
Courtney's master bedroom is so cozy and pretty. I love, love that high ceiling with the beams. Charm times 100!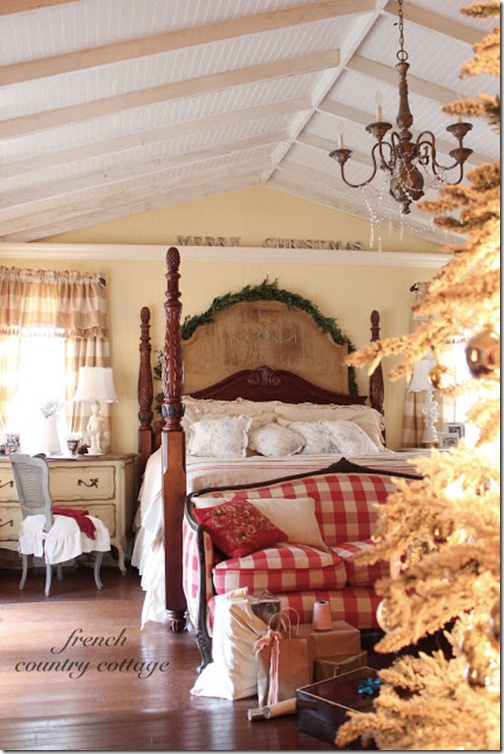 A closer look at the bed, during Christmas season.  I spy a tree in the room.
The master bath is just what you'd expect in a charming home like this.  Beautiful  and romantic.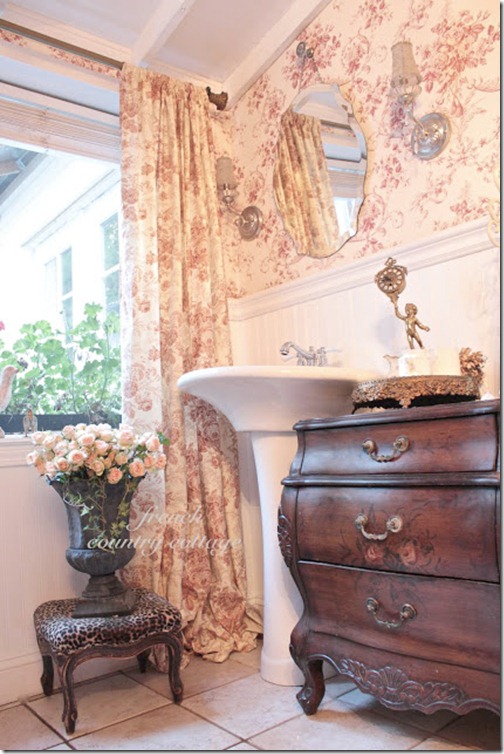 I have always loved toile, even though I'm not using it at the moment. There was a time I had it in my house too and it is always pretty and romantic.
More roses and pretty vignette on the fireplace.
Courtney even has a guest cottage that is sweet as can be. They renovated this kitchen for about $800 and it is so adorable.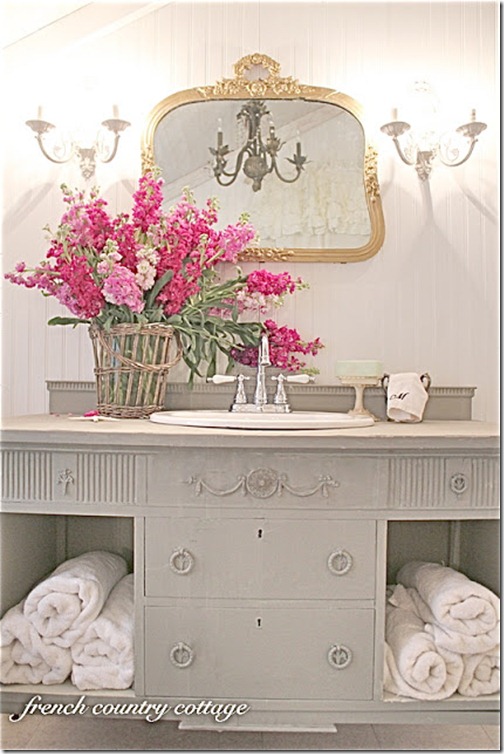 More form the guest cottage bathroom.  I love this piece.
She has a thing for white dishes too, what a great collection.
Moving to the outdoors, Courtney and her hubs completed this project last year. She's also on the Lowes blogger team with me and it's been fun watching the things she does around her house too.  We are worker bees, we are.  I love this newly renovated fireplace that looks like it's a 100 years old.
What a gorgeous spot to sit outside and relax.
Courtney's home is truly inspiring and beautiful and I hope you enjoyed the peek inside today.  You should go over and say hello, I know she would love to meet you all!
Don't Miss a Post, join my list!