Have I mentioned lately that I love my job?  I know I've said it a hundred times, but I really, really love my job. I feel so fortunate and blessed to be doing what I love and to partner with brands and companies and sharing with all of you, my dear readers!  Last year, I worked with GMC on the Hidden Treasure adventure and several bloggers and I headed out on the Longest Yardsale to hunt down furniture and accessories to make over a Habitat for Humanity house. Truly, a wonderful adventure and experience for me as a blogger.  I loved it so much and it was such a fulfilling opportunity to help a family move into their new house.
So, we were all invited by GMC last week to meet up in Orlando, FL and drive their brand new 2017 Acadia cars (SUV's if you will) over to Merritt Island to tour the HGTV Dream Home that has just been given away for this year.  I've had the pleasure of touring several HGTV dream homes and smart homes and it is always a treat, so of course I couldn't wait for this trip. It was short and sweet and we only spent one night in Orlando and home the next day, but way fun it was to meet up with my fellow bloggers once again.  They invited many from the Hidden Treasure adventures of previous years and there were over 20 of us.
I won't try to name everyone in this picture, but it was so fun to see many of my blog friends and to meet some new ones as well.  The folks at GMC are wonderful to work with and it is always a pleasure to see them too.
We stayed at a beautiful hotel near downtown Orlando called the Castle and it was magical.
Looks just like a castle and the inside was very luxurious and modern.  We were queens for a day!
We all met had dinner that night on site at the hotel in a large space and it was so pretty.  Orchids and plants everywhere!
Loved this rustic from idea of hanging plants on the walls. These were all over the room.
We had noticed the big ferris wheel when we got to the hotel, called the Orlando Eye and it was very near our place.  At dusk the lights came on and we saw it from where we were having dinner.
The GMC folks rounded up all of us who wanted to ride and we walked over to check it out and it was around 9:30 at night.
It's not a thrilling ferris wheel ride, but it was fun to be up so high and get a view like this.  Very pretty from above the city!
The next morning, we all paired up in brand new GMC Acadia vehicles and took off to the HGTV Dream Home in Merritt Island, FL.  My partner was the cute Abby, from Just a Girl and Her Blog. She's a sweetie and we had fun chatting about blogging.
There was a whole lineup of cars waiting for us and I chose the Acadia Denali to drive.  These are really nice cars with impressive features like onboard wifi, usb ports in all the rows, cause you know bloggers need that sort of connectivity with devices. We are always charging something!
Not only are they pretty, but they have great safety features too with onboard cameras, you can see where you're backing up, which would come in handy for me.  They also have Lane Departure Warnings, in case you veer over to another lane and don't realize it. Lot of bells and whistles on these beautiful vehicles.  Oh, and the hands free power lift gate was another impressive feature.
It was just over an hour drive and we arrived at the house and down this driveway to wait for everyone else to arrive, so we could all go in together.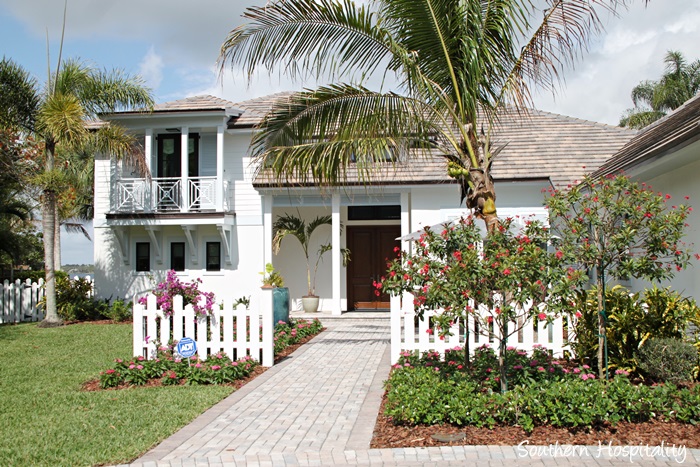 The exterior of the house is so pretty and so Florida.  This is the first time in 20 years of dream homes that HGTV has renovated a house and this one turned out gorgeous.  I've got a lot of pics to share, so I'm going to split this into 2 posts.
The landscaping was perfection with all the tropical flowers and plants.
Love that walkway too and those double doors are beautiful.
Love the details on that little balcony above too.
Wait til you see the back, it sits on the water with a beautiful dock of their own. This house has already been given away and we were fortunate to get to see it before it's officially handed over to the winner.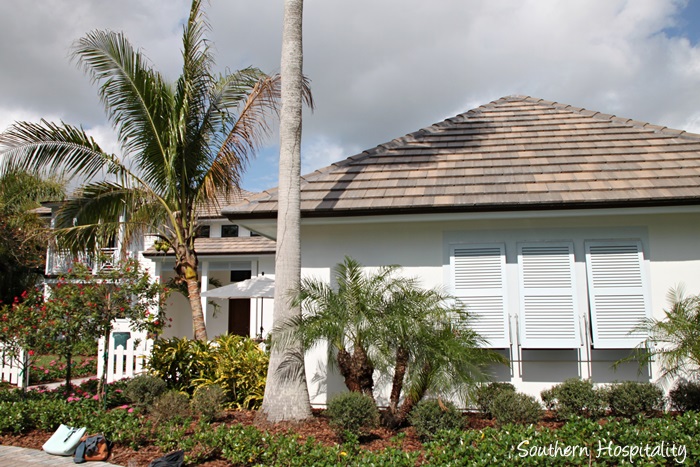 Front side of the house.
Out back, there is a nice covered patio with a pool right off it.  And that water view, oh man is that pretty!
Covered patio with seating and grill area.
This is a gorgeous tile floor too, very rustic and textural.
This space would just be a dream to have in your backyard, wouldn't it?  And that's why they call it a Dream House!
Lots of great looking comfy seating out here on the open patio.
And the private dock just for this house, how nice is that?
Back side of the house.
Another look at the seating area on the patio.
Even Fido has his own little doghouse!
Impressive bank of doors across the back of the house. I'm really liking the trend of dark doors on houses these days.
Once we got to the front of the house and got ready to go in, we had a surprise awaiting us.  Brian Patrick Flynn, the designer of the house interiors, joined us for the tour and answered all our questions about the house.  He is such a funny guy and lives in Atlanta, so I've gotten to know him a bit from running into him at different events.  Always fun to talk to Brian!
Inside the foyer of the house.
Cute little console table in the foyer.
A shot of the great room and kitchen from above.  The flooring is a light colored wood and Brian said it came from Lumber Liquidators. It was really pretty in this setting.
The house had a very open concept with living, dining, and kitchen all open to each other and an expanse of windows and doors across the back of the house for maximum water views.
This lighting was very impressive and perfect in the space.
A large mural of surfers was on the wall, which was pretty appropriate for the area too. Cocoa Beach isn't far and is known for surfing.
Different angle of the living room.
Just behind the living room was the kitchen and it was equally gorgeous.
A free standing island with 4 bar stools separated it from the living room.
Ebony lower cabinets mixed well with the white upper cabinets and a beautiful quartz was on the countertops.  The marble basketweave backsplash added just the right punch.
Sink on the island.
Another look at the cabinets.
Stove and hood.
Just off the foyer is the dining area.
Simple and clean, it had a modern feel. I loved those light fixtures too.
Modern art on the wall adds a lot of impact.
A small study/TV room off the main living area provides a punch of color with plenty of seating for lounging and watching TV.
This was a colorful and happy space.

TV cabinet for storing away necessities.
I'll be back soon to share Part 2 of the HGTV Dream Home with you and we'll look at all the bedrooms and the rest of the house.
Thanks to GMC for sponsoring the bloggers tour of the house, it was such a fun trip!
Don't Miss a Post, join my list!