As promised, I'm back with the inspiring tour of the HGTV Green Home in Serenbe, GA.  What a wonderful visit it was, I came away totally inspired and loved every minute of my visit to this inspiring countryside south of  downtown Atlanta.
There was an official ribbon cutting to officially open the house for public tours and you can visit from now until June 24th.  If you get a chance to go, please do it!  You'll love Serenbe and this house.  There is also a brand new Bosch Experience Center, an educational showroom, as well as a Bosch Net Zero home next door, meaning that all power is created by the home itself and get this, it's decorated by Ballard Designs.  Cool, huh?  One of the top gals at Ballard's lives in Serenbe, I hear. I didn't get to see the Ballard's house, but I sure would love to. I'll just have to go back, right?!
Serenbe founders, Steve and Marie Nygren and their family were there for the ribbon cutting, along with Jack Thomasson, who did the honors with the shears.
I got to speak with the master planner, Jack Thomasson, as well as the interior designer, Linda Woodrum. They have been working with this HGTV Green project for years and their attention to detail is amazing.  It's traditional, modern and everything in between.  Using vintage and reclaimed items, Linda has mixed it up with skill and it was a treat for the eyes.
The articles I read said the house has a farmhouse feel with a modern feel.  You can see the bottom is stacked stone and the top glass and siding.
It does have a much more contemporary feel to me than traditional.  Inside it's a mix.
Coming in the front door.
Interior Designer, Linda Woodrum, who did an amazing job of warming up this home and adding all the wonderful details.  We all know the details are so important in the decor of a home.
Small foyer area on the lower level.
Foyer table.
Going up the first flight of stairs to the main living area.  Fancy that mirror hanging there.  You don't normally see that done, but it does open up the space.
Hardwood floors and stair treads.  The floors are handscraped and beautiful engineered wood floors.
Shaw Floors Broadmoor handscraped engineered hardwood flooring in Warm Sienna and 3 plank sizes (which is how this flooring is sold) is all through the Green Home and I fell in love with this floor.  Love the 3 widths of 3″, 5″, and 7″.  I'm working with the folks at Shaw and they are offering me a very nice discount on getting these floors in my new house, so I'm pretty sure this is what I'll go with.
Dining table out of reclaimed wood.
You'll see lots of vintage items used throughout, like those lamps there on the console table.
The kitchen is ultra modern.
Countertops are a mix of concrete and shells.  They were definitely not like anything I've seen before.  Very glossy and smooth.
Pretty travertine tiles (I think).
Builder/planner, Jack Thomasson.
Sleek stained cabinetry in the kitchen.
Lots of glass tiles used in this house too.
Ceiling detail.
Living room is a mix of modern and traditional and I liked the neutrals with a pop of color.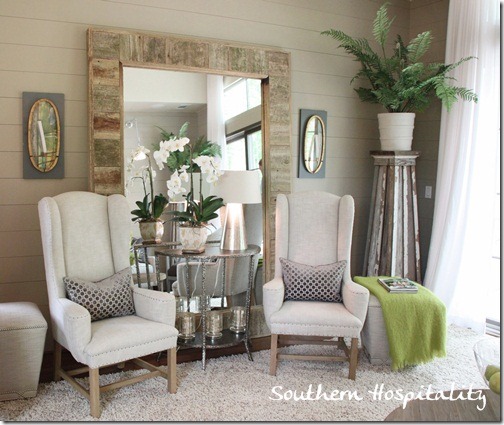 That mirror is made out of old fence slats.  Loved it!
The artwork over the sofa really makes the room comes alive.
Outdoor seating area.  This home is all open to the outdoors, as this is a part of Serenbe living.
Master bedroom in soothing tones of blues and browns.
Striped walls on the wall, along with individually wrapped squares for a large headboard.
Shelves for storage.
Side table
Master bathroom is open and spacious. Sleek cabinets again with stained wood and lots of pretty tiles.
Tiled floor
Lots of pretty sleek tiles.
Sitting area of the master bedroom.
The hardwood planks were installed in several different widths, which really make the wood look old.
Mudroom going to the outside.
Mudroom closets
Den/sitting room is cozy in orange and browns.
For watching TV or relaxing.
Birch logs inside a lucite coffee table.
Pretty pillows.
More glass tile in the powder room.
The Georgia room is open on 2 sides to let in plenty of fresh air and light.  It's a covered porch and a useful space.
Sofa with plenty of pillows.
Vintage art is actually chicken feeders.  Thought this was a clever use for these large unique pieces.
Soaring ceilings.
More vintage items used as lamps.
Pretty corner with wicker.  All the rugs in here are from Shaw Floors as well.
The outdoor entertaining area is in the middle of the house and opens to both wings.  A wonderful use of space!
Hope you enjoyed Part 1!  It is a beautiful house and I enjoyed the tour so much.  Be sure to come back next week for Part 2, there's a whole other floor to show off.
Don't Miss a Post, join my list!