I visited this HGTV Smart Home in 2015, but it's worth another share, so enjoy this one again! I'm not going to as many events and homes as I used to, but it's been a fun journey doing it for all my blogging years.
*************************
It has been my pleasure to visit several HGTV homes over the course of my time blogging and this might be the 4th one I've visited in person.  The team that does these homes is amazing and I always come away with a new appreciate for design elements and new innovative ideas that you don't see everywhere else.  From the Dream home to the Smart home, HGTV's design team always knocks it out of the park.
It was a real treat to get to visit the HGTV Smart home in Austin, TX a couple of weeks ago.  I do have to pinch myself sometimes when I get to do fun trips like this and experience meeting so many great people.  This HGTV Smart home will be another giveaway project, so be sure to sign up for that (twice a day)!  Dubbed the Modern Farmhouse, the 2015 Smart home is quite impressive.  You can read all about the behind the scenes of this Smart home on that link too.
We also met the builder, Scott Turner, with Riverside Builders, in Austin.  The home is located in the city's historic Zilker Park neighborhood.
The house is very modern looking on the exterior with a little farmhouse feel.
Landscaping is kept to a minimum with lush sod and gravel pathways around the outside edge.
The large tree was left intact which adds a nice touch.
Inside the house is furnished with beautiful decor in a mix of modern and traditional.  I'm not going to narrate all these pics, since I took so many, but enjoy the tour!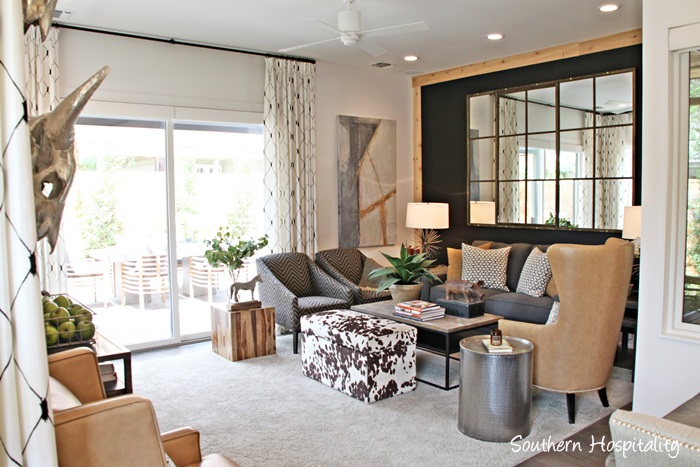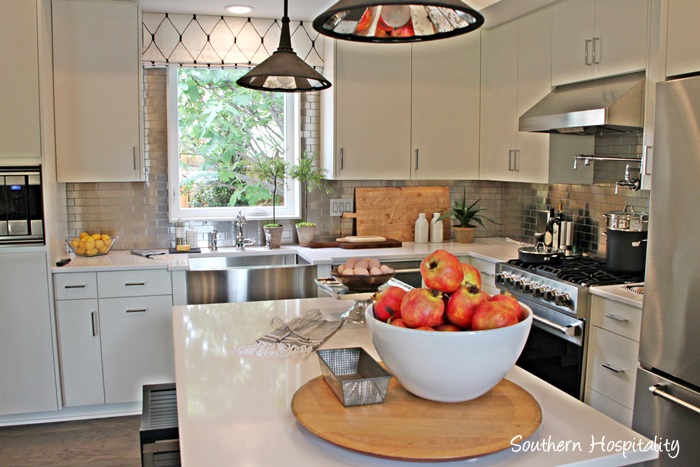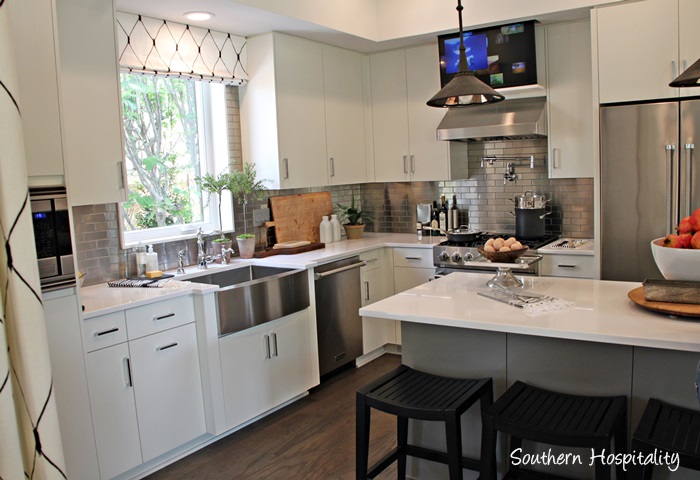 I did notice the backsplash is stainless subway tile, something I haven't seen before.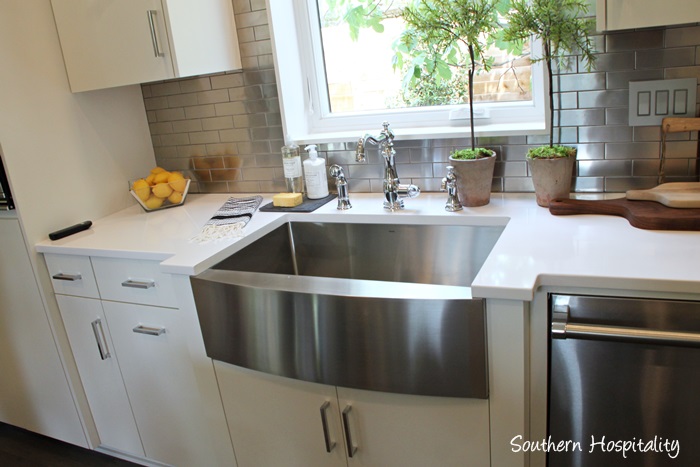 Guest bedroom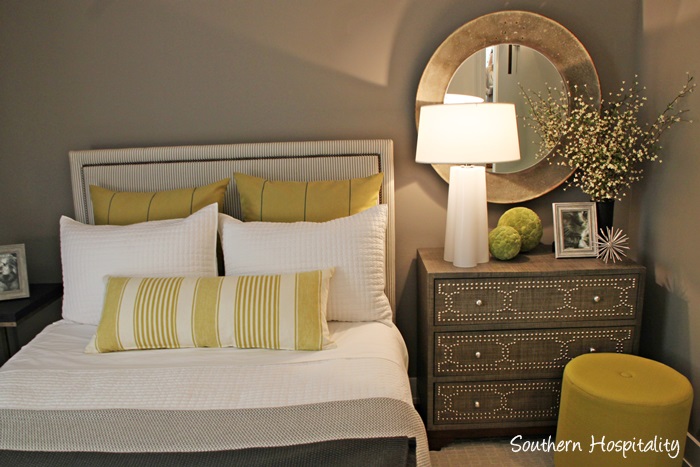 I did also notice that the shower materials are very similar to what my sister and brother-in-law did in their new shower and also similar to my friend Ruby's lake house shower, so it's nice to see them on-trend with a Smart home.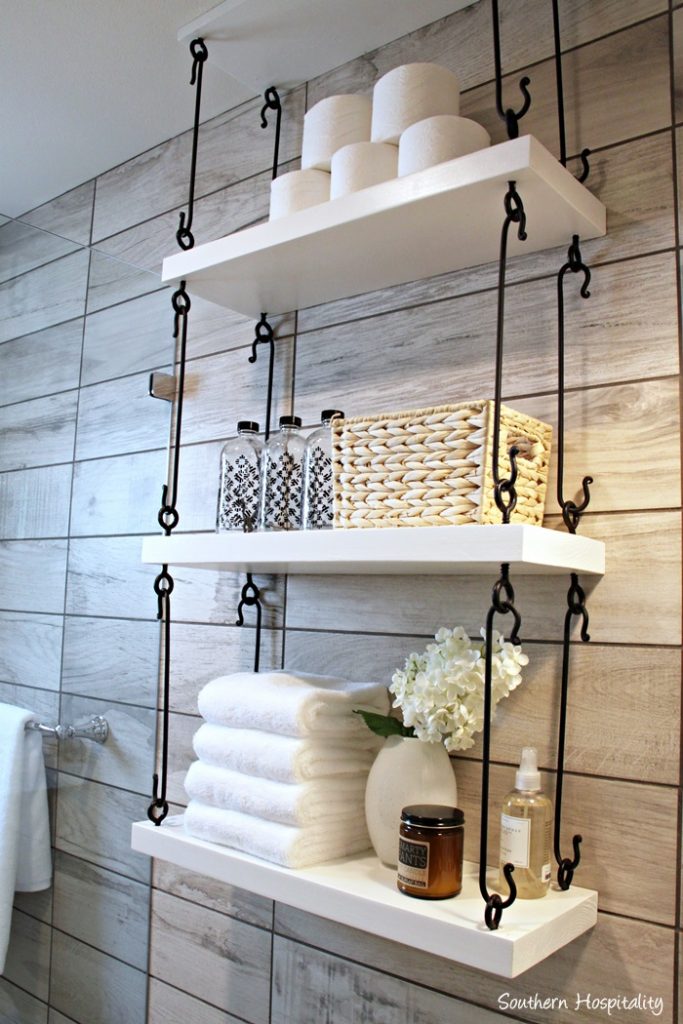 This idea really caught my eye and I love, love this hanging shelf in the bathroom.  Notice the walls are all tiled in this pretty rustic wood look tile. This hanging shelf was genius!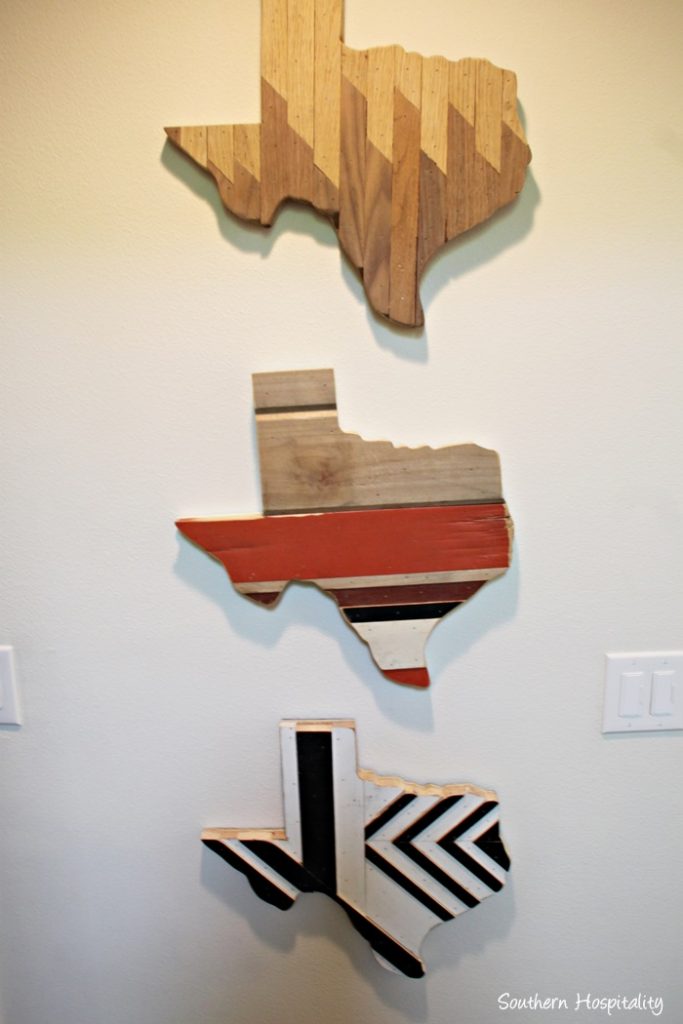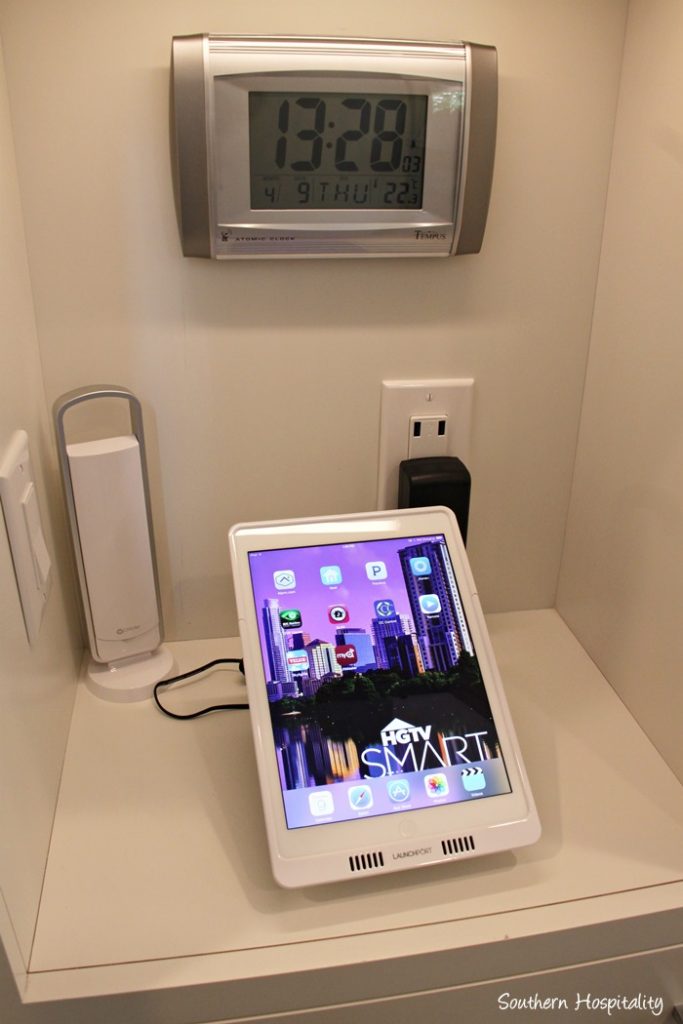 The Smart home is full of innovative ideas for homeowners.  It's a tech-savvy home with a combination of advanced green building practices and technological innovations.
Laundry nook is really cute.
The master bedroom suite was very spacious. Notice the addition of horizontal wood all around the room, creating a lot of interest and texture.  I loved this idea!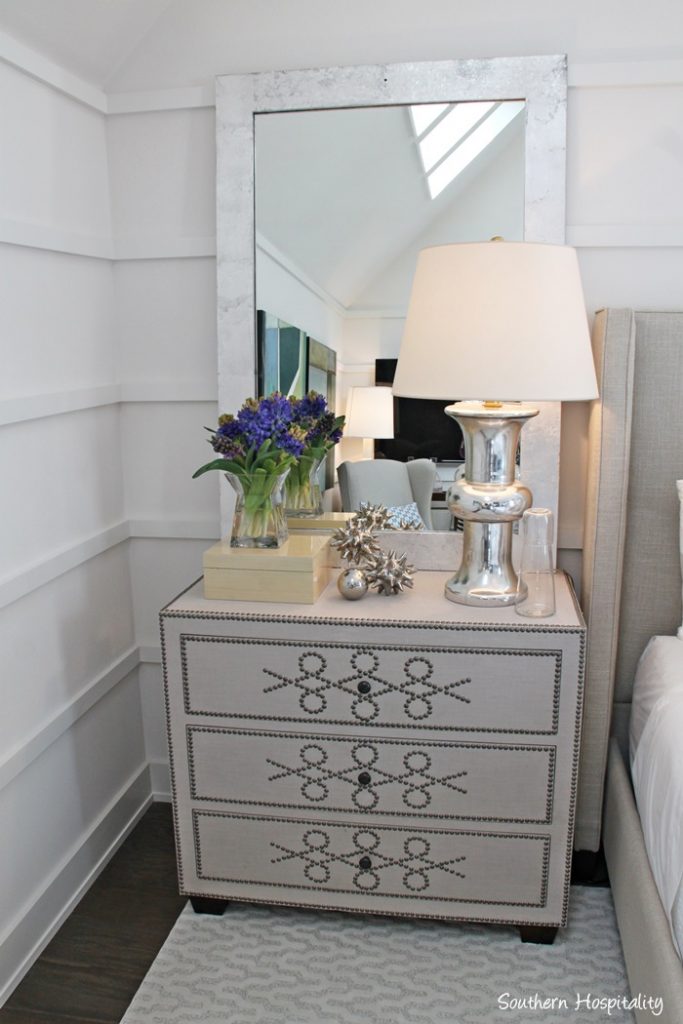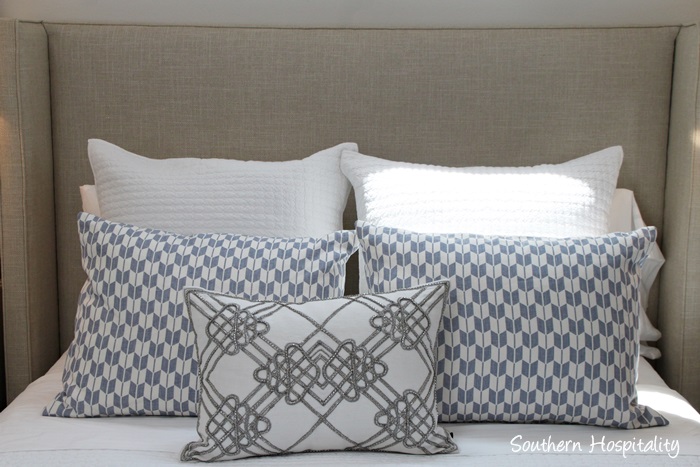 This remote controlled bar area was neat, to hide some things out of sight under the coffee maker.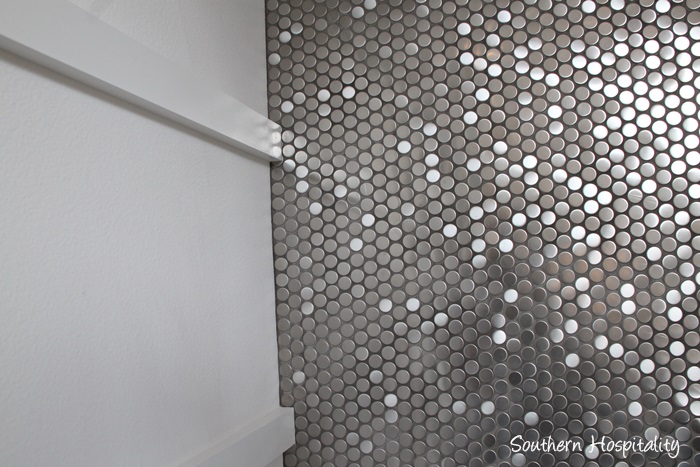 I think this was stainless penny tile and it really sparkled.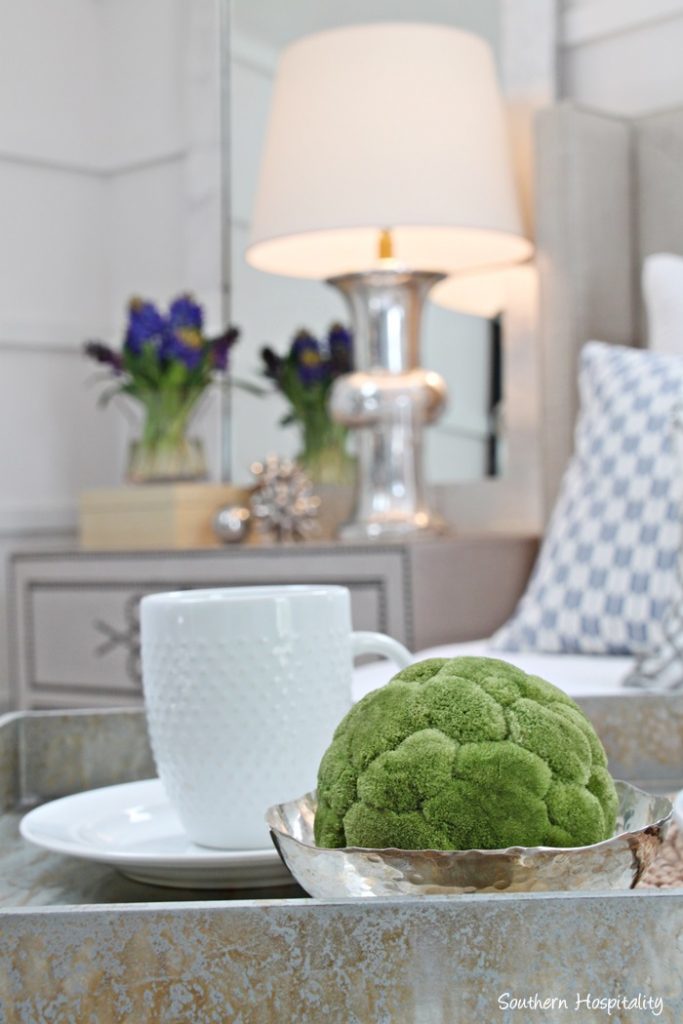 Skylights in the master bedroom were all on remotes, and shades covered them with the touch of a button to keep out light.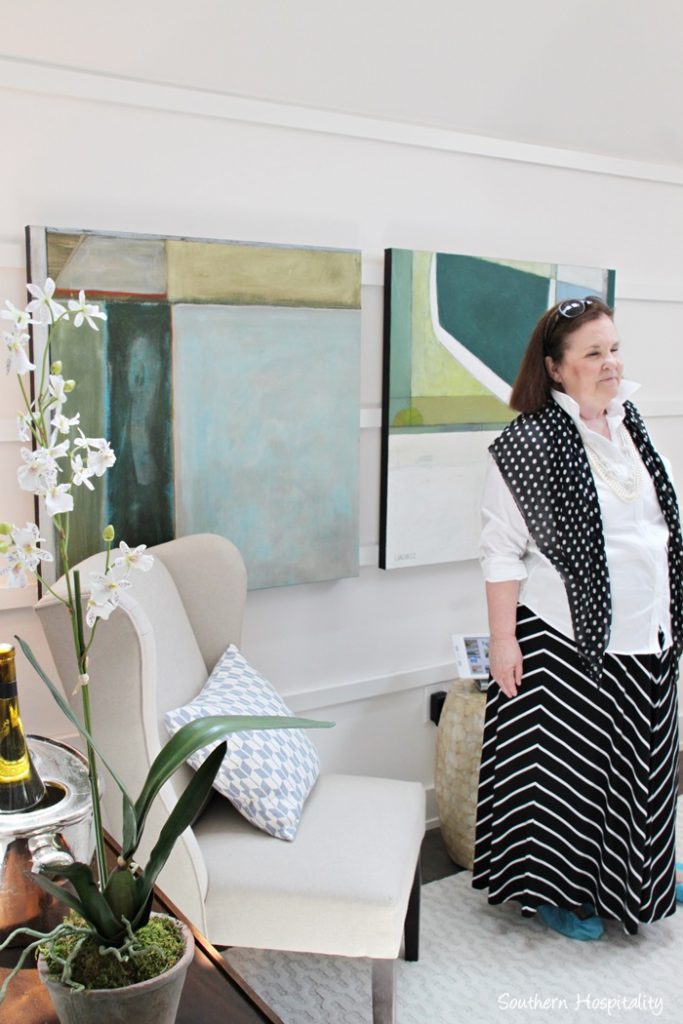 Linda Woodrum, HGTV's long running interior designer.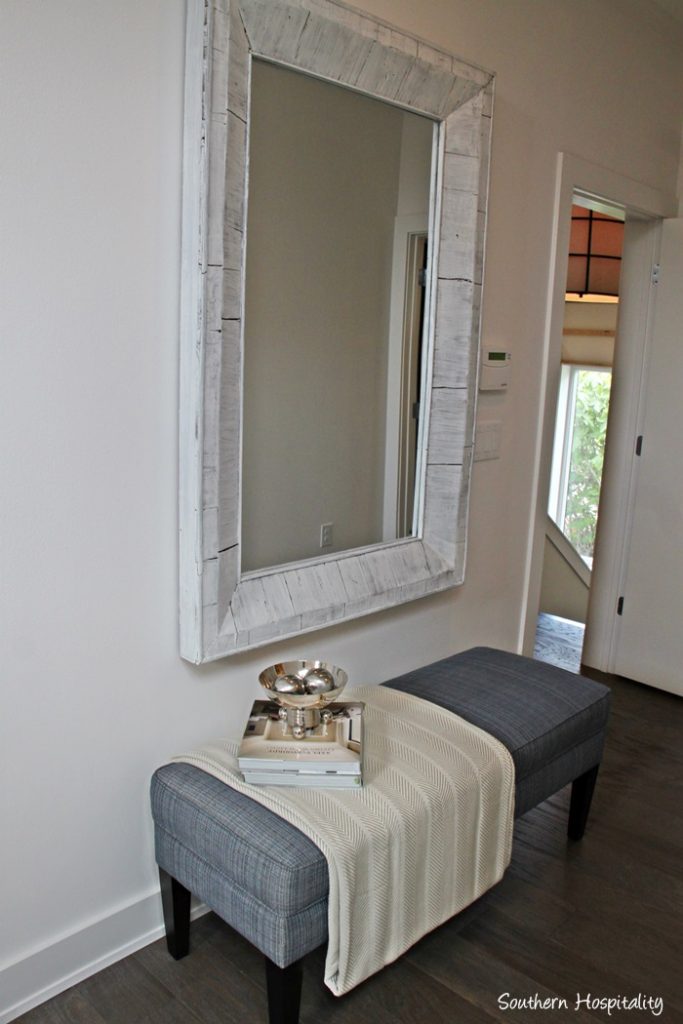 The master bathroom was equally luxurious and beautiful.
With a modern tub and shower, it had everything needed.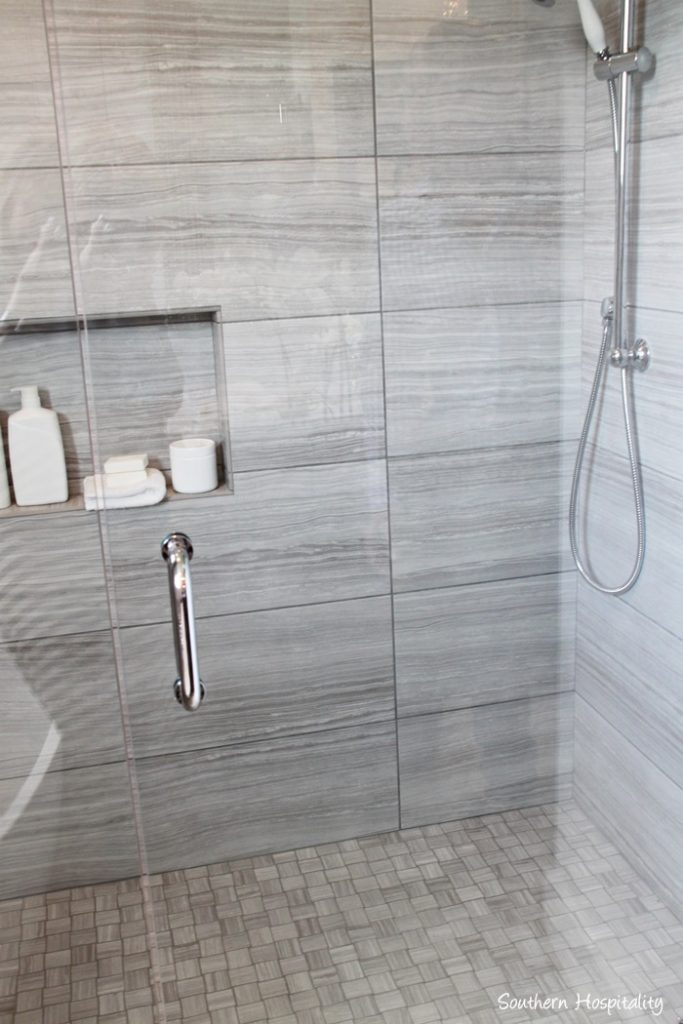 Stairs going up to the 2nd floor.
The upstairs bonus/TV room was beautiful and very large.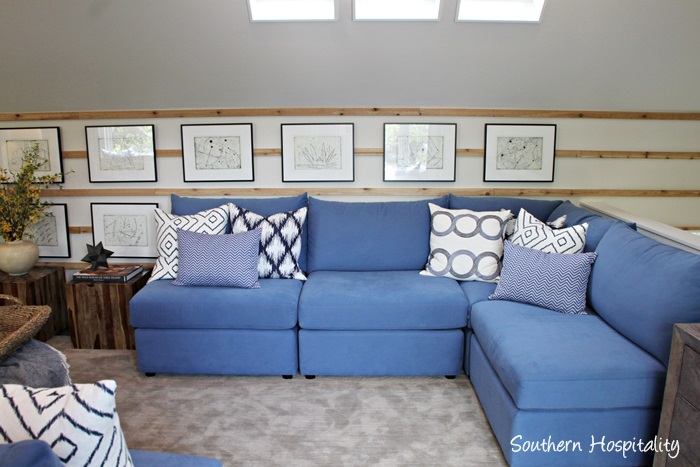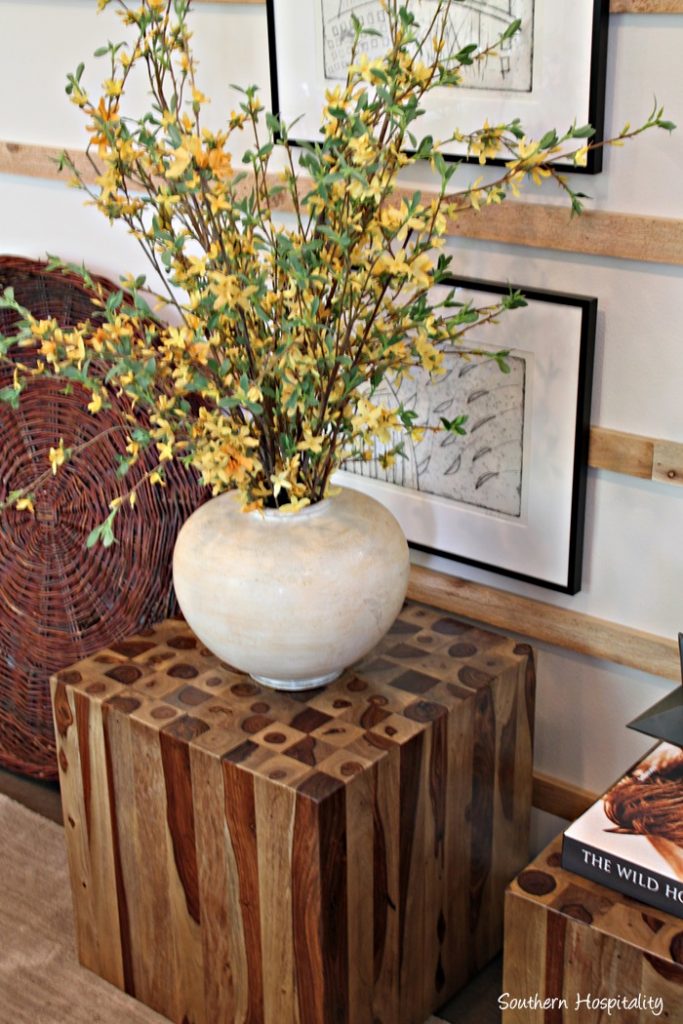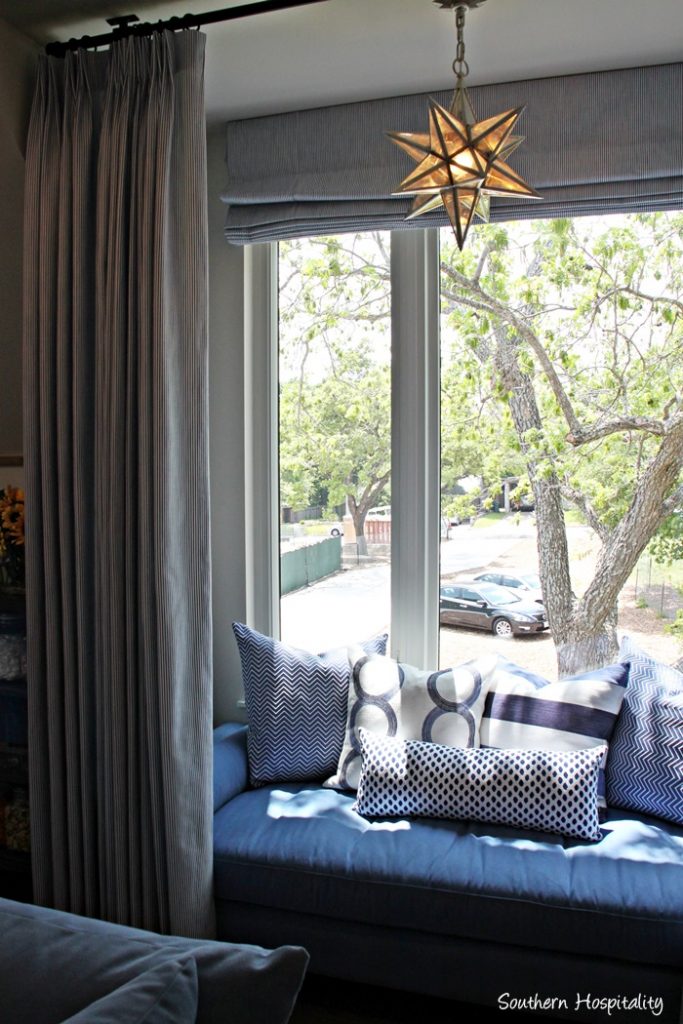 A children's room was set up with twin beds and bright colors.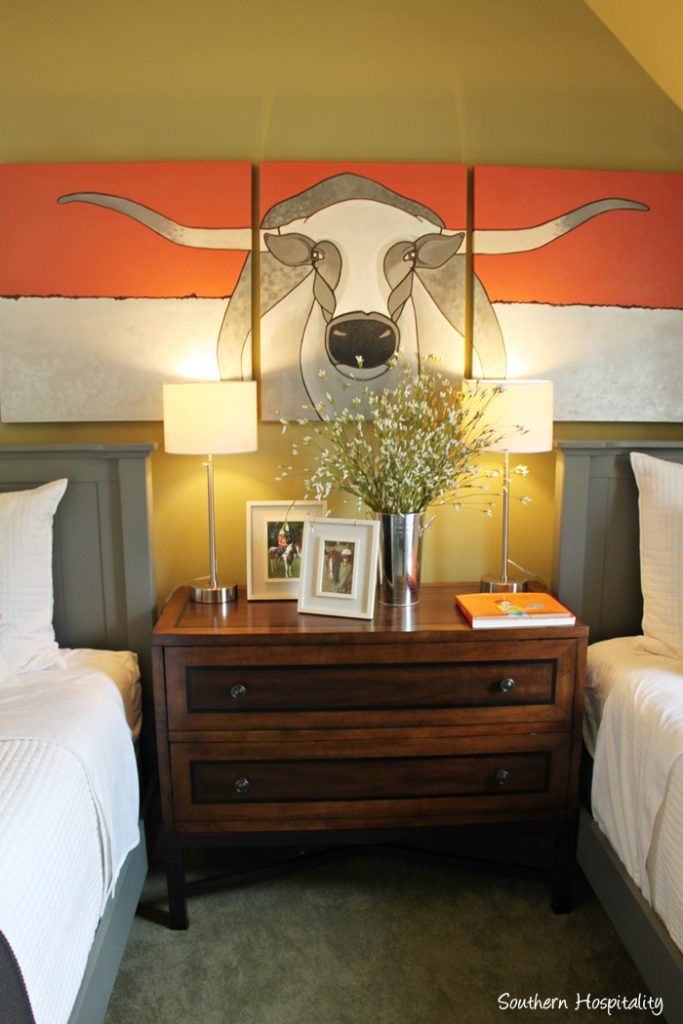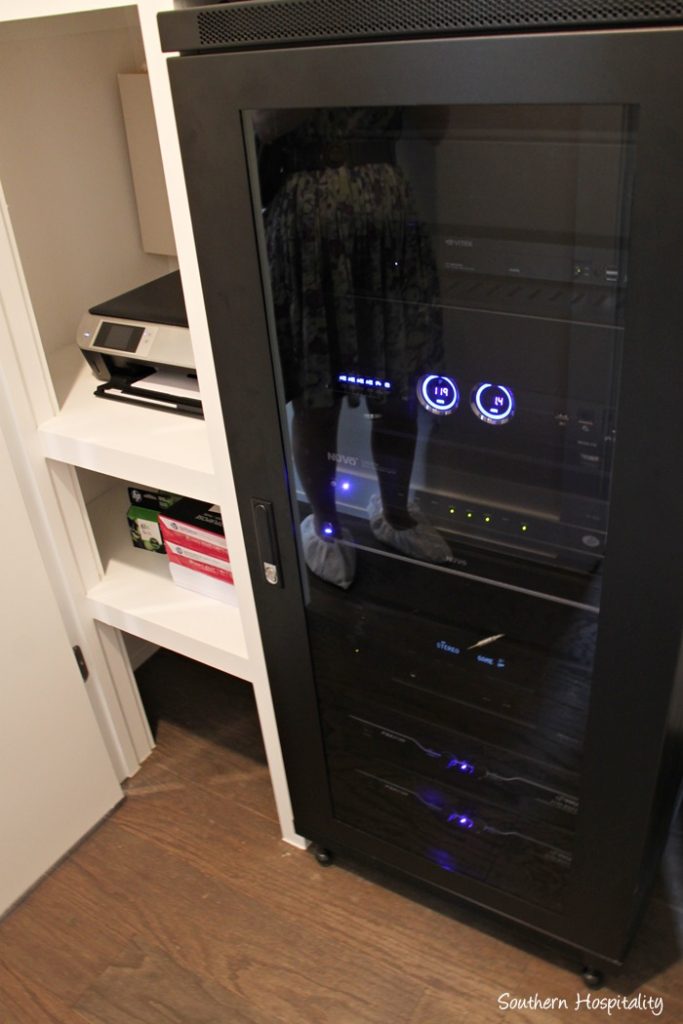 More smart features are hidden in a closet up stairs.
Looking down at the outside patio area.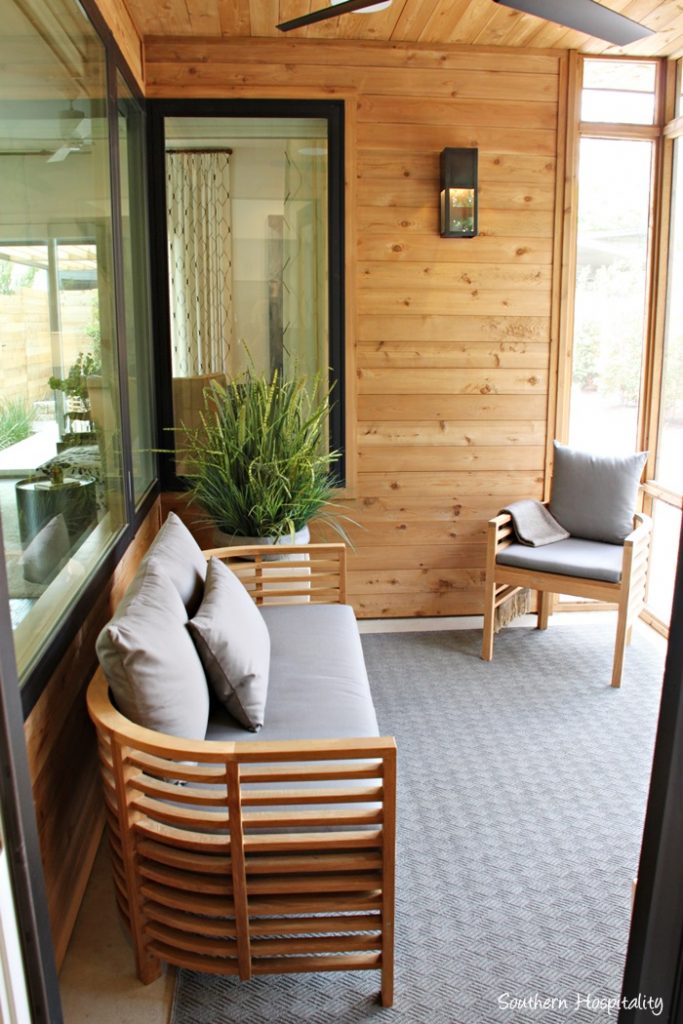 Downstairs off the kitchen is a cozy screened porch looking out to the backyard.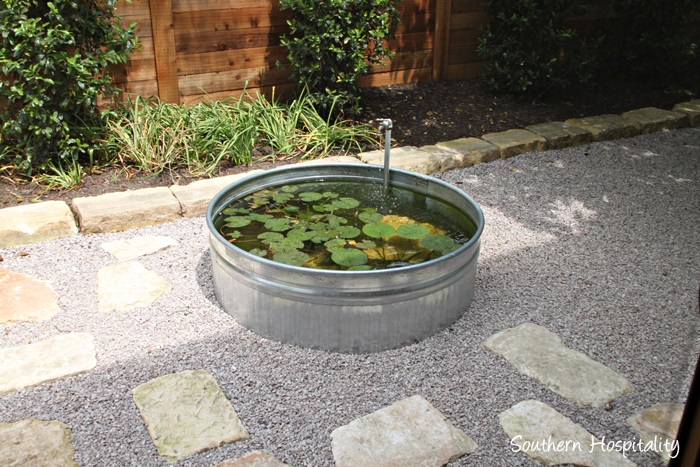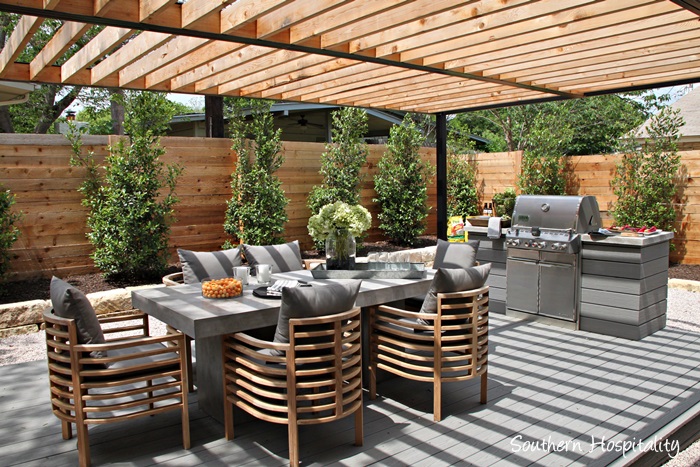 Outside the living room is a nice big patio area for lots of entertaining.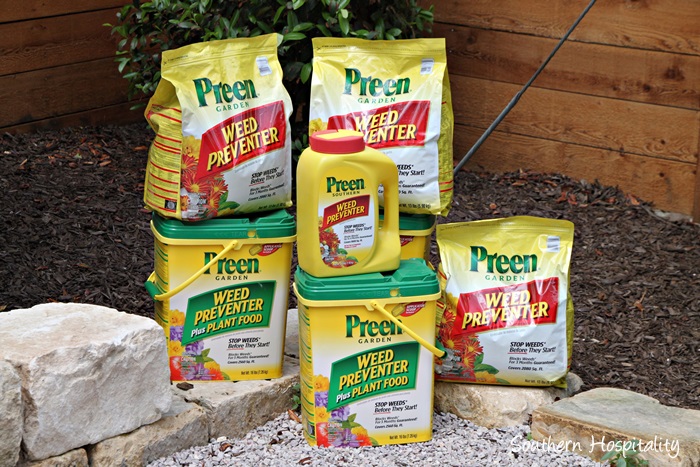 Preen is one of the house sponsors and their products were used all over the outdoor areas.  I'm about to get some Preen myself to use in my front yard beds to keep down the weeds.  They are taking over!
These products really cut down on maintenance and weed issues.  Once the weeds are pulled, put down Preen Weed Preventer in the spring and it keeps weeds from sprouting for 4 months.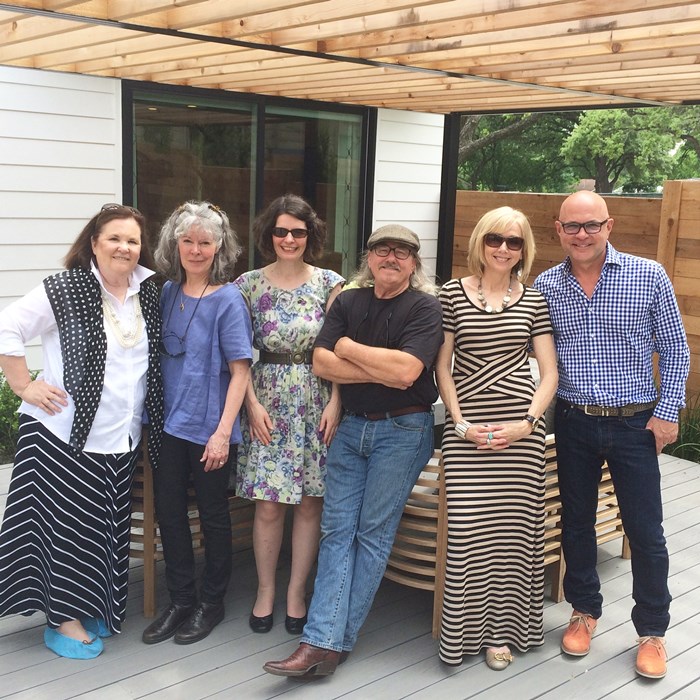 (Linda Woodrum, Susan Ferguson, Susan Rushton, Felder Rushing, me, and Jack Thomasson (sigh, he's so cute)
A group shot of the folks I was with, Susan Ferguson, garden writer, along with, Susan Rushton, Felder Rushing, and Jack Thomasson, the house planner for all of HGTV's Smart, Dream, and Urban Oasis homes, and Linda Woodrum, the talented Interior Designer on these projects for 19 years.
You can look at lots more pics on this HGTV Smart home link and learn everything you always wanted to know about this home. Don't forget to sign up twice a day for a chance to win this beautiful home!
Don't Miss a Post, join my list!