I've got another fun Feature Friday for you today.  Meet Sarah from She Holds Dearly.  We were in a home tour together recently and I realized I had never been to her blog before  It's beautiful and Sarah lives in a real live farmhouse.  Farmhouse style is all the rage, but there is nothing better than a real one, decorated in a simple, but impactful way.  Sarah has a wonderful touch to her home and I think you'll enjoy this.
She also has a degree in Interior Design and roots in the country and when she and her husband bought this 1906 farmhouse on 4 acres, it was her chance to make it all she had ever wanted:  vintage, farmhouse and a mostly minimalist look.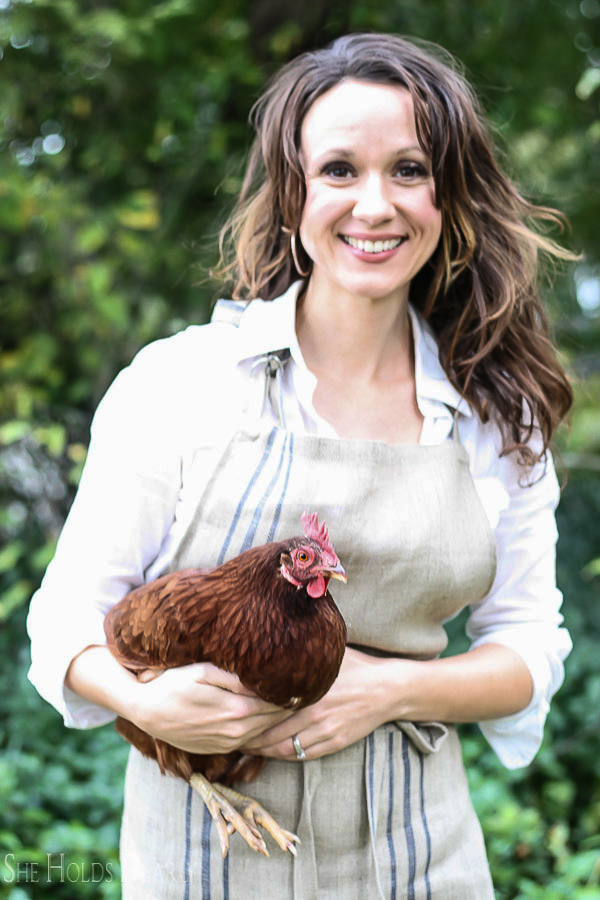 I love this photo of Sarah, it seems to convey just the type woman she is.  Sarah's raising 3 children in this pretty farmhouse.
Sarah says that one of her desires is to redo and decorate a home entirely in vintage thrifted finds, and DIY projects and this house gives her that opportunity.
On a recent Fall tour, Sarah shares her beautiful front porch and entryway.
Stacked wood by the door says come on in and get cozy.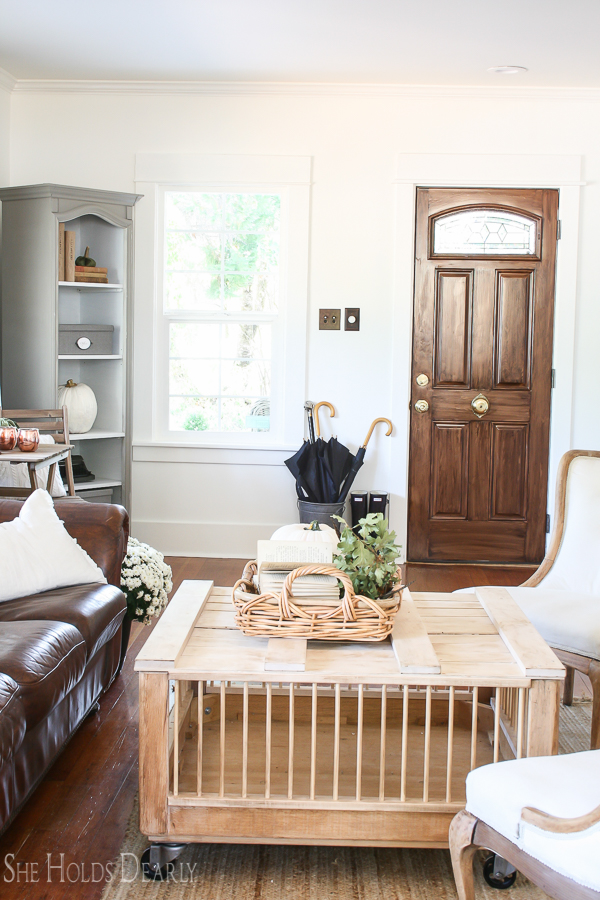 I love Sarah's relaxed farmhouse style that feels so casual and serene.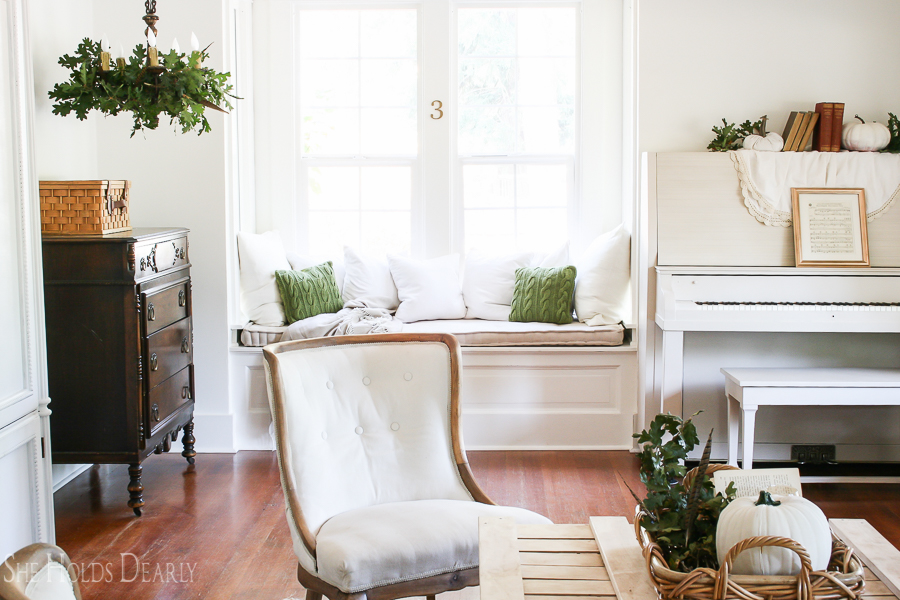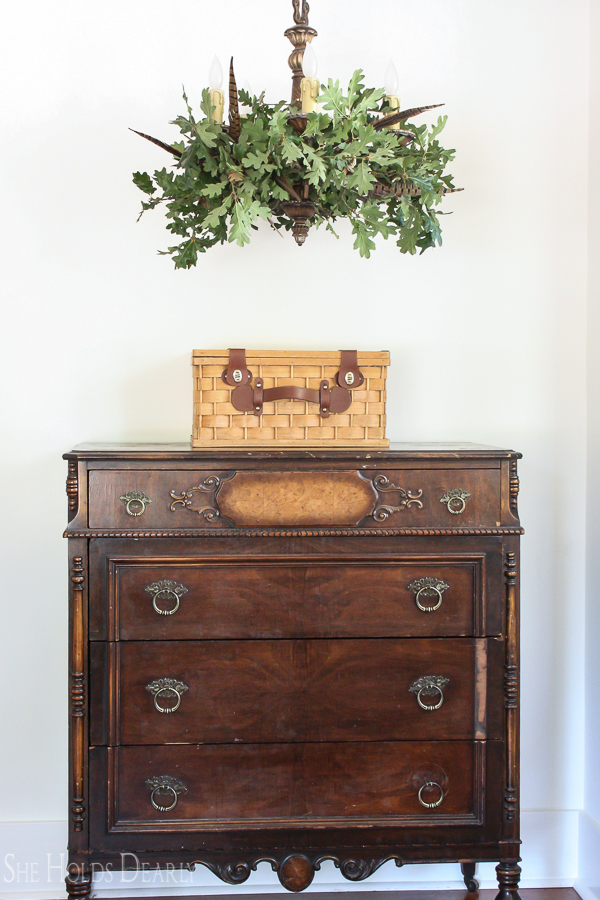 Lots of vintage pieces mixed in the farmhouse.
Sarah calls this the fireside room. Looks so cozy right next to the kitchen.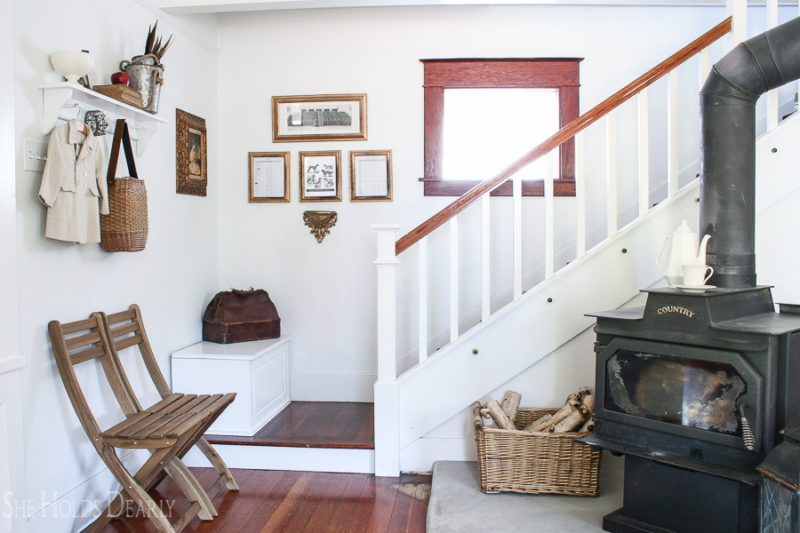 Love those stairs going up.
Great idea to put a mirror at the top of the stairs.
Master bedroom
And master bath
A boy's room
And a girl's room, pretty in pink.
Downstairs bathroom.
Playroom
This photo of their sweet pup made me smile!
And this sweet tree swing did too.  I can imagine how fun for their kids to grow up in a place like this.  Beautiful and majestic and I can just smell the fresh air! Hope you enjoyed this tour of She Holds Dearly today! You can get to know Sarah a bit more on this page.
Don't Miss a Post, join my list!