It's been 5 years since I featured this Feature Friday, House of Figs, so come along with me for another peek at this pretty home. It seems that she is not blogging anymore, but you can enjoy the tour all over again.
********************
I'm back today for Feature Friday with another new blogger I met on Instagram.  Seems to be the place to check out new bloggers these days and there is endless inspiration over there.  Bethany blogs at House of Figs and her blog is a year old (Bethany means House of Figs, hence her blog name), so she is just getting started.  She's a wife and mom to 3 young ones, as well as an interior decorator with her own business in Houston, TX.  I love her casual easy style, mixing traditional with modern and she has done a great job with her house which was built in 2000.  Lots of things can be done to update older homes and even though 2000 isn't old, it's amazing how things can change from decade to decade.
Come along with me to Texas and Bethany's pretty home.
Home is where the heart is.  I love Bethany's casual mix of furnishings.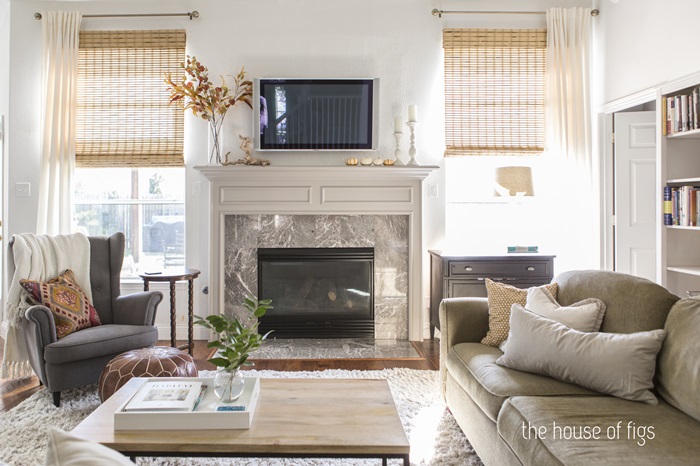 She's got an easy style and mix of vintage and new.
Pretty gray chair and pouf ottoman in the corner.
I love her kitchen renovation. She simply painted her wood cabinets a pretty light gray and kept the original white Corian countertops.  White was popular back then for countertops and so was Corian solid surface.
She got a fresh look and kept the white.
That light gray color is very appealing.
The breakfast nook is so pretty with the mix of the dark table and white chairs.  I love all the panels on the windows too, which really softens up the walls.  And that light fixture is very cool!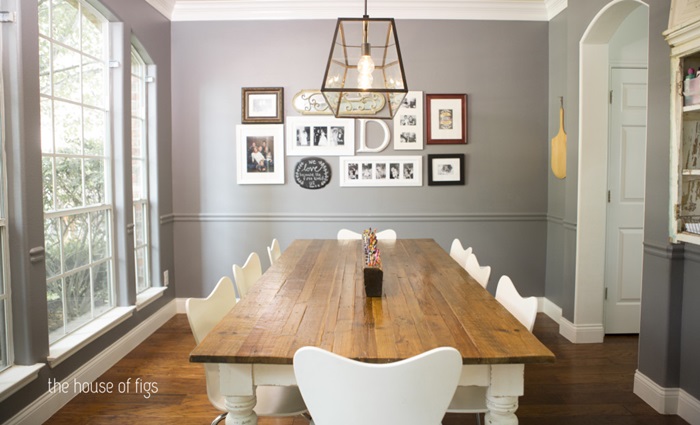 The dining room was painted in another shade of gray and simple wood table with white modern chairs complete the space.
Lighting from Ballard Designs.  It's a very casual and informal space for a family to gather.
The master bedroom highlights a gallery wall of favorite and collected pictures over the bed.
They needed an office space in the bedroom, so made this functional space in the room.
Open shelving helps keep things organized right off the master bath.
With 3 kids, Bethany no doubt stays busy.  She decorated her son's room in a masculine, but kid friendly way.
Little brother gets in on the fun chalkboard wall.
Sister has her own girly-girl space and is a budding artist.
And the baby's nursery is so cute and fun!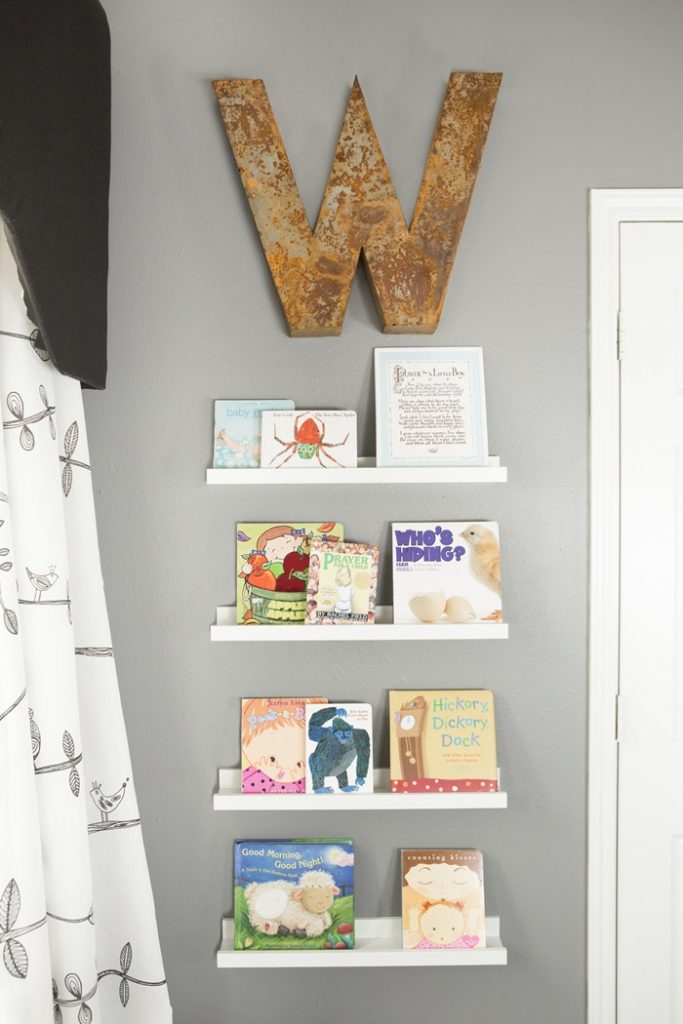 Bethany has a great eye for design and helps decorate for other people too, so contact her if you are interested.  I loved her home tour at The House of Figs and hope you did too!
Don't Miss a Post, join my list!