I'm back with today's Feature Friday, with Part 2 of Shauna's beach cottage in Naples, FL.  I introduced you to The House of Silver Lining a couple of weeks ago and today, I'm back with her family's beautiful beach cottage.  They have had the cottage for a few years and although they live full time in Colorado, they travel to Florida often in the summer months to stay in their beach house.  It was decorated really cute, but Shauna has recently undergone a huge renovation project and updated the kitchen, master bath, and more, so I'm sharing all of that today.  It's a gorgeous place and I can imagine many enjoyable days spent in this house!
It was yellow when they bought it with this charming circular brick driveway.
It recently got an update with white paint and black shutters, always a classic combo.
I love the white picket fence with vines growing across it.  So cottage!
A brick sidewalk meanders to the front door.
A double front door with pretty shutters flanking.
And a swing on the front porch, be still my heart!
Shauna has done a magnificent job with updating the home and making it more modern.  She used a tile on the floor that looks like driftwood, perfect for Florida weather.
Looking into the living room.
Pretty in neutrals with a pop of color.
Console table with some pretty coastal accessories.
I love these chairs!
She extended cabinetry from the kitchen out into the dining space. She hasn't found a dining table yet, but this is where it will go.
Adding extra cabinets out from the kitchen makes sense for extra storage and she added a gallery wall over the top.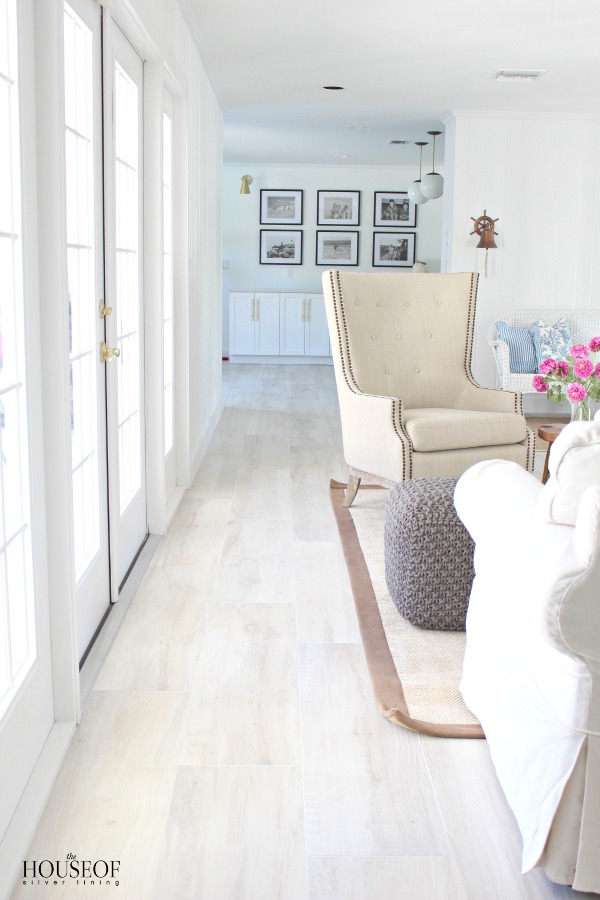 From the living room to the dining room view.
The kitchen got a complete overhaul too with white Shaker cabinets and lots of pretty details.
I dearly love a white kitchen and this one has pretty brass pulls that really update the space. A wall of white subway tile is always a great look too.
What a pretty space!
This is the master bedroom and I'm not sure if it's changed or not, but it's still a pretty room.
The master bath also got an overhaul with new tile and it's gorgeous to the max.  I keep seeing this graphic tile all around blogland and I love it on the floor.
Simple subway tile in the shower is a great choice.
A double vanity completes the master bath, with some bling on the mirrors and faucets in brass.
A teen boy's room got an update too and it's cozy and cute.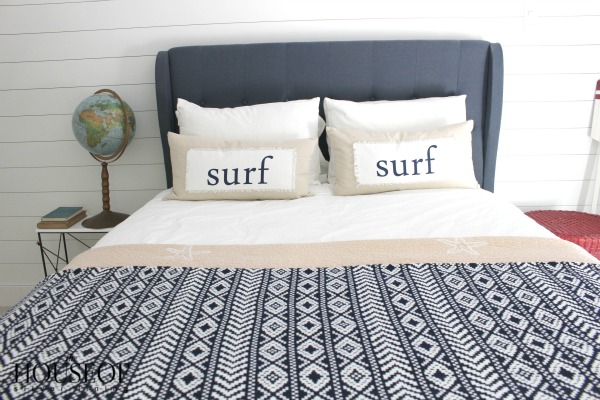 Surf's up!  She mentioned her boys love to fish.
Those shiplap walls look great in here.
Guest bath renovation too, with pretty hex tiles. This is similar to what I'd like to do in my master bath, something classic and simple.
I love her choices!
Out back is a pool the whole family enjoys. You know how hot it gets in Florida!
A couple of wicker chairs add a nice seating area and can catch a cool breeze.
I hope you enjoyed this Feature Friday with Shauna's beautifully renovated beach house! It sure looks dreamy to me!  Stop by and visit Shauna's blog for lots more information.
Don't Miss a Post, join my list!