With a blog title like that, you can imagine all the fun stuff you'll find at Linda's blog, It All Started With Paint.  Yep, the girl has discovered what many of us in blogland have been crying forth for years.  Paint changes things!  A multitude of flaws and blemishes can be covered with a fresh coat of paint. Whether it is walls, doors, trim floors or furniture, paint is a must for those of us who love improving our homes.
Linda has it going on over at her 6 month old blog and she is sharing all her creativity now with the blogworld.  You can find her complete Home tour here. Linda lives in this really cute older house built in the late-1800's in the Chicago area, but she's updated it and it feels fresh and modern.
Her foyer was updated with fresh white board and batten which has been flying around blogland for a few years now. It's a great way to add some architectural interest to a space without spending a fortune.  I imagine I'll use this little architectural gem when I get in another house too.  Love the look it gives to plain walls!
See how much more interesting this space is with the molding added?   What a pretty interest.
Love these built-in stained glass windows in the foyer too.  Stained glass is always charming.
She camo'd the radiator here in the foyer too.
This is a pretty peek through from the dining room, I think (or maybe living room).
This too-cute painted rug on the porch is a fun way to greet visitors.  I would definitely notice it if I was knocking on this door.
Family room view
Linda has dark cabinets, but with lighter countertops and backsplash, it feels great.
Mixed with blue on the walls, it definitely feels airy in here.
Pretty!
Check out the pantry door, I believe that is chalk board paint on the front.  Lovely!
Here's a peek at more board and batten in a powder room renovation that Linda completed recently.  Fresh and airy it is now.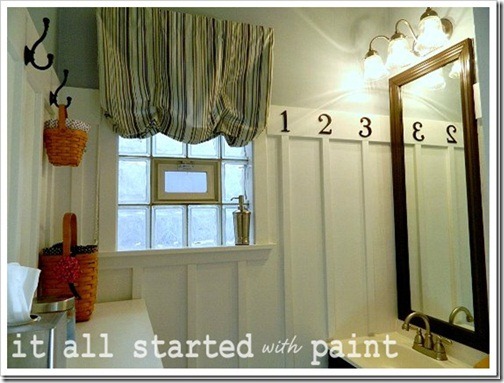 With a swoopy Roman shade, numbers on the wall and a new mirror and light fixture, it looks beautiful.
Linda recently completed a complete redo of her teen son's room and how cute it is with the bright orange and blues.
Those stripes really set off the room and what young man wouldn't love hanging out in this room?  That bedding is pretty snazzy too.
Linda had the brilliant idea of making comic book art and these look right at home in a boy's room.
She rehabbed the light fixture/fan, making it masculine and modern all at the same time.
Probably my fave thing in this room are these curtain panels that Linda whipped up.  Love that shot of black and white at the top edged with bright orange trim  These are so
Thank you Linda for letting me feature you today.  If you haven't met Linda, I know she would love to meet you too. She's only 6 mos. old in blog years, but is already making her way around the DIY blogworld with style.
NOTE ABOUT FEATURE FRIDAY:  If you would like to be considered for Feature Friday, please send me an email.  I am sorry I will not be able to respond back to all, but if I think your feature would work for Feature Friday, I'll be back in touch with you.  I'm limited on how many I can feature, so please keep that in mind.  You can see that I love to feature homes that really express the owner's personality and style and the pics are good too.  I will only consider pics that are nicely lit and that will work in this series.  Thanks!  You can email me at [email protected] for consideration!
Don't Miss a Post, join my list!