In my 5 years of blogging, early on there were a few home bloggers out there and Jennifer is one of the girls that I met that first year or two.  I love her style and her friendly manner and I've loved watching her home evolve over the  past few years, to a home of warmth, family, and casual comfort.
She has a really easy-going cottage style that I know you'll love!
Jen has a beautiful cottage style and I love how she puts things together.  This shot looks straight out of a magazine. Just lovely!
Living room is cozy and casual too.
Jen has a knack for putting old and new together effortlessly and loves using vintage finds.
Dining table with a beautiful mirror featured.
Jennifer and her hubby had a misfortune in their kitchen (pipe burst) and had to completely redo it, but Jennifer ended up getting the kitchen she had always longed for.  Check out this post for all the details.
They replaced the old flooring and subfloor, as well as the base cabinet.  Keeping the uppers, everything was painted the same.  And now look at it!
It's a stunning cottage kitchen now.  I'm such a sucker for white cabinets!
Wood counters from Ikea.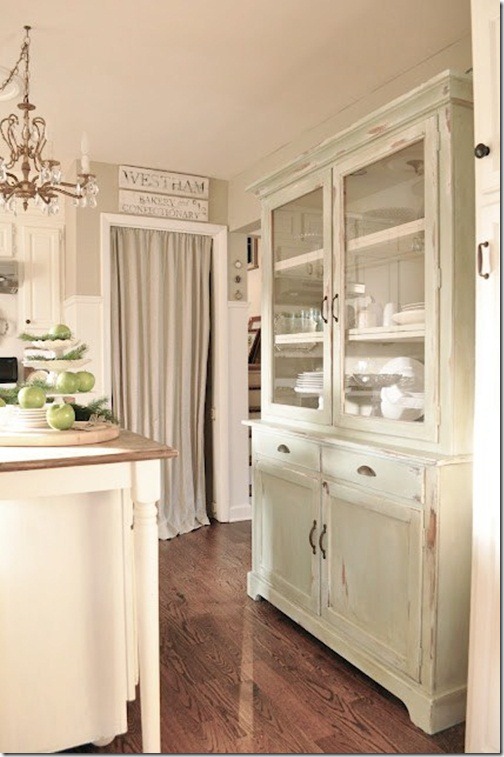 A free standing buffet saved money on buying more cabinets.  Love the idea of a free-standing piece if you have room for it.
The master bedroom is equally soothing and pretty.
Another beautiful shot of the nightstand and soft colors.
Her daughter's room is really pretty too with the white framed gallery wall.
Jennifer is a major thrifty shopper too and painted yardsale frames white and made the butterflies.
Another daughter gets a pretty makeover in aqua and red.
With a nice storage solution in the corner. Great way to store books.
Hope you enjoyed the tour of Jen's home. She has lots of talent and creativity, hop on over to Jennifer Rizzo for more details on her beautiful home.
Don't Miss a Post, join my list!