I'm back with a new home to share with you today for Feature Friday. Kelly is Kim's sister, who I featured a couple of weeks ago, Savvy Southern Style, if you missed that. Kelly moved into a new farmhouse style home in North Georgia in the last couple of years, so I'll let her tell you a bit about herself. Enjoy the tour and be sure to follow Kelly on Instagram.
I live in north GA and have lived here most of my life. I've been married to my husband over 33 years and have 2 sons and a grand daughter. I also have a very spoiled Boston terrier named Kirby (after Kirby Smart – UGA) I use to have a blog called The Essence of Home. I ended up switching to Instagram and call it White Cottage Life. I named it after our new white house .

We just moved into this house less than 2 yrs ago. It's a semi custom home in a small brand new subdivision. We decided we needed to move to a house that we could grow old in without so many stairs. This one is perfect for that!  It's a 4 bedroom 3.5 bath home with open concept floor plan. I shared the dining room, kitchen/family room/eating area, half bath, foyer, master bedroom, master bath, guest room bath, loft, front porch, back porch, and exterior.  I didn't share the guest room because we're working on a project in the closet and everything is pulled out on the floor. The rooms I didn't share are visible on my Instagram though.
My decorating style lends itself to cottage style with a touch of farmhouse and French influences. I love using a lot of white in my home!  It's the perfect back drop for all the changes I tend to make. I have neutral furniture and then bring in pattern and "some color" with pillows and accessories. I don't use much color in my home. However, I recently fell in love with blue. So I've been adding it in small doses around the house. I have a mix of high end and budget pieces in my home. I do invest in good quality major pieces of furniture though. They need to stand the test of time!  My favorite feature of our house is the open concept area with all the windows across the back!  It feels like an extra large sunroom. I love lots of light in the house. We use our back porch every day once the weather warms up. With the fireplace and furniture out there, it feels like an extra living room!  We have enjoyed that space so much! One other space we love is our kitchen. Me and my husband often cook together in there. This kitchen is big enough to let us do that without bumping into each other all the time. We love our 10 ft island and coffee station. This house is perfect for entertaining as well. It has a good flow to it.
Exterior of Kelly's new "farmhouse".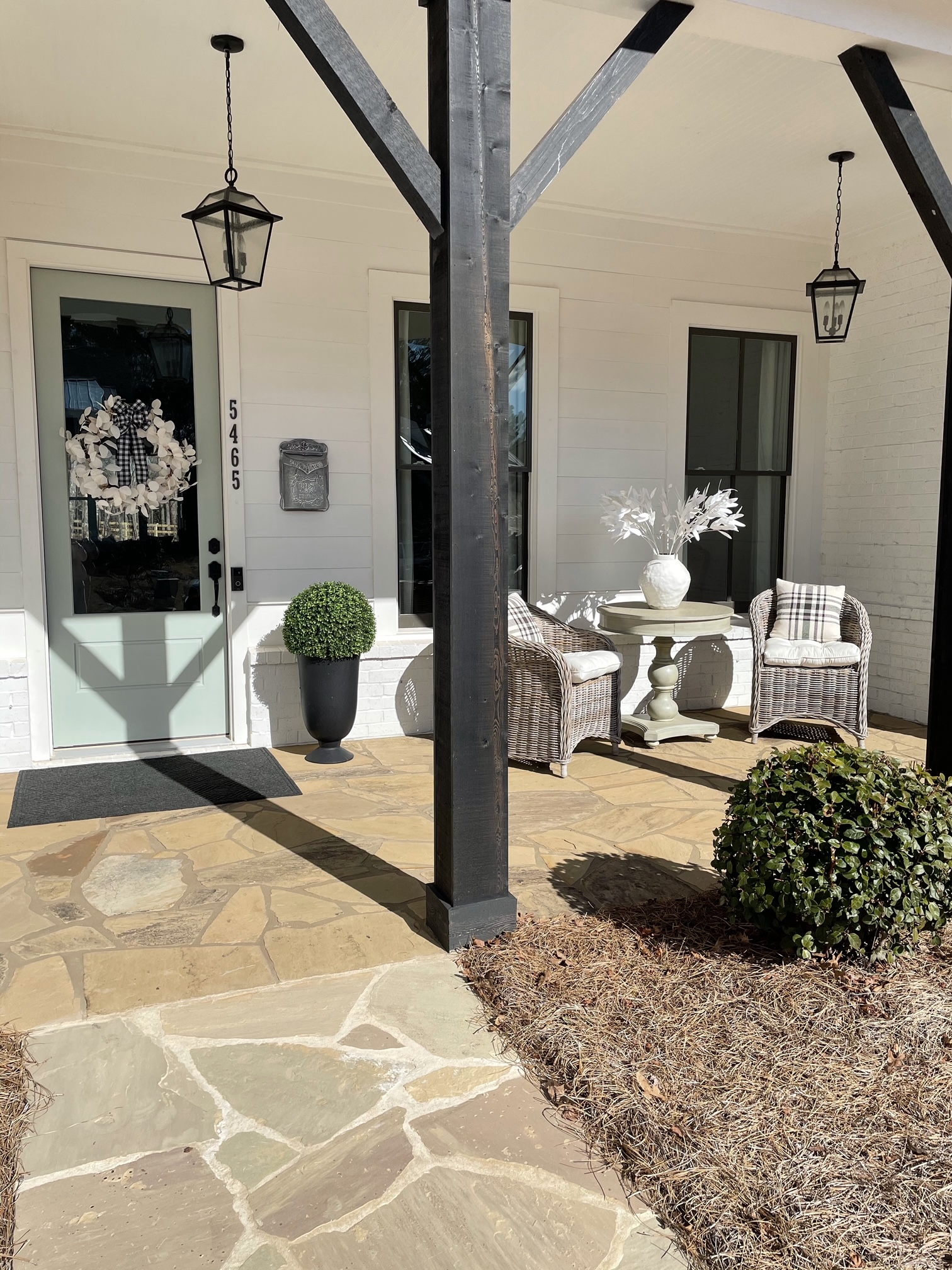 Living Room
I love how open it all is.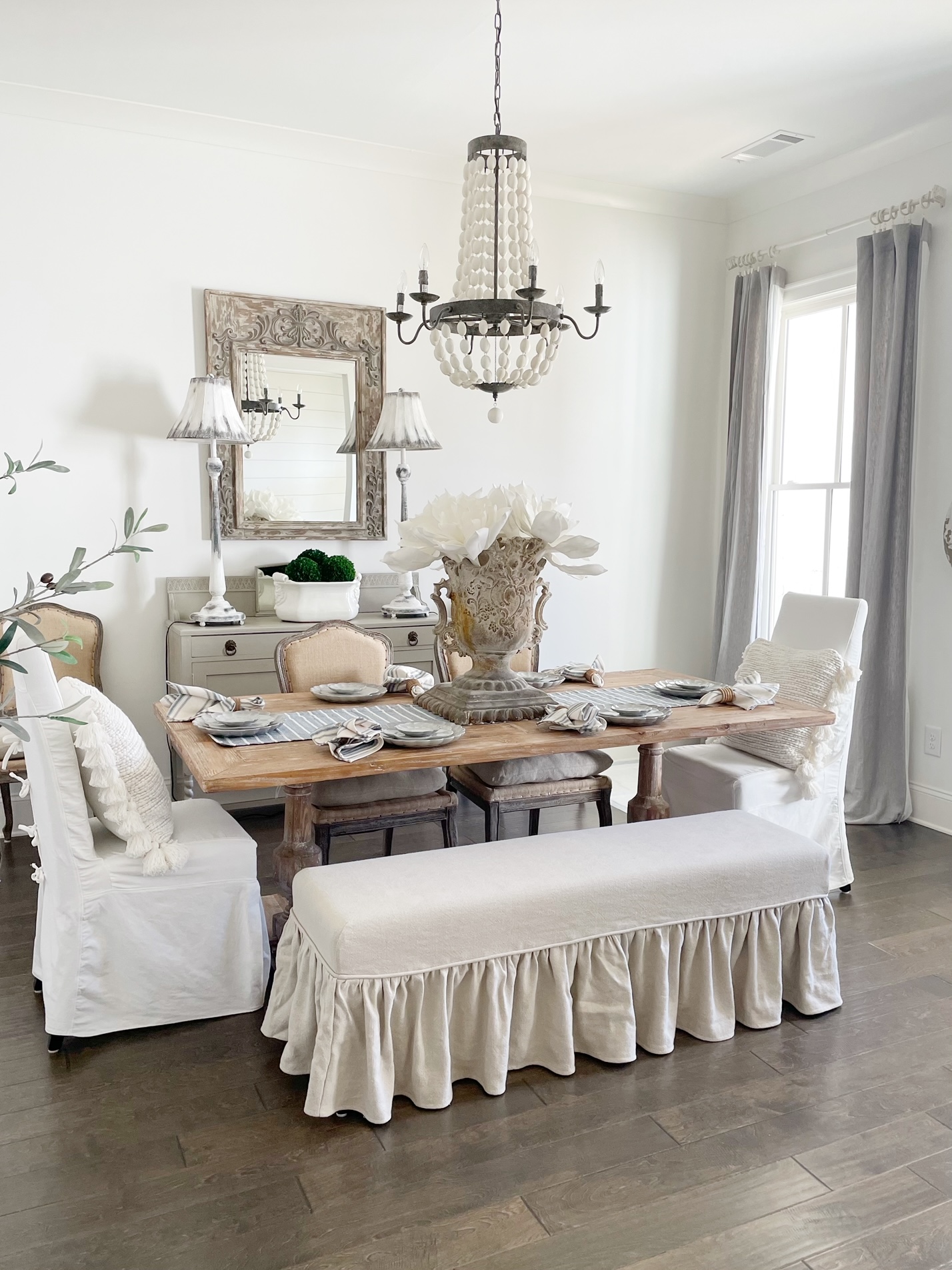 Dining Space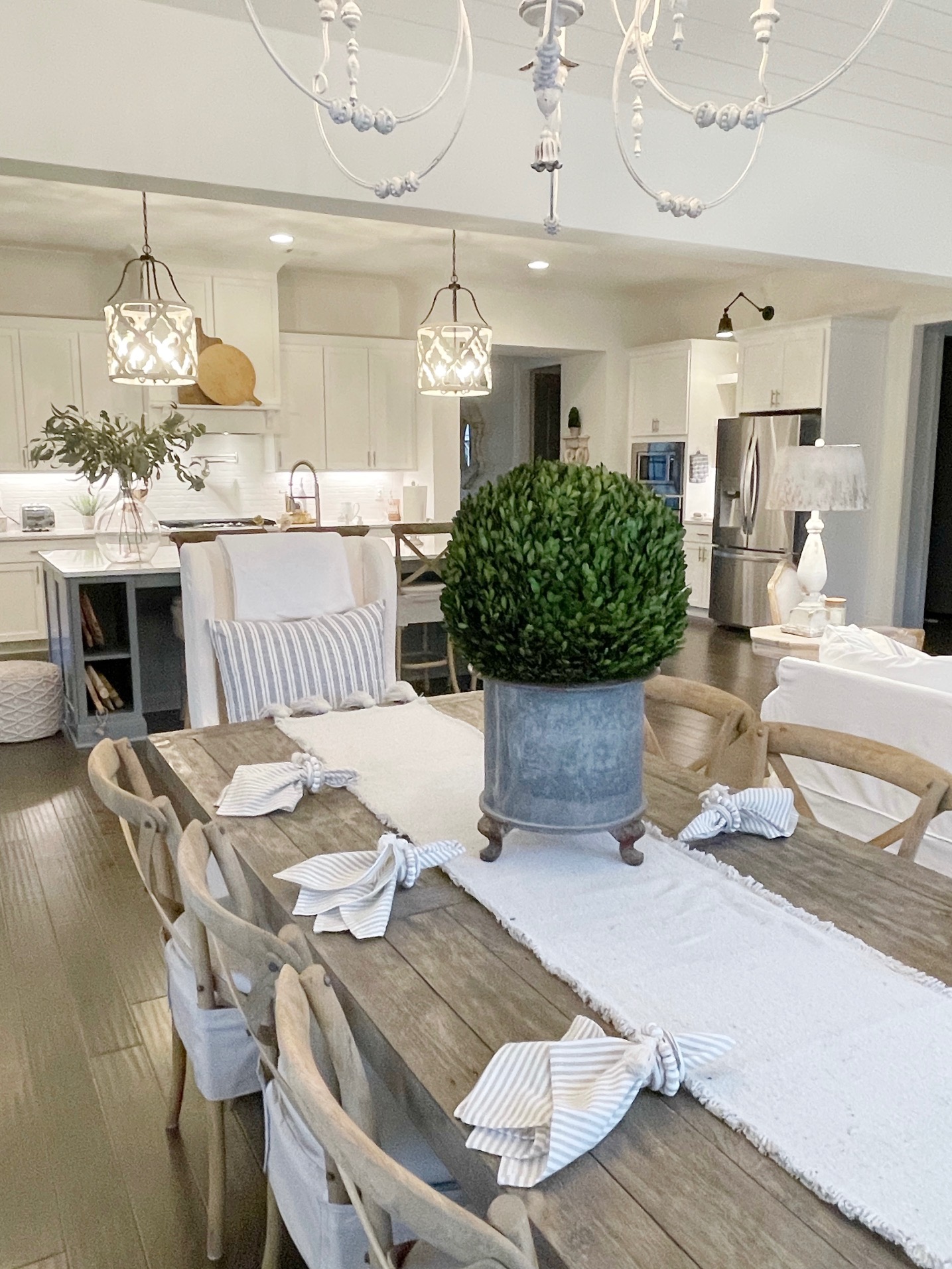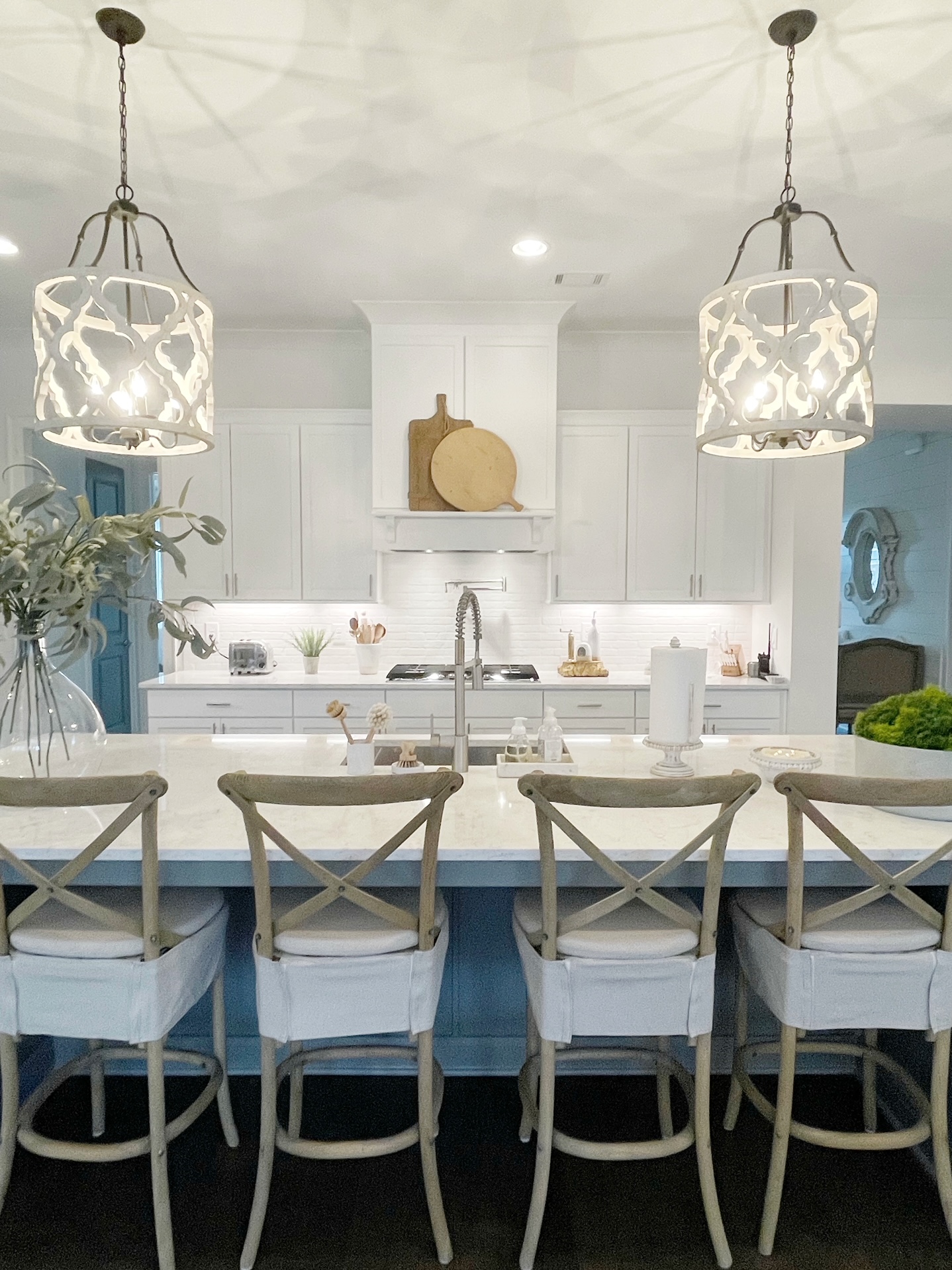 Kitchen, I love this spacious kitchen and huge island.
This must be the loft space.
Master Bedroom
Master Bath
Guest Bath
Powder Room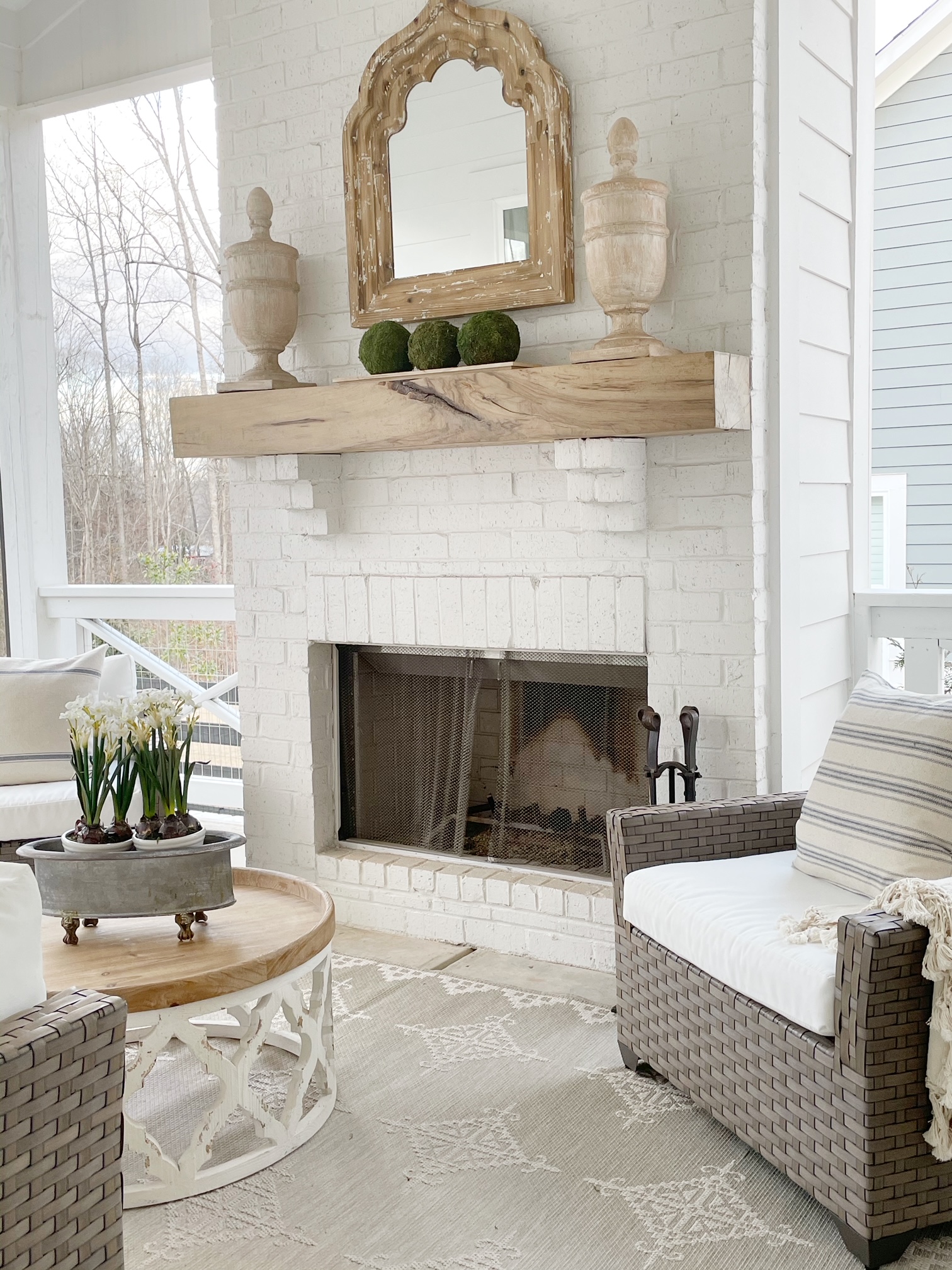 Outside Porch, of course I love this space. Outdoor spaces are so nice to enjoy!
I hope you enjoyed this pretty tour of Kelly's lovely farmhouse style home. She's done a wonderful job with it all! Don't miss her on Instagram at White Cottage Life.
Don't Miss a Post, join my list!