Friday greetings!  Today, I'm sharing a local Marietta kitchen renovation that I got to see recently and I thought you all might enjoy this too.  Jennifer is a friend of my roommate, Rhonda, who told me about Jennifer's pretty kitchen renovation in her 1980's home (at least I think that's probably the era of this house).  It's in a nicely kept, but older neighborhood here in East Cobb and Jennifer worked with a kitchen designer to bring her old 80's era kitchen up to date for the new century.  It really turned out fantastic and I think you'll enjoy seeing a peek into Jennifer's home.
It's always fun to see Before pics, isn't it? That really makes you appreciate the After shots and how much potential for improvement can come from these type renovations.  Kitchens are still one of the most popular renovations that are being done in houses these days, but we can't all afford a high-end designer kitchen that is so prevalent out there now.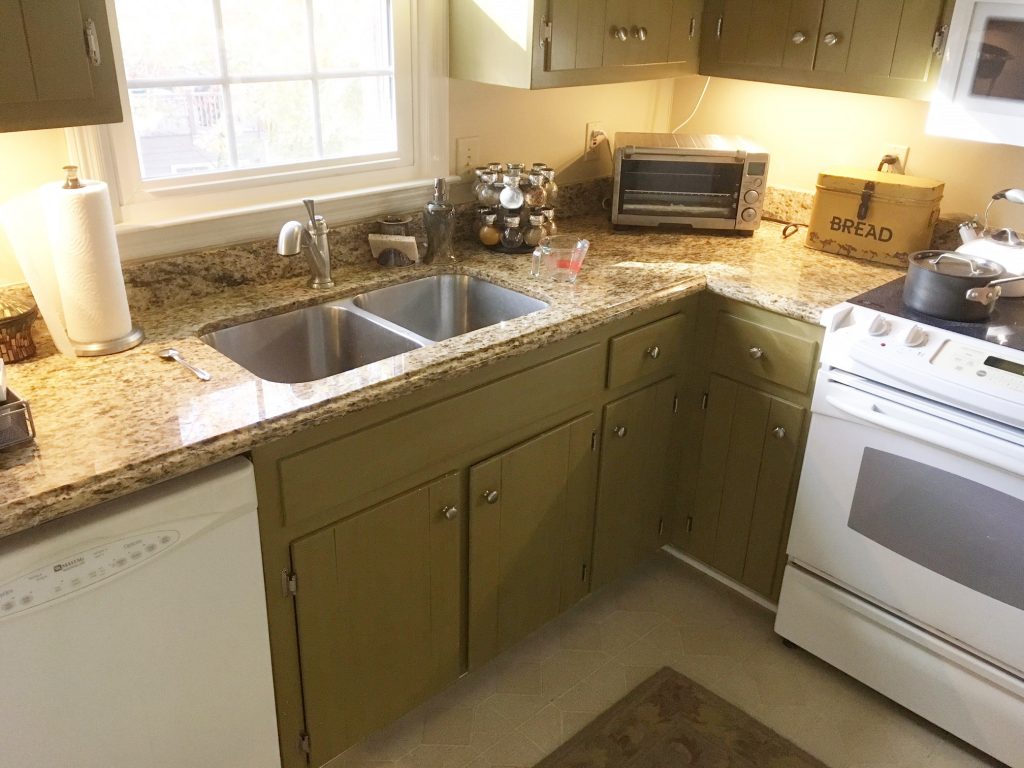 This one is realistic and doable for the average homeowner to tackle.  I didn't get the budget on this one, but it looks to be one of the affordable ones and it goes to show that changing out cabinets, countertops and backsplash can make such a difference in taking a kitchen up to the next level.
You can see that Jennifer had existing granite on her cabinets when she bought the house and she said that she painted them this olive green shade.  But, I think you'll agree that the new cabinets are so nice, clean lined and beautiful, taking this kitchen to a new level.  You'll see that hardwoods were added too which make this kitchen even better. Flooring is so important too.
Walking in this kitchen now, it feels so fresh and updated.  I know that Jennifer is so happy with her new kitchen.  With sleek Shaker style cabinets, it's a dreamy space now.
I think all the changes are so nice and make for such a stylish kitchen renovation.  These first few shots are the professional photos that the designer provided and then I took a few shots after these.
This pretty window valance adds a lot of detail to the window in the kitchen and there's a coordinating one in the breakfast area too.  The backsplash is a diamond glass and marble one, very elegant as well.
Window treatment designer is Kathryn Dillon of Kathryn Dillon Drapery Design, you can contact her through that link. It's a small world!  Kathryn and I met several years ago through a mutual friend and she's the one who made this beautiful window treatment! 
In place of the old pantry that used to be on this wall, it was removed and this shallow set of cabinets was added with overhead cabinets and decorative center ones with seeded glass, a really nice touch.  You can never have too many cabinets.  The new pantry is just around the corner in that far doorway, which is the laundry room and it's housed with nice pullout drawers, always a plus for organization and storage.
The silver toned chrome hardware is sleek and modern, but a nice mix with the Shaker cabinets.  The designer, Sarah, told me that the countertop is actually a very hard marble, called Fantasy Brown.  It was beautiful in person and I had never seen this color marble before.
The peninsula with pull out drawers and looking towards the breakfast room.
Another view of the kitchen.  This is not a huge kitchen renovation, but I think you'll agree, it's quite impactful with the changes.  I know Jennifer must really love her new kitchen.
A few more detail shots of the kitchen.
Crown molding adds that special touch at the top of these cabinets.
Breakfast room which peeks into the den space.
I thought I'd show you this space too, it's warm and casual with warm and spicy colors.
And a peek into her dining room.
I hope you enjoyed seeing this real life renovation in Marietta.  Kitchens are the heart of the home and it's always fun to see normal everyday kitchen renovations that we can relate to and not just the designer high-end ones that seem to be so popular these days.  I definitely relate more to the down to earth kitchen renovations more so than the high-end ones and I have a feeling most of you do too.
Thanks to Jennifer for sharing her kitchen with all of you and her kitchen designer, Sarah Abbott, who can be reached at 678-662-5523, if you're local to Atlanta and looking for a designer to help with any design needs.  Always fun to see Before and After projects, isn't it?!  Hope y'all have a great weekend! 
SaveSave
SaveSave
Don't Miss a Post, join my list!