Of all the up and coming designers out on the internet and in magazines these days, Lauren Liess is probably my favorite. It's been so fun to watch this young designer in the DC area, grow and evolve in the last few years since I've been blogging.  She's a super talented designer and mom of 3 boys and has such a great esthetic in how she designs and decorates a space.  I absolutely LOVE her rooms and now I'm seeing her all over magazines and in the national press.  She's getting famous and I couldn't be happier for her!  It's much deserved.
I asked Lauren if I could share her current contemporary home with all of you and she was happy to agree.  She and her hubby have leaned towards contemporary homes and this is the 2nd one I've watched her undertake with renovations.  It turned out fabulous.  Lauren has a bent towards mid century modern, but she is also a vintage girl and loves to mix old and new.  It's so pleasing to the eye.
Lauren is right in the middle of writing a book and I know it's going to be spectacular.  You can see her portfolio on her website and you will probably recognize some of the rooms from magazines she's been featured in.
Their current 70's contemporary home in Great Falls, VA.  She went bold with the exterior and decided to stain it black.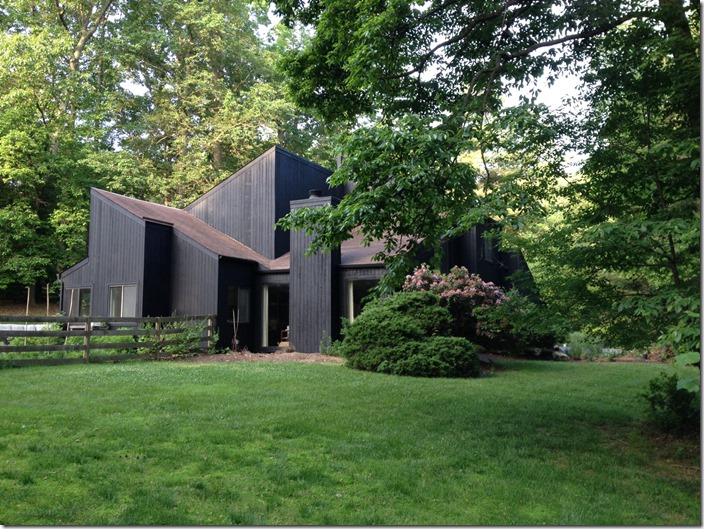 Here's the after.  Black was a bold move, but it does look striking against the green backdrop.  She does want to replace the roof with a metal roof as soon as she can.
The back of the house has a great patio area for entertaining.
With 3 active boys, it looks like they have plenty of outdoors to play in as well.  Such cuties they are!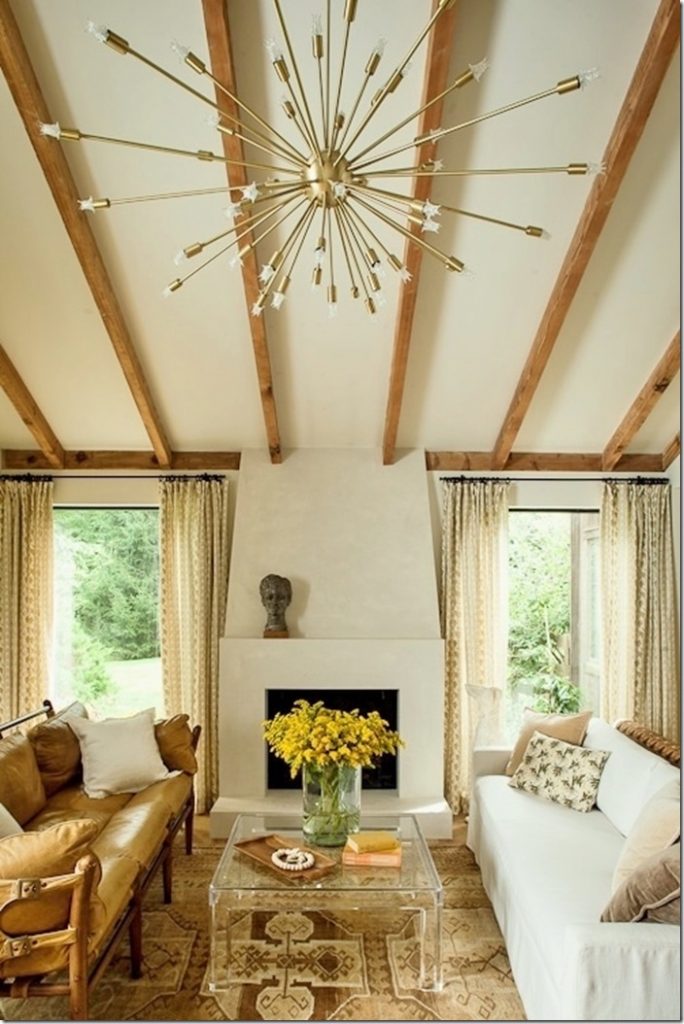 Inside the house, Lauren took out walls and opened up the space to suit the family's needs.  I love her mix of old and new, along with the modern lighting and those beams.
She took out the wall between the family room and kitchen, making it one big space.  Her kitchen is spectacular.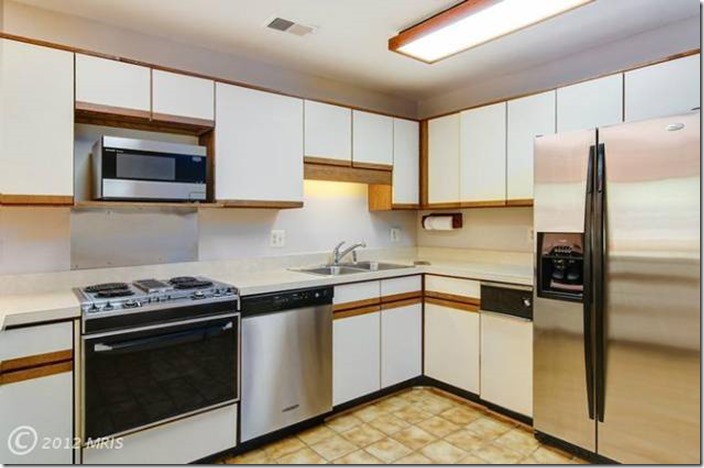 Here's the before, which makes me laugh since I had these cabinets in my first house.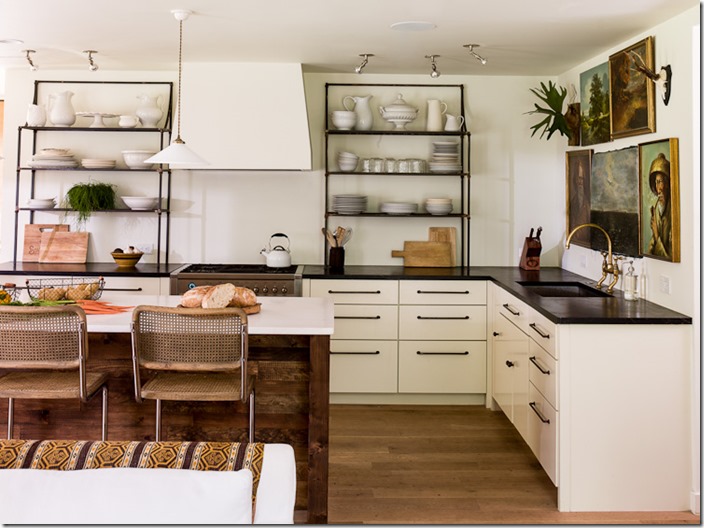 She gutted the entire kitchen and turned it into this beautiful space.  So different and unique, but so warm and inviting.  Note her lack of a backsplash.  She decided since room was all open to the living area that she wanted to keep it all clean and crisp.  I adore those black open shelves.
Her love of vintage shines through in the collection of vintage paintings in the kitchen and this rustic reclaimed wood island.  Note the mix of material and colors on the countertops and island top.
More reclaimed wood shelves in a corner of the kitchen.
Her whole kitchen is so pleasing to the eye.
Chairs at the island add extra seating.
The open and spacious breakfast room.
Lauren also designs her own textiles and they are available for anyone to purchase.  Her master bedroom is a carefully collected mix of beautiful things.
She has a love of botanicals which is highlighted in the gallery wall above the bed.
Right outside is a pretty enclosed courtyard which is just stunning.
The upstairs loft area got a window seat added and rows of bookshelves for a library nook.
Love this big open window seat with the accordion sconces on either side.
Perfect spot for watching TV with the family.
Lauren does a beautiful job with accessorizing a table top.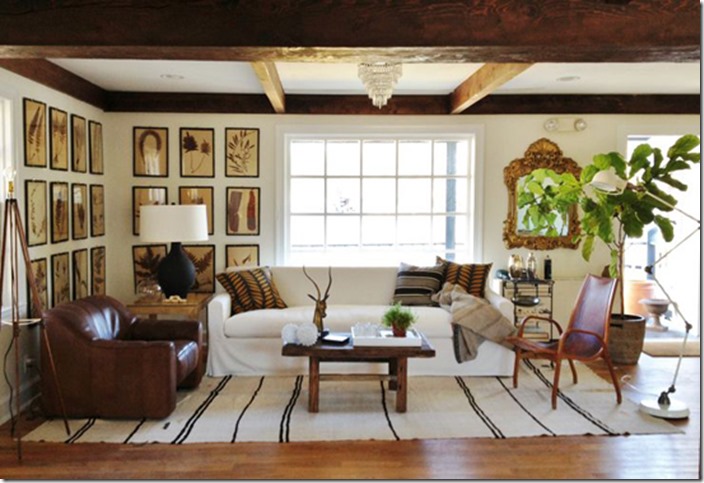 They have a studio shop, where she meets with design clients and showcases her fabrics and accessories.  It's a beautiful space too.
I know her clients love her and the magic that she creates in their homes.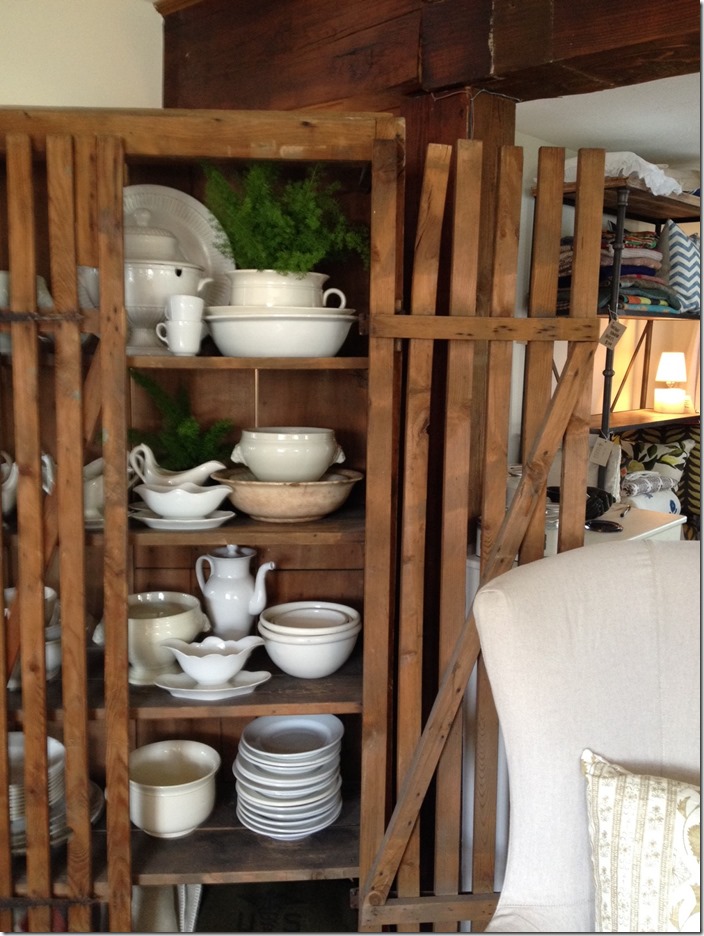 Ironstone accessories at her shop.
I hope you enjoyed this beautiful tour of Lauren's current home.  I'm so happy for her with all of her success and she is totally deserving of the accolades and press she is getting.  Much continued success to Lauren and her design career.  I can't wait to see what is next for her!
Thrifty Treasures party will be back again this Sunday!
Don't Miss a Post, join my list!