Happy Friday friends! Today is closing day on my fixer upper house and I'm so happy to pass it on to another family. This is a repeat Feature Friday from 2015, but Wendy's home is so pretty. I know she's made changes in this time so be sure and follow her on Instagram too for all the updates! Enjoy your 4th of July weekend!
********************************************
I'm back today with a Georgia blogger to share, Wendy from Life on the Shady Grove.  I found Wendy not too long ago on Instagram and loved her home and story, so wanted to share Wendy with all of you.  She and her hubby met at UGA, got married, had 5 kids and bought a foreclosed home in Cumming (metro Atlanta) in 2010, which they set out making into their home.
Wendy had always dreamed of living in a farmhouse, so they renovated this newly built home into the home of their dreams and I really love how it turned out.  She said they got a fabulous deal on this house in the country and they have sheep in their back yard.  What's not to love about that?
Wendy and her grand-pups.  She has 2 out of the house and 3 at home, I think, so I'm sure life is busy for Wendy.  I love her heart for the Lord and how she shares her faith on her blog and on Instagram. You are sure to be inspired by Wendy!
Here's the house when they bought it, a newly built home that had gone into foreclosure.  They loved the size of the house and where it was, but Wendy had a plan to make it look more farm-housey.  Amazing what paint can do!  This might not be for everyone, but I love Wendy's vision with the white painted house.
White paint just makes a beautiful backdrop for a home.  With the stained double front doors and dark lanterns, ht's a beautiful space.
Window boxes add a charming touch, something that Wendy fell in love with in Europe.
On the back porch a swinging bed is a great place to hang out.
Love that pillow and all of Wendy's words around her house.  She has lots of inspiring messages in words sprinkled all over.  And you will notice that Wendy loves red and uses it in fun doses all around her house as well.
Wendy made this sign for her porch and I just love it.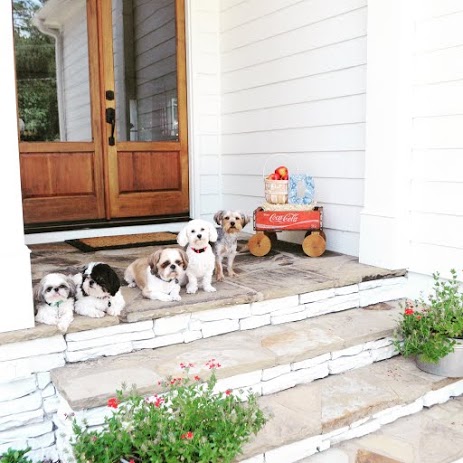 The grandpups on the front porch.
So cute!
I love Wendy's photos and her pops of red are so pretty.
Inside the front door.  I was reading on Wendy's blog that the house had sat empty for a long while when they bought it.   She said the wood floors were not in that great a shape, so she decided to do what she had loved and that's paint them white.
White is the backdrop for all of Wendy's decor and it looks very crisp and fresh with red accents.
Candlesticks on the mantel.
The sectional sofa and ottoman with quilt.
Another look at the fireplace and wicker chairs in front.  Such a cozy and warm room and I love that bird fabric on the ottoman.
I love the treatment above the fireplace.  They found these old shutters along with some piece of tongue and groove and framed it all in above the fireplace and of course, painted it all white. Red and white gingham curtains add such a nice touch.
The other side of the room has a large furniture piece for the big screen TV.  That's the words to one of my favorite songs above the TV, Oh, How He Loves Me.
From the kitchen looking in to the family room area.
Another shot of the kitchen looking towards the dining area.  She noted that they did knock down some walls to make it more of an open concept home.
Love her collections and pretties.
Cute scale with an adorable sheep on top.
The keeping room off the kitchen is cozy too.  She said they painted over orange-y fake rock there on the fireplace to make it all cohesive. It works for me!
Love the ladder and prints and the rustic mantel.
Wendy has created a pretty family gallery wall in the dining area.  I can definitely tell that family is super important to Wendy.
Gather
Dining room hutch.
Rustic table set with more red and white.  Wendy has a beautiful way of styling and presenting, simple and sweet.
Another dining area.
And last, the master bedroom.
I loved the outdoor shots of Wendy's house too, such a peaceful and serene oasis.
And there are the sheep.  That's got to be a fun thing to see every day, out in the countryside.  I hope you enjoyed Wendy's house and Life on the Shady Grove.  Wendy is a new blogger, just started this year and blogs sporadically, but her pics and house are just beautiful and I knew you'd enjoy it too.  She is active on Instagram though.
Don't Miss a Post, join my list!