When I saw Virginia's house at Live Love DIY, it was especially fun to check out, since she and her hubby also have a 1970's fixer-upper home and I do believe our homes had some things in common, like a big stone fireplace and lots of stained wood.  But, they have been busy, just as we have been on this house and she's taken that relic house into something pretty fabulous with lots of paint and DIY.
I love a happy ending, don't you?
So, take a look at what Virginia and her spouse have done with their 70's fixer upper.  She painted all that dark wood trim with fresh white, like I did. What a difference. She does have more stone than I do.
This little alcove/closet got new paint and furnished with pretty pieces.
You can see her floor plan is very contemporary with those triangle windows.
And what a nice bank of windows across the front of the house. She's done a nice job of lightening up everything in this once dark home. To get the full effect, you need to go and look at her before pics, link above to her home tour.
I love seeing big transformations like this. Great job, Virginia!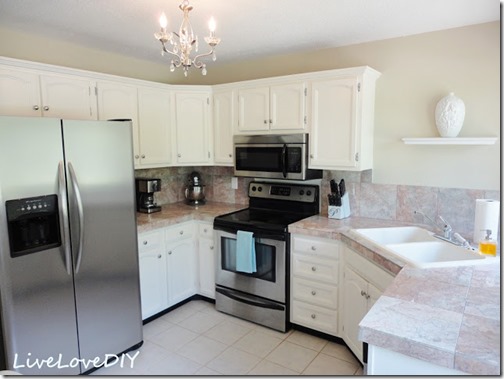 The kitchen got some love too and all those dark wood cabinets were painted creamy white, inside and out.
Here's a fun idea for older cabinets.  Paint the inside of the doors with chalkboard paint and label what's in there.  Cute!
You can read all about it on her blog too.
The master bedroom is nice and spacious.
And light and airy.
I love, love this painted dresser. What a pretty piece it is.
She gave the bathroom a nice facelift with a striped wall treatment, new rug and shower curtain.  Lovely space now!
She DIY'd those bird prints too, so check out her blog for more info.  There's so much talent in blogland.
Office space is nice and cozy.
With a pretty chair to blog in.
Virginia just updated her guestroom using lots of thrifty finds and it looks wonderful!
Enjoy this tour of Virginia's updated fixer-upper 70's home, I know she'd love to meet you, so stop on over and say hello!
Don't Miss a Post, join my list!