Happy Friday, friends!  Today's Feature Friday is a really beautiful home north of Seattle, WA on an island called Fidalgo.  Meet Julie, a Californian who moved to WA state and built her dream home!  I didn't know this when I met her on Instagram, but she told me my blog is one of the first blogs she ever read and she has been quietly following along for years.  I had no idea, but loved her Instagram feed and her Instagram name, Make Mine a Spritzer.  I began seeing her beautiful photos and wanted to feature her home, but I noticed there was not a blog associated with her Instagram account. Note: Juliet has since started a blog of the same name Make Mine a Spritzer, so go over and visit!
I messaged her and asked if I could feature her anyway and she wrote me back the sweetest email and so here we are and I'm going to show all of you her gorgeous home on this island near Seattle, which I'm sure have some spectacular views!  Julie's home exudes class and beauty and she also loves teals and blues, which I'm loving on all over again in our new home.  Coastal touches are everywhere and it reminds me of Nantucket or Cape Cod, even though I've never been to either.  I just love a coastal feeling house!
A beautiful exterior greets guests.
This entry way is so beautiful and open and see those blues!  They are all through the house.
Gorgeous touches everywhere you look.
And a definite nod to the coastal area she lives, with a whale statue.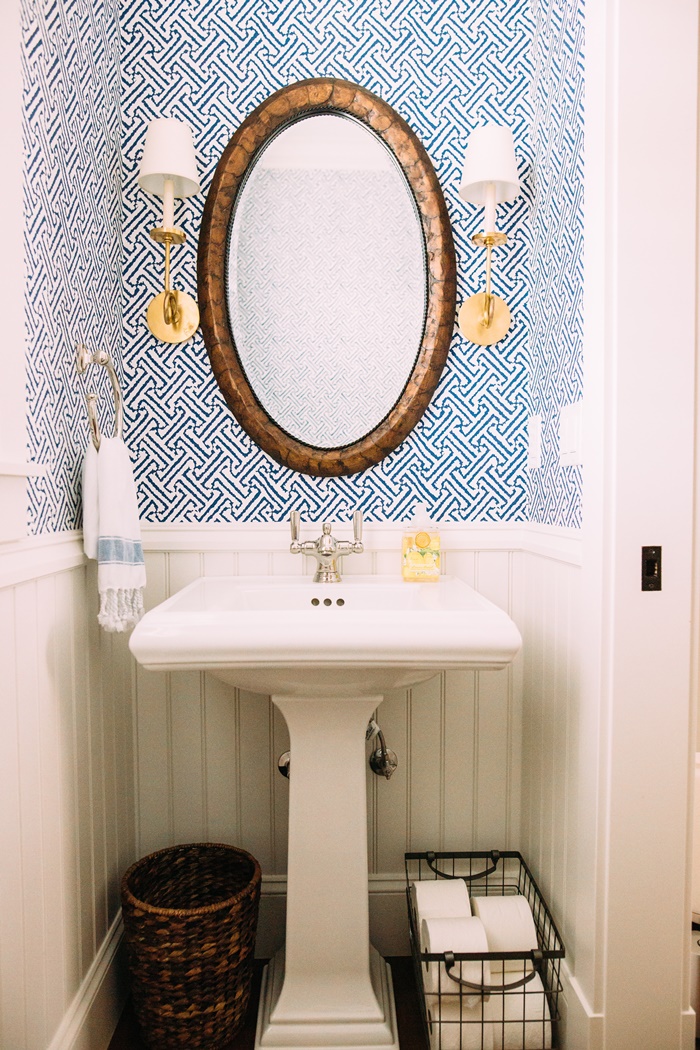 Hello pretty powder bath! I just love a little drama in a bathroom.
A beautiful blue and white family room just says come on in and sit awhile.
White sofas and blue accents are a definite coastal feel.
Of course, I love this artwork and her blue and white jar.
The den has some gorgeous built ins and all that white cabinetry is gorgeous.
I see Plantation shutters and some classic pieces here.  Love that herringbone rug.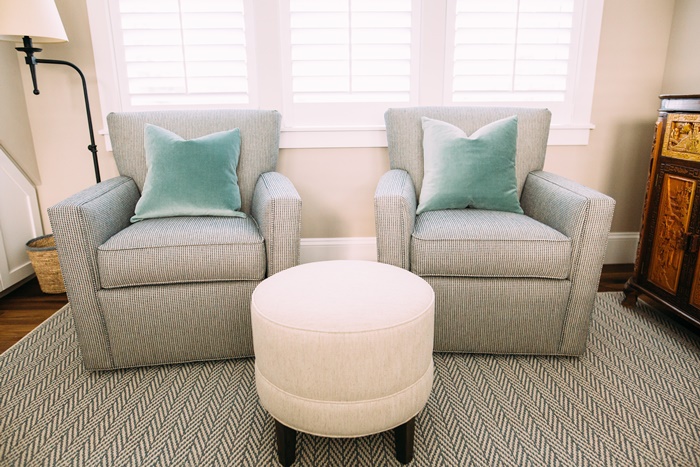 Julie's dining room with those gorgeous Chippendale bamboo chairs, so classic.
I  love her kitchen! Beautiful design elements.
Wet bar
Master bedroom, in cream and blues. I  love those side chests.
And what a gorgeous bathroom, so pretty in aqua shades.
Absolutely classic style, Julie!
Laundry room with more blue and white.
And this bunk room is SO adorable!
A guest room rounds out the tour.
Not to mention the outdoor views and spaces.
I've been to the Seattle area and know the beauty that is there, so I'm sure the views are stunning from this deck.
Julie and her husband have indeed created a gorgeous dream home. Looks pretty perfect to me!  Julie doesn't have a blog…yet!  She said she has one but it's unpublished and I really think she needs to start one, don't you?
Don't Miss a Post, join my list!