Happy Friday! I'm running a repeat Feature Friday today. This one was very popular 3 years ago and it's worth another look in case you missed it the first time.
******************************************************************
I met my friend, Tracey, a blog reader turned friend, after I moved back to Atlanta almost 5 years ago.  I helped her a few years ago with a few updates at her pretty home in North Atlanta, in the Sandy Springs/Dunwoody area and shared her living room refresh then.  Nearly 2 years ago, she and her hubby and 3 children built and moved into their dream home in the same area.  The lot was purchased with the plan to tear down the older house and build new and their home sits on a lovely corner lot.  And what a gorgeous house it is.  I asked Tracey if I could share it with all of you and she was gracious to say yes.  It is still being decorated and doesn't have all the rooms completed yet, but it is such a beautiful home with the architecture alone.  She's slowly working her way around the house adding things to each room and she will be layering it with collected things along the way, as well as new furniture.
Decorating a home like this takes time and patience, but Tracey has done a wonderful job so far.  Enjoy the tour of this new build home in Atlanta.  I was trying to figure out the style of the house when I walked up to see it for the first time. My first thought was Modern Farmhouse, but it also has a European elegance to it, so you can judge for yourself.  Tracey said she wanted the house to have a classic feel that couldn't be pigeonholed into a certain decade.  It certainly is classic!
I took lots of pictures, but keep in mind this was a fast photo shoot. I don't set up on a tripod when I do these and all the pics are not crisp and clear, but I wanted to share how beautiful this home is and hope you enjoy!
Tracey also shared her architect and builder information:
This is the architect who designed our home, Rodolfo is wonderful.   Castro Design Studio
Our Interior designer was Chelsea Dunbar.
Craftmaster, Eddie Levin was our builder.
When I pulled into the circular driveway, I was taken in by the exterior beauty.  It seems Southern, yet with a European feel too.
I'm adding the paint colors below!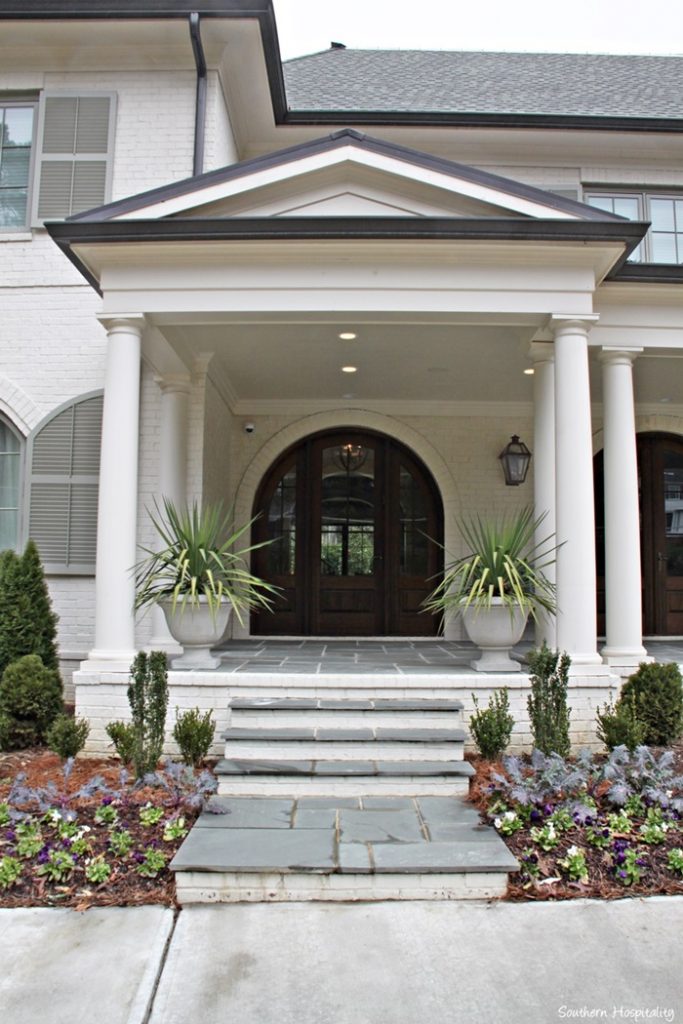 The front entry with the stunning arched front door really draws the eye in to the beauty of the front porch.  Notice the creamy white painted brick and the stone steps and front porch.
This door is one of the prettiest I have ever seen. You'll see a lot of arches in this house and that makes it so unique.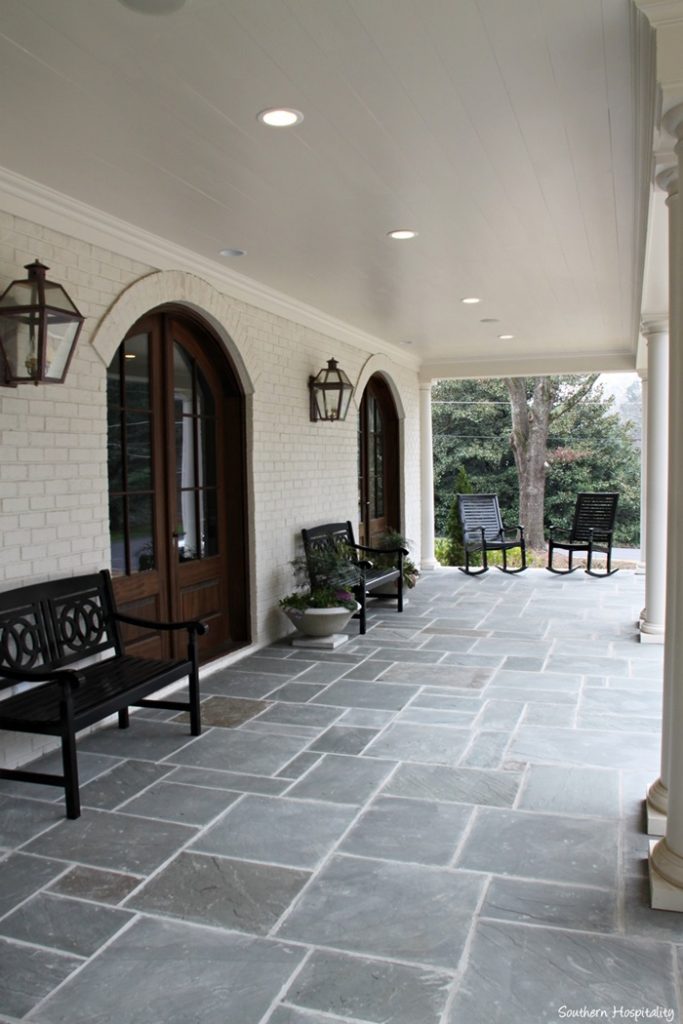 Two arched French doors lead into the dining room from the front porch.
The columns give it a stately classic look.
Inside the front door, two more arched doorways lead to the stairway and greatroom.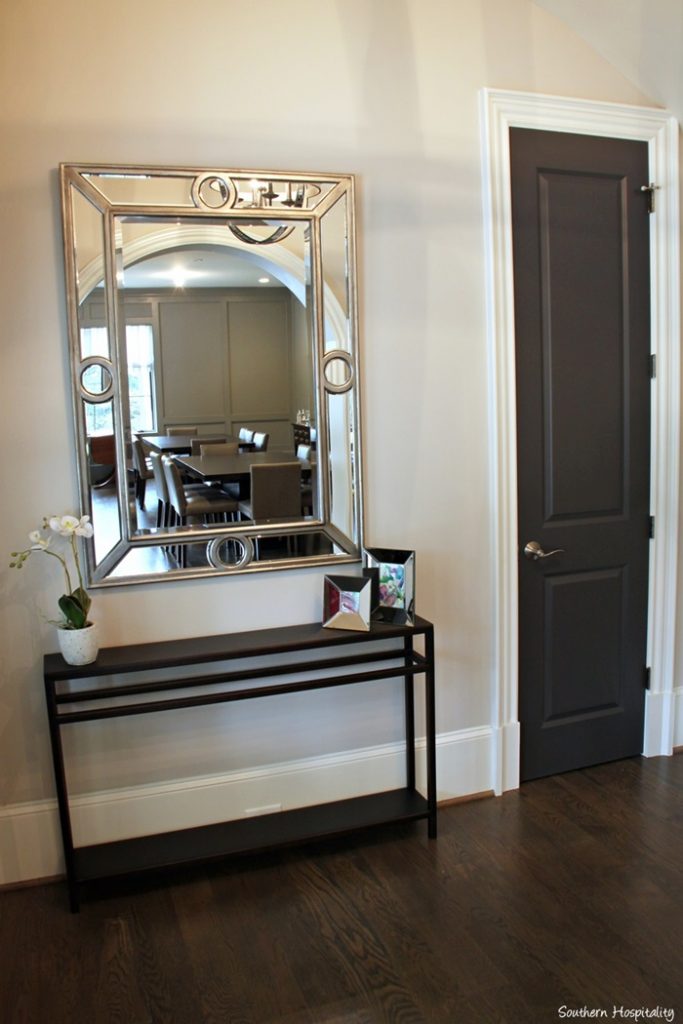 Console table in the foyer.
A niche in the foyer holds a pretty cabinet with a painting over it.
Lighting in the foyer. I loved her lighting choices throughout the house.  She has a great eye for details.
To the right of the foyer the dining room has another arched entry.
The paneling in here is painted a lovely shade of gray, along with all the woodwork.   Tracey opted for 2 large tables and simple modern chairs.
She has leaves to extend both tables to butt them all together and seat a host of people around her table.  She has a large family and they entertain often.  What a lovely space to enjoy a meal.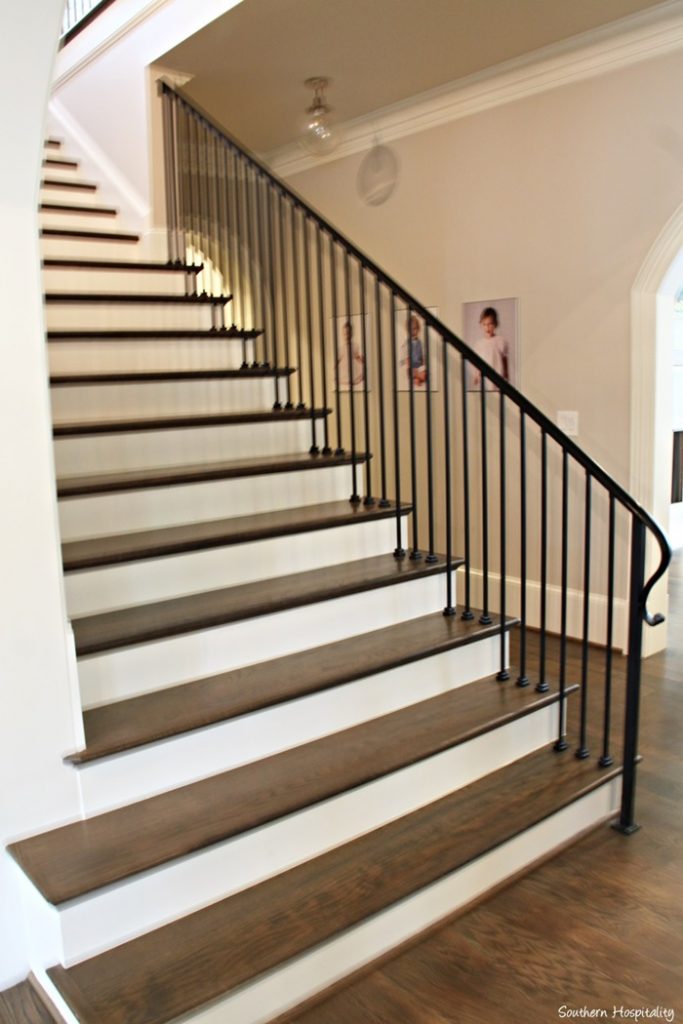 The staircase leading upstairs.  We'll go there later.
Straight ahead is the family room with a large expanse of windows and doors.  I absolutely love her choice of doors and I've never seen doors like this.  I thought they were black metal, but they are actually painted.  I love the large panes and how it has an industrial feel, but very classic.
She used this throughout the house on all the windows and doors.
Greatroom with a large sectional.
Behind the greatroom is the kitchen which flows into the breakfast room.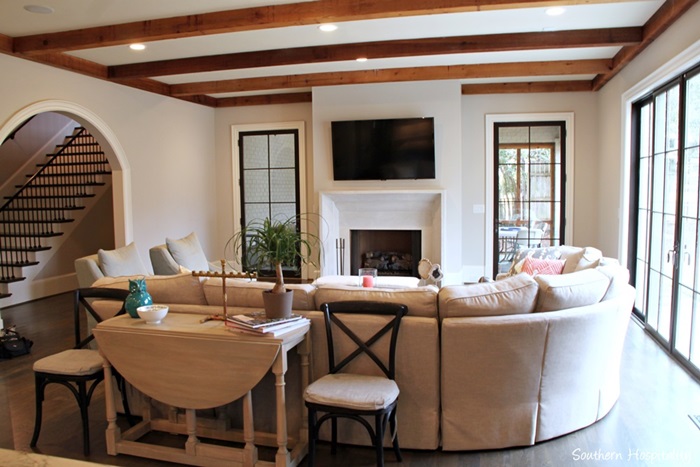 Another look at the fireplace and greatroom.
Love the stained beams on the ceiling, such a nice touch.
Sofa table behind the sectional.
Looking from the kitchen island back to the greatroom.
Pendant lights over the island from Ballard Designs.  Notice she has a large range out here but you don't see other appliances, except a built in fridge. This is a really genius idea and I'll show you that in a minute.
Looking towards the breakfast area with built in bookcase.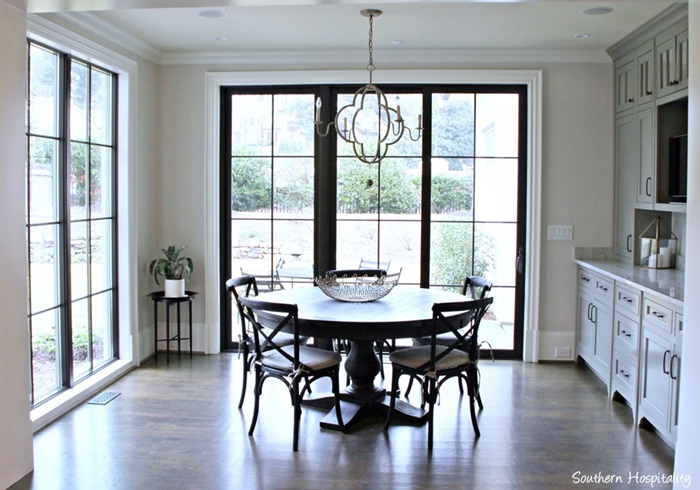 Love the huge expanse of windows and doors in this room, letting in a flood of light.
It's a beautiful space. Notice the light gray cabinetry, a beautiful color in the kitchen as well. I also love the hardwood floors.
Looking back to the kitchen, you'll see the built in refrigerator.
Cabinet details and furniture legs, another nice touch.
Cabinet hardware.
Expansive island and sink area.  Now, right behind the kitchen is another room that Tracey calls the back kitchen.  It's where all her appliances are housed.
She cooks everything back here and when a mess is made, the pocket doors can be closed.  There's another fridge back here, with the wall ovens and another sink.
Lots of storage to house everything out of the way.  This room has two entries, one from the kitchen side an one from the hallway. I have never seen this done and thought it was a great idea in a large house.
The Butler's pantry going from the kitchen into the dining room.
Pretty lighting choice.
Down the back hallway is the mudroom coming in from the garage.  She's got 3 kids to keep up with so I'm sure this is well used.
Off the mudroom is a his and hers office area.  Nice space with lots of light coming in.
The kids use this area too for homework and computer time.
A powder room is off the hallway.
Out the back door is a covered porch. Tracey said she would love ideas for this space.  I can see some all weather wicker furniture with some pretty pillows and plants.
Details on the doors used throughout.
Looking out to the backyard.
Detail on the doors, I just love this choice.
Off the great room is the screened porch, with a pretty stone floor and rustic wood and painted brick.
Lighting from Restoration Hardware.
Great place for the family to hang out and watch TV.
Love the mounted fans on each side of the room.
Back inside the entryway, looking towards the front door.
Right by the stairs, is the hallway to the guest suite.
Guest room ready for company, she reused some of her older furniture in here.
Sitting area.
Guest bath vanity.
Heading upstairs to the other bedrooms.
Each child has their own room and outside 2 of the rooms is this little alcove for the children, with built-in bookcases holding all their books.  It's such a cozy idea for a kids area.
Not a great picture in low light, but her boy has his own loft play area in his room, with bunkbeds below.
Down the hallway to the master suite.
Looking into the master bath from the hallway, the master suite has it's own little foyer with doors that close off from the hall and close off from the bathroom, which is nice for not disturbing the other when one gets up early in the morning.
The master bedroom is very spacious and a work in progress to get the decorating finished.  She will be adding lots of furniture in here to cozy it all up.
The master bath with clawfoot tub and I love the tile detail on the floor.
Walk in shower.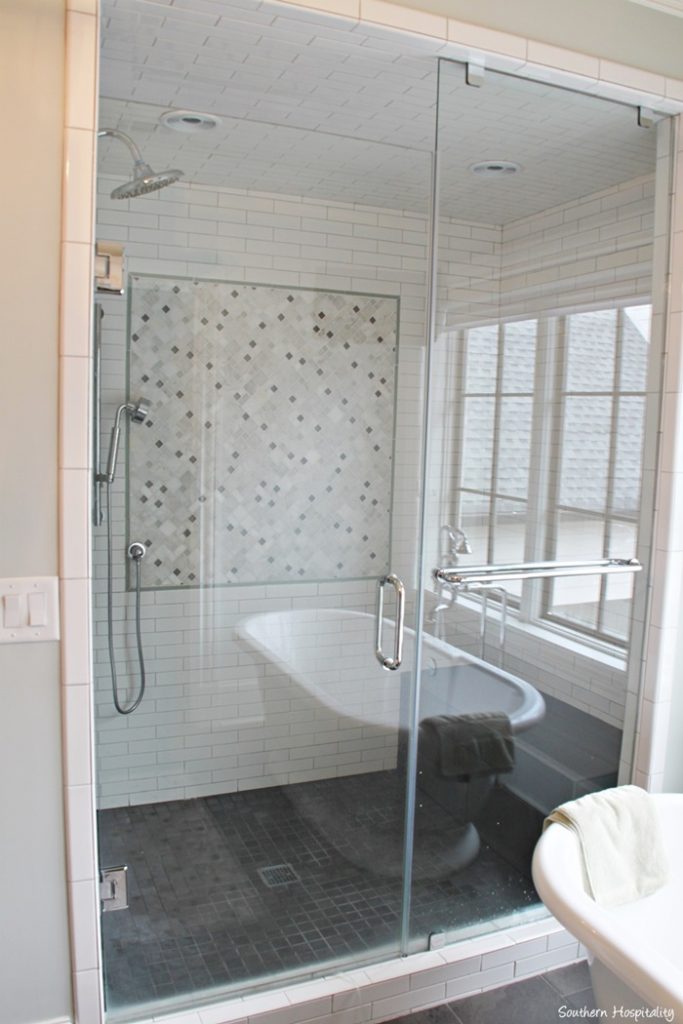 Nice and large shower space with bench seat. I love how she mixed up the tile and added an accent in the shower.
Her side of the master vanities.  Love the arch in here too, carried throughout the house. She used leathered granite in the master bath and it's beautiful.  It has a matte texture to it.
Right off the master bath is the master closet, nice and large for 2 people.
She has her own little vanity area in here and lots of storage.
A doorway opens to one side and the laundry room is right on the other side.  Perfect spot for the laundry room, upstairs where all the bedrooms are located.
Very spacious with 2 stacking washers and dryers.
She must do a lot of laundry with this set up.
And that concludes the tour, but I wanted to share all the details of the millwork. This house has fantastic millwork and I just love the detail that a new build like this has.
The door frames are at least 12 inches wide with moldings and trim to beef it all up even more.  Those arches are truly stunning and such a nice addition to a home like this.
I also love a deep baseboard too and this is all so pretty and detailed.
I hope you all enjoyed seeing this newly built home in Atlanta.  I love to see what is out there being built these days and I think Tracey hit a home run with this one with all the details she incorporated in the house that will truly stand the test of time.  It's a classic and traditional home with lots of gorgeous details and they will enjoy for years to come!
Tracey shared her paint colors with all of you too, so here you go:
All trim (Except in Dining Room): Dove White semi gloss BM or Dover White SW
Ceilings: Antique White flat
All Closet Interiors: Antique White Satin Finish
All Downstairs Doors (except in guest room): Iron Mountain
Interior Windows: Black Bean soup 2130-10
Dinning Room (walls and all trim in matching color, walls in satin finish and trim in semi-gloss finish):
Dovetail Gray SW
FOYER: Collingwood OC-28 egg shell
Foyer Niche: prime for wallpaper
FOYER POWDER ROOM: prime for wallpaper
LIVING ROOM: Collingwood OC-28 egg shell
STAIR HALL: Collingwood OC-28 egg shell
GUEST ROOM: Collingwood OC-28 egg shell
GUEST ROOM BATH: moonshine 2140-60 satin
KITCHEN: balboa mist 1549 flat
BREAKFAST ROOM: balboa mist 1549 flat
SCULLERY: balboa mist 1549 flat
MUDROOM: balboa mist 1549 flat
Mudroom Lockers: Galviston Gray
OFFICE: balboa mist 1549 flat
MUDROOM HALF BATH: balboa mist 1549 flat
UPSTAIRS
All Doors : White Dove
Hallways: Balboa mist 1549 flat
Master Bedroom:  Agreeable Gray sherwin Williams egg shell
Mater Vestibule:  Agreeable Gray sherwin Williams egg shell
Master Bath:  Sea Salt SW SW 6204 satin
Master Closet:  Agreeable Gray sherwin Williams egg shell
Laundry Room:  Sea Salt SW SW 6204 satin
Exterior:
The brick is painted ballet white, color by Benjamin Moore oc-9.
The shutters are Frosted Jade which is a Kolbe window color and we had the paint for the shutters custom blended to match.
Don't Miss a Post, join my list!