Happy Friday, friends!
I've shared this beautiful house before, but I'm back today with an update on Barbara's garden, so stay tuned for a treat below, new pics at the end. This Feature Friday has been my most viewed Feature Friday in the history of EVER, so you won't want to miss it!  There are a ton of comments on this post from the first time I posted it, so if you want to know more details, Barbara has answered ALL the questions in the comments and she added a drawn floor plan that was modified from the original plan.  Barbara is not a blogger, but she is now on Instagram, so find here here at A Full Circle Farmhouse!
Today's Feature Friday is one I'm really excited about!  It's a feature of a newly built farmhouse out in the country in North Atlanta, which belongs to a long time friend mine, Barbara, who I went to high school with.  She and I were friends during high school, but haven't really kept in touch that much, but she and I have a mutual friend in my very close friend, Vicki, and so have stayed in touch somewhat with Facebook over the last few years.  She's also an avid reader of blogs and loves decorating and showed up at the very first Haven Conference, where I saw her for the first time in years.  It's been fun to see her here and there and see what she's up to.  She and her husband, Danny got married right out of high school and they have 4 children and 5 grandchildren.
I heard from Vicki that Barbara and her hubby had just built this new gorgeous farmhouse out in the country and after seeing a few pics on her Facebook page, I asked her if I could come and photograph her house for the blog and she said yes!  I was so excited to get to see it in person and hear all about it.  We sat down and caught up for a bit before I started taking pics and Barbara told me about all the houses that they have lived in over the years in the Marietta area.  They went from 8,000 s.f. down to 5,000 s.f. and finally to this house, which is 2,800 s.f., really a great size for a house. She also told me that her heart's desire since she was a little girl staying in her grandmother's old farmhouse was to  have a farmhouse of her own, so farmhouse has been on her mind for many years.  She was way ahead of the trend of farmhouses that are all the rage now and so this house was the one that she got to build as she desired, getting to choose all those little details that had been important to her over the years.  As you probably are all aware if you read blogs and watch Fixer Upper on TV, farmhouse is a HUGE trend in homes and design style these days with shiplap being a huge part of that trend. You'll see shiplap in Barbara's house too, as well as rustic and reclaimed woods. Barbara has made this one very special. She does live in the country on 5 acres and this house is their forever home to be enjoyed and lived in and one that their family will enjoy for years to come.
When I drove up and saw the house in person, it took my breath away. Gorgeous to the max, this says farmhouse and Southern Living all rolled into one.
I'm listing all the paint colors at the bottom! 
I personally love Cape Cods and this one is perfection.Notice the plain gray metal roof, just what Barbara ordered. She said she had to have several stern conversations with her contractor as he asked her on several things, are you sure you want this?
The triple garage is so nice and notice those sconces outside the garage doors.
Notice too this little white picket fence which will turn into a beautiful cottage garden one day.  They just moved in last November so I think you'll agree that Barbara has done a beautiful job when you see the interior.  The garden will come later this spring.  I love those sliding barn doors and the board and batten detail.  She wanted those doors to slide open in case they want to entertain in the garage at some point and have an outdoor party, where people can spread out on the front lawn.
Three perfect dormers on the top of the house add that cottage charm perfectly placed.
I love her choice of double glass wooden doors, not to mention the brick steps and porch.  Sigh, it is really perfect in my eyes!  While talking to Barbara, I can tell she has a really good eye for detail and what she likes and she's the driving force behind this house design and how everything came together, as she chose all the finishes on the house and directed the contractor on everything she wanted.
A look at the sliding barn doors and cottage garden to be.
The spacious front porch hold some beautiful pieces, like this rustic table and chairs.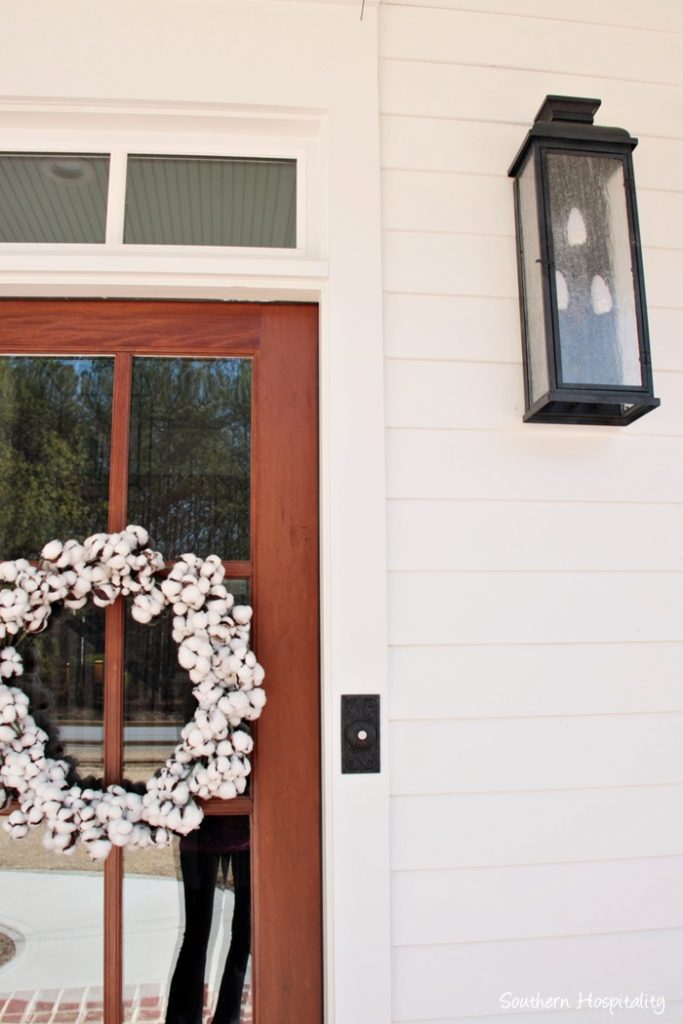 A cotton wreath looks great on the front door and the light fixture is so simple and elegant.
The other end of the porch holds 2 rocking chairs and a swing, a staple on any Southern porch.
Now let's step inside the foyer where you'll see the family room straight ahead and the living room to the left.
A pretty white buffet anchors the entry way beautifully.
Barbara's hubby, Danny, is very talented with wood working and trim and did a lot of the interior projects himself, like this board and batten trim.  He built several things inside too.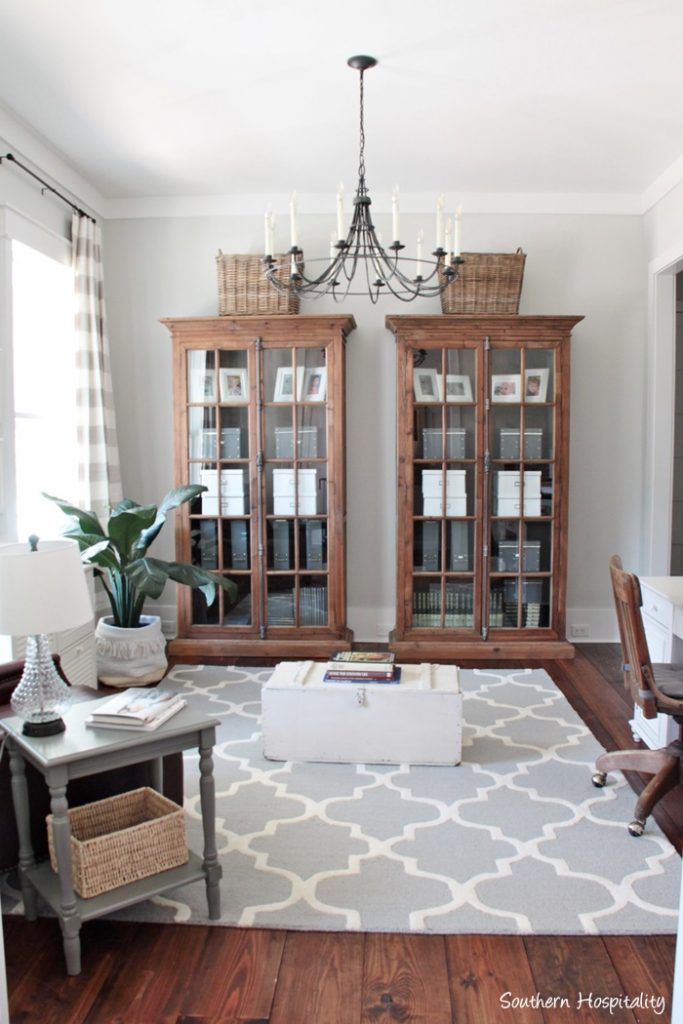 The living room on the front of the house is so pretty and charming.  See those 2 glass front cabinets over there?  They came from Scott Antiques, one of my favorite shopping spots here in Atlanta too.  I have seen these cabinets several times and have seen this vendor when I go there.  She said since she bought 2 of these cabinets, she got them for $800 each, which I think is a great deal. He makes these out of reclaimed wood to look old.  They are gorgeous!
Simple touches and a casual feel make this room feel so cozy and comfortable.
I love that framed artwork and I'm sure there is a story behind those.
A desk and banker's chair anchor the other side of the room.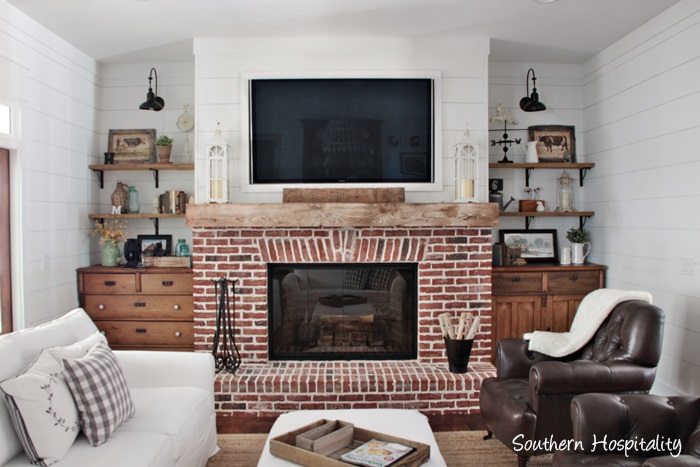 Moving into the family room, this beautiful brick fireplace is a great focal point. And there's plenty of shiplap!
She found these pretty pine antique pieces at Scott Antiques too and made sure they fit her niche space.
I love the simple shelves over the top with black iron brackets and accessories on top.  I squealed when I saw she still has this Target bunny weather vane from about 10 years ago.  I still have mine too!
The other side holds another antique pine cabinet and the same shelves above.  Just gorgeous and simple! Her hubby also built the mantel I think she told me.
Simple white slipcovered sofas and brown leather chairs make the room beautiful and cozy.
The floor plan is open and the dining area and kitchen are right off the greatroom.  I love the flow of her house. Notice those pretty green lights.

The floors are all wide stained yellow pine that she found a good source for. Notice all the shiplap. Her hubby installed all of that as well as built the island in the kitchen.
He also built the hood over the stove out of reclaimed wood.  I love the Shaker cabinets, simple subway tile and that little tile feature over the stove.
This is one gorgeous kitchen!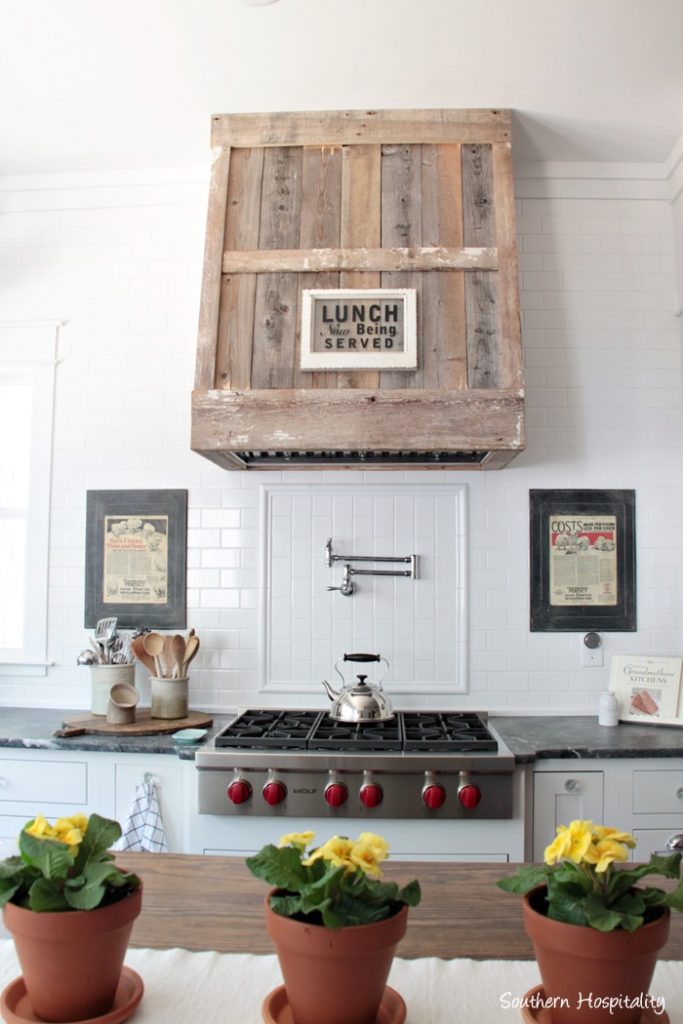 With simplicity and charm, it's perfect.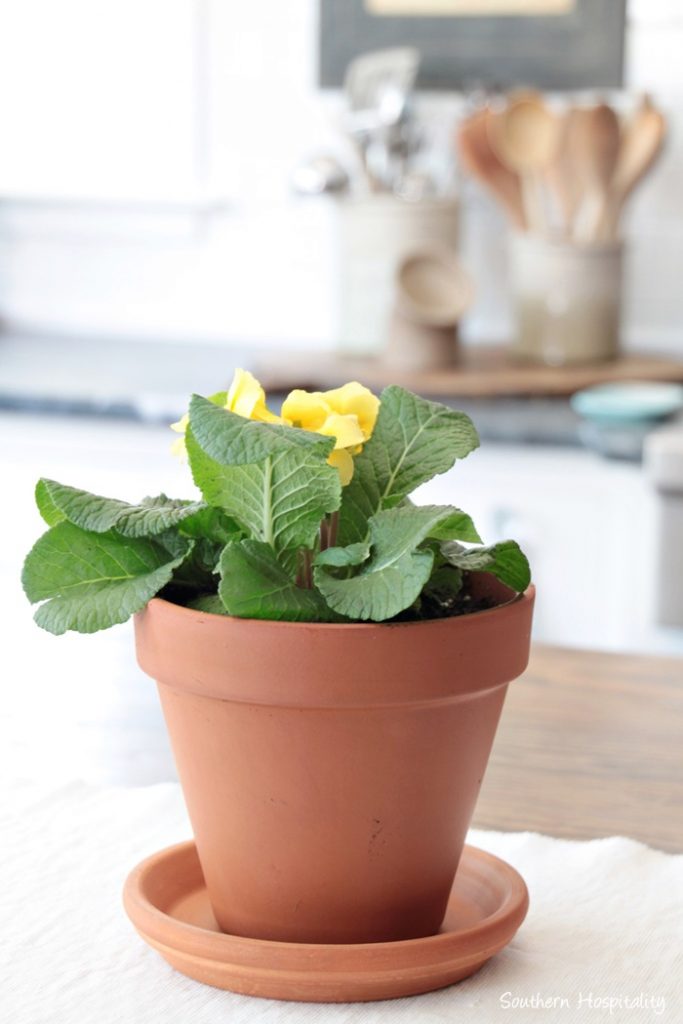 Potted pansies on the island add some color.
Just off the kitchen and by the back door is the mudroom which leads in to this magnificent pantry.
She used an old screen door for the entry to the pantry. Isn't this the cutest and notice the old latch at the top.
Beautiful pendant lights and plenty of shelves make this such a great pantry space. So this pantry makes me a wee bit envious!
She opted for no formal dining room, but the large table sits behind the sofa and off the kitchen.  Table is from Restoration Hardware outlet and chairs from World Market.
That beautiful pine cabinet came from Woodstock Antiques market, such a pretty piece in here.  I'm really loving pine furniture all over again even though I don't have any. That light fixture she picked up at the Atlanta market downtown and got it for a great price of $75.  She later saw it in a high end decor shop for $800 and had to brag on it to her hubby who just didn't get the appeal of this fixture.
Simple art and a big lantern look great together.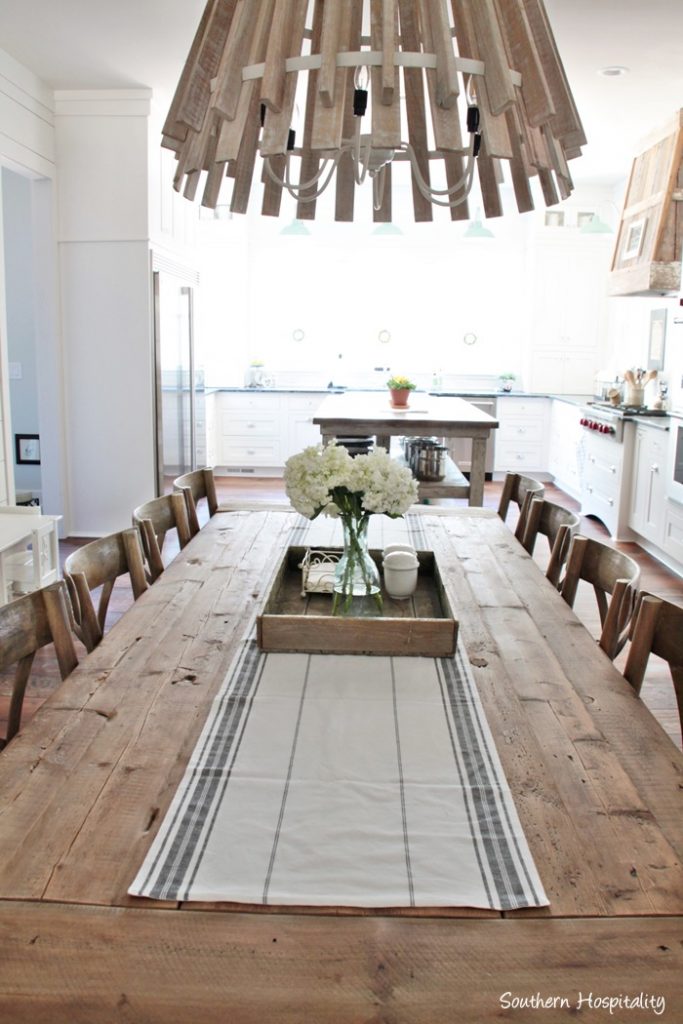 Dining table look back towards the kitchen.
And over to the family room.
The powder room is just off the living room and dining room and has simple appeal too. This vanity is from the same guy at Scotts.
An old ladder and a few touches in the powder room.
To the right of the foyer is the master bedroom suite.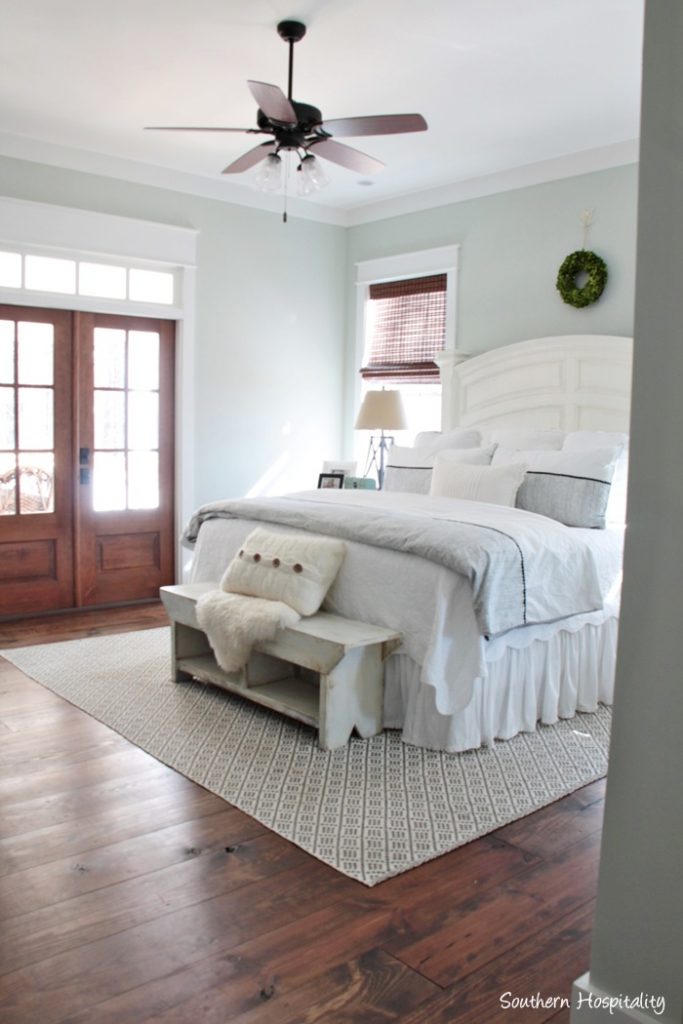 It's beautiful and light and airy.  Those doors open to the big porch which we will see in a minute.  I love all the light coming in the house, that's a perfect house to me when light pours in from all angles.
A white bed and beautiful linens make this a gorgeous master space.
Simple side table and a pretty graphic rug anchors the floor.
Looking towards the master bath.
A double vanity came from the same Scott vendor.  I took pics of this vanity last time I was at Scotts and shared it on my blog.  I was happy to see it at Barbara's house!  Notice the sliding barn door her hubby made.
Ever practical, Barbara opted to have her washer dryer installed right in the master bath suite. Overhead cabinets help with storage and she can do laundry very easily.
It's right next to the large tiled shower with simple subway tile and a retro floor tile.
Such a pretty vanity.
Another build by her hubby, this saloon door goes right into the spacious master closet. Now this is a closet to be envious of.  Lots of light and plenty of room.
She said her hubby has more clothes than she does so he gets more of the closet.  A large ottoman is in the middle.  Her section, with a window and simple cafe curtains.
And his on the opposite side.
So spacious and organized.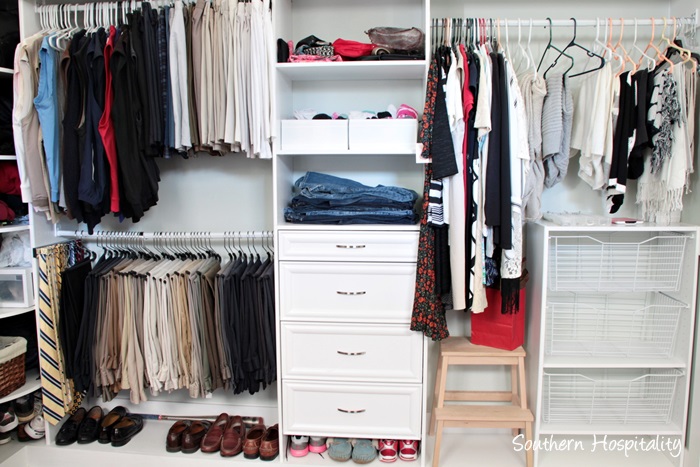 Such a nice closet!
OK, let's go out to the big covered porch.  Love this space!  Porches are my favorite.
I think that must be a TV there on the console table.  All weather wicker rounds out the seating area.
Looking towards the other end with a large eating table.
So pretty and open and spacious. Three of those fancy fans are on the ceiling to help keep it cool out here during our hot Georgia summers.
Back inside, let's go upstairs.  Notice the newel posts, my favorite design too.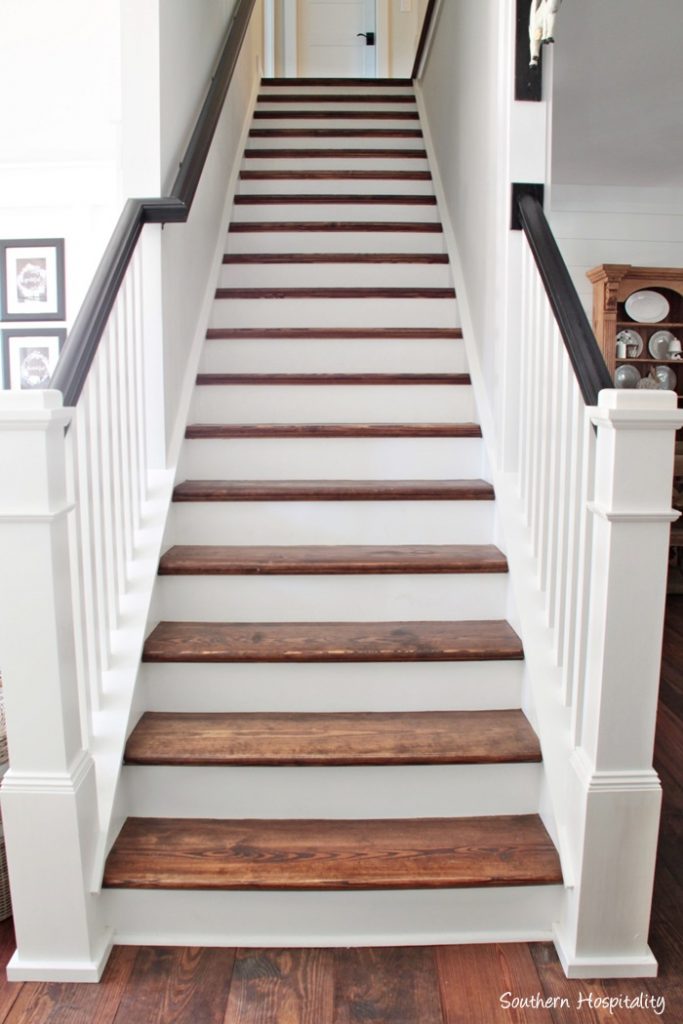 Up the stairs to the Jack and Jill bedrooms which are for the grandchildren to enjoy.
At the top of the stairs is a little nook for seating.
A  little girls room is set up on one side with a bathroom in between 2 bedrooms.
The dormers are so cute.  Perfect for little girls to play!  Notice the white painted plank floors.  I'm not sure if these are the same pine floors painted or not, but I suspect they probably are.
She got this pink check bedding at Ikea and I loved it.
She didn't want any fancy vanities in the kids bathroom, so her hubby built these cute little vanities.  A marble look tile floor is easy care.
Tub and toilet room.
Next door is the kid's playroom, perfect for the grandkids to spread out and play.
A daybed with storage provides extra sleeping.
Such a cute space.
And here's something we would all drool over.  Barbara has her very own storage room for all her extra decor with shelving to keep it all neat and orderly.  I would love to have a room like this. She said it was extra attic space that she converted to a storage room.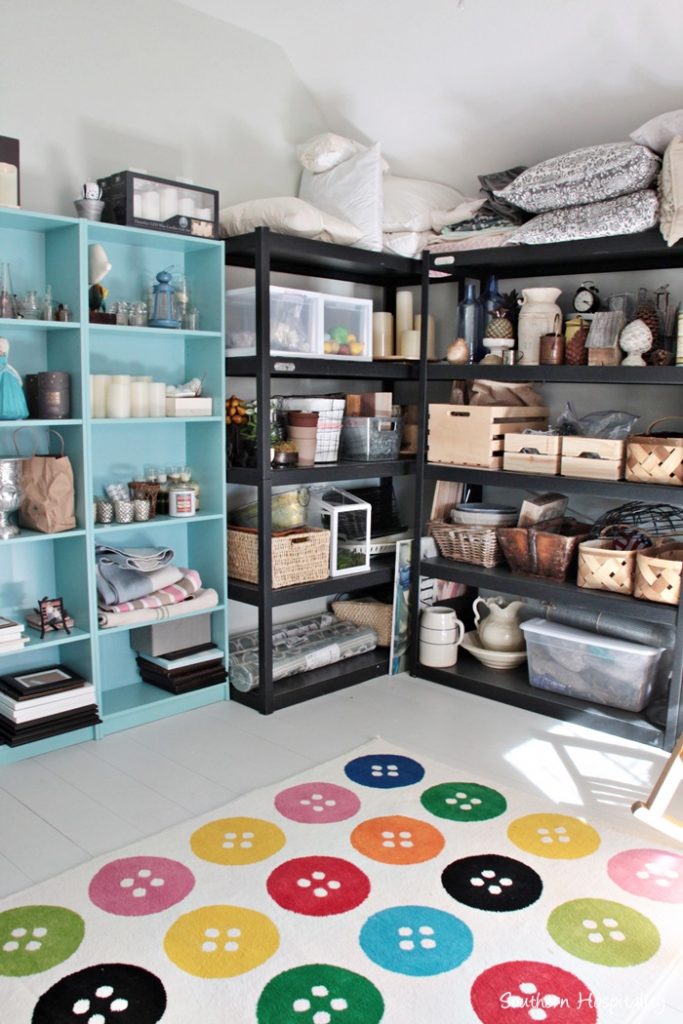 With the same white painted plank floors and a colorful rug, what a great space.
The last bedroom space is a sewing, craft room with a baby bed for the baby in the family.  Ikea Billy bookcases and storage pieces from Ikea make this room really nice and organized too.
She has a sewing machine set up and an old pine cabinet holds paint supplies.
A Martha Stewart gift wrap station rounds out the room with more organization.  Isn't this is a cute room?
I was absolutely blown away by Barbara's newly built farmhouse. I think she thought out so many details, making this house so livable and using every single bit of space they have.  It has charm and casual elegance that makes it so appealing and a home they will enjoy for years and years to come.  I hope you all enjoyed this tour as much as I did.  If you have questions for Barbara, leave them here and I'm sure she will be happy to answer any of them.  What a modern farmhouse this is which oozes charm and classic appeal!
Now, for the updates to the garden!  If you're really alert, you'll notice that Barbara painted her front door a pretty aqua blue. And she's planted a white picket fence cottage perennial garden in the front walkway area by the barn doors on the garage, such a wonderful complement to the house. These are iphone pics that Barb sent me so I had to make them a little smaller so that they had detail. Enjoy!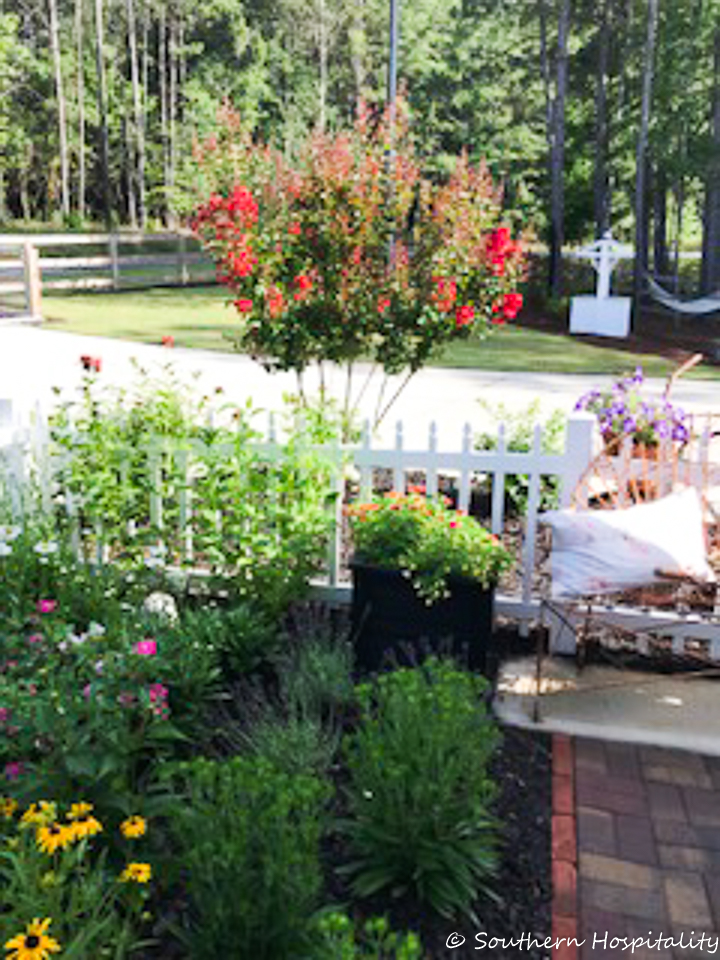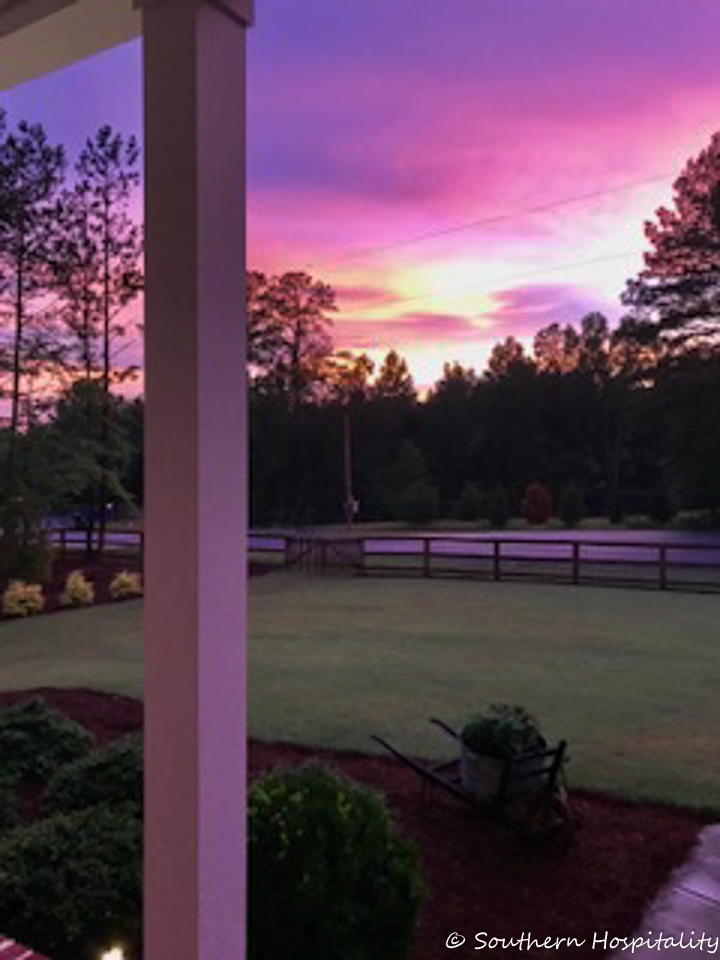 Paint Colors:
All paint Sherwin Williams
Outside and all white inside:  Pure White
Office/stairwell/upstairs hall/pantry/mudroom/powder room:  Conservative Gray mixed 50%
Storage/Master Bedroom/Bath/Closet:  Filmy Green
Jack & Jill bedroom/bath:  Sea Salt
Craft Room:  Rainwashed mixed 50%
Edited to add these comments from Barbara, the homeowner, copied and pasted from the comments, but hopefully will answer most of your questions:
Floor Plan:
I would love to share the plan with you! It's called Seven Pines, designed by Mitchel Ginn for Southern Living. We actually traveled to Newnan, GA where Mr. Ginn works to meet him and discuss the changes we wanted to make. He was so gracious and told us what would and wouldn't work.
Local Builders:
We used local builders called Vine Creek Residential. They build mostly in Paulding County, Georgia. Most of their time is spent on production building, so the more custom aspects of our house left them a bit speechless. To their credit, they went along with my requests and ended up being a fan of the results. One thing I do remember though, is them repeatedly saying… "You're sure you want just a white house and white trim? And no shutters?". Then they would look at each other (they're brothers), raise their eyebrows and shrug their shoulders. Bless their hearts!
Brick:
Our brick is called Old Georgian Tudor. The trick is to use white mortar which, I think, makes it look a little more like old brick. Not buff, or beige mortar. White – called Icy White, I believe. We used the same brick/mortar outside, too. All of it was installed by one of our builder's sub contractors, so I don't know their name. But I'm sure any brick installer could replicate our fireplace. It's a pretty simple design. Good luck!
Flooring:
We purchased all our flooring from Mr. Edward Sisk, the nicest man you will ever meet. His wood shop is in sweet Shady Dale, GA, but folks from far and wide buy his flooring. Mr. Sisk's flooring is VERY reasonably priced and I can't recommend his work highly enough. Our floors on the main level are 3/4″ thick solid Southern yellow pine in a 10″ width. Mr Sisk hand finished every single board with a penetrating stain called Duraseal. Duraseal is a mix of stain and finish, so once the boards were installed (face nailed) we had completed flooring! In the upstairs bedrooms we went with the same wood, only 8″ wide and unstained. They were installed using the blind nailing method. Then we primed and painted them with SW Conservative Gray mixed at 25%. I've wanted this flooring for years and am thrilled with Mr Sisk's product. His company is Colonial Pine Floors. His address is 1338 Ross Road, Shady Dale, GA 31085. Phone # is 706-468-0387. Email is [email protected]. Check him out – I'll guarantee you won't be disappointed. Good luck!!
Edit:  Barbara's beautiful home has garnered so much attention and she has sent out countless copies of her altered floor plan drawing, so I'm uploading it here so you all can print it out for yourself.  Thanks for all the great comments on her gorgeous farmhouse.  It truly is amazing! 
Please read the whole post and all the comments before you add another comment asking for the floor plans. This drawing is all that Barbara has to share and she does NOT have any drawings for the top floor. Thank you! She has shared the original floor plan from Southern Living as well as the designer and her custom builders. See above! 
SaveSave
Don't Miss a Post, join my list!