I'm back with a new Feature Friday today and I'm excited to introduce you to yet another talented blogger out there in blogland.  Meet Kelly, with Much to Do With Nothing.  Kelly is a great decorator, but her slip covers are out of this world beautiful and she even makes them for other people.  And she's reasonable too!  If I need anything slip-covered and don't want to do it myself (which I don't), I would definitely consider hiring Kelly to do the job.
Just look at this beautiful pleated slipcover.  Totally professional look!
Her decorating is super fantastic too.  Love this room that she put together on a budget.  Headboard was a Goodwill find, I think.  And you can see more slipcovers on the bench.  Gorgeous space!
And check out the adjoining bathroom.  Oh my, how pretty is this?!
Her dining room is traditional, classic and elegant.  But, definitely not stuffy.
And check out the new slips for these chairs.
More slipcovers and pillows.  The girl has got it going on.
Ackkkk! I can't stand the cuteness.  I'm officially jealous of Kelly's talent.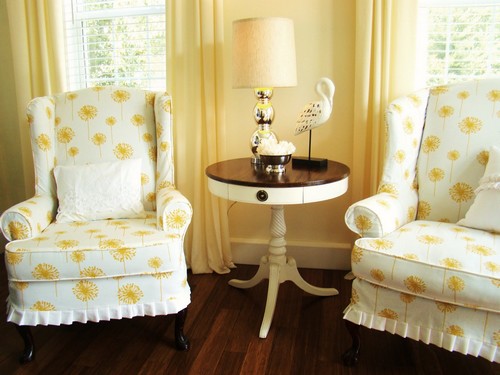 And these chairs in her sunroom just make me swoon.  How cute are they with their new slips?  Grandma chairs, no way!
So, go on over and say hello to Kelly and check out all her slipcovers and her house.  You'll be glad you did!  Kelly, you are SO talented, thanks for sharing all of your creativity with  my readers.
I'm inspired, are you??
Don't Miss a Post, join my list!