Today is a repeat, but a good Feature Friday, so enjoy this tour again of Kelly's beautiful historic home in CA.
*********************************
Hey, friends and Happy Friday again!  It sure rolls round fast and today I've got a wonderful treat for you.  If you haven't met the talented and pretty lady Kelly, from My Soulful Home, you will love seeing her gorgeous historic home up close and personal. I've been trying to share Kelly for a few months now, but she's finally ready for her Feature Friday closeup and I'm happy to share her and her stunning home that she's been renovating for the past 2 years!
I've spent some time with Kelly at a blog event last year when we were both at Moss Mountain, such a treat, and Kelly was telling me about her home and how it came to be. It took her awhile to get the house, remodel it and move it and the elderly man who lived there was quite the hoarder and had lived there for 50 years, so Kelly's stories were quite funny when she was telling me how long it took them to get the house.  But oh how Kelly has transformed this house, back to its beautiful glory Victorian days.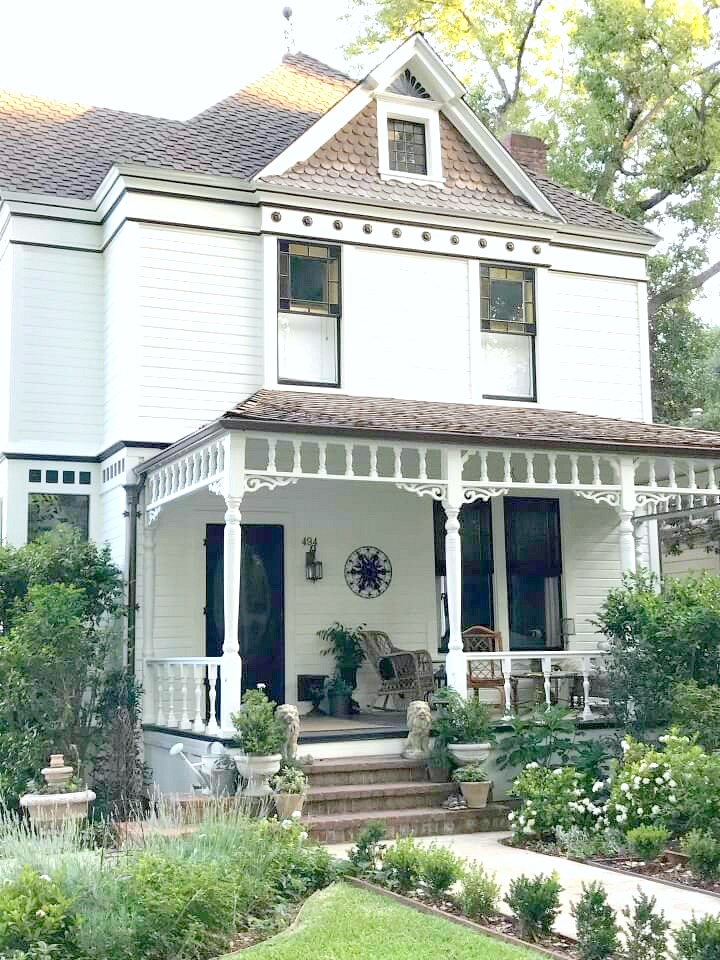 Kelly says on her blog that the house, in Pasadena, CA, was built in 1886 for $2,800.  Wow, that's amazing!  She painted it a beautiful white, it was deep yellow before.  The gorgeous Victorian trim looks so great on the house after the paint job.
I love Kelly's mix of neutrals, textures and Fall color. She decorates  her whole house in black, white, gray and gold with lots of texture. This is from last year's Fall porch, but it's gorgeous all over again. Fall is just around the corner!
Kelly is an avid gardener so she always has the best outdoor displays.
And her front porch has undergone quite the transformation. The original porch was a deep yellow color and the white looks SO good.
A beautiful backdrop for Kelly's pretty vignettes on the porch.  That's her cute dog, Emmett, peeking out.
Inside, is a gorgeous Victorian staircase and lots of white painted walls with original floors.
Kelly has such an easy way of decorating, casual and calming all at the same time. And of course, I love her mix of antiques in there. She loves vintage things in her house and it adds so much character.
A chair in a corner adds a pretty spot to sit and relax for a minute.
Her dining room is another mix of white and natural woods, such a beautiful combination.
Kelly is quite the gardener and I'll tell you more about that below, but her love of flowers shines through on her blog. These pics show a few different ways that Kelly has decorated her dining table.
I love using natural elements for Fall decorating too and Kelly does a wonderful job of that.
Gorgeous!  Who wouldn't like to sit around this table?
Kelly is a fabulous stylist and decorator.
Kelly's kitchen is really outstanding.  I love the big window they added to the back of the home and it brings in so much light.
Kelly's choice for her kitchen are spot on and it looks right at home in this Victorian home.
Another beautiful antique piece in Kelly's house.
Kelly's range is original to the house and is a 1924 Reliable and Kelly had it refurbished and says it's a fantastic stove.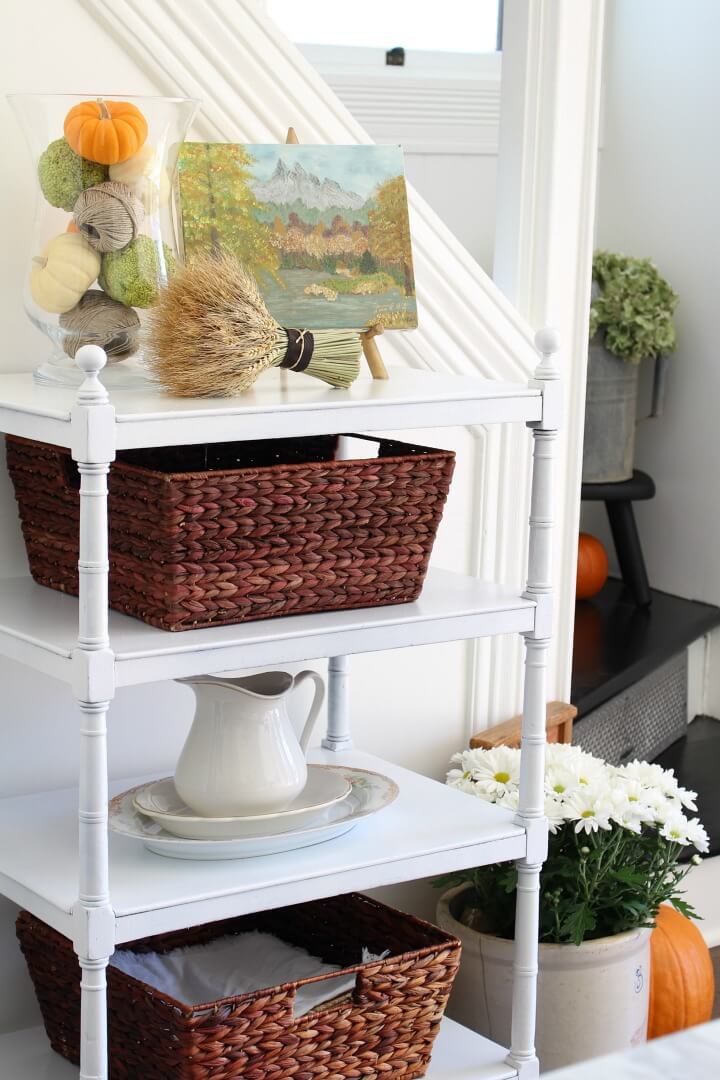 Kelly opted for marble in the kitchen and it fits so well in this vintage home.
Gorgeous!
What a beautiful kitchen!
They've redone all the bathrooms too and this is her two daughters' bathroom, so pretty and feminine.
With a clawfoot tub and antique pieces in here, it's a showplace.
Kelly knows how to do a beautiful photoshoot!
The master bedroom is equally charming and quaint, with gorgeous touches throughout.  I love Kelly's mix of old and new.
She has many crystal chandeliers throughout the house and they look amazing in this home.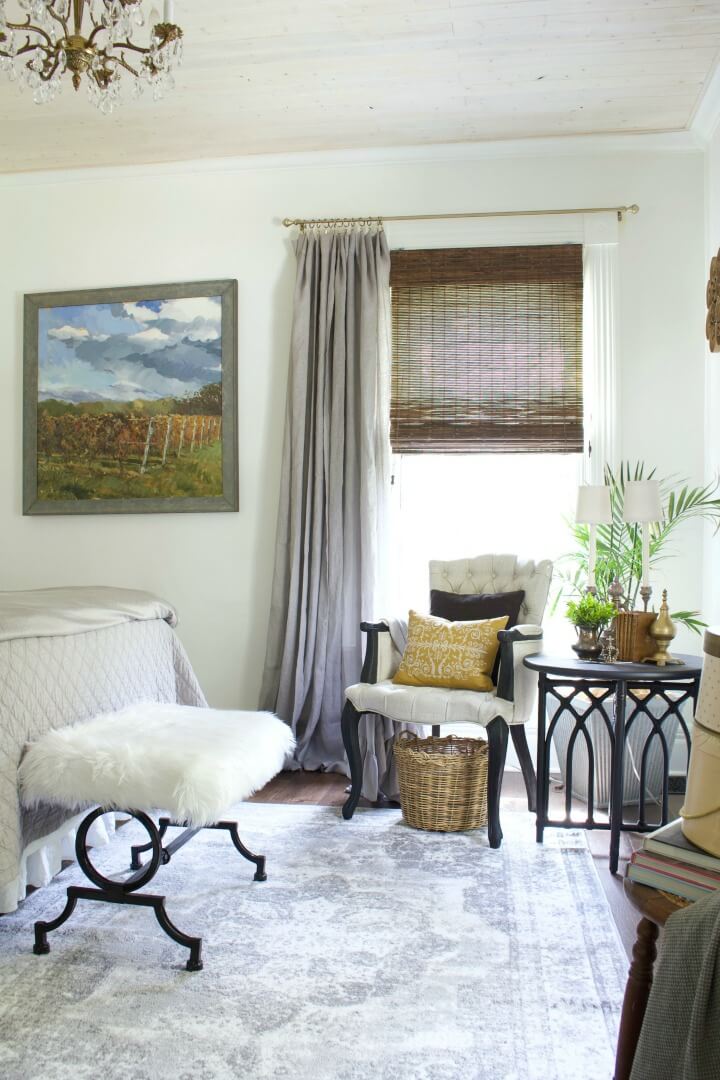 Kelly is definitely an avid gardener and shares lots of posts on her blog about gardening.  We sure had fun touring Moss Mountain farm together, admiring all the flowers and plants.
In fact, Kelly has written a beautiful book, My Soulful Home, a Year in Flowers. I have the book and it's beautiful, with 12 months of floral arrangements and how to's.
Kelly also is co-host with two other amazing gals, Anita and Yvonne, on a decorating podcast, Decorating Tips and Tricks, so check it out as well if you enjoy podcasts. They have an online shop sharing some beautiful decor items too, My Soulful Home
Here's Kelly's book below! Hope you enjoyed Kelly's home tour at My Soulful Home! She's quite the talented lady!
Don't Miss a Post, join my list!