Along my blog journey, I get to meet so many fascinating and fun new friends and Sandra with Sawdust and Paper Scraps is one of them.  I met her first last year at Blissdom and then she came to Haven this year and we also got to hang out at the Bella Rustica market and even shared a room together at the small farmhouse we stayed in with Donna.  It was a blast, getting together with those girls.
(me, Donna, Sandra at Bella Rustica in TN)
Sandra is one of those friends that you'd love to hate, but she's so darn nice that you can't.  She is oozing with DIY talent and I wish I had a bit more of her know-how to get things done.  And I mean beautiful things!  I know how to do quite a bit, but Sandra takes it to the next level.
She is a super talented DIY carpenter and would put most men to shame.  I'm going to first share pics from her old house in Illinois.  She did a bunch of projects in that house and then they  moved to Tennessee, where she is taking on that house too, one room at a time.  This craft room was her old house, but wow what a craft room. She built this island from scratch, I do believe.
Also, in her old house, the garage got a huge Sandra makeover with this built-in.  How cool is this?
The girl has some crazy mad skills with the power tools and I'm so impressed with what she pulls off, all by herself.  Her hubby is not even handy.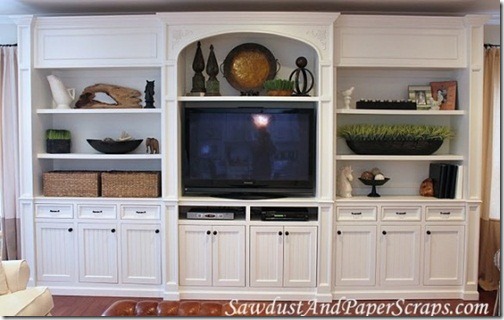 She also built this entertainment center.  Incredible and so detailed.  I can't even imagine tackling something like this.
Also, in her Illinois home, she added this wainscot all the way up the stairs and down the hallway.  Just this alone adds so much architectural details to her home.  This is way more than what me and my dad did to my house. Although I'm happy with mine too, I will say.  Sandra just has the talent and know-how to take it to the next level.
Like this wall, see what I mean?  What I really want to highlight is how adding these architectural details to a home really kicks it up a notch.  The impact is huge!
Sandra painted her kitchen too while she was in that house and I'm not sure what else she might have done in there, but it's pretty.
There's that built in with her sectional sofa in place.  Pretty room!
Her old house also had a his and hers office space, which yes, Sandra built.  Are you jealous of her talents yet?
And this one I really, really want to do in my house.  At the bottom of my main stairs going up to the bedrooms, one of these newel posts that Sandra did would look SO good.  She shows step by step how she did it.
And here's the after.  I'm hoping that by bragging on her and showing off Sandra's wonderful work, she might come and visit me and build me a newel post too. Would that be too much to ask? 
   How gorgeous  is that?
Now, we are going to move on to Sandra's current home.  Wait until you see this next magnificent project.  You will be over the edge with jealousy on this one.
Sandra had a huge master closet and built it out with custom drawers and all the bells and whistles.  I think it took her a long time, but wow, what a closet.
Check out the lighting, the floors, the hanging rods and the drawers.  Amazing!
And here's silly Sandra playing around in her new fun closet.  I'd be giddy too about that one.
And Sandra's latest masterpiece is the built ins in her library space at her current home.  It is one beautiful wall of shelves!  And check out that planked ceiling too.
Sandra, you are just too cool for words.  I'm not even worthy of wearing a DIY toolbelt next to you, my dear, but I'm glad to be friends with such a talented woman.
I hope you all got inspired over seeing Sandra's home and what a difference all these added features can make to a home.  Sandra is making over her house, one room at a time and I hope she gets to stay in this one for awhile.  It's beautiful!  Stop over and say hi to Sandra, she would love to meet you all.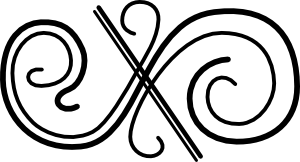 The Handbuilt Home giveaway winner has been posted and emailed here.
The Persephone vintage pillow giveaway winner has been posted and emailed here.
Don't Miss a Post, join my list!