Here's a feature back from 2014, but this home is still just as pretty as ever. Enjoy this one again! She still has a website and business, so go over and visit.
*********************************
Today's Feature Friday is a talented girl named Jesse, from the blog Scout and Nimble. She also has an online business named the same and I loved reading about how her grandmother's cars were the inspiration for the name of her business.  Read that post if you have a minute, it's really heart-warming and I'm all about that these days.
So, Jesse has been working on her family home and with 2 small boys wanted to make it kid friendly too.  I really  love her style and how she has pulled her home together in an eclectic way, with personal style and unique fabrics and textures. I really like the mix of everything.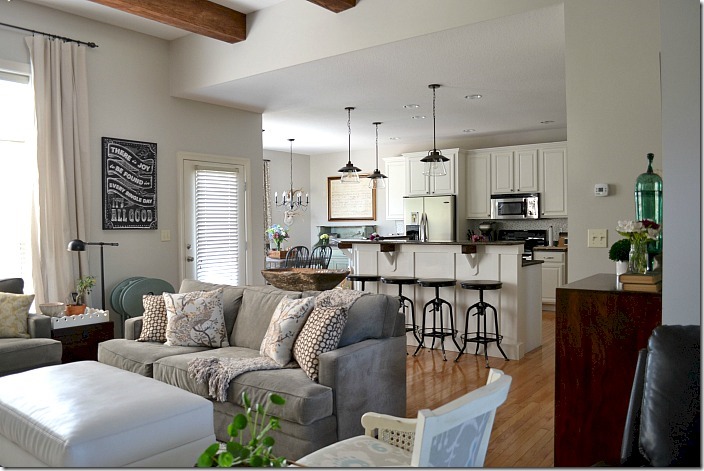 I wish there were closer pics of the kitchen, but this is the best shot of their beautiful white kitchen.
The living room with mix of neutrals and textures.
Pretty drapes and a gray painted table.
Love her mix of painted furniture and the casual seagrass rug on the floor.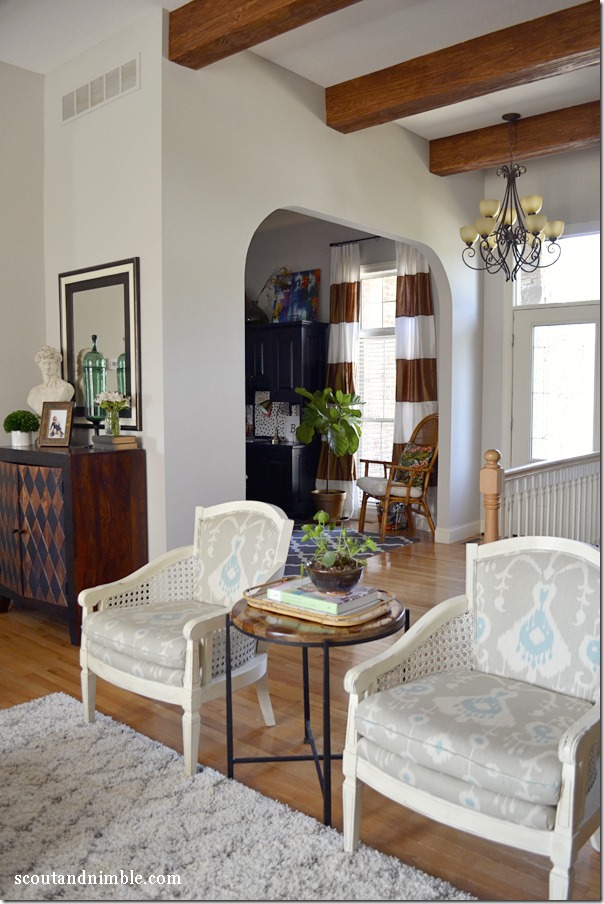 These 2 Ikat chairs are very eye-catching too and that arched doorway.  Love it!
Jesse has some striped curtains too. See how popular they are?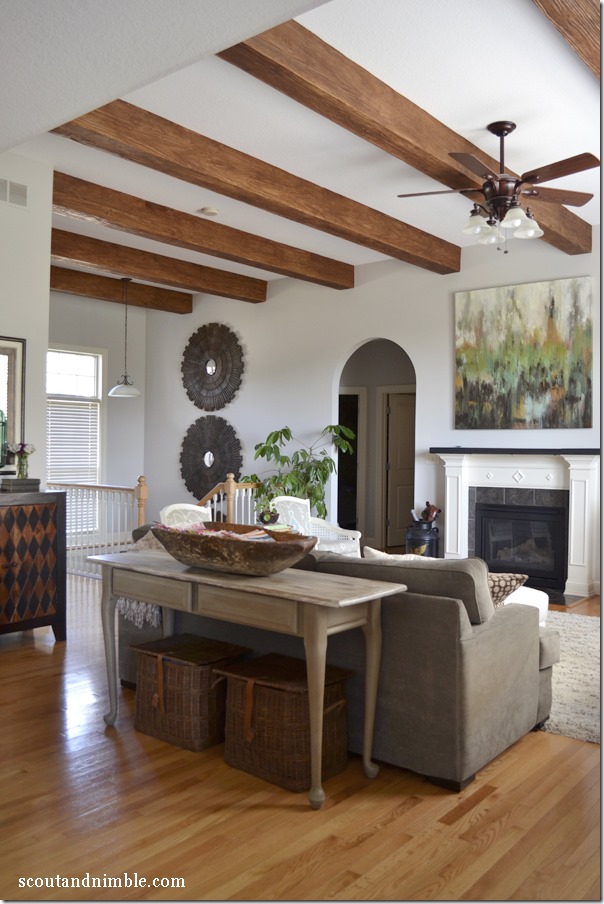 They added faux beams in their house and I love the impact those make.  Beautiful addition.
The master bedroom has recently been revealed with lots of fabrics and textures in this space too.
The family dog getting cozy on the floor.
I love Jesse's mix of art on her gallery wall.
And a Kilim rug with bold graphics and colors.
She even did a makeover on the master closet.
With jewlery storage too.
Jesse's not afraid to DIY either and did a fun West Elm hack on a stretched canvas she made in black and white.  Love the graphic look of black and white together!
It looks very striking on this large wall. She's not afraid to get out of the box.
Her son's room is a mix of fun colors and textures too.  Wallpaper on the wall adds a graphic appeal.
And she made a cute light fixture out of garden baskets for his room too.  Another fun DIY!
Henry is his name.
I hope you enjoyed the tour of Jesse's home and all that she has accomplished.  I never tire of seeing women take their homes and make them beautiful!
Don't Miss a Post, join my list!