I love the name of this blog, Simplicity in the South, and Tricia is a DIY gal after my own heart and she's Southern too.  I just love what she's done with her home in South Carolina.  She's taken a builder's grade 1980's home and tackled it room by room, creating such a nice feel for her family of 3 boys.  She's got some great projects and beautiful final pics of her projects and I think you'll enjoy meeting this DIY girl.
Tricia describes her style as a mix of casual, coastal and vintage-cottage-classic and she loves mixing textures and neutrals but adding just a touch of color.  I love that too!  She's a fairly new blogger, but already has some great projects under her belt.
Enjoy Tricia's beautiful home…DIY style!
She added lots of board and batten throughout for a nice and easy Coastal feel.  And she did it all herself, of course!
Living room chest gets changed out for the seasons.
Part of her kitchen, looking towards family room.
Hallway with newly added board and batten. I love how bright and airy it feels.
She added picture rails too for propping family black and white photos.  Love this with the grasscloth.
Her master bedroom in blues and greens, definitely my fave colors too.
Painted chest in the master.  Love her jewelry holder.  I've got to come up with something for my taking-over everything jewelry obsession.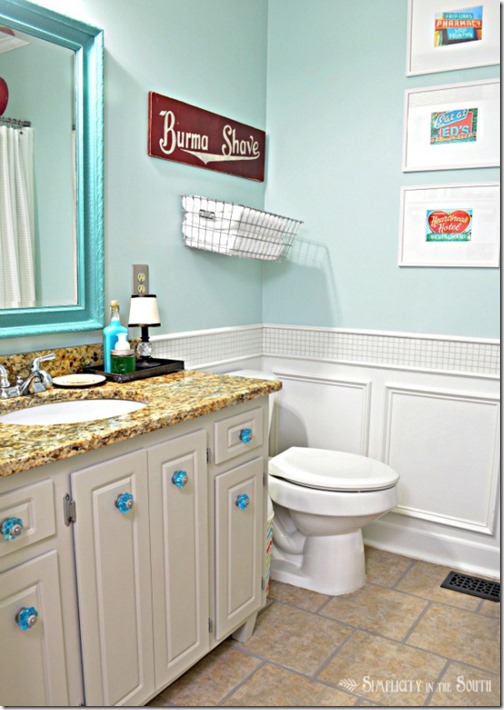 I really adore her bathroom makeover with the white wainscoting and tile above.  That's a very nice touch, along with those pretty turquoise glass knobs.
Fun what a pop of turquoise will do on a bathroom mirror.
Her younger sons share a really cute room in oranges and blues.
With their own bookcase all organized and looking pretty.
Her older son has his own room reno too, with an industrial vibe.
Check out what she did for him in the closet, a built in office space.  So cute!
Tricia is a whiz at DIY projects, like these decoupage glass containers.
With limited storage, Tricia went up in the laundry room, with shelves and baskets.  I love this!
A cute bulletin board hides the electrical panel.  How adorable is this?
She's a master at organization. I could certainly take a page from Tricia's organized closet and get busy on my own.  I love how neat and tidy it all is.
I hope you enjoyed seeing Tricia's home, I know she would love to meet you, so click on over and visit Simplicity in the South!
I'm also sharing color inspiration over at the My Way Home blog today, so I'd love for you to stop over and read!
Don't Miss a Post, join my list!