I'm back today with the second part of the Southeastern Designer Showhouse tour.  I showed you most of the main level last week, but there's lots more to see in this 22k s.f. home.  It's pretty amazing!  If you missed Part 1, go back and check it out first and then come back to this post!
As I mentioned last week, the Southeastern Designer Showhouse and Gardens is open for the public to tour until May 15, 2016, so if you are in the Atlanta area, you don't want to miss it.
Master bedroom suite designed by Phoebe Howard of Mrs. Howard.
This was the biggest bedroom I've ever seen. Truly a paradise suite.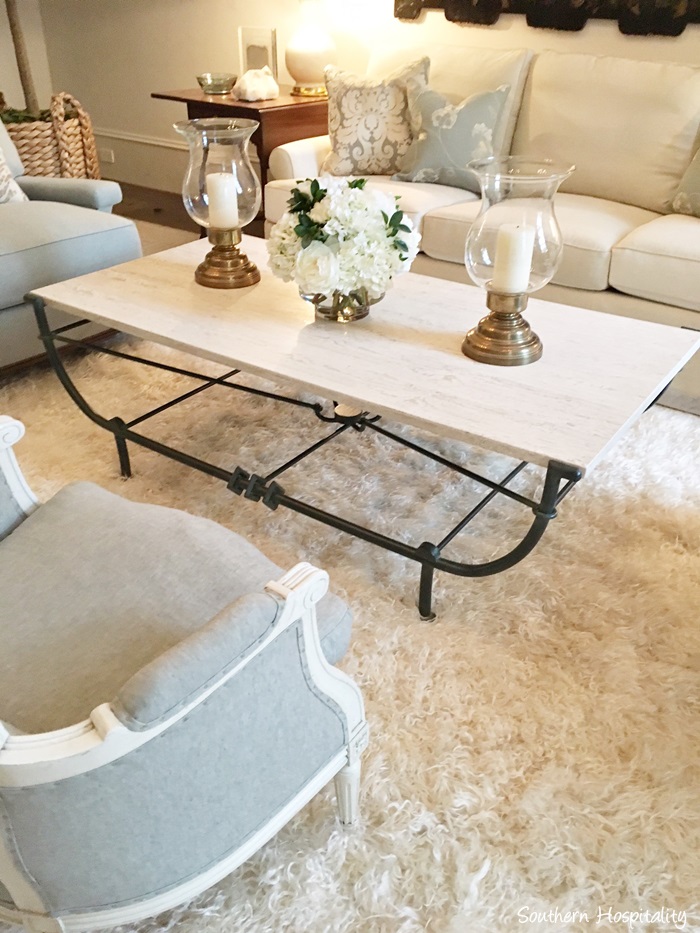 The master bath was still being finished when we were touring, but it was looking magnificent.  Designed by Michel Boyd, SmithBoyd Interiors.
Looking towards the Lady's Lounge, designed by Amy Morris, Amy Morris Interiors.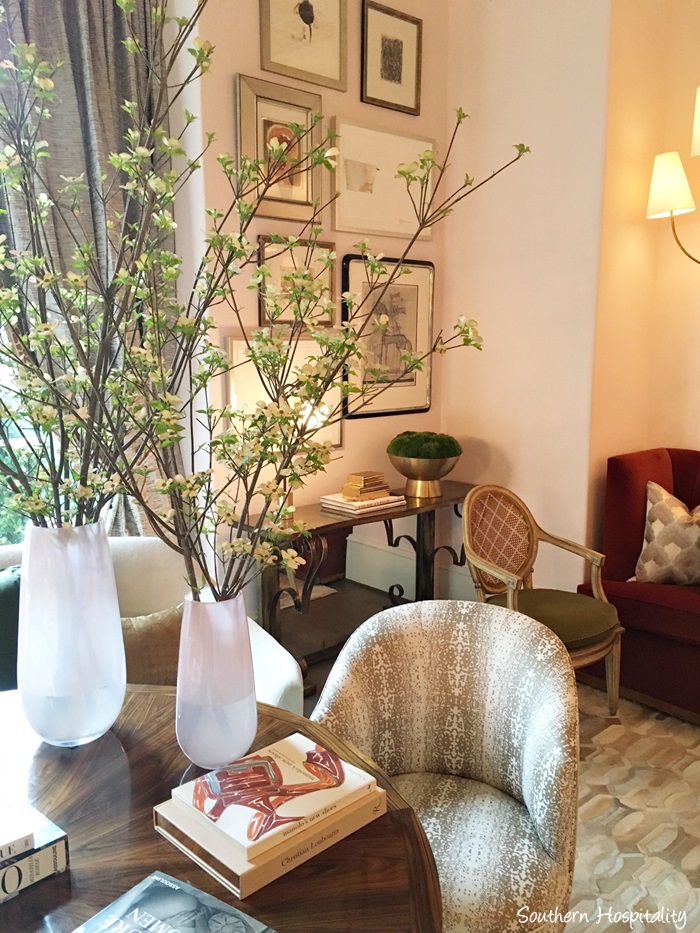 We think the ceiling is wallpapered.  Isn't it stunning?
Her Dressing Room, designed by Alison Womack Jowers and Cheryl Womack, Womack Jowers Interiors.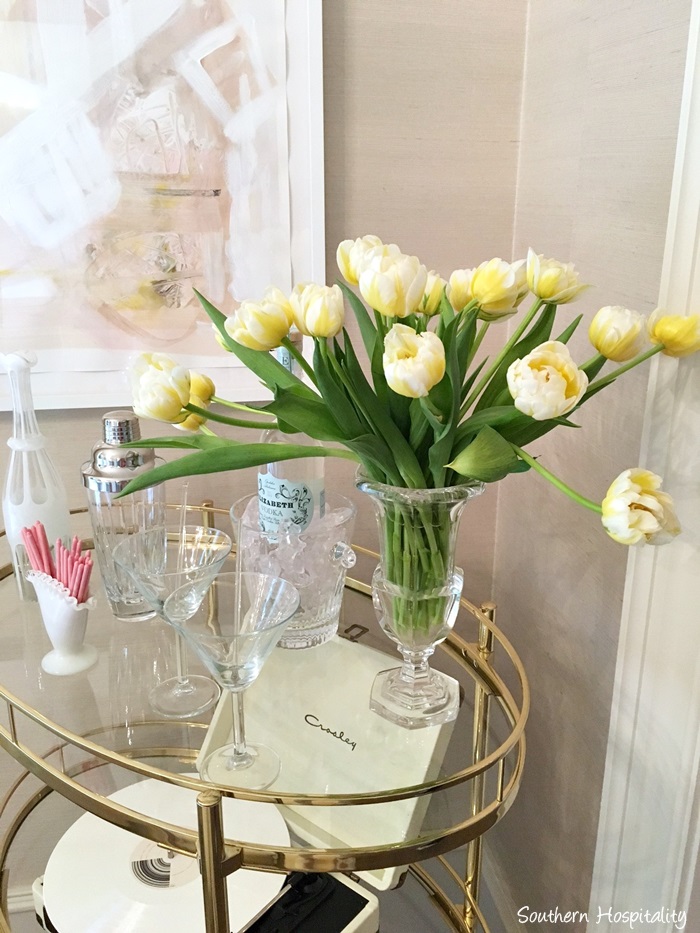 Bedroom and Bath:  Jonathan Savage, Savage Interior Design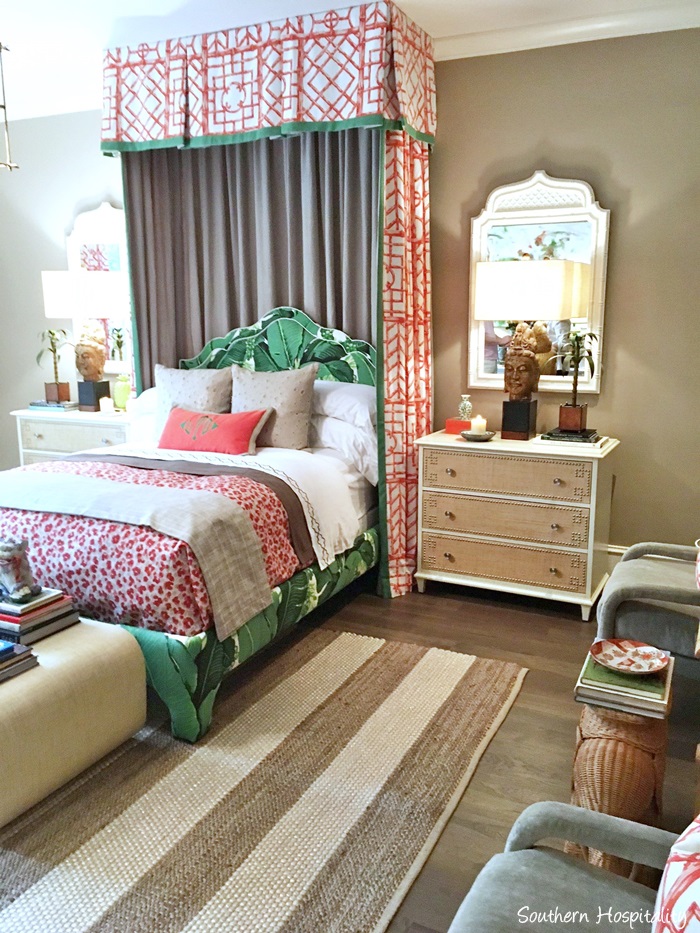 Bedroom and Bath:  Lance Jackson and David Ecton, Parker Kennedy Living.  I love their spaces, always fun and colorful!
Bedroom and Bath:  Mark Williams and Niki Papadopoulos, Mark Williams Design Associates.
Game Room:  Ginger Brewton, Ginger Brewton Interiors
Looking out to the guest house.
Guest House Entry Foyer, Powder and Stairs:
Meg Harrington & Ann Huff, Huff Harrington Home
Guest House Main Level:  Tristan Harstan, Tristan Harstan & Co. LLC
It was a dreary, rainy day the day we were there and the landscape crew was scrambling to get everything installed for grand opening the next day.
Guest House Lower Level:  Don Easterling and Nina Nash, Mathews Furniture and Design
Guest House Bedroom and Bath:  B.D. Jeffries Design Group
And that's a wrap from me on the Southeastern Designer Showhouse.  Definitely fun to see and get inspiration from! I know I missed many of the designers and their spaces when I took pics and posted this recap, so check out the entire list of designers here.  It's always hard to keep track when I'm touring of every single space.
Thanks as always for stopping by today!
Don't Miss a Post, join my list!