You all are in for a FUN treat today!  Wait til you see this house.  I got an invitation to preview the Southern Living Idea House down in Senoia, GA (south of the airport) last week and I wasn't sure what to expect when I saw that it is a restored farmhouse.  It did not disappoint at all.  My friends, Debbie and Jen and I ooohed and ahhhhed over all the beautiful furnishings and the architectural details in this house.
We found out from talking to the Southern Living folks that the house was in a state of ruin when it was bought and moved next door to a new foundation.  The farmhouse was restored and added on to and now it's ready for the 21st century.
The party was to celebrate the partnership of Southern Living and Ballard Designs new tabletop collection, which was highlighted at the event. Beautiful collection of tableware! And Ballard Designs furnished the house, so you know that's a good thing.
Are you ready?  You know I always take a ton of pics and as usual, I'll have to split this up in 2 parts.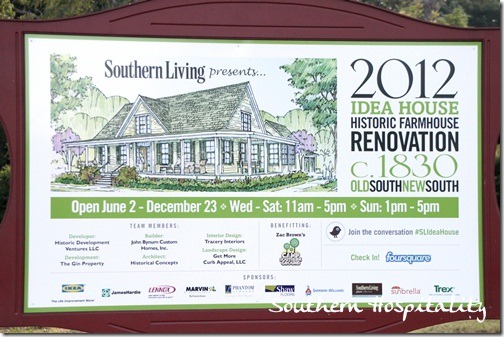 A large sign listing sponsors is outside on the corner.   The little town of Senoia, GA is where the house is located. This was my first time visiting Senoia.
Interior Design: Tracery Interiors of Mtn Brook, AL/Rosemary Beach, FL
We found out that Senoia is a full-fledged movie town and lots of movies and TV shows are filmed here.  We met the producer of The Walking Dead, and he lives across from the house in a brownstone (just over there) and shoots the show full time in Senoia.  He loves living there away from the traffic in Atlanta.
Very cool bit of trivia to learn! I'm not a huge fan of zombies, but apparently teenage boys think this show is the bomb.
The house sits on a pretty corner all picturesque and stately.  Very Southern, don't you think?
Think old farmhouse updated for modern life.  That's what this house is all about.
Southern Living and Ballard Designs, two of my favorite brands.
They greeted us on the porch with drinks and pretty tables.
And what a front porch this is.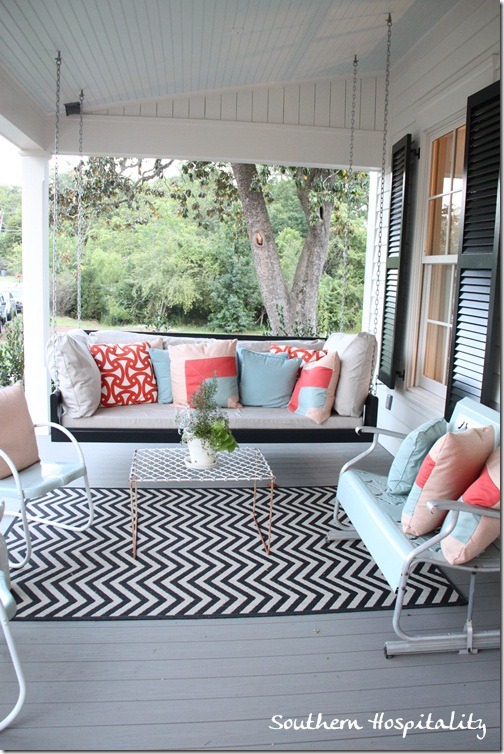 With a swing and sitting area on one end, wow is the word to describe this. Love old fashioned porches like this.  My grandma in Florida had a porch very similar with a swing sitting in this same spot at her house.  I have fond memories of swinging in that swing as a youngster.
So I couldn't resist trying out that swing for a bit.
Love the pair of planters flanking the front door.
Inside the the foyer, this wall grouping was beautiful.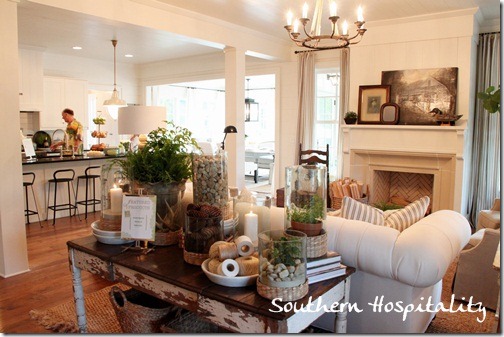 Turn to the right and there's the living room, dining room and kitchen.
This pretty console table was behind the sofa with all sorts of pretties grouped together.
The living room was very neutral, but definitely not boring.
The sofa in the living room looking back towards the foyer.
A vignette on the floor in the corner. Love old things, don't you?
The coffee table looked artfully arranged, but almost as if someone could sit right down and be at home.
Check out the dining room nook, a wall of windows. And do you see that ginormous lantern? Yep, that's the one I just bought for my dining room, the Calisse! I gasped when I saw it hanging there.
And here's the kitchen and it's a beauty. Guess where these cabinets are from? Can you believe this is an Ikea kitchen? I haven't spilled this yet, but I'm leaning heavily towards getting these cabinets myself in my new house. The door style is Adel and they are beautiful.
Seeing this kitchen just further pushes me towards Ikea. It's a stunning kitchen and I would happily love it.
On one side of the kitchen, these stacking open shelves display the new tabletop collection of Southern Living/Ballard Designs. Pretty, aren't they?!
Another look at those beautiful cabinets, I'm really diggin' that chevron rug too.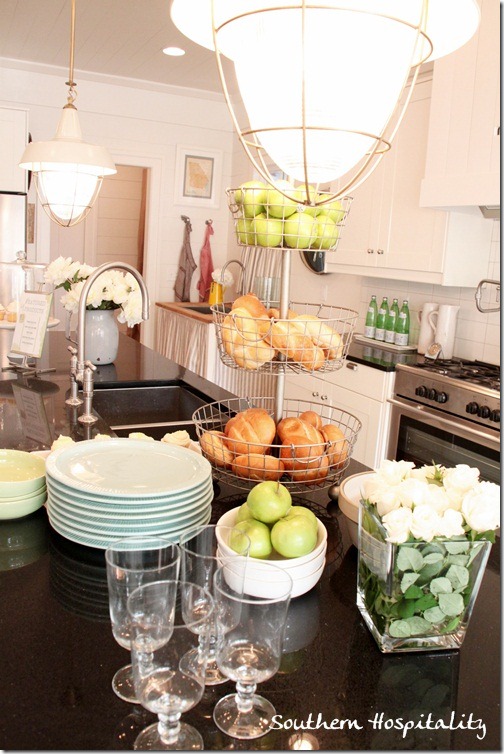 Displays on the countertop.
Close up of the cabinets.
Nice!
The dishwasher even had a paneled door to match, I thought that was very clever.
One more shot, I can't get enough of this beautiful kitchen.
This was some clever storage on a nearby wall. Hanging baskets from Ballards.
Right next to the kitchen, this beautiful little sitting area was prettily adorned.
Check out that paint treatment, I really really like it.
The console is decorated with some vintage finds.
A back mudroom with hooks and brick floors.
Staircase going up to the 2nd floor.
We loved these café curtains. So cute! And that long row of hooks could come in handy too.
Cows and antlers and schoolhouse lights. A nice combo in a farmhouse.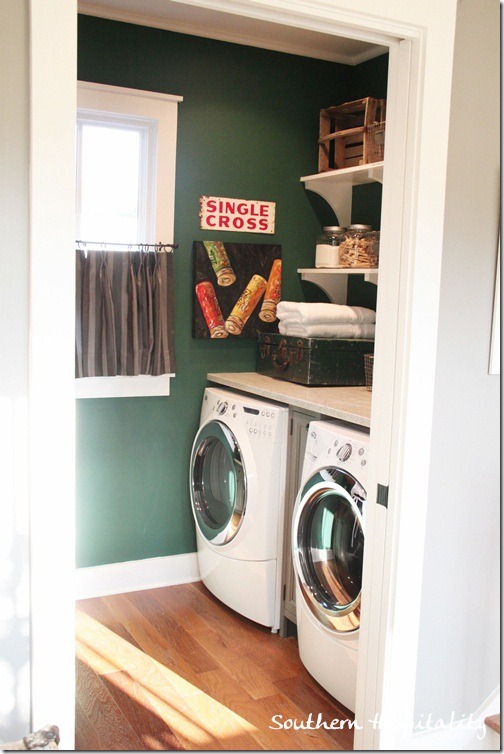 The laundryroom is off this area too.
With chalkboard paint and a pretty sink.
Upstairs is a guestroom.
Sitting area.
Sliding barn doors
This hardware seems to be easy to find now and I'd love to find an old door and do this on my closet door instead of the bifolds. One day!
Headboard and striped shams.
Pretty bathroom with vintage style tile. Love this! Maybe I'll do some vintage tile in my bathrooms eventually.
Cute little sink.
A Southern sign. In Jawjah…did you get that one?
So, Micah from Old Try, the Southern team behind these cute vintage typography signs, stopped by to tell me the meaning of this one. I'm usually pretty good at this Southern stuff, but this one stumped me a bit. It means ATL, GA. Say each letter out loud, with a Southern drawl. Cool! I'm really liking their signs. Check out their site, I love their story.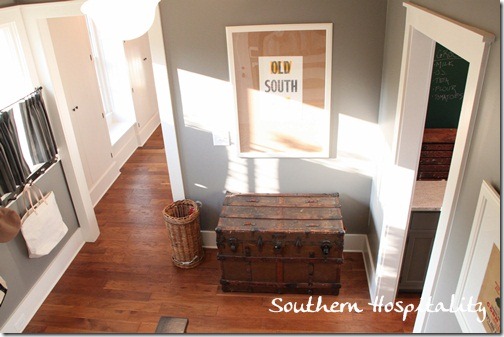 From upstairs looking down.
So, that's Part 1 of the house and I'll show the other 1/2 next week! It's beautiful, inside and out! What did you think? Do you love this house as much as we did?
Here's Part 2 of the Southern Living Idea House! 
Don't Miss a Post, join my list!