I'm back with all the pics from the Southern Living Idea house in Senoia, GA. The August issue of Southern Living is now on the newstands, so I'm clear to post my pics!
From all the comments and pinning going on, I'd say this house is a HUGE hit with all of you. I know it is definitely one of my fave Southern Living houses EVER. If you missed Part 1, catch up there first and then come back here. 
Looking back towards the front door, this little hallway has original pine floors and planked walls. So very farmhouse-y!
This little nook is perfect for an accent chair and side table. Love the deer art, very appropriate in this house.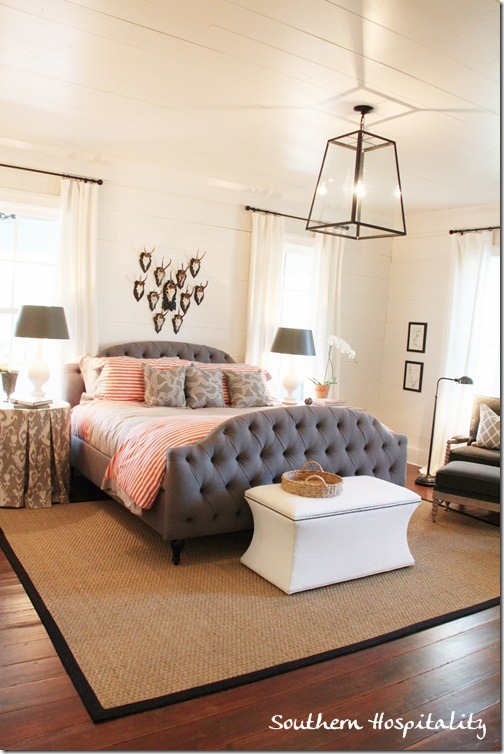 Do you spot more Ballard goodies? Yep, those huge light fixtures are gorgeous. I seriously considered this style too for my dining room, but the other one won out. Simple and elegant master bedroom.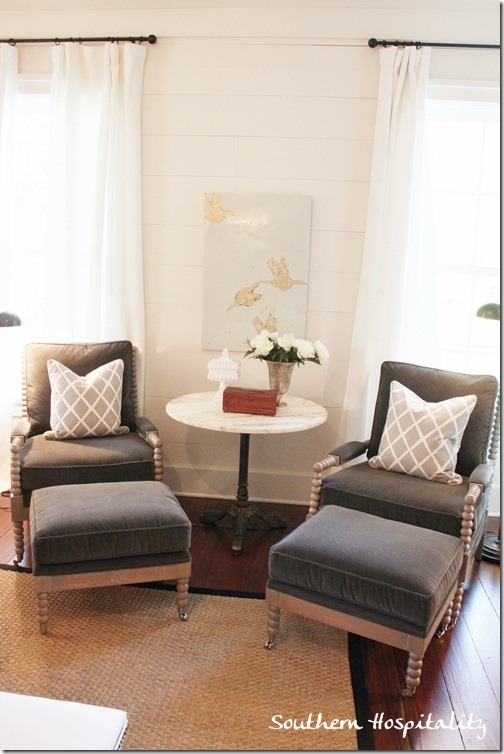 Planked walls painted a creamy white and those beautiful side chairs make a great space.
Grouped antlers over the bed make a style statement.
Other side of the room with a chest of drawers.
A peek into the master bath, with 2 vanities and a pretty covered bench.
Horse painting over the clawfoot tub is very nostalgic.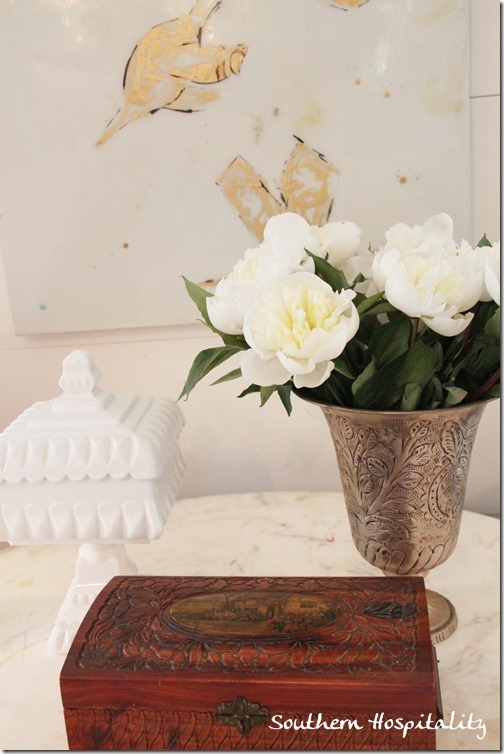 A pretty vignette on a table.
Let's go upstairs, shall we?
At the top of the stairs, these black chairs with graphic striped black and white pillows are a wonderful focal point.
At the other end of the stairs, this little hallway grouping is extra pretty too.
Looking towards a boy's room.
Neutral Americana boy's room is pretty and textural.
Dresser and chair and check out the cowhide rug layered over jute or seagrass.
Bedside table with accessories and lamp.
An old fashioned feel to the bathroom up here.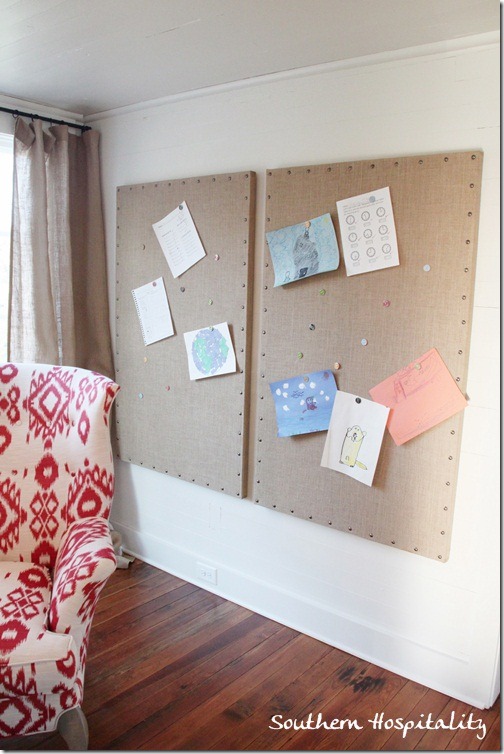 These burlap boards with nailhead trim were part of that earlier grouping.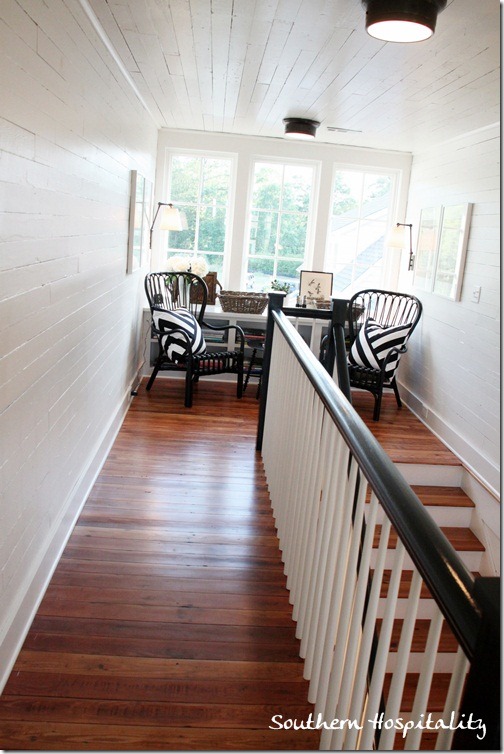 Looking back towards the top of the stairs.
Guestroom perhaps with a pretty gallery wall.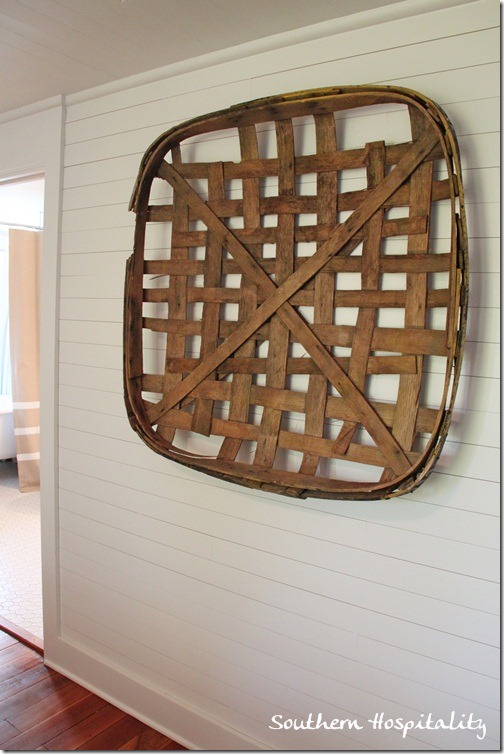 Tobacco baskets continue to be all the rage in décor.
A closer look at that gallery wall. All the frames are white.
This one has a bathroom too. Love the antique vanity.
And this shower curtain is great too with the band of stripes.
A peek out the window at the party going on under the tent below. We were headed there next.
More pretty light fixtures.
Sconce going up the stairs.
Out the back door is this lovely landscaped patio area. Don't you love this? I know, swoon time.
This little porch is off that cute sitting room inside that had the plaid wall treatment we all loved.
Complete with a potting bench.
I adore the architectural features on this house. That striped awning was so pretty.
I even like how they covered this door with those big brackets and sloped the roof down.
Looking back towards the door going inside.
Here's the beautiful backyard. Amazing all the work they put into these homes to make them so drool-worthy.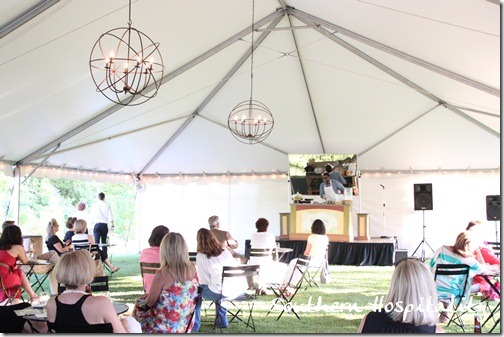 Outside under the tent, a cooking demo was going on.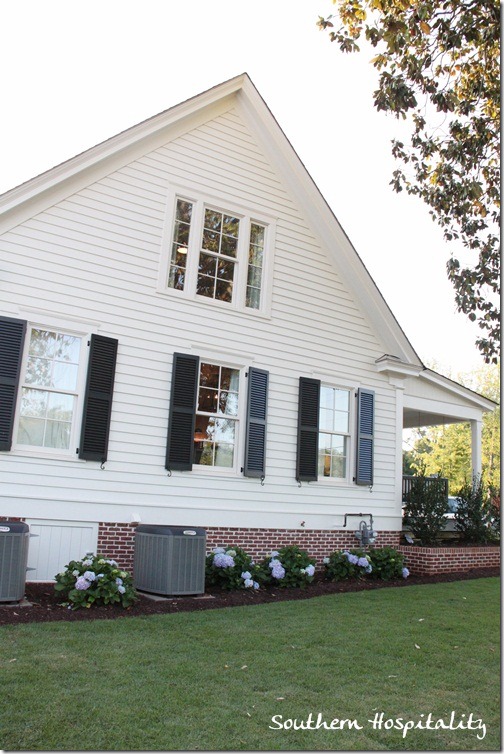 I couldn't stop looking at the house. Love that brick foundation.
Another look at the arches and cute picket fenced backyard.
I got to meet Lindsay Bierman, Editor of Southern Living. What an honor that was! I love the magazine and read Lindsay's column every month.
We had the best time touring this house. My friends, Jen and Debbie and I took a little break on this side porch as we headed out in the dusk to go home, complete with our own Ballard Designs tote bags. And we all sort of wished that we could just move right in!
These events are so much fun and I'm so blessed to get to do all the things I do. All because I love decorating and home so much that I get to write about it. I'm just glad you all enjoy the pics too, I love sharing them with my friends.
And that's all of YOU, you know?!
Don't Miss a Post, join my list!