My family has been reading Southern Living magazine for years and it truly is probably the #1 magazine for home decorating inspiration for me.  I just love the styles they feature for the most part and their mix of casual elegance, sprinkled with antiques and collectibles just speak to my Southern-loving heart.  We are collectors and passers-down of family things and it's that bringing together of old and new that to me make a room look so great and Southern Living designers seem to have a knack for doing that so well. At least to my eye. So, let's take a tour of the Southern Living Idea House in Birmingham.
This year's Southern Living Idea House is not far from where I used to live (over 5 years ago now!) in Birmingham, in the cute community of Mt. Laurel.  I used to go here often when they did yardsales and events like their Saturday morning farmer's market.  It is such a beautiful master planned community nestled in the trees back in the woods and I always admired it.
The house above, designed by architect, Bill Ingram, is a beautiful representation of Southern Living Idea houses.  I've had the pleasure of getting to tour several of these homes in person over the years, although this one didn't happen.  I know it's not that far from Atlanta to get over to Birmingham, but I more than likely won't make it over there to see it in person, so pictures will just have to suffice.  Luckily, they had plenty on their website and the whole story is in the August issue of Southern Living.
A note from Southern Living:
"In honor of our 50th anniversary, we picked five of the South's best designers –Mark D. Sikes, Lauren Liess, Margaret Kirkland, Ashley Gilbreath, and Amy Berry – and set them loose to decorate this beautiful Mt Laurel cottage. Designed by architect Bill Ingram, the space is a fresh take on traditional Southern style without sacrificing any of the charm." 
Several designers (noted above) took part in the design portion of the home and they did a beautiful job.  Designer Ashley Gilbreath from Montgomery did this foyer and this shot took my breath away.  It's such a beautiful mix of pieces and textures weaving old and new, color and neutrals.
Living room design by Mark D. Sikes.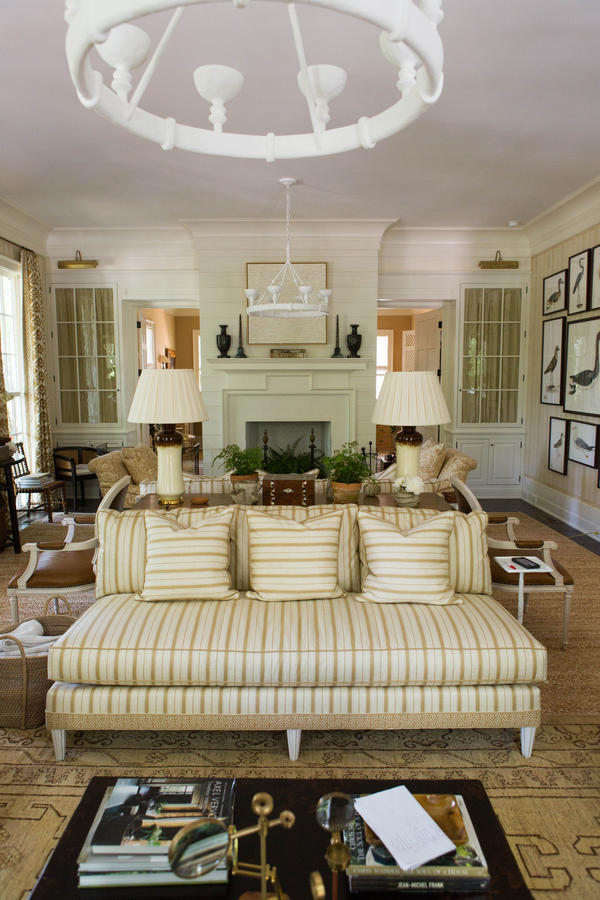 More on Mark D. Sikes living room.
Dining room designed by Margaret Kirkland.  I loved the fresh melon color used in here, along with the floral drapes.  It's a restful looking room to me, with traditional lines on the chairs and table, but freshened up with a modern twist.
More on the dining space by Margaret Kirkland.
Kitchen designed by Bill Ingram.  This is a bold move in Emerald Green for the kitchen. I love those bar stools.
Family room off the kitchen.
Master Bedroom designed by Lauren Liess, one of my faves.  I've watched Lauren grow over her years being a blogger and designer and love to see her designs.  She always has a fresh and unique way of mixing natural elements for a really organic space.  More about this space from Lauren Liess at Southern Living.
More from Ashley Gilbreath, the upstairs bedroom.
This beautiful front porch really caught my eye and I love how Margaret Kirkland brought it alive with all the colors and textures.  My dream would be to have a swinging bed like this on a porch.  What a way to while away a summer day!
There are lots of videos and all the information about the Southern Living Idea House on their website, so check there for more details.  It's always a pleasure to see how they design these houses and all the beauty created inside and out.  For a Southern girl like me, it's always inspiring!
New blog friend Pam with Everyday Living visited the house in person and did 3 posts about it, so check out Part 1, Part 2 and Part 3 here for more behind the scenes pics! 
Don't Miss a Post, join my list!