Happy Friday friends! I've got a special Feature Friday treat for you today, a local feature of such a cute cottage style home built in 1972. Meet Ann Linch, she's a pastor's wife and mom to two 20-somethings who have left the nest. Her husband, Mike Linch is the Pastor of Northstar Church in Kennesaw and I went to church there for about 5 or 6 years back in the early 2000's. I met some of my dearest friends at that church. So when I spotted Ann on Instagram a few months ago, I just loved what I saw of her home and asked if she would be up for sharing it with my readers. She said yes and I went over a couple of weeks ago for a photoshoot. It was a beautiful summer day and really highlighted the gorgeous property and home they live in.
I took LOTS of pics so I hope you enjoy. I got out my big camera and started shooting! Here's cute Ann, the home owner.
The cottage is very charming with a historical feel that seems much older than 1972. Ann said an older couple lived in it for many years, but own property behind them now with a handicap accessible home. Ann and Mike have only been in the house since last November and have already done so much to make it their own.
Ann told me that there were a handful of houses that she always looked at driving by that she always said she wanted to look at if they ever came on the market. This was one of the houses and the minute the house went on the market, they looked at it and bought it! I'd say it was meant to be. They also took out a wall in the front of the house that really closed off the house, so Ann said that would have been a deal breaker if that wall couldn't be removed. They took it out, along with doing some other renovations after they moved in, so I'll share all of that too.
They live very close to us and I had never been out their road, but when you drive out there it feels like you're in the middle of the country, but it's very close to everything. I loved the feel. Like being at your grandparent's house in the country. Wait until you see the backyard. Ann said she always loved this white picket fence. What girl doesn't dream of a white picket fence?
The setting and everything is so pretty and peaceful.
Ann painted the front door pink, which her husband questioned at first, but it does look great!
A brick cross was added to the front porch when renovations were made.
They live on 2 1/2 acres of property and it's gorgeous!
A wide expanse of green grass makes such a pretty backyard. That's a barn there in the back behind the fence and their unattached garage is to the left of this pic.
The house has a pool as well, which makes for an entertaining back yard.
Love this view.
Ann added a big table out in the back yard for meals outdoors. And get this, she built this table. Ann is quite the DIYer herself!
Gorgeous!
Looking back to the house.
Covered back porch.
With a TV for watching outdoors.
What a cozy spot, I love those rocking chairs.
Now let's go inside, this is just inside the front door.
The house doesn't really look two story, but it is.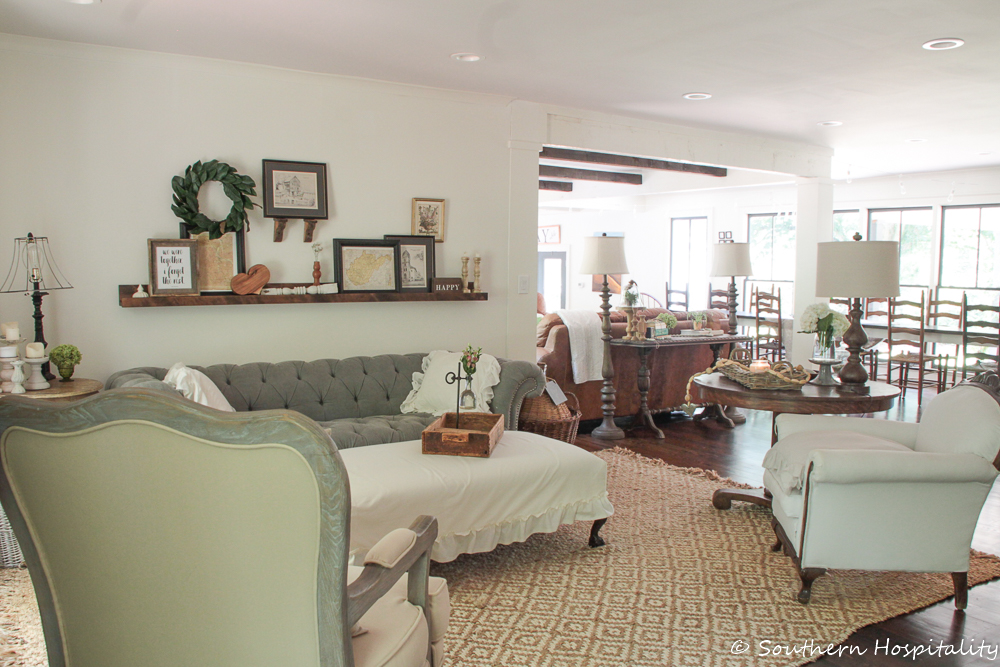 Main level living room. This is the area where they took out a wall. Right there where that round table is to the right is where a wall was and it totally opened up the space.
This little room was enclosed before but now it's wide open. Ann has a pretty cottage style. She loves antique and vintage things and has created lovely spaces in her home.
Looking back towards the front door.
Just behind the living room is this family room space with leather pieces and a TV and fireplace.
Sofa table behind the sofa.
Love the beams and the planked ceilings.
Looking back you can see how open it all is now.
Love those cute sconces above the fireplace.
Over to the right is a huge bank of windows. Ann painted all the window frames black to accent them and it looks great. She also built this huge table and had it put together in her previous house. She had room to take it apart and put them end to end in this house with all those chairs.
Looks like a great space for family gatherings.
Gallery wall over an antique piece.
The little powder room with pretty black and white wallpaper, so cute!
Love it and the floor.
Right off the dining area is a step down to the kitchen. This kitchen was already here when they bought the house, they just tweaked it for their own use.
Ann said this was the first space she walked into and was sold immediately. I don't blame her, what a kitchen!
I think all the white subway tile was already there when they bought the house. Love her changing sign.
This is a huge island with concrete countertops.
The ceiling and everything in here is just gorgeous. So much light in here.
Ann added the open shelves and that pretty reclaimed wood hood over the stove.
Gorgeous open shelves.
That hood and that stove, be still my heart. It's so pretty and has a great feel. She said the stove was already there.
Another look at the open shelves.
The fridge has pretty panels on the front and that other bank of open shelves is gorgeous as well.
Don't you love these shelves Ann added? Those sconces are beautiful too! Such an accent.
That's the pantry door.
Cooking utensil crock.
So pretty with a farmhouse sink.
Perfect sentiment for this time of year.
A vintage hutch by the back door.
Now down the hallway to the master bedroom on the main level. It's decorated in neutrals and feels so welcoming and calming.
Ann used lyrics from their favorite songs on the wall using a vinyl cutting machine.
Such a cute idea!
A dresser with silver platters hung above.
Small gallery wall looking back to the hallway.
Looking into the master bathroom.
They enlarged and renovated the master bathroom and it's so pretty and spacious. Ann said this was a table that they had since they first got married and she split it and had vanities made for the master bath.
A clawfoot tub was added too as well as hex tile on the floor and some shiplap.
Love this little nook with cafe curtains and a blingy chandelier.
Ann did this saying on the floor herself after getting it priced out. She dug all the white tiles out before it was all finished and made it herself. Love it!
A nice walk in shower completes the master bath.
This tile floor is so unique too.
Straight through the master bath is the new laundry space.
Just the right size for empty nesters and close by the master bedroom.
Upstairs in the hallway is a family gallery wall.
The upstairs bedrooms share one bath. Her son and daughter are both in their 20's and have left the nest but she still has rooms for them when they come home.
Her daughter's room with white painted wood floors, You are My Sunshine.
A nook off the bedroom upstairs.
Cozy cottage bed.
I'm sure her daughter loves coming home to visit.
At the other end of the hallway is her son's room, also guest spaces when needed I'm sure.
Very cute and cozy space with built in bookcases.
And a sleeping nook in here too which is perfect for overflowing guests. With screen doors to accent, I bet this is a cozy spot to sleep in.
And that's the tour of Ann's quaint cottage home! I know you all enjoyed seeing it. Ann has an Instagram account, she doesn't update all the time but you can check her out at The Lamppost Cottage on Instagram if you want to say hello and leave any questions here, I'm sure she would be happy to answer. I told her she would do very well on Instagram if she wanted to get on there. But then again, I don't blame her for not wanting to be on there all the time, it can be an obsession with many!
Ann, thanks for letting me share your beautiful home that you and Mike have made. I just love it!
Don't Miss a Post, join my list!