You are going to drop your jaw on this one! I've got a fun kitchen feature for you today and while the whole kitchen is beautiful, the backsplash is gonna knock your socks off.  It's a project, along with a kitchen feature.
Meet Nikki (new blogger this year) and her hubby, from The Lovely Residence, who live in Minnesota in a beautiful 1926 Colonial that they are making their own. They are also expecting a baby this summer!  Today, we'll check out their kitchen renovation. I thought this was one of the coolest things I've seen in a long time.
See that pretty glass tile kitchen backsplash??  Well, guess what!  It's not tile at all, but a decal.  Yep, you heard that right. 
You can click over to Nikki's blog to see all the details on this project, but here is a quick run down.  They took down some molding and started cutting the tile decal to install.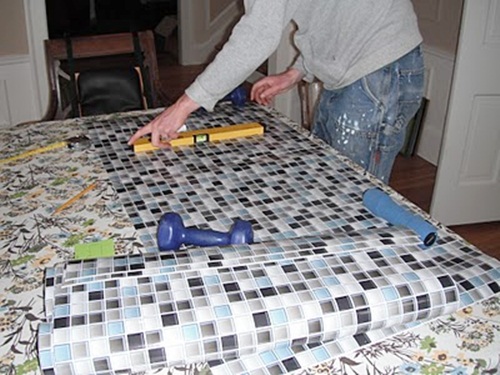 Measured and cut.
They cut it with scissors!  Now, that is my kind of project.  Just like my famous beadboard wallpaper that can be cut with scissors.
Trimming with a utility knife.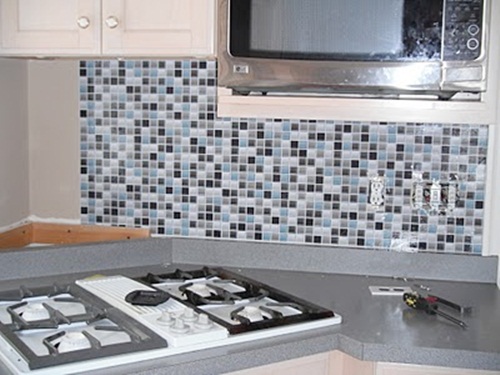 Fast and quick kitchen backsplash and it looks surprisingly like the real thing.
High style, low dollars!
Yep, that is exactly my idea of a cool renovation, on a budget.
Doesn't that look fantastic?
Here's a rundown from Nikki on the whole project too:
The Stats:
– $160.00 to complete our whole space
– Free shipping
– 3 hours of quality time together
Pros:
– Easy to apply. We applied our backsplash in big sections, but I pieced a few areas together with smaller squares and it is flawless
– Spaghetti Sauce wipes right off
–
Dali Decals
will customize tile color for you, unbelievable
– No plaster
– No grout
– No sticky glue
– No Professional Tiler bill
Cons:
– Can't think of any, no joke
Thank you, Nikki, for stopping by today and sharing this fantastic project! I had never heard of decals for your backsplash before, now I'm a believer.  Truly amazing redo!
Hope you'll stop on over and say hello to Nikki and visit her really cute blog. She is a brand new blogger this year, so give her some comment love!
Don't Miss a Post, join my list!