Fellow blogger and artist, Trish from The Old Post Road is another Georgia girl, living in middle GA, near Madison in an 1850's home.  I love showing old and new houses and Trish's home is very charming and quaint.  Just the sort of home you would find in a Southern town.  As much as I love modern fabrics and newer homes too, I can definitely appreciate the lure of an old home and keeping them in their tradition with furniture and accessories.   Trish has done a really nice job with hers.
She's a great artist too and I love her whimsical artwork she sells in her Etsy shop.
A woman of the Word, my kind of girl.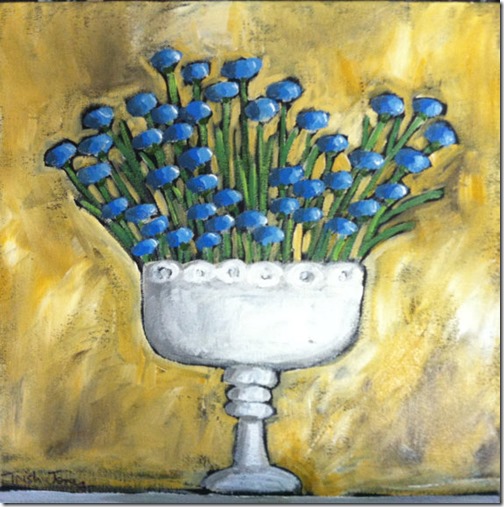 So pretty, this bowl of blooming flowers.
Doesn't Trish's house look like a postcard from the Old South?  I can see this house sitting back from the road along the rural highways of the South or small town USA.
An 1850's home has seen a lot of history walking by.
The front porch is truly a welcoming and serene spot and I bet her kitty loves hanging out there. One thing that tugs at my heart is a swing on a front porch. My Grandma had one on her white clapboard porch just like this and we kids just about wore it out.
Inside the foyer, I'm sure those must be heart pine floors.  Houses like this have so much history and richness to them.
I have never lived in an older home like this, but I sure can appreciate them.  A gallery wall of birds in the foyer.
Living room with fireplace and white slipcovered chairs.  Trish has a nice mix of modern and vintage.
Like that Empire sofa in gold, looks right at home in this room.
These older homes with their high ceilings are grand and spacious.
A built-in bookcase comes in handy.
I love the cozy casual feel of this den, with red sofa and all of that mismatched art.  Lovely feel to the room.
Globes on top of the kitchen cabinets, now what a fun idea that is!
This home just feels charming and welcoming, doesn't it.  Love that black and white floor.
Trish has 3 kids and this is her son's room.
And the daughter lives pretty in pink.
If that is not enough nostalgia, how about this picture postcard look from a snowy winter scene.  Currier and Ives comes to mind.
Hope you enjoyed touring Trish's lovely mid-Georgia home.  It's cozy, quaint, and just beautiful.
Don't Miss a Post, join my list!