Today's Feature Friday just might be my dream home.  I sort of gave up on the idea of dream homes somewhere along the way.  Life will do that to you…and age.  But, really Erin's home from The Sunnyside up Blog just might be one of the dreamiest new home builds I've seen in a long time.  It's just magnificent and I love the style.
Erin says her style is coastal/Craftsman and it truly is a beautiful combination.  Her house has all the elements I love.
She's been married to her hubby for 18 years and they have 3 beautiful kiddos.  They live in sunny San Diego and finished building their custom home 2 years ago next month.  Erin's been blogging for several years, but somehow I had never met her blog.  I got to meet her at Haven this year and she is a doll.
Erin and her sweet family.
Their new Coastal/Craftsman home.  I totally love the classical elements of a house like this, from the stonework, siding, and shingles, love it all.
Hanging lanterns always get my attention.
Inside the front door, just take a look at all that custom millwork.  Amazingly beautiful! And the entry floor….sigh. Erin is still in the process of decorating her home, but just seeing the bones of a beautiful home like this is inspiring.
Looking towards the living room.
Built ins and coffered ceiling is just gorgeous.  She's started adding some color in here with pillows and drapes.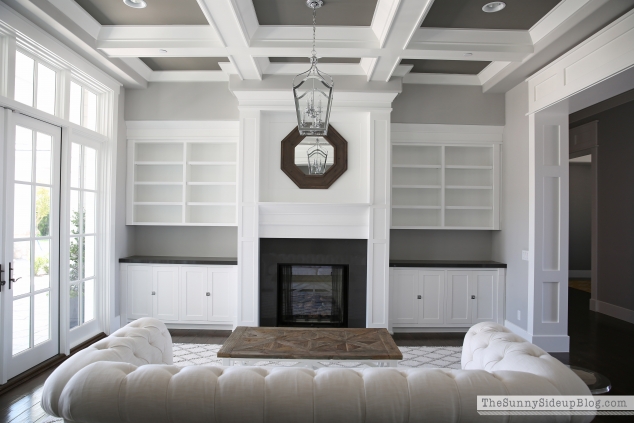 Love it all!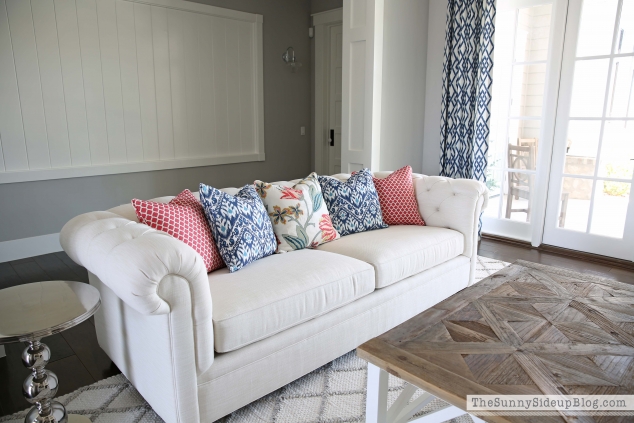 Coral and navy are the star colors of the room.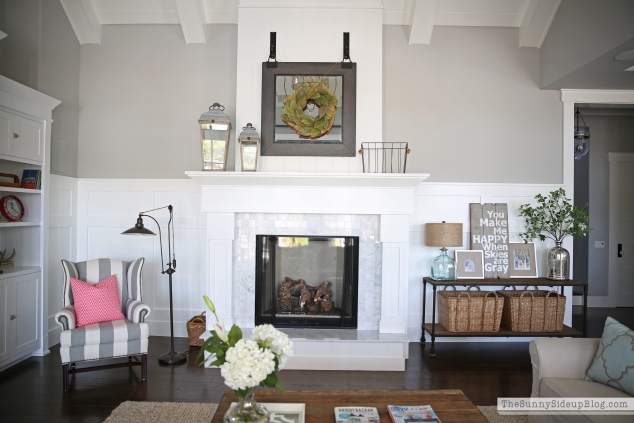 Next stop is the family room, which is next to the kitchen.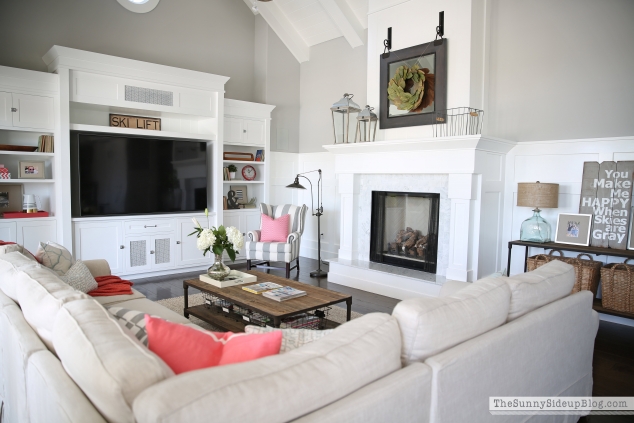 It has a vaulted ceiling and a wonderful cozy feel with the sectional sofa. She says this room is the most finished.
Open and spacious.
Love the lines of the ceiling and those plank wood floors (which remind me of mine!).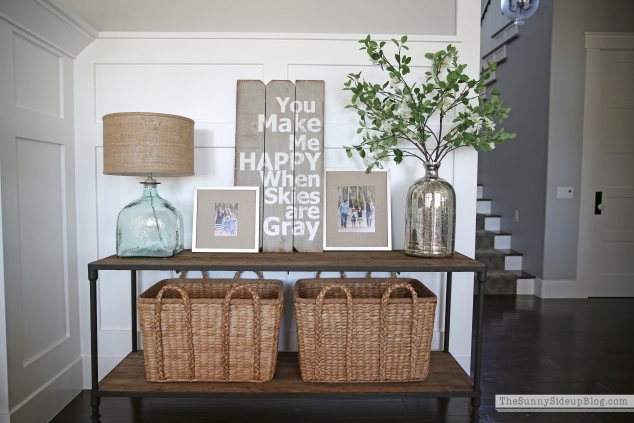 Such a pretty console table.
Pink striped chair in the corner, looking so pretty.
Peeking in to the kitchen.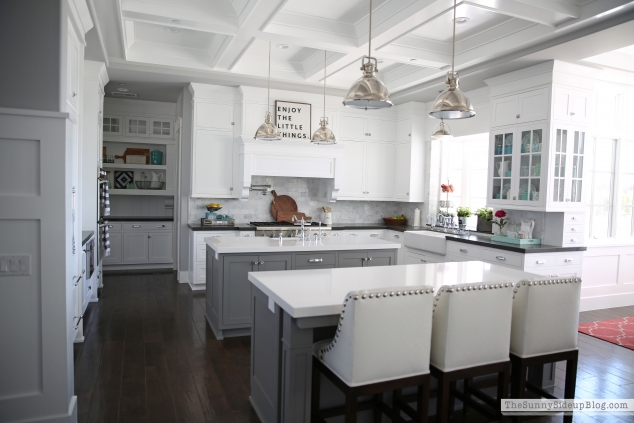 And what a kitchen it is!
An island with seating separates the kitchen from the family room and another island is behind it.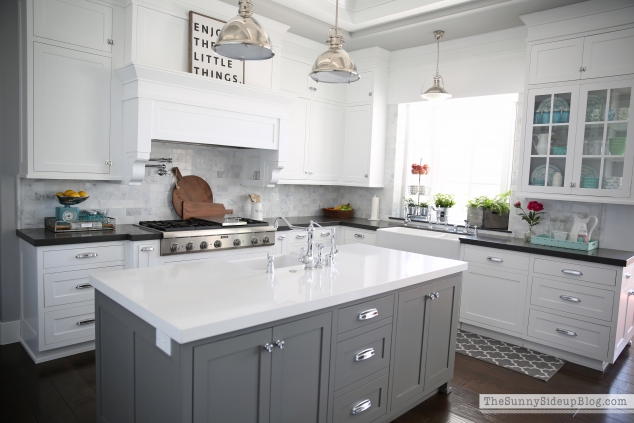 Beautiful space with gorgeous woodwork and countertops.
Sink in the island and the gray on the cabinets is so stylish.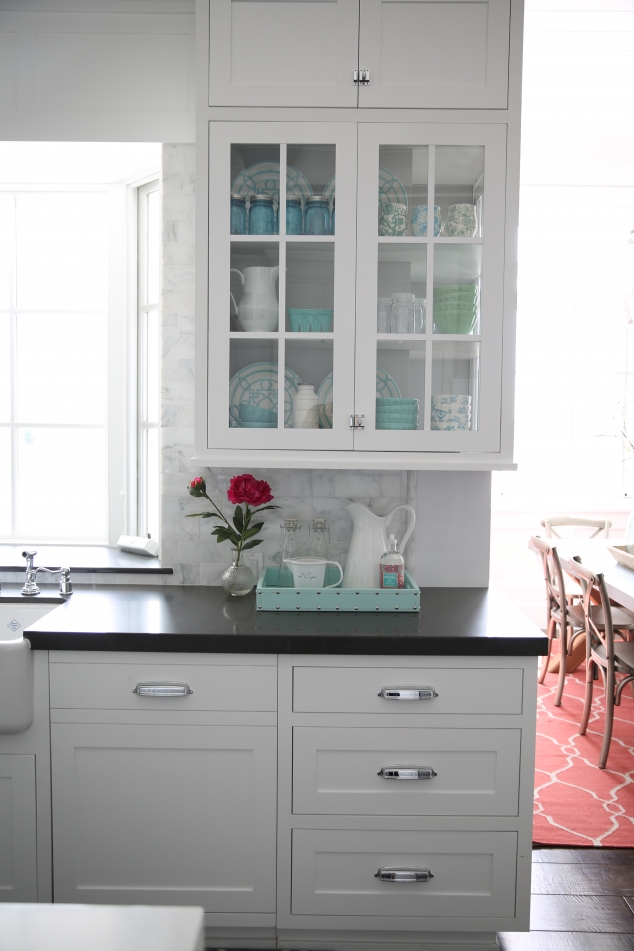 Cabinet and backsplash details.
Beautifully styled shelves in the kitchen.
Love this breakfast table tucked by the kitchen with all those windows letting in that glorious sunshine.
They also have a separate dining room space, which Erin kept on the casual side.  Beautiful!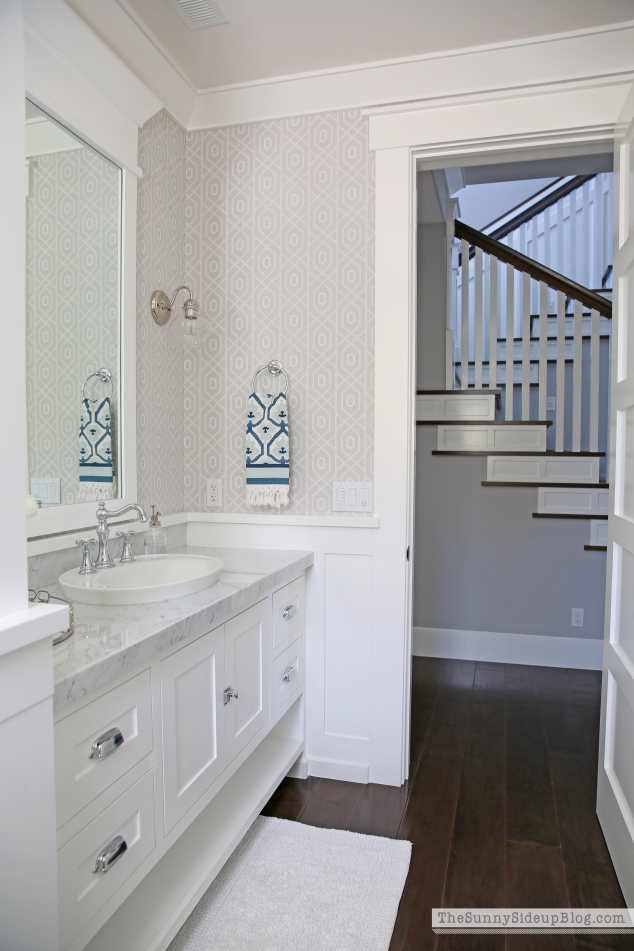 A bathroom has such elegance off the hallway. The millwork in her house is just amazing.
Another look at the bathroom. Those marble countertops make me drool.
Dutch door and stairway.
Mudroom with lockers for all.  Love the doors in the house too.
Beautiful and organized too.
She has a laundry room on each floor. She has a laundry room for her kids upstairs and one on the main level as well.
And beautiful it is!
Her girl's bathroom is just stunning.  All the details that go into a custom house is so pretty to see.
Main floor laundry room.
With pullout laundry bins.
Master bath tub.
Erin's new office/craft space.
Her kids have a playroom too, so nice.
Organized to the hilt!
And extra storage in these pull-out drawers, how fun is that?
Outside is a beautifully landscaped pool and outdoor entertaining area.  This is just amazingly beautiful!
Here's how the pool started and just look at the view.
A pergola was added for a seating area and she has lounge chairs around the pool.  If I had this in my backyard, I'd never go on vacation again!
Ahh, that pergola is so stunning, what a great place for a party.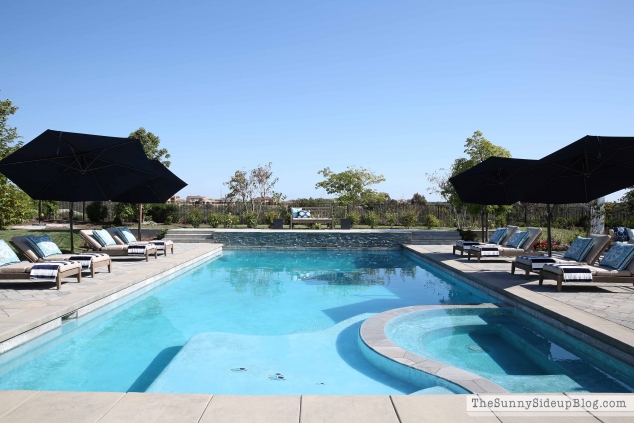 Backyard paradise in San Diego.
The back of the house with a covered porch.
Fireplace and seating area make it a great entertaining space.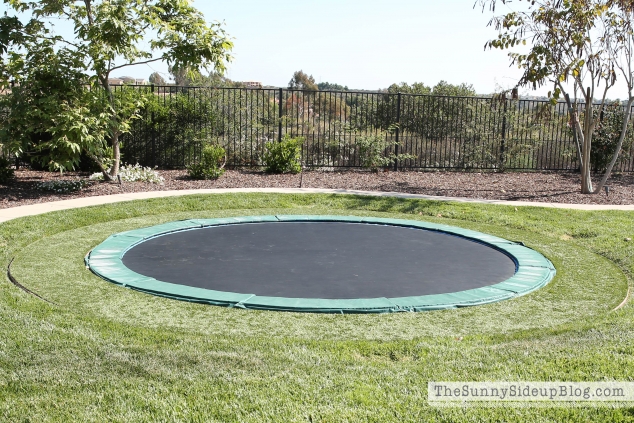 The kids even have a built in the ground trampoline.
Erin's new home is just stunning and I know you enjoyed the tour as much as I did.  Even though I'll never have a home this beautiful or spacious, I can certainly enjoy seeing the beauty in a custom built home.  I wish Erin and her family many years of happiness in their dream home!  Stop by and visit Erin at The Sunnyside Up Blog.  You'll love it!
Don't Miss a Post, join my list!