Lauren's Aunt Toni on her father's side of the family lives in a historic 1890's home in Morgan City, LA (edited to add they actually live in Berwick, right next to Morgan City). I visited this house back in the 80's, way before I appreciated older historic homes and all the details they provide.
It was fun to go back again and see it with fresh eyes. I appreciate her age a lot more now that I've got a little age on myself. 🙂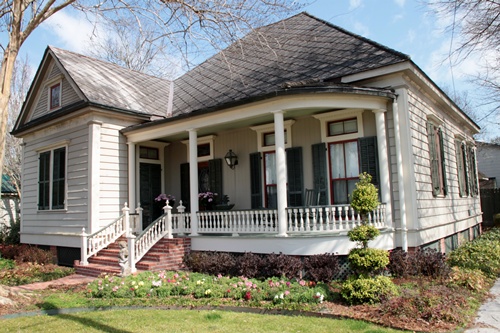 It's a picturesque home sitting in a quiet neighborhood.  Toni and Dale, her husband own a local florist and are well known in their community.  They have spent a lot of years lovingly restoring and filling this beauty with antiques.
Isn't it pretty?
With a welcoming front porch, the home beckons guests inside for a sweet Southern visit.
Geraniums flank those vintage green shutters on either side of the door.
Inside,a gracious foyer welcomes you inside for a visit.
They have used lots of floral wallpaper and sweet patterns throughout the house and it feels very much like it would have in the olden days.
I loved this pretty bird painting hanging over the sofa.
Her hubby collects crystal decanters, displayed prettily on this foyer table.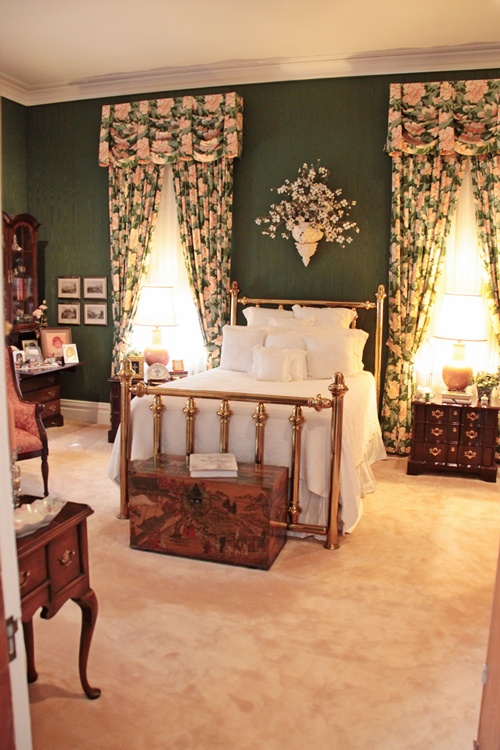 Large master bedroom used to be a parlor, but was expanded for practical use.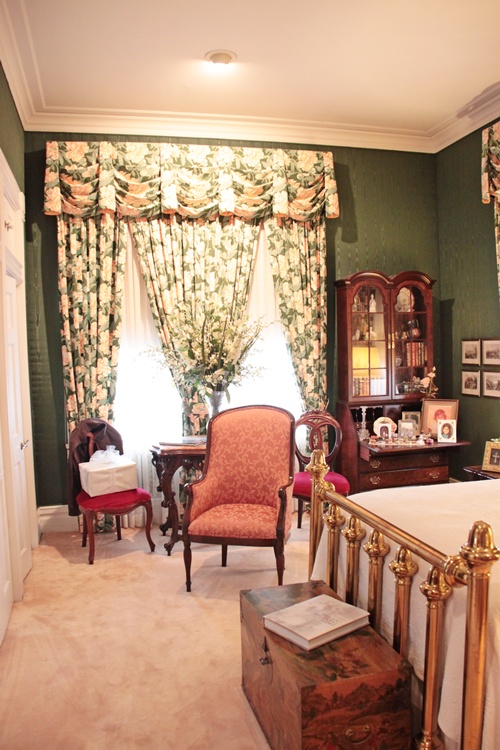 Very spacious with the tall ceilings.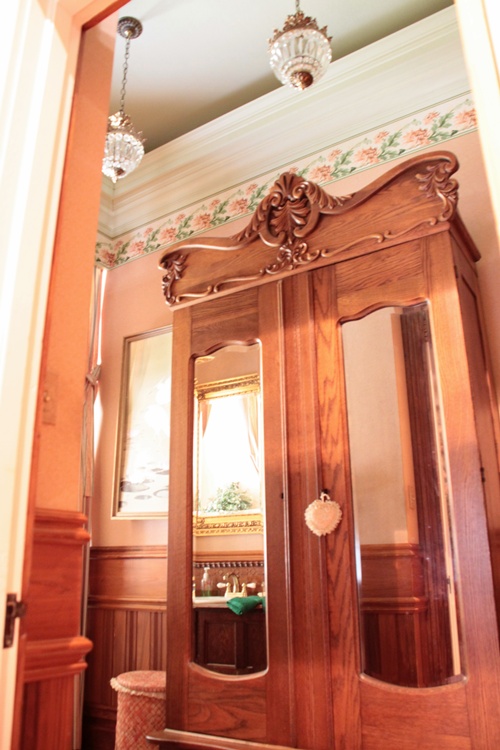 The bathroom has high and airy ceilings too, with this armoire anchoring it.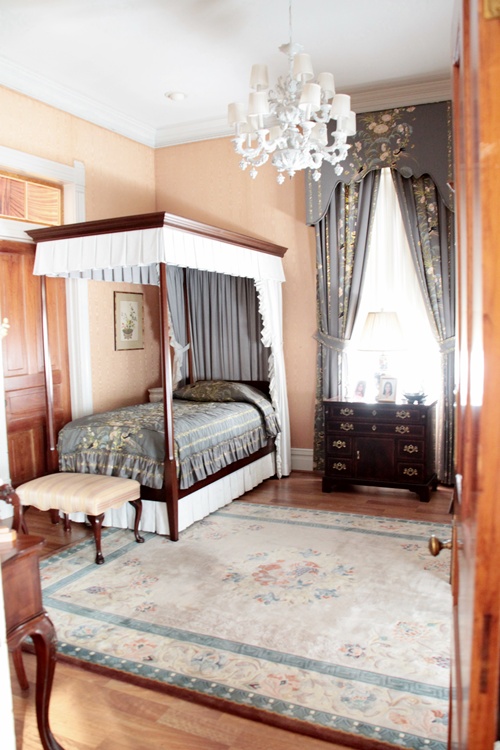 Another bedroom across the way.
Here's the formal family room or study, which just feels like the sort of room to sit and sip coffee or tea perched on a pretty sofa or chair.
One entire wall is beautiful wood bookshelves, full of books along with the fireplace.
We sat in there, visiting and having dessert and coffee.  Lauren's Aunt Toni passed on a whole box of beautiful family heirloom glass pieces that came from both sides of their family.  Precious and priceless, what a thoughtful gift that was.  Lauren was delighted, as she loves these pretty old dishes.
Toni is telling her about each and every piece.  You can see Lauren's enraptured face taking it all in.
Toni brought out this most beautiful china coffee service and we all had steaming hot coffee.
Along with that delish King cake.  You know about King cake right?  That's about all I knew about Mardi Gras was the King cake.  There are all sorts of varieties and this one was fabulous, filled with pecans and cream cheese.  Oh my heavens, was it good!
Toni's sweet kitty was happily napping on a nearby stool.
The dining room was beautiful with it's dusky blue walls and antique pieces.
I'm sure there are plenty of family heirlooms in here too.
A beautiful sideboard on one wall of the dining room, filled with beautiful treasures.
We stood in here listening and talking.
The kitchen is open, bright and airy. 
Really nice space.
With a huge window over the sink.
An island and plenty of storage.  A dreamy kitchen for sure.
Being a florist, I'm sure there are always fresh flowers around their house.
Just a marvelous space to enjoy.
Outside this pretty sunlit hallway is the back door leading outside.
To a beautifully bricked patio space, along with a small pool.
A gorgeous backyard perfect for entertaining.
Next door is a shotgun house that they rent out.  I love how that pretty old church looms over the fence in the background.
You know what a shotgun house is? That's one more thing that I've picked up over the years. 
A shotgun house is very narrow and it is said you could stand in the front door and shoot a shotgun right out the back door.  Thus, a shotgun house!  It sure is cute.
These pretty trees were just beginning to open their delicate pink blossoms.  We call these tulip trees in Georgia, but I don't know the proper name.  They sure are gorgeous, I've noticed many of them opening up their cute faces all over town now.
Small towns definitely have their appeal.
So, I hope you enjoyed the tour of Toni's beautiful historic home in Louisiana.  They are wonderful people and I'm glad Lauren has them in her life.
Don't Miss a Post, join my list!