Today's Feature Friday is a little different from the norm, in that it's a 2 room makeover that I helped with earlier this year with client, Tracey, here in Atlanta.  She emailed me about helping her with her house. She had lots of nice furniture and the basics of her rooms, but couldn't figure out how to pull it all together, so I went over and we talked about what she wanted to accomplish and then went shopping at Homegoods and bought lots of pretty things to finish up her rooms.
She also shopped on Etsy and bought several new pillows and all of the color and texture that we brought in her rooms made a big difference.  This post will show the power of accessories and color in a room.  It was a lot of fun working with this perky mom of 3.
Here's the living room and dining room when I walked in and looked around.  There's Tracey back there and her cute doggie. The living room had a really nice sectional in a vivid rusty red, so that's the predominant color in the room and the dining room chairs are similar tones. You can see the existing pillows she had.  They really didn't add a lot of color to the space at all.  Take a good look at this shot and you'll see there was nothing above the console or on top of the china cabinet.
She had a set of striped slipper chairs that were very pretty too.  This room is overall a beautiful room, just needed some accessories and additional pillows to pull it all together.  We worked and shopped over the course of a few visits and Tracey was very happy with the outcome.  You can also see the gorgeous area rug she had in place already.  It has beautiful tones of blues and greens, along with the rusty reds.  I think she got this at Pottery Barn.  So, using that rug, I pulled out the blues in there, since that would be a natural complement to all that rusty red.  Tracey was a little skeptical at first until I showed her how great it would look.
She had also bought those pretty mirrored side tables to flank the fireplace and they were great statement pieces.  She already has a wonderful room, just needs the finishing touches.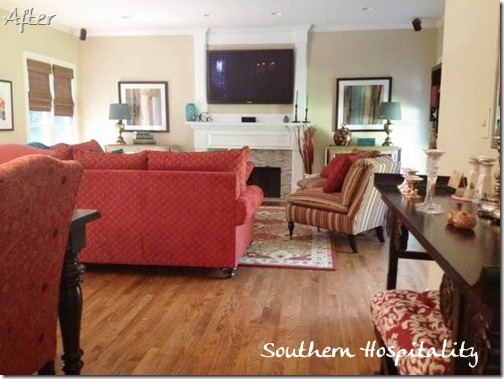 Now, here's the After!  Can you see the difference that all the accessories make?  Check out the artwork over the mirrored side tables, the lamps, accessories and the interesting damask bench we added under the console table.
After:  All the accessories really wake up this room, don't you agree?  We added a few things on the open black bookcase to the right as well.  I didn't take a close up of that big white pottery piece to the right of the fireplace, but it covered up some electrical wires and added some sticks in there to liven it up too.  We used many accessories that she already had and just added to the mix.
Recognize that fabric?  I must have sub-consciously filed this fabric away in my mind, cause that is what I ended up with for my living room drapes.  Tracey got this pillow cover from an Etsy seller.
Tracey found these lamps at a thriftstore and brought them home and then found these cute blue shades to go on them. She emailed me for approval and I said YES! We found the artwork and stacked books at Homegoods.
On the right side of the fireplace, more accessories from Homegoods add some color and texture.
Here's a good shot of the colors in the rug and how pretty it looks with the chairs.
I took everything off this bookcase and started over, using some of her pieces and some new things.  I tried to break it up with color all around.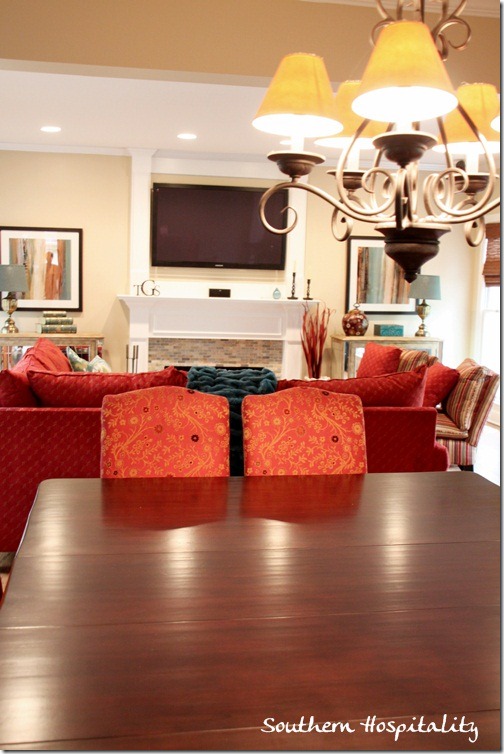 Another look from the dining table into the living room.  Such a cozy space!
With a lot more energy now!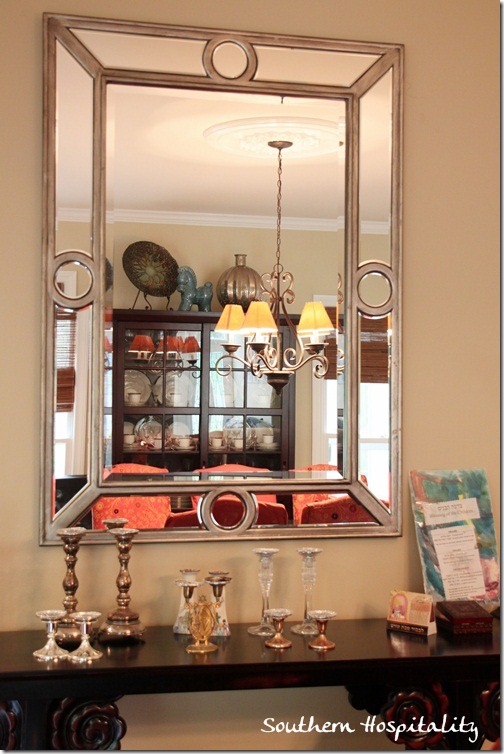 We also found this gorgeous mirror at Homegoods and it really adds some jazz above the console table reflecting the china cabinet.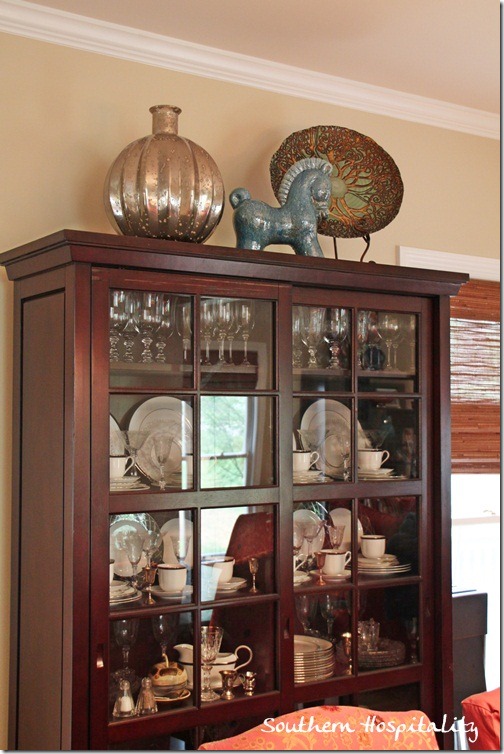 The china cabinet got 3 big accessories on top, all from Homegoods.
Pretty pieces.   Now, let's move to the family room off the kitchen, which is the space her kids use.  This is a beautiful open space with lots of windows looking out to the woods behind.
Nice space with neutral furniture, but Tracey wanted to warm it up too and give it a new look.
She ordered some pillows off Etsy and we found others at Homegoods to add color to the sofas and chairs.  We kept some of her existing pillows as well.
We added this cute side table and lamp on this wall to add some interest with her children's pics.  This was from Homegoods as well.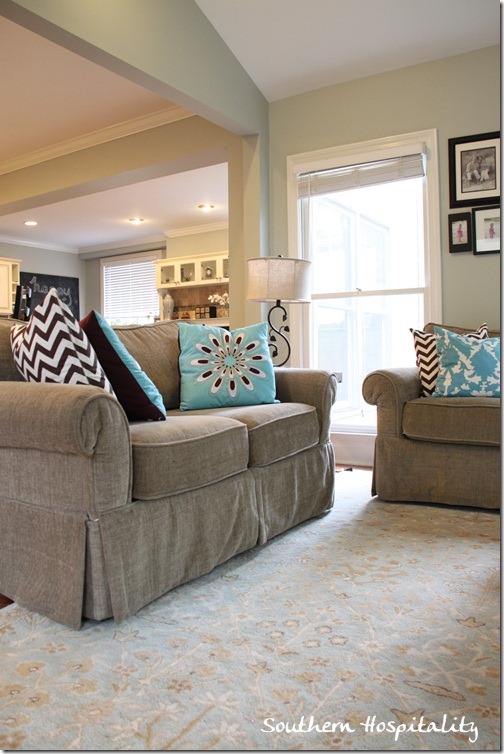 With the pillows and lamp addition, the room comes alive.
Adding color and texture around the room makes a lot of difference in how a room feels.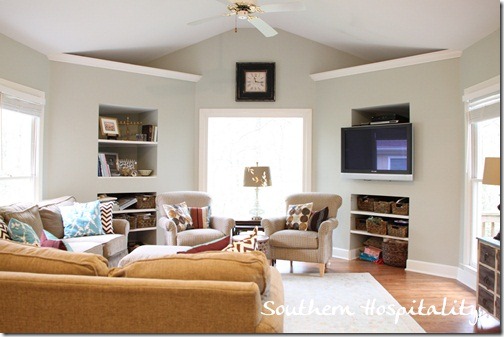 And when it comes to my house, I'm all about feelings, aren't you?  Our homes should welcome us in and greet us at the end of the day.
Do you walk into your home and say "ahhhh, I'm home"?  I sure do!
Thanks, Tracey, for letting me share your makeover with everyone.  I had a lot of fun working with Tracey.
Don't Miss a Post, join my list!