Among the things that have kept me busy this summer, a kitchen renovation right here in Birmingham has been a fun project that I've enjoyed working on.  I was referred to a home owner who had listed his house for sale earlier this year and the constant feedback on the showings was that the kitchen was hopelessly outdated.  Here's where I came into the picture.  The client asked me to come and give him some cost effective ideas that would help get his house sold, since he has been transferred to Georgia and needs to get it sold fairly quickly.

I took a look around his mid-1980's brick home to see what all needed to be done.  We definitely decided to lighten up all the paint throughout and the unfortunate wallpaper that was installed over 10 years ago had to go.  The unfortunate part was that it covered the kitchen, dining room, and most of the bathrooms.  We concentrated most of the efforts in the downstairs areas.  You can see the MLS pics here.  The house is really a beautiful traditional brick home that just needed some updating to bring it into the 21st century.
Foyer with green paint.  Not a bad color, but neutrals show off a home to its best advantage, most of the time.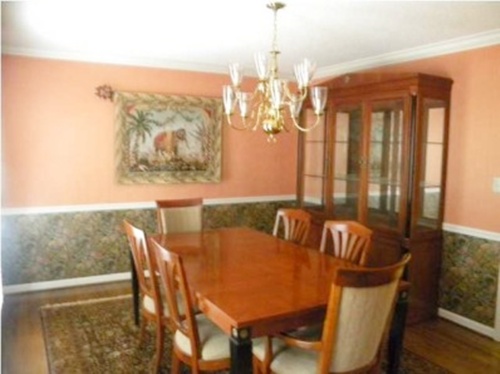 The dining room really need to lose the wallpaper and light fixture too.   My main concern in the foyer and dining room was just to lighten it up with a pretty neutral paint.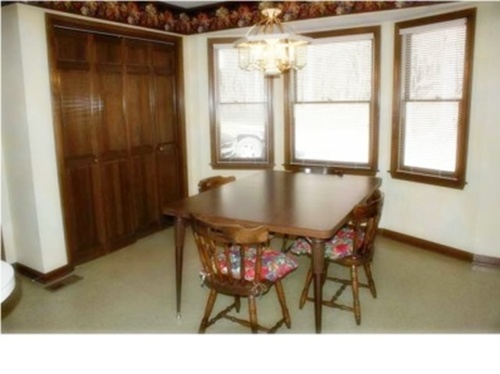 The kitchen was the biggest challenge that we had.  This area had dark stained woodwork, linoleum floors, and again the wallpaper border that just screamed "help me".   This is the breakfast area.  With the dark moldings, it really closed the room in.
The cabinet stain wasn't very appealing either.  It just looked country and not in a good way.
Also, note the fluorescent light fixture box that so many of us have dealt with.  The first thing I told him was that the cabinets really needed to be painted. He was all ears and listened to my advice.  He commissioned me to go out and pick out paint, tile for the floor, cabinet paint, granite for the countertops, and hardware for the cabinets, as well as updated fixtures for the kitchen and dining room.  You know I had some fun with that!
My goal was to keep it neutral and pretty, so that someone could see themselves living here.  I tried not to go super trendy, but picked out some basic colors and finishes that I think will last for many years for the next family who lives in this house.   He hired a contractor to do the work, with supervision  from me along the way and I'm absolutely thrilled with how it came out.
The homeowner is too!
Here's the new kitchen, with all new everything!  New cabinet paint, molding and trim paint, wall paint, porcelain floor tile, granite countertops, sink, faucet, cabinet hardware, and light fixtures.  I think you'll agree with me that it's a WOW now.
I chose a Bisque subway tile for the backsplash and it looks great with the cabinet color of Creamy by Sherwin Williams.  I worked off the color strip of Sherwin Williams  Rice Grain for the wall paint, with Rice Grain going in the kitchen and diningroom and the lighter shade, Nacre, going in the den, which I didn't get pics of, since it wasn't put back together yet.   We may have used the next darker color, Ramie in one room, but it seems that the painters got a few colors mixed up, so I totally think most of what you see is Rice Grain.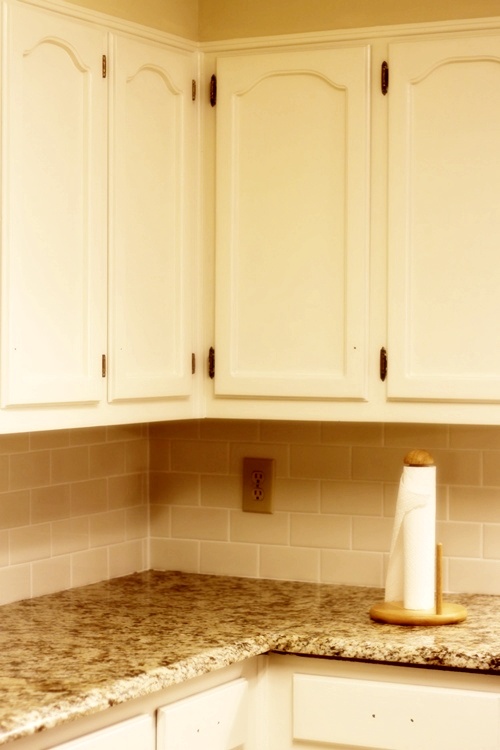 The granite is the same one I chose for my house, Napoli.  It's a wonderful neutral granite.
As is the faucet, Moen Annabelle from Lowes.  I advised him to get a deep stainless steel undermount sink.
Clean and fresh, it looks like a whole new kitchen and it is a whole new kitchen!
Lovely brushed stainless steel faucet works nicely with the double stainless undermount sink.
The tile is a sturdy porcelain with mottled brown/tan and complements the granite nicely.  With the lighter cabinets, it works fine to go darker on the floor.
It's a beautiful porcelain tile.  I don't know the name of it right off hand.  We got it from a local tile shop.
Since the existing hinges on his cabinets were already antique brass and they are not hidden, I decided the best way to update them would be to add antique brass knobs and pulls, so I ordered these off Ebay for him.  I think they are just beautiful.
With complimentary bin pulls for the drawers, it totally gives this kitchen a fresh new look without starting over with the hinges.  There is still a little bit of touching up under the countertops to be done and you can see that not all the doors had the knobs attached when I took these pics.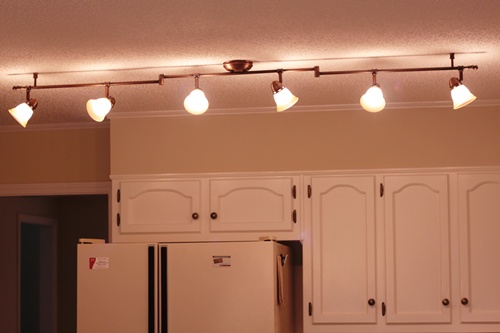 For the new overhead light, I opted for this antique brass rail lighting system with halogen lights, very similar to the one I put in my own kitchen.  The homeowner almost didn't get this one, but in the end I talked him into it.  He just couldn't see my vision until after it was installed and the lights were in place.  Then he got it and loved it!   This is a great way to get rid of that fluorescent box without getting can lights installed.  His old fixture came down cleanly and this one looks great up there.  And those halogens put out a lot of nice clean light.
Here's a link to my own kitchen track light rail system that I put up last year (also found at Lowes). I cannot speak highly enough about these. They put out some nice white halogen light.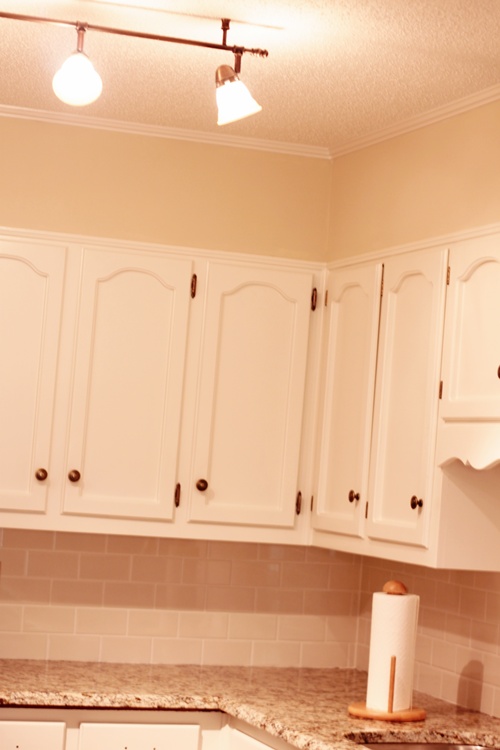 The kitchen was instantly brighter when we turned them on.  You can see the wall color here, which is Rice Grain by Sherwin Williams. 
The breakfast nook got a new fixture too, this one from Lowes.   Reminds me of the Restoration Hardware fixture, but a lot less $$.  You can see in the background all the newly painted woodwork in white.  What a huge difference that is too.  I didn't have my wide angle lens with me that day, so I didn't get a pic of the whole area overall, but I think you get the picture.
Take note in the background above, the laundry doors and all the kitchen trim was painted white like the rest of the house.  This really made a huge difference too.
The dining room also got a new fixture, this one from Home Depot.  I tried to stay moderately priced on the things I picked out, since he was trying to do all of this on a budget.
The downstairs powder room also got rid of the wallpaper and new porcelain tile installed, as well as the new paint color.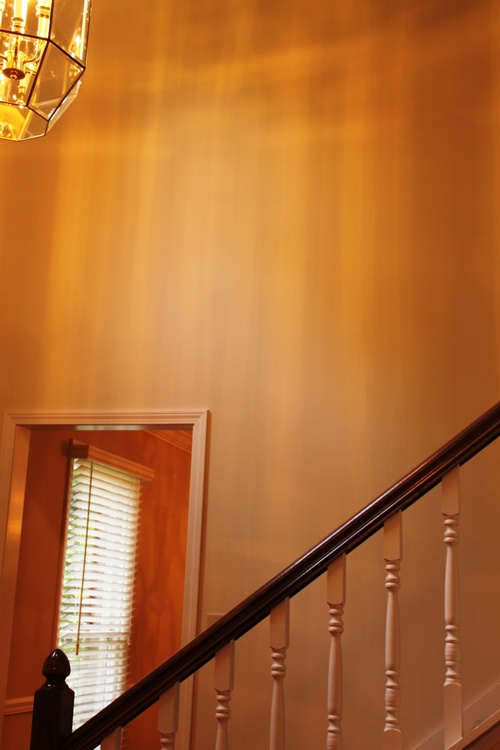 The foyer too, as well as the study off the foyer got new paint too.  With the fresh new paint, this house looks like a millions bucks. The color is not accurate here, but it's the same as the kitchen paint.
The home owner was very pleased with how everything turned out and loved the finished product. Now, if he will just get a quick sale!  If anyone here in  Birmingham is interested in the Meadow Brook area, I can put you in touch with him.
Hope you enjoyed seeing how an outdated 1980's house can be transformed with a few well thought out decisions!  This was my first consultation job with a kitchen and I hope it won't be the last. I had a lot of fun with it and the homeowner could not be happier.
***************************************
The winner of the E-Mealz meal planning giveaway is #49,  Jan, no blog, but I have emailed her!

Don't Miss a Post, join my list!