What's your style? Do you know exactly what your style is or is it ever-changing and evolving?
(Coastal Living)
I think for me, I have known my style is Traditional for a long time now.  I've been drawn to that look over the years and still love it, although in the last few years, I've felt the need to de-formalize that Traditional style and make it a little less stuffy.  My living room is going through a little tweaking now.  It's the most formal room in my house and even though I still love my furniture, I want to take it down a notch.
With the surge of decorating on the internet that has been going on for a long while now, it's easy to get sucked into house envy.  We see what everyone else has in their homes and I'm not so sure this habit we have of peeking in the windows of all our online friends is a completely healthy one.  Fun, yes absolutely, but healthy, maybe not! 🙂
(Traditional Home)
I dived into the online decorating world back in the late 90's, when decorating boards like Better Homes & Gardens were going strong and were the place to hang out.  There I met other obsessed home owners who wanted to talk about houses all the time and it was a lot of fun.  I went on to join a private decorating group online in 2000 and from there, blogging took over and here I am.
I still remember the thrill of seeing other people's house pics and sharing my own and the back and forth conversation that ensued with all of us back in those days.  We lived for a new inspiring project from someone else. Now, it's a little old hat.  You can click on any blog and see house after house, style after style of as many differently decorated homes as you can imagine.
So, where am I going with this?
(My living room)

It seems that now that there is SO much out there to absorb and mull over with all the styles and visual overload, we can start to get dissatisfied with what we have.  It becomes "oh my gosh, I love that, I want MY house to look like that!".
We've seen the trends of the first decade of this century:  Tuscan, French Country, Coastal cottage, Swedish inspired, and a host of others in between, especially the Pottery Barn phenom. I too, am not immune to falling in love with ALL of these looks at one time or another and I enjoy seeing them all.  Does that mean I'm going to change out everything in my house and become a devotee of one of those styles?
Absolutely NO WAY!
I've carefully acquired and collected every single stick of furniture that's in my house currently, one piece at a time and I still love every single stick of it.  Whatever redecorating goes on at my house will consist of rugs, pillows, fabrics, accessories, and artwork changing out for the most part.  You won't see a whole lot of new furniture coming in my house.  If something comes in, something has to go out.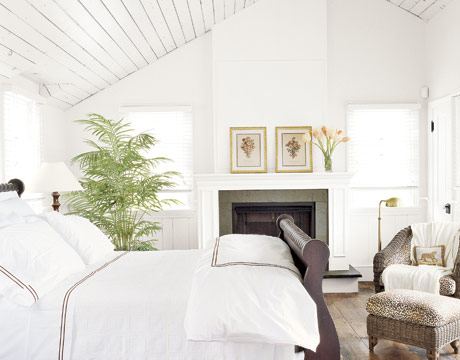 So, as pretty as I think the current trend towards all white might be, it's not going to happen at my house.  I won't be painting all of my pretty brown antiques white.  Cause you see, brown is classic and never goes out of style.  It might not be the cutting edge of design at the moment, but I love every single piece of those carefully chosen treasures.
We all have to do do what is right for each one of us when it comes to decorating our homes.  I don't live in a Tuscan home with architectural features to be envied, nor do I live in a stately old historical home with loads of character and patina.  I live in a 10 year+ old subdivision and instead of wishing away everything that's here, I have chosen to embrace my home and make it the best it can be.
I encourage all of you to do the same.  It's so easy to get caught up in blogland with what everyone else is doing, but you live in your home and I live in mine.  So, that's why on this blog, you will see me encouraging all of you to be yourselves, do what makes YOU happy in your home.
That's how to truly make a house a HOME. A haven for our families.  There's nothing wrong with wanting to have a pretty house, in fact, I think women have that desire innately built in, but we all have budgets and limitations to what we can do.  I can see a gorgeous home online and drool all over it, but at the end of the day, I live in my house and choose to make it what works best for my family and lifestyle.  Be unique, don't be afraid to do what makes you happy, even though it may fly in the face of current trends.  Trends come and go, we all know that.
So, here's what you won't see in my house that is currently all the rage:
All white slipcovered sofas and chairs, along with all white walls and minimal color (I do have one white slipcovered chair and ottoman that Grandma helped me with. The slipcover cost me $5 in yardsale fabric, labor was free). 🙂 As pretty as this look is, it just won't work in my house.

Brick walls or floors, heavy wood beams, a home built with age.  My house has limitations on what it can be.  So, I live with what I have and make it the best it can possibly be.
(Babs Watkins, House Beautiful)
All French inspired furniture and accessories.  I love this look too, but I'm not going to get rid of everything I have to achieve it right down to the last detail. Practical rules for me.

(Christopher Petkanas, House Beautiful)
Swedish design, all pale gray/green and minimal furnishings.  Again, beautiful and I love to see it in magazines but it's not me. I have to use what I already have and make it work.

Sleek styling ala Pottery Barn, with minimal accessories.  Again, I enjoy that look too, but much prefer my old antiques and I like my stuff too much to pare down that minimally.
So, how about you?
What do you truly love?
This pic below from House Beautiful probably speaks to me the loudest at this moment.  But, will I totally have this look.
No, but I can get inspired from this pic. 
Do you fluctuate between styles trying to find the REAL you?
I've definitely honed in on my style much more as I've gotten older.  I've become a bit of a snob when it comes to buying vintage things, I so prefer old to new and it's a whole lot more fun to shop like that.
Does trolling blogs make it easier or harder for you to find your style?
If we're not careful, we can definitely have house envy, myself included.  I see SO many beautiful homes out there, but at the end of the day, I love my home so much and have the best time tweaking it and changing things around.  I am truly grateful for our home. We have so many great ideas at our fingertips now, visual overload at times and it can make for some frustration and joy all at the same time.
So, here's the bottom line on all of this. I urge you to be yourself, find joy in YOUR home and don't get sucked into doing the latest and greatest in blogland. While there is certainly nothing wrong with getting inspiration and ideas from others in blogland,  just be careful that you are going in a direction because YOU truly love it and not because it's the thing to do this year. Copying might not be the best way to get the home of your dreams.   Look, listen, and learn for yourself so that you can take the information you glean and use it in a positive way at your Home Sweet Home.
The End! 🙂
Don't Miss a Post, join my list!