It's been a true joy in my blogging journey to work with some wonderful brands and products and I love being able to share these things with all of you, my readers.  It's been 5 years ago since I first became acquainted with the folks at Shaw Floors. I've partnered with them in the past and will be working with them more this year and next.  They are just up the interstate from Atlanta in Dalton, GA and since I grew up here from childhood, one of the places my dad has always gone to get flooring for any house renovations he was doing is up to Dalton, which is known as the carpet capital of the country. Carpet manufacturing has been in Dalton for many, many years and it's their main industry in that cute mountain town of North Georgia.  So, I was familiar with Shaw Floors, but as I've gotten to know the people of Shaw, I like them even more.
I was invited to do a design event with them 5  years ago and we went to the Biltmore and then designed a room around the flooring we chose.  I had a partner for that fun event, Lindsay, and we both had a great time with this design challenge. It was one of the highlights of my blogging journey for sure.  So, that was the start of my relationship with Shaw Floors.
I was invited later by Shaw Floors in 2012 to Serenbe, a beautiful community south of Atlanta for the opening of the HGTV Green home there and that is where I fell in love with the engineered plank wood floors that I currently have in my house.  Shaw graciously gave me a discount on the flooring of my dreams or otherwise I may not have been able to afford this beautiful flooring in my home.  I have enjoyed my floors for going on 4 years now and still love, love my decision.  I can now speak from experience on their engineered hardwoods.  The rustic hand-scraped floors I have called Broadmoor have held up beautifully and do not show scratches or dust badly at all. That's been a big plus!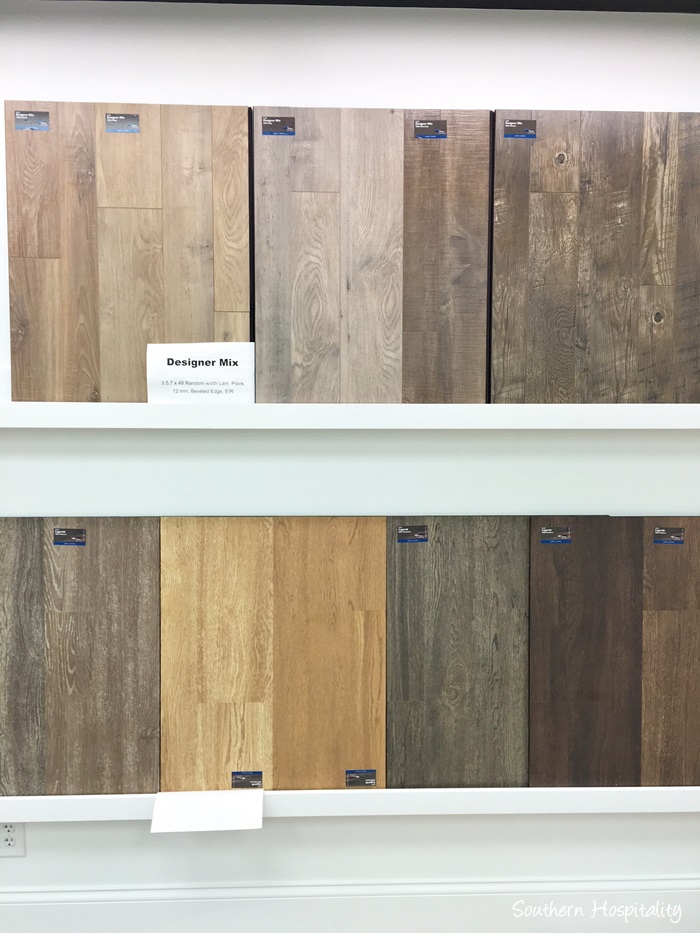 It is amazing to me how much flooring has changed in the last 10 years.  When I was in my very first house, we put in refinished hardwoods, which was the newest and greatest over 10 years ago.  I remember looking at laminate then and even though it was affordable and so many people put down laminate flooring over the years, I just never liked it that much at all.  It just looked like plastic to me.  Plastic with a photograph of wood. I daresay so many homes in the 80's and 90's have tons of laminate installed.  Hardwoods have always been my first choice and if I can get rid of carpet, I would most always choose that too.  Choosing flooring for my house renovation here was an easy decision. I knew I wanted hardwoods all through my house in every room, using the same flooring for continuity and visual flow.
So, when Shaw reached out and asked me to be on their blogger Style Board for the next couple of years, it was an immediate YES to that.  I love their products and I really like the people behind the products.  They have been a sponsor of Haven for the past 5 years too, which is an extra plus for all of us.
I had to miss the blogger event they put together which was during the week of Haven and so after Haven, they invited me up to their headquarters so I could see the products in person.  They gave us a certain amount of flooring for our homes this year and we could choose from 4 different products:  An engineered Epic hardwood, waterproof vinyl product called Floorte, waterproof LifeGuard™ carpet, or their cut-a-rug program, which is binding of a large area rug.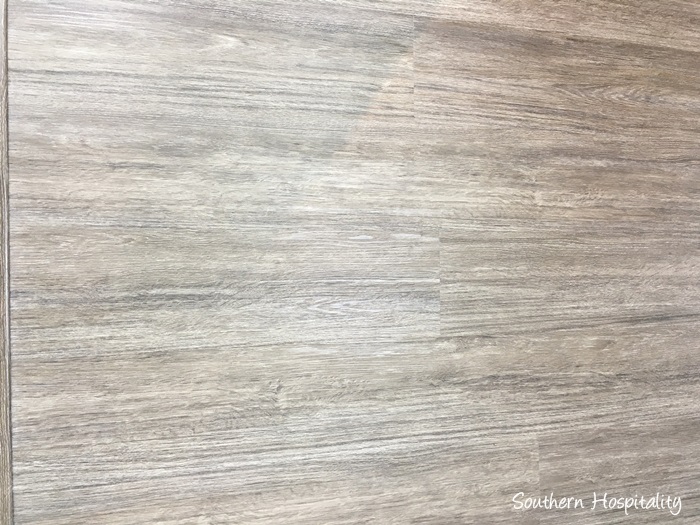 Immediately my mind started racing on where I wanted to use this new flooring.  My den is the only space that has carpet and it was added last minute by the bank right before I bought my foreclosed house.  It was OK carpet, but definitely builder's grade.  At least I didn't hate the color!  I'll get back to this part in a minute.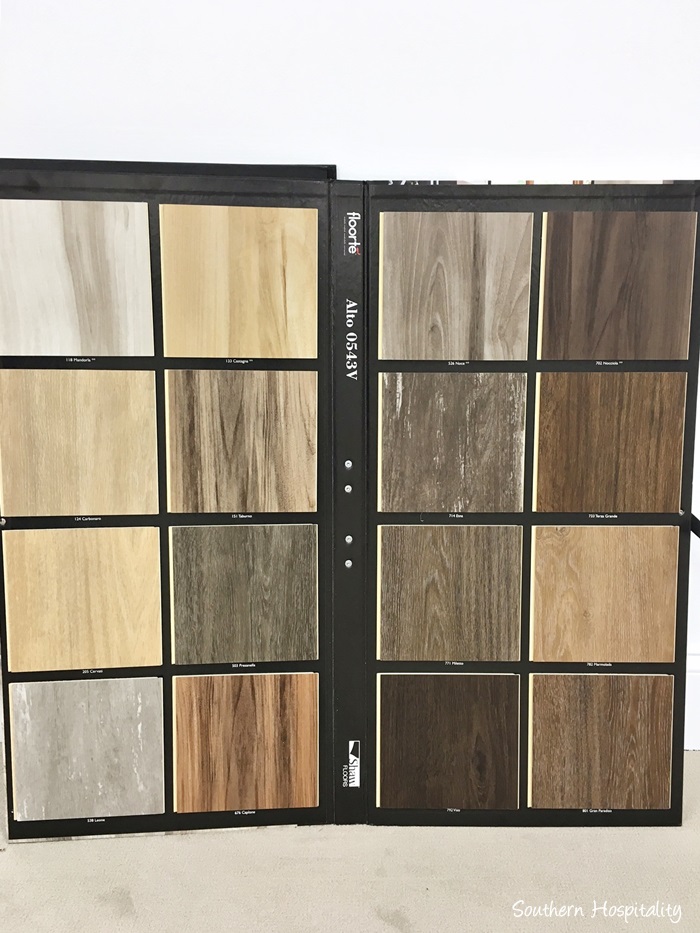 In the meantime, I was shown around the Shaw Research and Development building and it was such an informative tour.  I loved getting to see all their products in one place and to see how they go about coming up with new and innovative products.
Their building is so pretty and showcases a lot of their wood products and the tools used in the carpet industry.  I loved these big machines highlighted in the hallway.
A wall of wood and or wood look alikes for an inspiration shot.  Choosing flooring can be SO hard when there are so many products to choose from. So how do you do that intelligently?  I love to find out what is latest and greatest out there and unless you look, you never know all the new and innovative products that are offered now.  Things have really changed in the last 10 years.
An old Singer sewing machine graces one of the hallways.  I mentioned that I still have my Grandma's old Singer it's quite the antique now.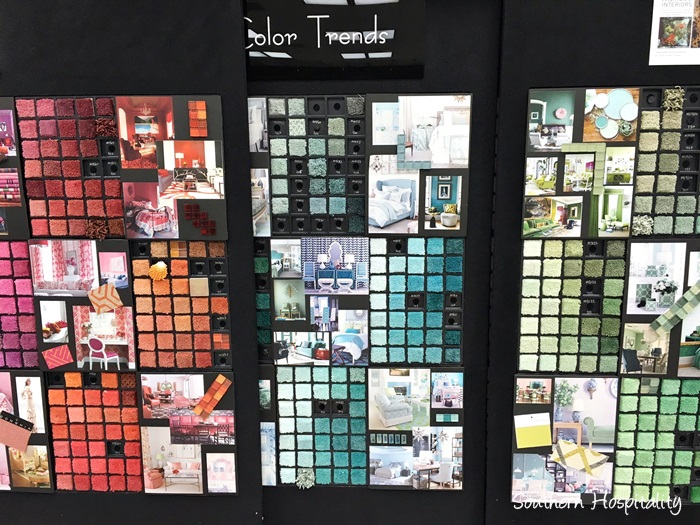 They showed me a great presentation on color and product trends and all the research that goes into their production and marketing efforts with all their flooring items.  It was so eye opening and fun to see!  Color makes me happy and I love to see what out there in designs at any given time!  Design and decorating a home has always been a top love for me.  Products to enhance your home are the icing on the cake.
From a board of all white and neutral, to colors galore, there was an explosion of inspiration on the walls.
I thought it was so interesting how much they put into researching trends and colors across the board, from fashion to home design and architecture.  It all goes hand in hand and reaches the consumer just like you and me who is going in to purchase flooring.
They had a gorgeous kitchen display and I saw all sorts of materials.  Shaw even makes tile flooring as well, something I didn't realize until recently.
Carpet has certainly come a long ways too over the years.  There are so many beautiful carpets to choose from now and when I saw some of the patterns we had to choose from in their new line of carpet, I was tempted.  From basketweave to dots and wavy patterns, there are some beautiful ones out there.
From a myriad of colors to tones of neutrals, there's a shade for everyone.
This is not a picture of their newest carpet, which is 100% waterproof, but when I heard about that I couldn't believe it.  I saw a video of someone spilling a pink liquid on the carpet and it does nothing but instantly bead up and roll off.  Can you imagine a truly waterproof carpet?  Shaw has one!
I really love their cut-a-rug program too, which means you can custom cut any of their carpets and have them bound with several options, such as leather, canvas, or a simple serge.
The Epic engineered hardwoods look very similar to what I have in my house now, so very pretty. I still absolutely love the 3 widths that my hardwoods have, in 3, 5, and 7″ widths.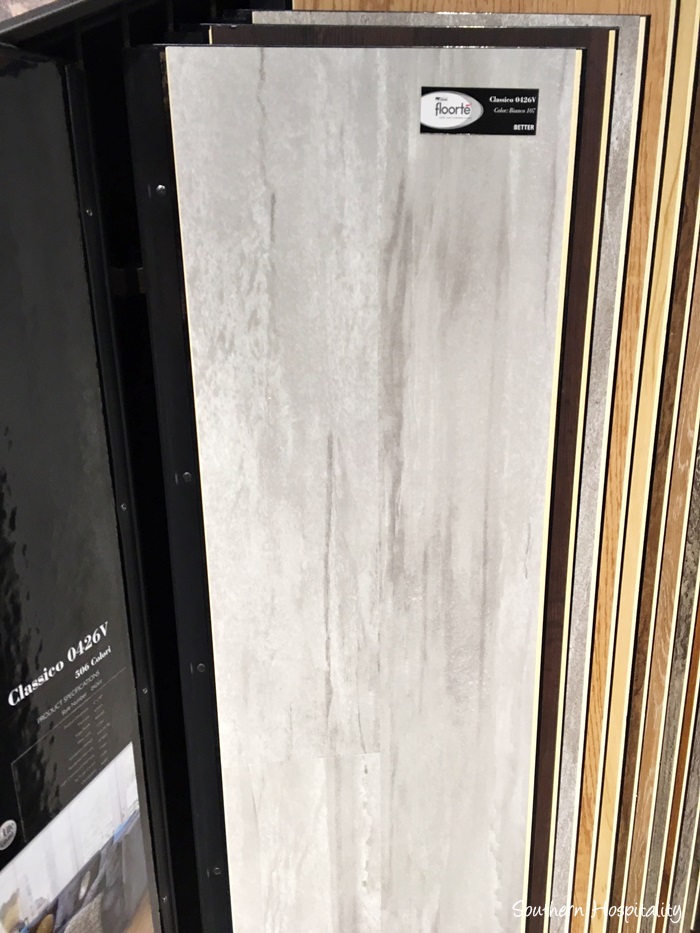 My head was spinning as I looked at all the options.  I didn't think I would like the Floorte waterproof vinyl planks all that much, but when I saw them in person, I totally changed my mind.  They are called Luxury Vinyl Planks and they really are impressive in person.  They had these on display at Haven and had them immersed in a tub of water overnight and nothing happened to them.  Totally waterproof, so that is truly a game changer, isn't it?  The old laminates that have been around for so long were not waterproof and if they got wet, they were ruined just like hardwoods would be.
This vinyl plank flooring can go right over concrete, osb, plywood, or even old tile!  They said that you can lay it right over old tile without ripping up the tile.  That's pretty amazing!
My downstairs den area is a big room of carpet, so this is the area I'm going to redo.  You can see that it already has wear and tear on the carpet 4 years later.  This is the traffic pattern coming in from the garage and going upstairs, so there is dirt that has buried in the carpet and I have tried to get it out to no avail. Would it make me happy to get all this carpet out of here?  Most definitely it would!  I will not miss the carpet at all.  Even though when I first heard the options, my first thought was getting the waterproof carpet, because it is really pretty too.
But, once I looked at the vinyl Floorte planks, I decided this would more than likely be the best choice for my den space which is on a slab.  They float these planks and don't even glue them down.  And waterproof, hello!  That will be amazing!  I have area rugs in here which will keep it nice and cozy.  I looked at their samples and ordered a few to try out in my house and here's the 3 I'm looking at.  I'm leaning towards the  left one, the long plank.  It's called Casa and the color is Cafe, that leans toward a brown/gray tone. I really like the right one, but it might be a bit too gray. I like the middle one too, but the longer I looked at it in my lighting, it's quite a bit darker than the left long plank.  Gray is the new beige and so I don't want to jump too far to the gray bandwagon either, but the middle 2 have a gray tone without going all gray.
Would you like to chime in with an opinion?  I'd love to hear what you think, but I think I have made up my mind. 
The middle one is a little wider plank than the other too and I'm going to have to narrow down my choice soon. I wanted a contrast with my current dark brown floors.  I'm going to remove the wood on the little landing at the bottom of my stairs and have the new flooring installed there and all the way into the den space.  That way there is no break and the eye will just flow to the new flooring down here.  I wanted a contrast and not have it look like I tried to match the wood of my current floors.  I think either of these will be a nice contrast.
Just for the record, here are the waterproof carpet samples. They are beautiful too, aren't they?  I love that this carpet has a waterproof backing and water does not penetrate the pad or subfloor.  That's a really neat product for busy households with kids and pets.  It also has a stain guard built in for extra stain resistance.
I really thought I'd choose one of these originally, but now that I've seen those vinyl planks I'm going with that.  But to have a waterproof carpet would be a dream, I think.
That's an introduction to some new products from Shaw Floors and I hope you enjoyed hearing about them!  I love that I'm able to share good information with all of you and I can't wait to get these planks in my house and get to enjoy them.  Not to worry about tracking dirt in on the carpet will be fantastic and a really nice bonus of having a waterproof floor in case anything ever leaks around here.  Stay tuned for this project, it's going to be a fun one!
Note:  This post is sponsored by Shaw Floors.  All the ideas and information I share is my own viewpoint. 
Don't Miss a Post, join my list!