I shared with you awhile ago that I am partnering with Shaw Floors for the next year as one of their Styleboard bloggers.  I have so enjoyed working with Shaw over the last 5 years or so and being affiliated with this fine company.  They helped me get flooring that I could afford in this house remodel of mine 4 years ago and I still love the choice I made for my engineered hardwood floors throughout my house.  I can't say enough good things about these floors, they have performed like iron and still look brand new.
Downstairs in my den area (on a slab) was carpet.  The only room in my house with carpet. When I went to Shaw to visit and see their new products, I was amazed at all the new flooring options that were out there and I shared those options in that linked post.  From waterproof carpet, to vinyl waterproof planks, there was a lot to think about.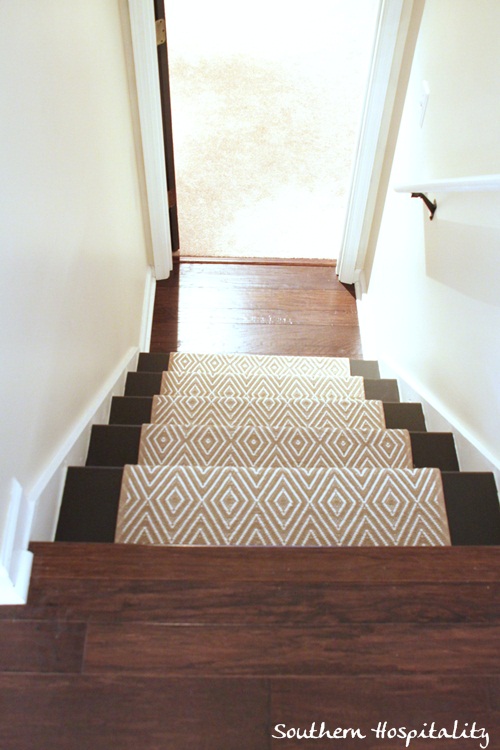 Here's the transition from upstairs to downstairs and you can see my beautiful plank engineered wood floors that are all on my main 2 levels, also by Shaw Floors that I installed when I moved in here.  I opted for painted stairs and runners going down to the den.  I decided to take out that little landing of hardwoods at the bottom and start my new flooring right under the stairs for best flow.  I was definitely ready for a change in this room!
The old carpet was removed as well as that small bit of engineered hardwood at the bottom of the steps and the glue had to be scraped off before install began.
After mulling over my choices when all my samples arrived, I decided to try the waterproof vinyl planks offered by Shaw called Floorte.  They truly are waterproof and even after soaking overnight in water, nothing happens to them. That's a far cry from the old style laminate flooring that's been out for years.  These are vinyl, so it's not going to completely fool anyone into totally looking like wood flooring, but they mimic a wood look really well, with high definition printing.  This is called Luxury Vinyl flooring. Being that my den space is on a slab, these floors float right over the concrete, snapping together for a fast install.  They can also be installed right over ceramic tile, which is pretty amazing!
Shaw sent out installers to my house to measure the space and to make sure that plenty of product was available for the install day.
I chose the style Casa Floorte in the color Cafe, which is a gray with brown tones.  I thought it was a nice transition from my stairs down to the lower level color wise.  I didn't want to do dark floors like my upstairs and wanted to keep the downstairs more light and airy.  Contrast was the idea on having a completely different flooring downstairs.
I moved out all the small things in my room and left the big pieces of furniture.  They moved everything to one side of the room and then when that side was finished, the furniture was moved to the finished part.  Start to finish, the install took 4 hours.  That's fast, huh?! I was upstairs the whole time and didn't get to see all the installation process, but I peeked down there as often as I could when the door was open.  They worked from the far side over to the stairs and you can see here that they are almost finished.  I'm not sure what they use to cut the Floorte planks to fit in each space, but they must be easy to cut. I've heard this can be DIY'd pretty easily too, although I'm glad I didn't have to try to do that.  One guy installed the planks and another guy cut and installed the shoe molding around the room.  You can see above that the planks are staggered during installation.
This little area was the last to be finished, then shoe molding was installed and it was DONE!  I was a very happy girl when I walked down there and walked around the room for the first time.
I love the transition in color and I think it really enhances my space and the furniture I have in there.  It feels so cozy, even though the carpet is gone now.  Nothing wrong with carpet in certain areas and many people love carpet for the cozy factor.   Shaw has some great carpets and patterns that I almost considered for in here, but ultimately chose the vinyl planks for something different and the fact that they will clean up so easy.
This was right after installation and I swear, the room felt bigger to me!
All that open flooring was so nice to see.   These pics were taken with my phone and the lights were on, so there's a little more golden tone to them but the true color is a gray/brown. as below.
I love the color variation and how these Floorte planks mimic a wood look.  Again, it's vinyl but still feels very good underfoot.  I do notice that there is a little bit of flex when walking on the flooring, because it is right on the concrete and concrete might not be completely level.  The installer told me that no underlayment goes under these planks when it's floated on concrete. The flexing is very minor.
You can see that the planks are all varied and spaced out, giving the floor a beautiful uniform look.
One thing for sure, I don't ever have to worry about water in this downstairs space now. If I ever have a leak, the water will not harm these floors.  I began putting my room back together and loved how it was looking from every angle.
Everything looks so fresh and pretty in here and I love how well the floors go with all my furnishings. Even the installer mentioned that!
You may notice I got a new rug in here and I'll you about that in another post.  I love the addition and it looks great on the new floors!
Looking back towards the stairs going up to the living room.  I wanted to show you the whole room and how it looks now.  I just love it!
Cozy seating for TV watching.
You might notice I have a bigger TV in here now too.  It's a 70″ HD and it's so nice for movie and sports viewing.  I had to remove some of my gallery wall art to fit it on the wall.
Looking towards the built-in bookcases.  Still so happy that my dad and I were able to get those installed a couple of years ago. What a difference in that corner!
My black and white houndstooth rug looks great over here.
A cozy seating area with lots of color.
The new flooring looks nice in this alcove too and the 2 area rugs add a cozy factor to the room. The bookcases were built on top of the carpet, so they had to cut the carpet out in front of the bookcases, but it all worked out great with shoe molding in place.
A look at my china cabinet with the floor.
And my grandma's sewing machine on the other wall.  Someone on Facebook asked me why the sewing machine was turned backwards and I hadn't even noticed.  It's fixed now!  I was so excited to get my room back together, I didn't see that they had turned it around.
I am SO happy with my new floors from Shaw and I think they will really wear well and be so easy to take care of.  It's exciting to be able to share this project with you and to tell you about my experience with the flooring.  Shaw is wonderful to work with and they have 50 years reputation behind their products.  I'm still so impressed with the research and development that happens within Shaw to bring out these new and improved products to consumers.  I can remember back about 15 to 20 years ago when there weren't all these choices in flooring and laminate was still very new and being used everywhere.  I definitely think these vinyl planks are way ahead of laminate in style factor and durability, so I can't wait to put these to the test.
Thank you for coming by today and checking out my new floors!  This house has had a facelift from top to bottom and the new flooring in my den is the latest in beautifying this house of mine and I couldn't be more thrilled.
Note: This post is sponsored by Shaw Floors.  It's my pleasure to work with them on flooring for my home and to share it with all of you.
SaveSave
Don't Miss a Post, join my list!