Last week, I had the pleasure of attending the preview of the first annual Flower Magazine showhouse. The house is in Buckhead and is now open to the public so if you're local, you may want to check this one out. The house is open until November 27th and you can get info on tickets at the link above. The stellar group of talented designers was impressive and they all did a really fantastic job with this house. Yes, it's very layered as most designer showhouses are known to be, but the traditional architecture and the beauty of the house was accented with the details.
Here's a rendering of the house before completion, a classic 10,000 s.f. Regency style home designed by noted Atlanta architect Peter Block, who is known for his seamless integrating of traditional and European designed homes.
Architect: Peter Block Architects
Builder: Young & Meathe
Landscape Architect: John Howard, Howard Design Studio
And here's the house the day we arrived, still getting the finishing touches on the driveway and courtyard.
We entered through the back of the house on the screened porch, which overlooks the 2 acre secluded backyard in Buckhead.
Here's a peek at the backyard with a beautiful pool, which we will look at next week. Today I'll share the main floor and downstairs rooms.
It was a beautiful November day in Atlanta, perfect for a tour. I love getting to peek at these showhouses and glad that I'm invited to share with all of you. My camera doesn't quite do the house justice, but hopefully you'll get a good idea of the spaces. I did love that the house was overall traditionally designed and not overly modern, which many of them tend to be. Keep in mind it's a showhouse though and designers tend to get really creative with everything they do in the spaces.
Notable designer Charlotte Moss was tapped as Honorary Chair of the showhouse with Suzanne Kasler as Design Chair. Both of these ladies are super talented and well respected in the industry.
Since I started on the back porch, we'll start there.
Screened Porch: Ashley Whittaker, Ashley Whittaker Design, New York, NY
That's Ashley on the left.
I loved the pink and white striped awning fabric.
Inside the back of the house, we start here in the salon, designed by talented designer Suzanne Kasler, also the Design Chair of the showhouse. From here on, I'll name the space and the designers so you can browse at your leisure at all the pictures.
Salon & Kitchen: Suzanne Kasler, Atlanta, GA 
Kitchen and salon are all open to each other.
Library: Barry Dixon, Barry Dixon, Inc., Warrenton, VA
I really enjoyed chatting with Barry Dixon about  his room which was so richly layered with fabrics and beautiful objects.
Catering Kitchen & Butler's Pantry: Melanie Millner, The Design Atelier, Atlanta, GA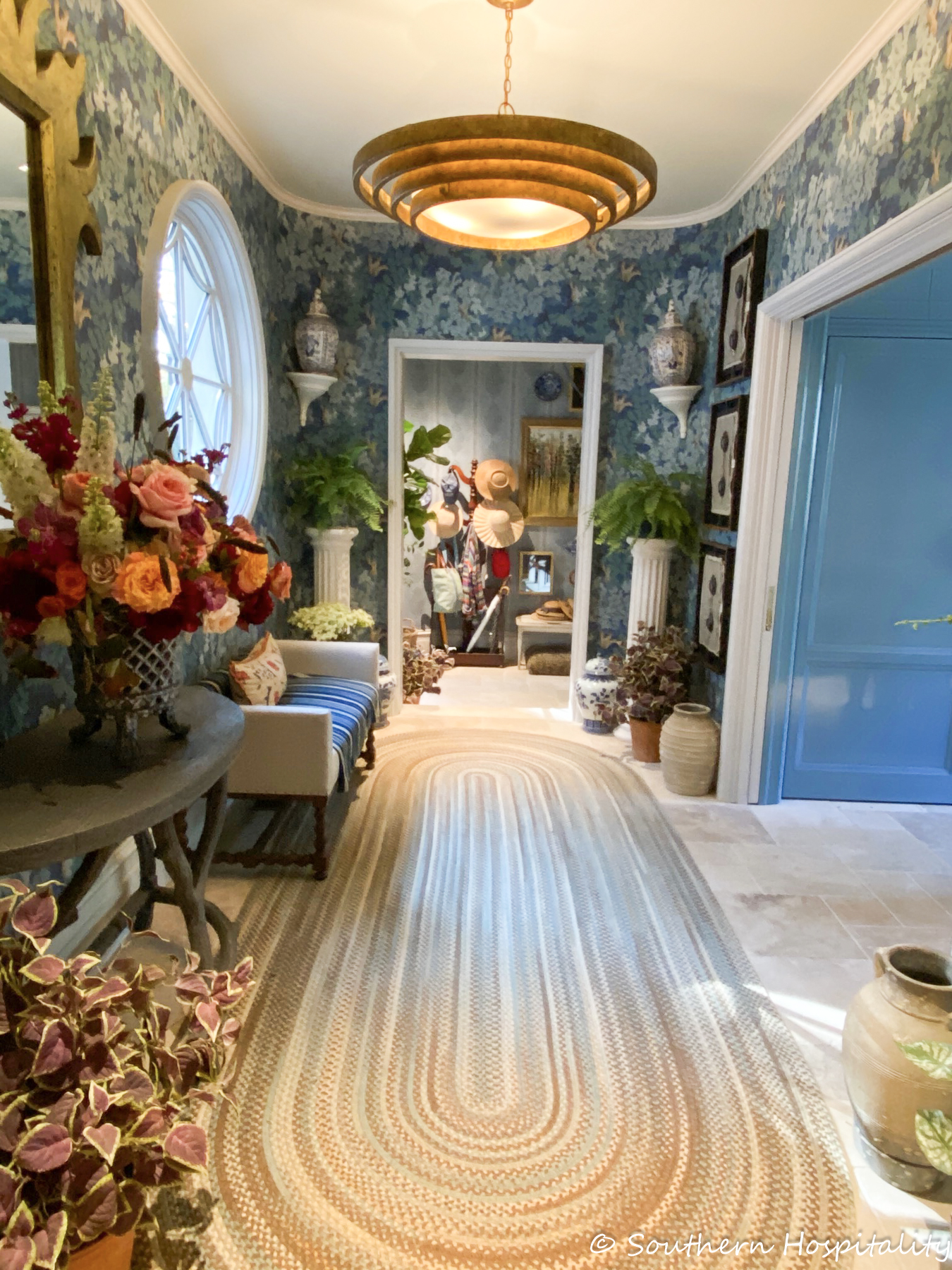 Cutting Room, Potting Porch & Adjoining west gallery: Bunny Williams Interior Design, New York, NY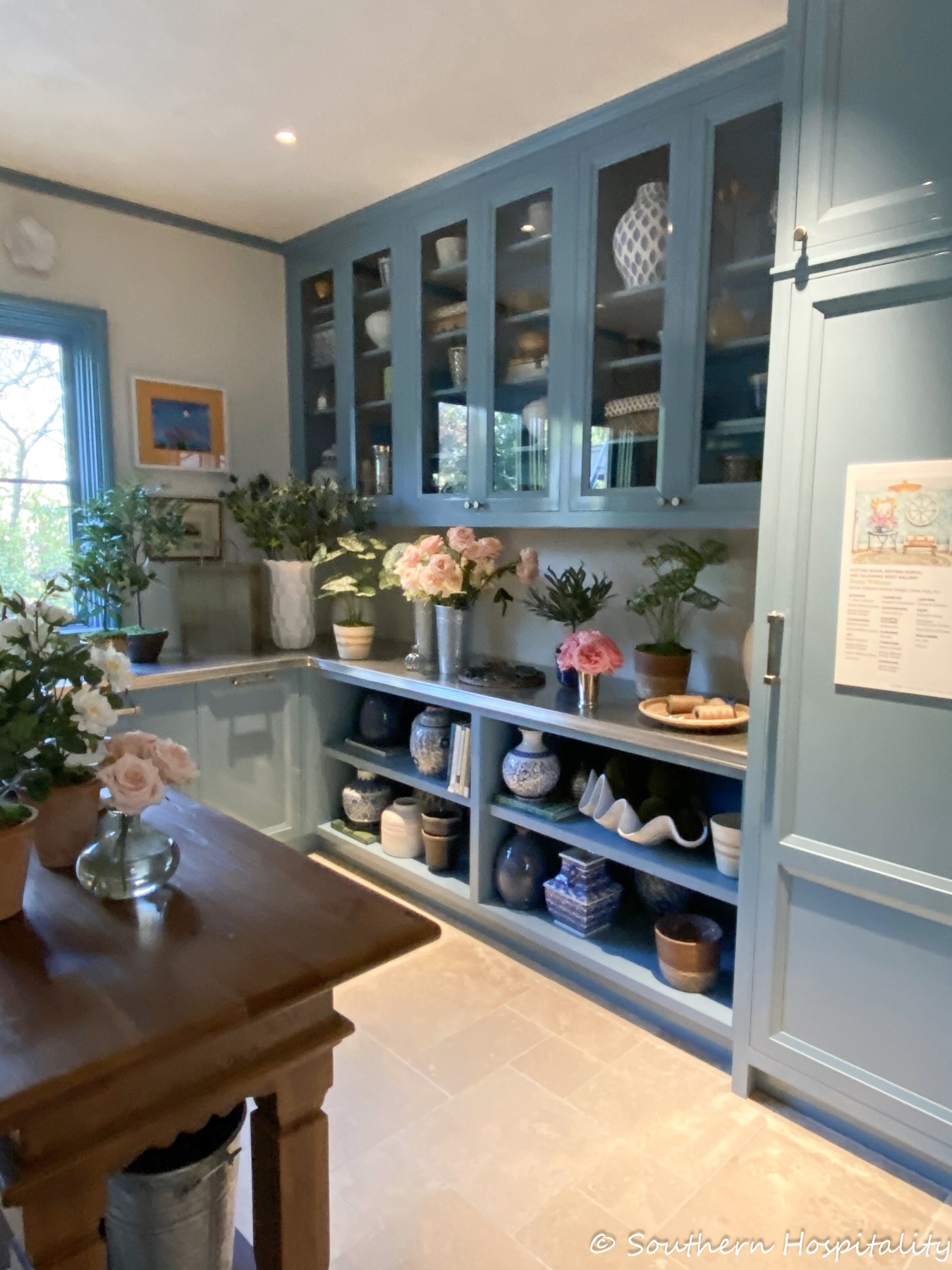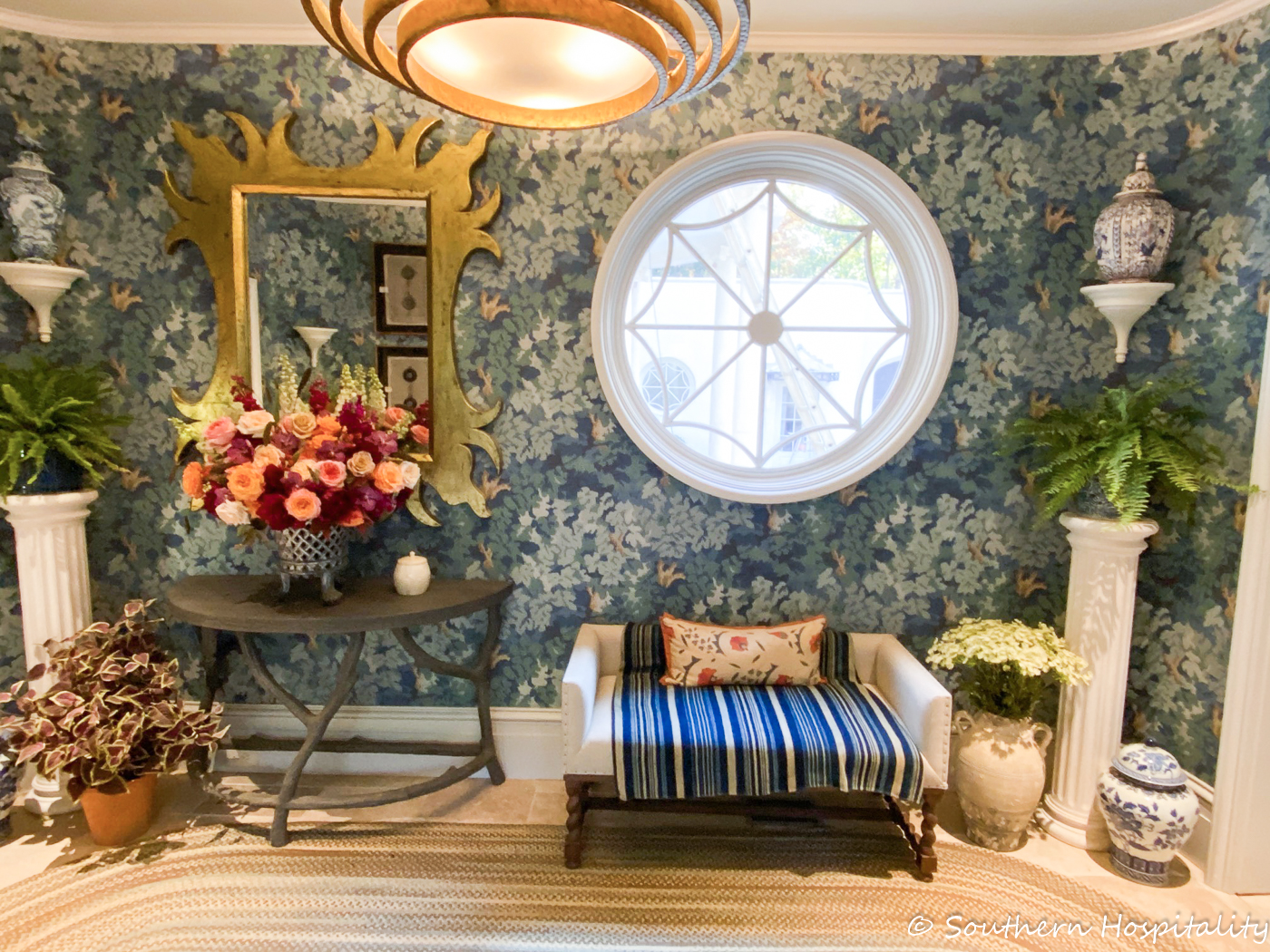 Dining Room: Alexa Hampton, Mark Hampton, New York, NY
Entrance Foyer & Powder Room: Michelle Nussbaumer, Ceylon et Cie, Dallas, TX
Primary Bedroom: Cathy Kincaid, Cathy Kincaid Interiors, Dallas, TX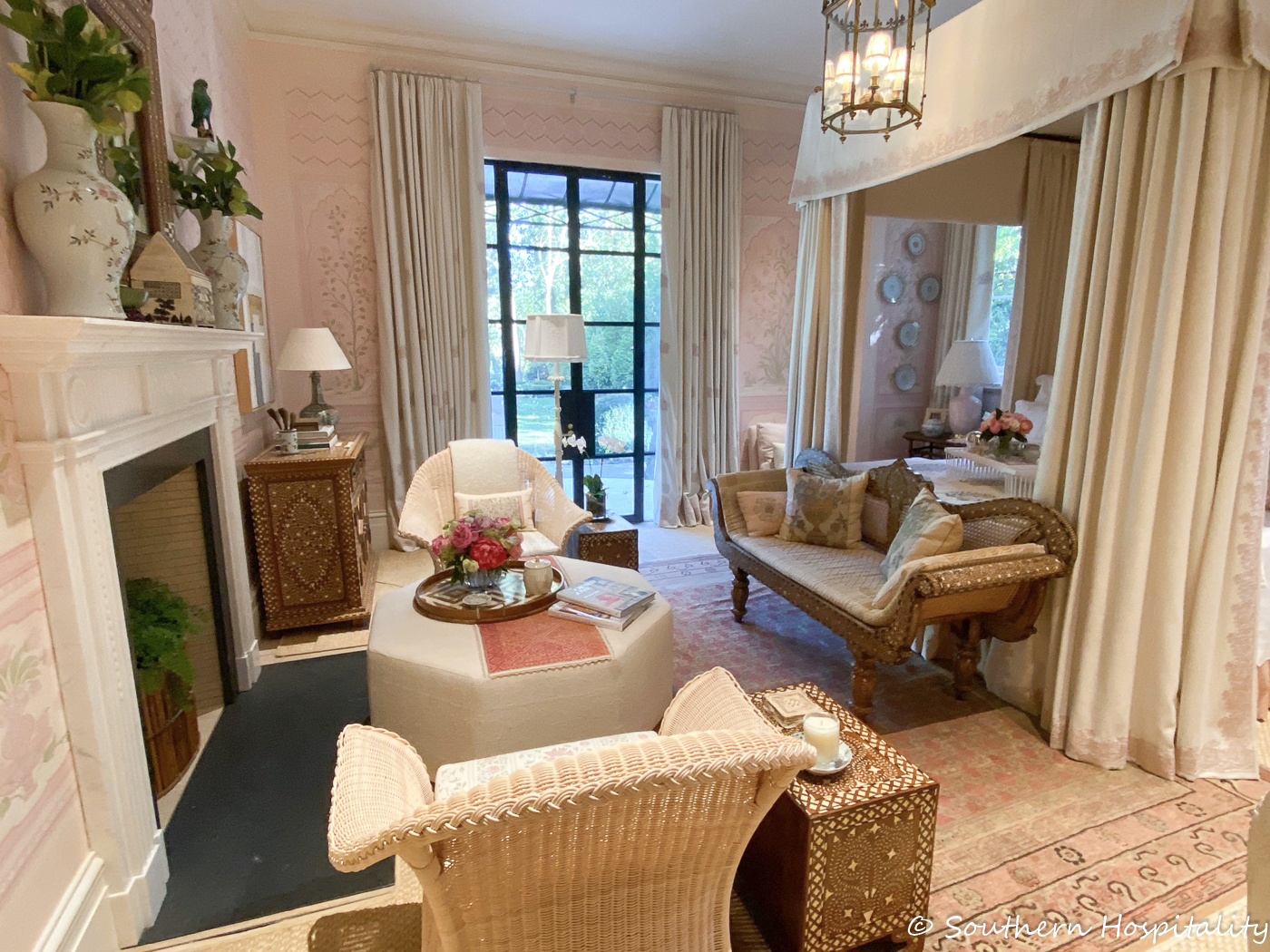 Gentleman's Dressing Room & Adjoining Powder Room: Don Easterling & Nina Long, Matthews Design Group, Atlanta, GA 
Primary Bath, Her Dressing Room & Adjoining East Gallery: Julie Dodson, Dodson Interiors, Houston, TX
How about that closet?
Moving downstairs:
Secret Speakeasy, Wine Cellar & Adjoining Wet Bar: Corey Damien Jenkins & Associates, New York, NY
Family Room: Ray Booth, McAlpine, Nashville, TN
Bedroom, En Suite, & Adjoining Terrace: Tish Mills Kirk, Tish Mills Interiors, Atlanta, GA 
That's Tish Mills.
Downstairs Stairwell: Jared Hughes, Jared Hughes Design, Atlanta, GA 
Gym and Adjoining Spa: Fran Keenan, Fran Keenan Design, Birmingham, AL
Powder Room: Nellie Howard Ossi (Phoebe Howard's daughter), Mrs. Howard, Jacksonville, FL
That's the Main Level and Terrace and I'll be back next week to show you the Upstairs rooms and the outdoor spaces. I hope you enjoyed this part of the showhouse tour, there's lots more to show.
Don't Miss a Post, join my list!