I hope you enjoyed seeing Part 1 of the Fontanel Mansion, Barbara Mandrell's log home that she built in the late 80's in Nashville.  It was quite the treat to see this place in person and get to experience the serenity that is the Fontanel estate.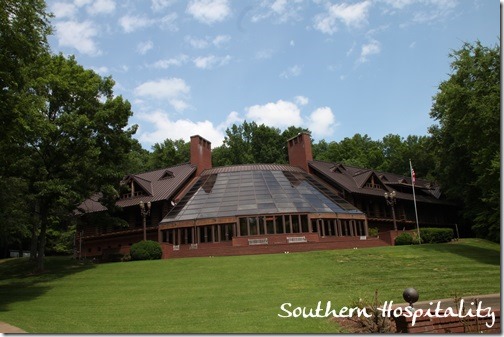 Here it is again from the outside looking up the hill.
Back inside, we toured the upstairs bedrooms. I didn't keep track of who had which bedroom, but the 2 boys had their own rooms, as well as Jaime, the daughter. I did make a note of her room.  This one is called the Pioneer Room.
Rustic and lodge décor.
The bathrooms look the same as they would have in the 80's.
The Dream Catcher room.
I think these were extra guest rooms.
You can see how massive and long the hallways are in this huge log mansion.
Another one of the bedrooms.
More Country memorabilia in the hallways.
I think this is Jaime's room growing up.
Stuffed animals for a little girl.
And Dana mentioned that this is the dress that Barbara wore while she was pregnant with her daughter.
The master bedroom has a massive stone fireplace.
More clothing from Barbara's career in Country music.
That massive fireplace again, soaring to the ceiling.
Master canopy bed.
Boots and roses.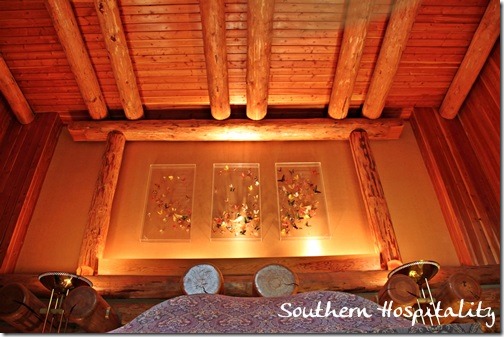 The large butterfly art over the bed.
Hallway leading to closets and master bath.
The closet and dressing area was huge, as was the master bath.
Master bath with tub and marble floors.
You can imagine how luxurious this all was back in 1988.
On the nightstand, Barbara's Bible is displayed in the master bedroom.  Love that she is a woman of faith.
Down in the kitchen, there are plenty of photographs still around of Barbara's family.
The kitchen is spacious, but not overly large.
She had these bear statues made for the kitchen, in honor of her 3 little cubs. So cute!
Family photos.
Kitchen eating area.
Right outside the kitchen is a landing that looks over the pool.
The indoor pool is quite impressive.
Stairs leading down to it.
Massive beams and glass are over the pool.
I love this statue as well, called I Exalt Thee, a wonderful tribute to God's blessings.
Corner of the pool house.
Pool kitchen.
Indoor shooting range right off the pool kitchen.
And one more peek of Fontanel from the outside.  It's quite the place, a massive log home like none I've ever seen before. At 27,000 s.f. you can imagine the presence it has on this hillside.
We really enjoyed the tour, so if you get the chance to tour Fontanel too, I would highly recommend it!
Don't Miss a Post, join my list!