Last week, I got to visit Nashville for that quick trip to the Southern Living Ideahouse and while we were there, my friend, Vicki, and I also did a fun tour of Fontanel, former home of Nashville Country music legend, Barbara Mandrell.  That was such a highlight for me, as I've long been a fan of Barbara Mandrell.  She has such a fantastic voice and I just love her story and her family as well.  I watched her TV show that was on for several years with her and her sisters and admired that talented family. I also remember Oprah doing an interview years ago at Fontanel with Barbara, showing her audience around the house and I thought it was so cool.  To see it in person was a real treat.
This 27,000 s.f. log home formerly owned by Mandrell and family, is situated on 136 acres and nestled in the rolling hills of the Whites Creek Valley, just 10 minutes from downtown Nashville.  The property also has the Woods Amphitheater concert series, evens and activities at the Pepsi Studio Gallery, and award winning kitchen and wine bar at Café Fontanella and many other activities, so you could definitely spend a day at Fontanel touring both the log home and the Southern Living Ideahouse.  The log home is open 7 days a week.  I think the home was completed in 1988 and is now owned by Dale Morris and Marc Oswald. It is open to the public for tours 7 days a week and no one occupies the house.
We were told that Barbara Mandrell and her husband, Ken, still live in the Nashville area and moved out of the house in 2002, when they downsized to a much smaller home.  Barbara is no longer touring or active in her career, but is enjoying her retirement years, I'm sure.
Part of the buildings at Fontanel.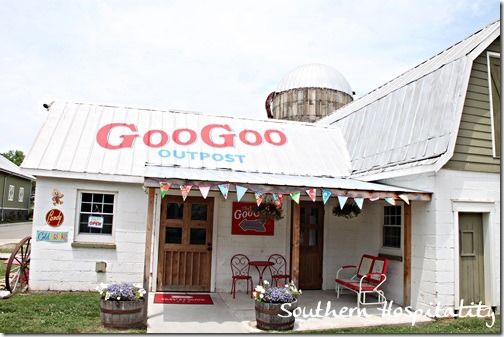 The GoGoo outpost has lots of sweet treats.  And this old truck was cute.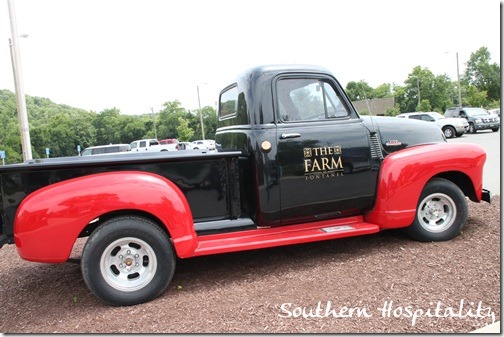 The day we were there, it was just myself and my friend, Vicki, and one other couple taking the tour, so we got to see everything up close and personal with our really knowledgeable tour guide, Dana.  We found out that she is great friends with Jaime, Barbara's daughter, who also is Head of Hospitality at Fontanel now.  I was so glad I got to meet Jaime briefly later at the party.
My longtime friend, Vicki, and I had a great trip to Nashville together. We've been friends since we were 15, so you can imagine the adventures we have had together.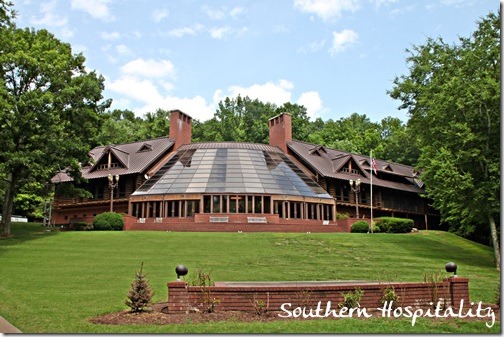 This is Fontanel from the bottom of the driveway.  That brick wall hides the helicopter pad.  That glassed area is where the indoor pool is located right in the middle of the house.
From the driveway looking at the front side of Fontanel, this is a picturesque view of the rolling hills of Tennessee.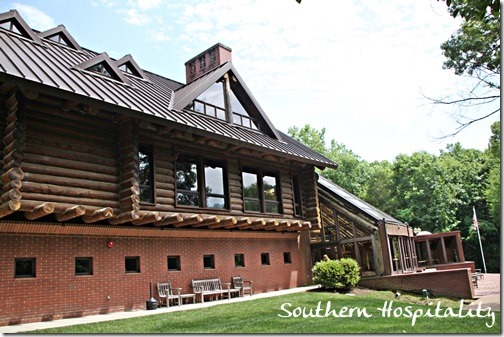 Another view of the log home, with the pool in the middle of the house.
Driving up the driveway, this is the landing area for cars to park with a covered walkway to the house.
Vicki and I were waiting for our shuttle bus to come back after the tour.  I had fun taking lots of pics!
This area also has some cute as can be bear statues climbing on logs.  Very much part of the mountain scenery here.
When they say Fontanel is a log home, they aren't kidding!  Big fat solid logs are everywhere in this home. The front doors are quite impressive too.
Stepping in the front doors into the foyer, it's a soaring ceiling with Barbara's portrait on the wall.
Logs and brick are some of the natural materials that make up this large home.  It's an amazing place.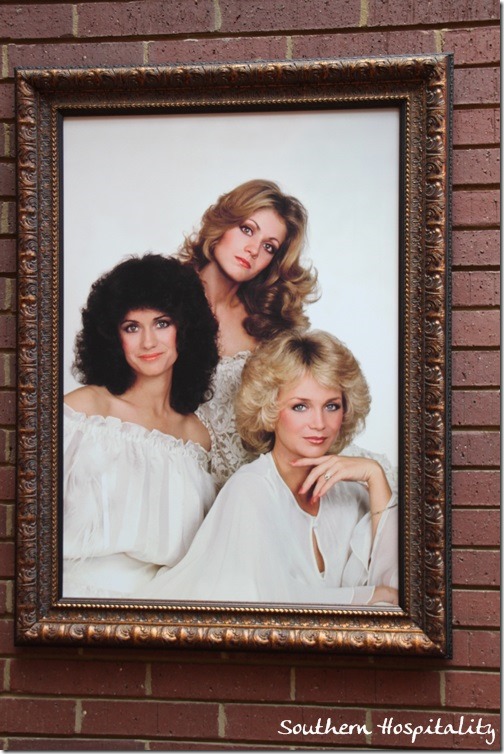 The Mandrell sisters.
The entire right side of the house is the magnificent great room, which is probably the biggest great room I've ever seen.  All wood, with massive fireplace and beams, it's a treasure trove of Country music memorabilia.
Check out that soaring beamed ceiling.
This space alone would house a pretty big party comfortably with all the seating areas.
Fontanel really has a lodge feel to it for sure, which is appropriate in the TN mountains.
Dolly Parton clothes and wigs are on display for awhile at Fontanel.
Another look at the bookcases filled with interesting artifacts.
A spiral staircase and more.
Signed guitar from The Eagles, one of my longtime favorite bands.  I loved their music too.
Another look at that massively tall and soaring ceiling.
There was so much of Barbara's memorabilia still in the house and that was interesting to see. She has had quite the career in Country music and I admire her greatly.
Dana told us that guests were allowed to sign the big log posts in here.
Here's a close up at how the logs are put together.
Another room of Country memorabilia.
She told us we could try on the hat, so Vicki gave it a whirl.  Yeehaw!
Country Music Hall of Fame for Barbara Mandrell.
Another shot of the massive fireplace.
Next, we stopped in the really huge dining room.  With rustic wood walls and planked ceilings, it had a warm and cozy feel, along with the Flokati rug.
That's a large crystal chandelier that's hanging over the table and you can see a beautiful painting of Barbara and her daughter, Jaime.
One massive dining room table, set with pretty china.
Passing through the pantry, we saw a growth chart for Barbara's 3 children.
A side covered porch holds more eating areas.
The halls and landing areas are even huge.  This is a foyer area on one floor.
There's even a soda shop/game room.
Each family member had their own snacks named for them, lit up in neon.  Really cute!
The 3 kids had their own too.
With a pool table and lots of Country memorabilia, this was a fun room to see.
I'll be back tomorrow with Part 2 of the Fontanel mansion.  It's quite a sight to see, with all the bedrooms and the kitchen and pool too.
Don't Miss a Post, join my list!