I'm going to try something new this year, since I've mostly run out of new blogger homes to feature. I know there are more out there, but it's gotten tedious trying to find more of them, so I'm going to start a new feature on Fridays. I will share a home tour and it may be one I've shared before or a link to a new one, I'll play it by ear on what I find to share. I'll also share any other tidbits or interesting things that I see around the internet.
We've been home for over a week, since we were quarantined for awhile and now I'm ready to get out again. He came through just fine and now it's time to get the new year started. I've got lots more organizing to do around here and I'll get to it eventually. Let me know what you think about this new format for Friday. It may evolve with time, but I'm trying to keep things interesting around here and come up with new ideas. After 15 years of blogging, it sometimes get hard to come up with new ideas.
I thought this would be something fun to do to break things up and find some new things to see. Some weeks might have more than others, but I'm going to give it a try for the New Year.
Feature Friday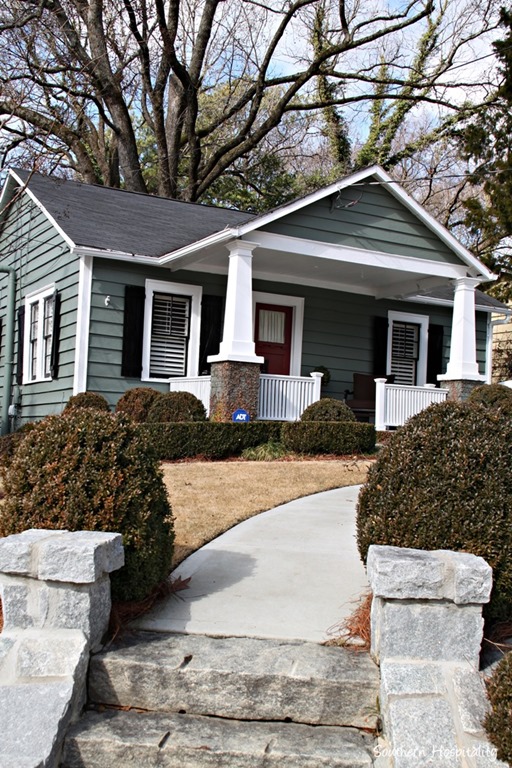 One of my favorite Feature Friday's is Buck's Bungalow that I featured a few years ago. If you missed it, this cozy bungalow in Atlanta has lots of small space ideas. Buck did a fabulous job on his house renovation.
Later on, I featured his backyard renovation too and it is fabulous! You'll be in the mood for spring after seeing this one.
Instagram Inspiration
I really enjoy following this Instagram account Mollie in Maine. She has a beautiful coastal style with lots of blues.  Look at this shot of her two pups, how cute are they!? She live in the cutest cottage by the water and her account is pure eye candy.
This is a beautiful kitchen post from Kitchen_Posts_Daily. I hope you can see these even if you're not on Instagram, because they are worth a look. You can click through all the pics over there.
This bunk room from FarmhouseStylebook is so cute! They give they credits in the photo share.
Around the House
I'll be sharing a new post this weekend about some of the ways I'm decorating for winter. These in between months are hard for me. I don't feel very motivated to decorate right now, so the house is looking pretty bare, but I did find a few vignettes around the house and I'll share those soon. Here are a few home things I spotted recently that you might enjoy!
*Affiliate links used below! 
Here's the blanket ladder I shared recently, in case you are in the market. It's a really cute one!
This is a pretty mirror from Target. Great way to freshen up a space.
If you're organizing or need a cute storage piece, this blush 3 tiered rolling cart is a winner and what a great price!
This trio of vases would be so cute with little springs of greenery inserted. Perfect for an early spring refresh!
This is a cute little side table in marble and gold. Perfect for those tight areas where you need a place to set a cup.
What We're Watching
While home during this dreary January, Mark pulled out a copy of Mr. Blandings Builds His Dream House (affiliate link) Have you seen that one? We loved watching it again. Talk about a money pit, but the home at the end was beautiful. Starring Cary Grant and Myrna Loy, it's a classic and especially for us house lovers.
That's it for this week! Hope you enjoyed this new Friday Favorites format.
Don't Miss a Post, join my list!