Thanks for coming by another Friday Favorites. I try to share some good info, inspiration, and useful things with you each week, so I hope you're enjoying this new Friday format.
Feature Friday
Here's a cute home tour Feature Friday I did several years ago, Our Vintage Home Love.
It's a cute cottage home that I think you'll enjoy seeing again.
Instagram Inspiration
It's amazing all the talent out there and I'm finding so many designers on Instagram that I've never seen before. This duo from Chicago is North Shore Nest and they do beautiful projects. I love these saturated moody rooms and they always catch my eye.
This one by Laura Covington Interiors in Wilmington, NC has a lot of color and wallpaper which I love, of course. Such a happy space!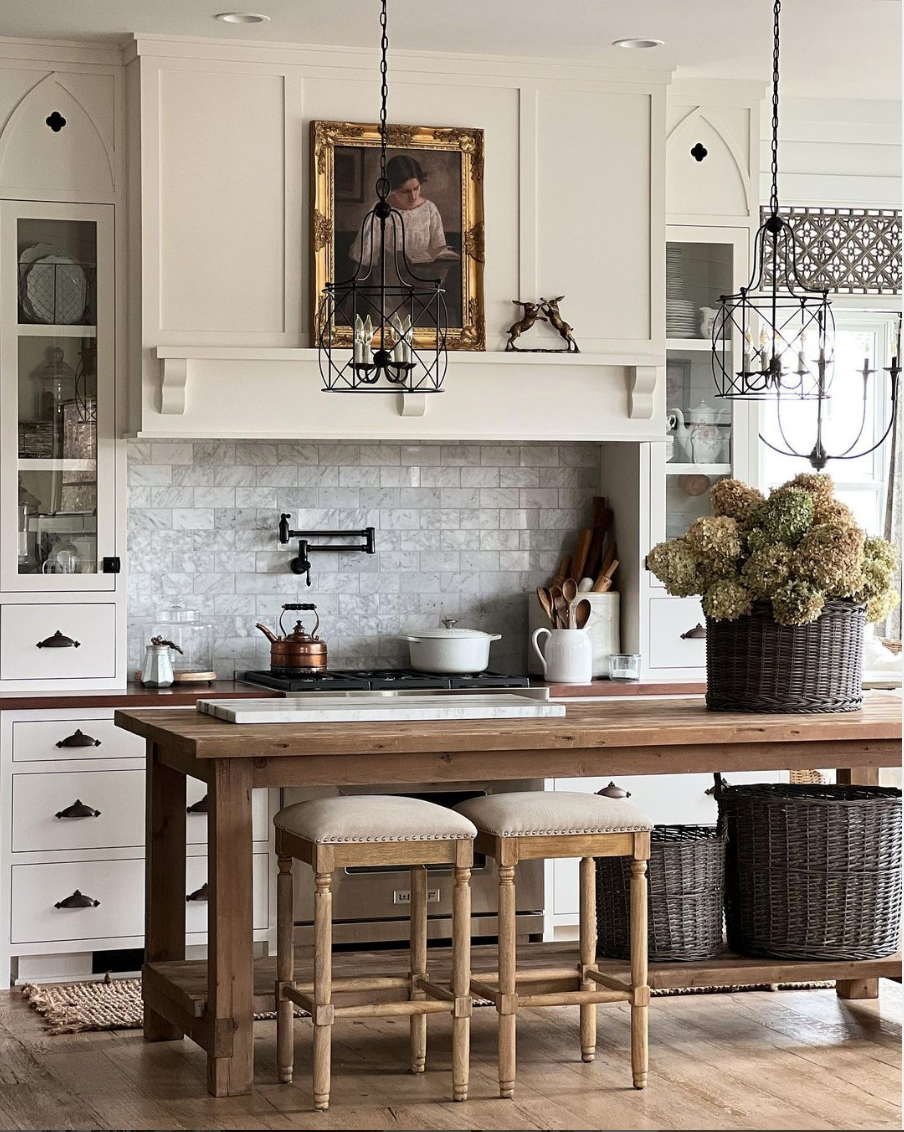 This kitchen from The Linen Rabbit is just gorgeous. Her whole feed is beautiful, I think it's an individual home shared and it's really pretty.
Recipes
I was looking at appetizers to take to a friend's house this weekend and I found this Tomato Goat Cheese spread from Taste of Home, so I'm making it. Looks delicious!
This potato sausage soup looks delicious from The Cozy Cook. Go and visit her page, but here's the direct link to her The Cozy Cook site for the recipe. This looks like comfort food. I wish Mark liked sausage, but he says it doesn't agree with his stomach so I can't really make meals with sausage.
Around the House
As I mentioned, I've been doing a lot of shopping for my sister and their new house. You know I love rattan so I was rounding up a nice group of those and thought you all would like to see them too. She's not getting a rattan one right now, but she is getting 2 of the black round ones which are a good price at Target for their 2 upstairs bathrooms. I love these rattan ones so much. Rattan would be a great addition in a powder room or bathroom.
You can find all the links below in the shopping widget (affiliate links):
She is getting this gold mirror for her powder room. I love the shape of it.
She's also getting 2 of these arched mirrors from Lowes for the master bathroom vanities. They looked a little golden online, but she wants them more gold so is going to paint them, but they are a good price. I found all her mirrors for her. It's fun to try to find good things without breaking the bank. I know you all appreciate that too!
What We're Watching/Reading
We just finished watching the Netflix series Inventing Anna. Seems like everyone is watching it right now and it is very interesting, even if it is embellished (they admit that at the beginning of ever episode). I went and looked her up and that accent on the series isn't nearly the way she talks, but it was an interesting show to watch. Hard to believe that New Yorkers would have been so gullible in giving her so much money, but she is certainly famous now.
Don't Miss a Post, join my list!