Happy Friday once again! It seems to come around fast these days, the weeks are flying by. We are getting concrete in our pool on Monday, so I'm waiting for that to happen and for things to keep progressing. It's been slow after the initial first week, but I am hoping after the concrete goes in and cures, it will move a little faster. July is our target date to be finished.
Welcome to another Friday favorites, where I share things that caught my eye. Enjoy!
Feature Friday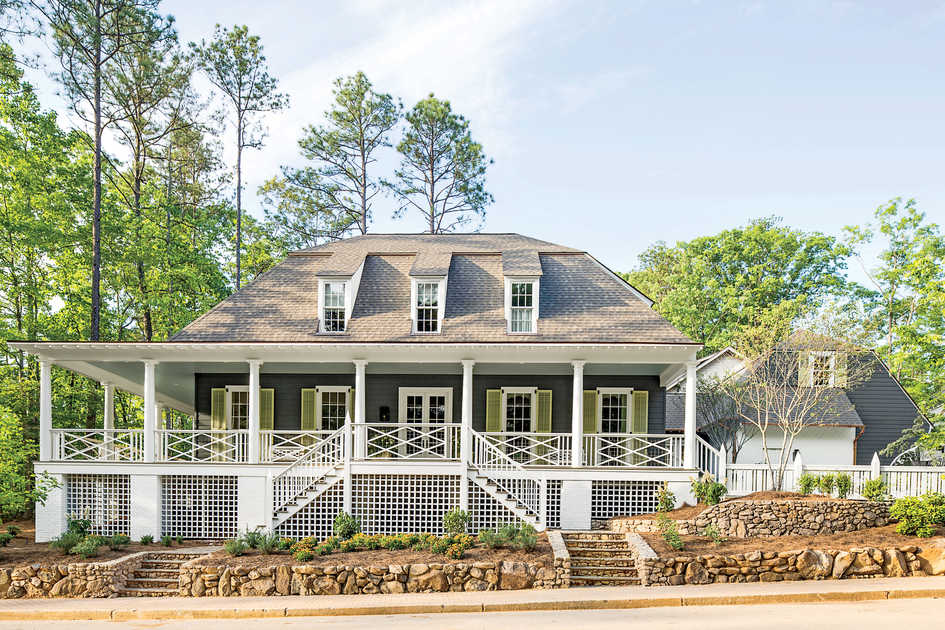 I didn't visit this Southern Living ideas house in person back in 2016 in Birmingham, but it's one of my favorite houses they have done. So many pretty things to see!
Of course, porches always get my attention and this one is gorgeous. Click that link above to see the whole tour of professional pics.
Instagram Inspiration
Amy Studebaker Design is definitely my kind of girl. Love these vintage twin beds with that natural rug, a little leopard, that beautiful green/white wallpaper and those white drapes with the pretty banding down the edge. Such a cute space!
Another beautiful space by Anna Louise Wolfe is so inspiring. This beautiful blue painted cabinet looks to be a mudroom design and those brick floors are gorgeous. Of course, I share designers that I love so I hope you do too, definitely the kind of classic styles that speak to me. And notice most of them are using wallpaper.
Recipes
I'll admit I'm not the best or most adventurous cook. In fact, I don't love cooking, so I try to find recipes that we both like that I can rotate around and eat somewhat healthy at home. I wish I loved it more, but cooking definitely takes a lot of time and effort to prepare and cook from scratch. I try, but it can be a challenge. Anyone else?
This creamy cucumber salad caught my eye from The Modern Nonna. I love a good easy recipe like this and cucumber recipes are great for summer months.
I love soups, but Mark isn't a big fan, but I still make them sometimes. This Chicken Enchilada Soup looks and sounds wonderful from The Cozy Cook. I have somewhat of a picky eater at my house, so that can be a challenge as well.
Around the House
Garden stools are really versatile in so many areas. I have a few of them and thought a round up would be fun to do, so enjoy these I found. Affiliate links used below
This rattan garden stool is from Marshall's and wouldn't save correctly in my widget, but it's really cute and inexpensive.
This is a fun group of garden stools. If you don't have one, they are great as a side table, to place a drink or magazines. I have one in between my swivel chairs in the family room, one in the living room to add some color next to the sofa, and I have a couple on the screened porch and outdoor patio. They are easy to move around as you need them. All links below in the shopping widget:

What We're Watching
We just finished watching a Netflix show about Abercrombie & Fitch, White Hot: The Rise & Fall of Abercrombie & Fitch, the retail clothing store and how it rose to the top and then fell in popularity. It was very interesting to look back at the pop culture of the 90's and see how our country has evolved and changed in the last 25 years and not for the better from what I can see.
Don't Miss a Post, join my list!