I've got a couple more posts to share with you on my adventures to High Point furniture market this year and the Design Bloggers tour, so today I'm sharing more of what we saw during our showroom tours of certain brands that we got to visit and see this year.  I dearly love design and love seeing all the new products and furniture out there in the marketplace and seeing these things in person lets me know what will be coming to local furniture stores during the coming months and year.  If you missed my first post of High Point Market, go back and catch up with what all we saw and the companies who hosted us in their showrooms.
I shared the other blogger/designers, but here they are again, with blog links so you can visit them too!
I'm a very visual person, so seeing things in person is what gets me motivated and excited to try new things and get design inspiration.   Circling back to the MT company, there were many beautiful furniture pieces that caught my eye.
Slipcovers are still on trend and we saw lots of neutral fabrics of linen and cotton blends, which make a great slipcover.
Swivel chairs were rampant in this showroom too and I love a good swivel rocker, so comfy and casual.
Loved the classic lines of this sofa.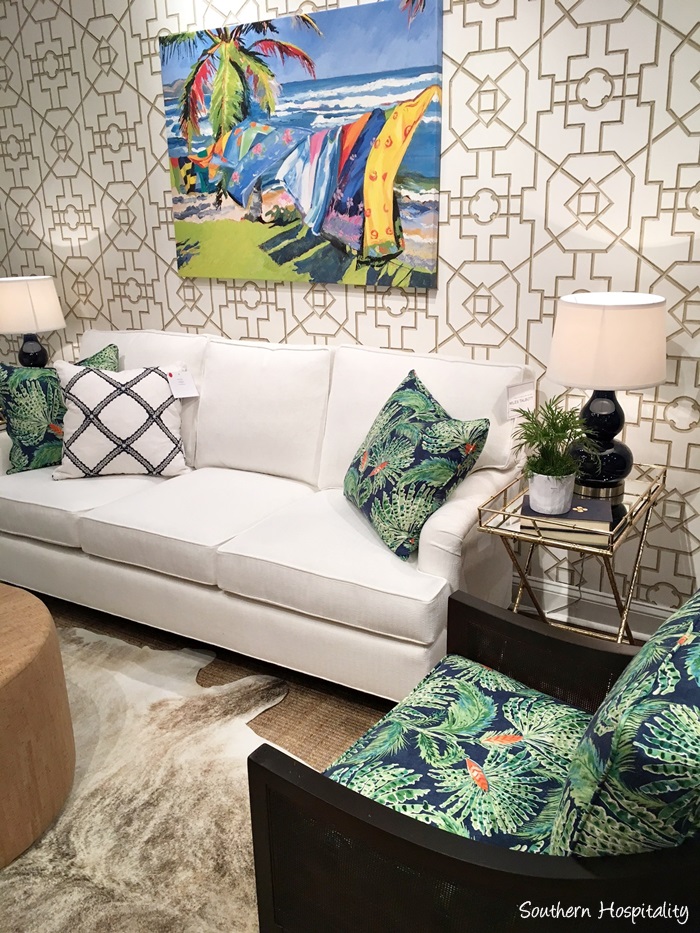 While there are still plenty of neutrals, we also saw high impact fabrics in bold colors and patterns.  Geometrics are still going strong.
A good sectional is always a nice find and this one from MT was boldly different and super long.
I'm always a sucker for animal print and we saw this in more than one spot, adding a bold vibe to any space.  I love myself some animal print too.
So many swivel chairs to choose from!
A classical frame settee was so chic and pretty in this vibrant coral fabric. Those crisp white trims on the pillows set it off nicely as well as the nail head trim.
There were a few showrooms that really stood out to me and one of my personal faves, Bernhardt always shines. They are more modern than ever, but I love their leather lines and still  have a leather loveseat that I bought years ago, going strong in my den.
Here's a little about Bernhardt and their history.
Bernhardt Furniture Company, Inc. was established in 1889, in Lenoir NC, by John Mathias Bernhardt. They are among the country's largest family-owned furniture companies and a leading diversified global furniture manufacturer.
Bernhardt was right on trend with their neutral grays and creams, which don't seem to be going anywhere. Color lovers will have to find color in another spot and Bernhardt did have some color, but it was prominent in their new spring furnishings offering.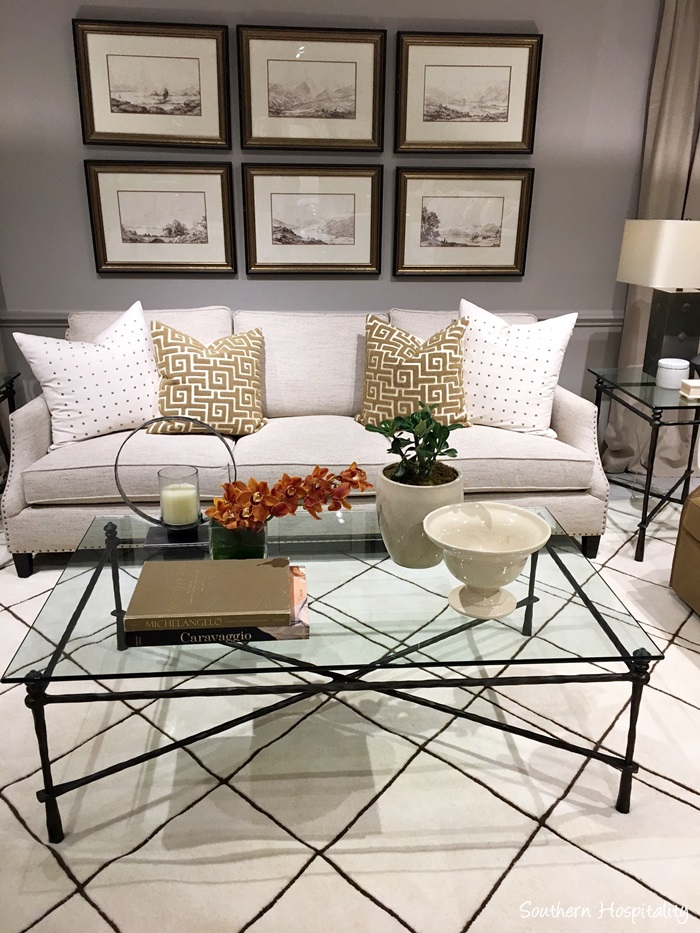 Glass tables, a mix of metals and patterns created a serene neutral space in the Bernhardt showroom.
Metallic golds are on trend in a big way too and we saw much of this burnished metal at market, but a mix of metals is always good too.  I didn't get all the specs on everything I took pics of, but this one is called the Beauclaire coffee table and Bernhardt's description below.  It's a very unique piece if you're into modern and gold!
Beauclaire Cocktail Table 546-015. Slice of moon, ray of sun — A strong shape with an undercurrent of the 80s, 70s, or a futuristic reference—you decide. The central "moon slice" white element is composed in resin. The base features a Gold Leaf finish.
I thought this wing chair was very pretty and classic and the fabric is nice too.
This reminds me of Hollywood.
This is a new piece that caught my eye. I love that it has somewhat Traditional lines, but with a modern edge.  It's part of the Clarendon collection and all of this will be available in the Fall at a local retailer.
A Clarendon chest was such a beautiful piece.  I do love how unique this drawer chest is.
Bernhardt has something for every taste and they have more Traditional lines as well.
A new dressing table we saw from Bernhardt.
I hope you enjoyed this little tour of The MT Company and Bernhardt during our High Point market design blogger's tour.  It was such a fun time and I was honored to get the invitation to attend.  See anything that caught your eye?
Note: This post is sponsored by High Point Market. 
Don't Miss a Post, join my list!