Back in 2002, I was on the cutting edge of the black painted furniture craze, when after doing a kitchen renovation at my house in Georgia, I painted my kitchen chairs black (which I shared about 2 years ago here).  And I haven't looked back since then.  There have been many more furniture transformations using black  paint since that day.   I think this trend actually started with Ballards Designs (at least to me) when I picked up their catalog and began seeing black furniture, a light bulb went off.  I can do that!
You've seen countless demonstrations of painting furniture black on the web, but here's mine….again.  🙂  So, join me today for another black spray paint project.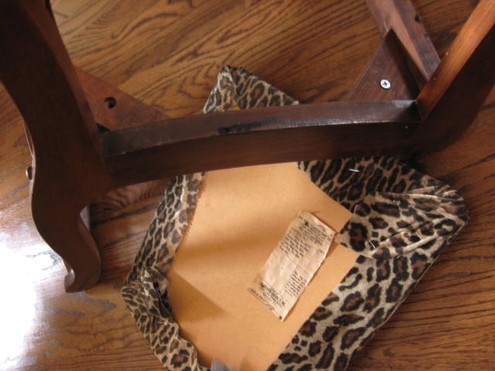 These 2  harp back chairs are yardsale finds (of course, they are!) and I've enjoyed them in their brown state for a few years now, but have lately been eyeing them with black on the brain.  So, I got busy and changed them.  First, you take off the seats by unscrewing those 4 screws.   I've changed the fabric on these a couple of times which is as easy as stapling and pulling fabric.
Outside they went and first I wiped them down with a liquid sander. This step just deglosses wood furniture and helps the paint to adhere better.   I do this instead of priming, which most wood pieces don't require.  I hardly ever prime real wood, but I definitely prime anything that is fake or veneer.
I used Rustoleum Black Satin spray paint on these, but any brand will do.  I don't like using flat or high gloss on furniture,  Satin is always my preference.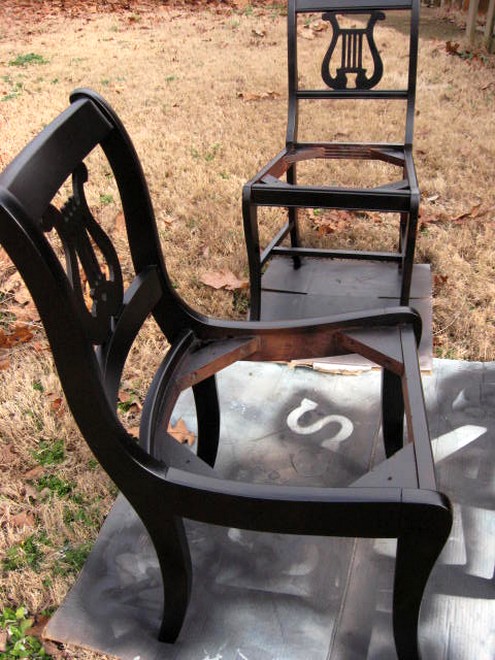 After drying about 10 minutes, the chairs are ready for their spray paint debut.  Try to spray evenly with minimal drips.  If it does start to drip, keep a paper towel handy to blot it before it dries that way.  Not always easy to do if there is any wind outside.  I prefer to do 2 light coats, letting them dry in between.   Easy, easy!
After  they are good and dry, I took the sander to the edges.  You want to distress in the areas that would most likely wear with age, like the rails, top and edge of the legs.   I didn't go too heavy with it, since I prefer a light distressing.
Like this, this looks good.
One little step I like to do after sanding,  is getting out a can of stain.  This is what I had handy, Cherrywood gelstain.
Grab a q-tip and swipe a little stain on that bare wood that you've just sanded down.  It will give it a nice deep brown tone and seal it up.  I just love the way this looks afterward.  Take a paper towel and wipe off the excess.
And you'll be left with some pretty distressing.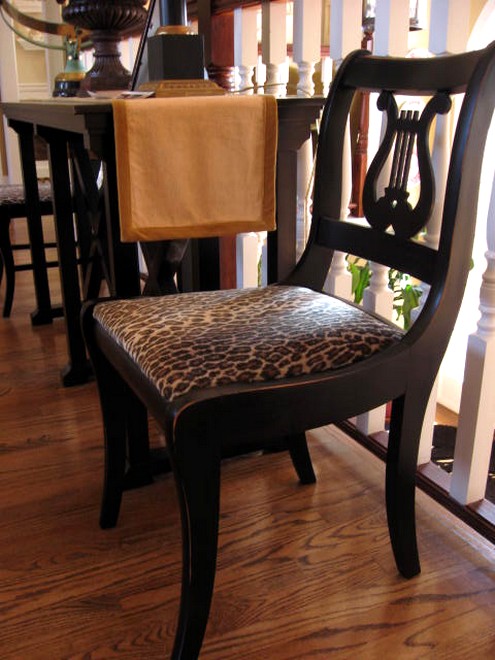 The chairs are back in place and I'm happy with them.  They fit in better with the black console table they are hanging out with.
Don't you think?
I'm likin' the black a lot.
Yardsale chairs rescued and saved.  You gotta love that!
So, do you have something that needs a can of black spray paint to renew and revive?
Added to:
Sarah's Before and After Party
Kimba's DIY Day
Susan's Met Monday
Don't Miss a Post, join my list!