The girls in our family have been down to New Orleans over the weekend, but before we left this happened.  Just wanted to share the garden bounty with all of you who so love to watch my mom and dad with their garden.
Daddy always plants too much and they end up freezing or canning some of it.  Last week, it was corn. The corn was coming in so they picked it, shucked it and got it ready to freeze in freezer bags.
The tomatoes are in too and that makes me very happy.  I could eat tomatoes every day and that's what we've been doing since they started coming in.  Tomato sandwiches, bruschetta, and caprese salad are all my favorite things to do with tomatoes.
So, we are treasuring these beauties.  Mom took a big box of tomatoes down to Lauren's and she was a happy girl to get them.
At my house, I'll be making plenty of this….Caprese Salad (I've shared the way I make it before, any good tomatoes will do).  Oh my word, there is nothing better than this with fresh homegrown tomatoes. It's become my go-to during the summer months.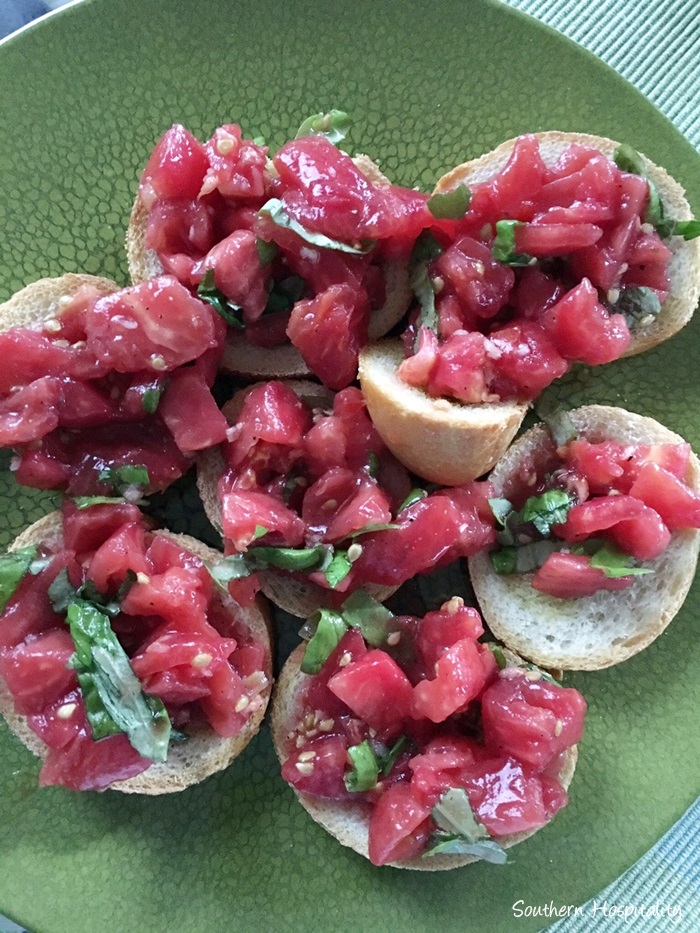 I also love, love bruschetta, which I first had in Italy.  A perfect combination of fresh tomatoes, garlic, olive oil and basil on a crunchy bread.  This is so easy to make too. I take a fresh loaf of crusty bread, like French or sour dough, slice it up and toast in the oven until slightly brown.  Chop up fresh tomato, minced garlic, fresh basil, salt and pepper to taste and drizzle in a little olive oil.  Top the toasted bread with this and enjoy.  It's SO good and I've been making it for Mark and I.  We both love it dearly! Those simple foods are the best sometimes.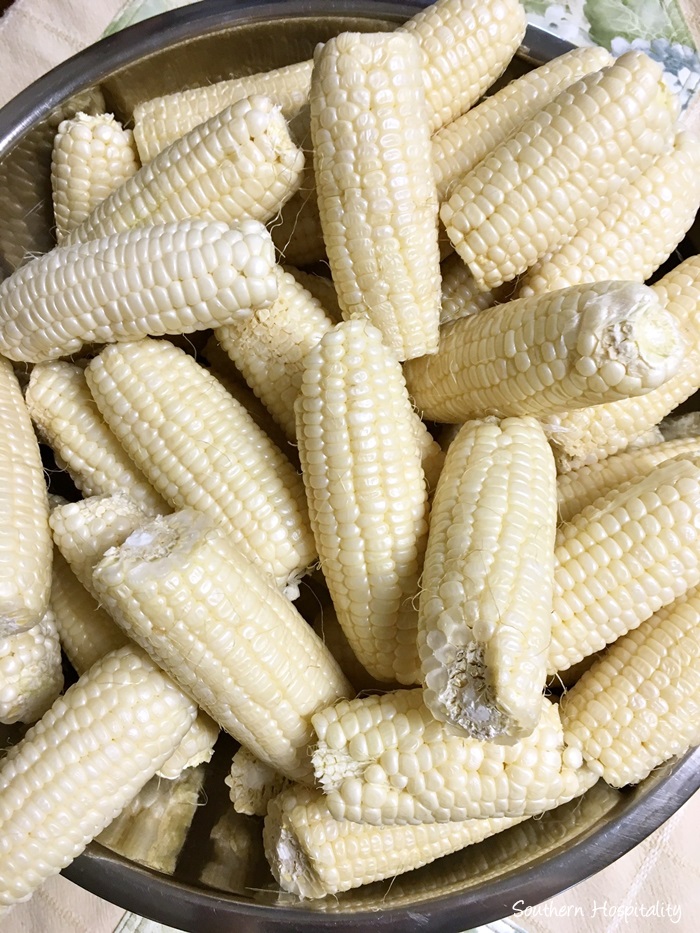 I was over there when they got the corn going and ready to cut off the cob.  It was piled up and mom had it divided into 2 piles. Some of it had been left on the stalk a little too long, so she's going to use this for soups later on.  Some of it was a little more tender than others, so that will be cut off for creamed corn.  They had been in the mountains and the heat got to it since it stayed on the stalk for an extra few days.  They hate it when the timing doesn't work out just right, but will make the best of it.  There will be more corn coming in at the mountain house garden in August.
Dad got set up for cutting it off the cob.  And since I was there, I got a knife and helped too.
We got through that pan on the left pretty fast, in about an hour.
Mom was scraping the cob to get the juice out.
These 2 are such hard workers and never slow down.  They really don't need to put up a lot more since the freezers are already full, but you  can't stop my dad from growing more.
The pan of corn looked like this and then mom blanched it in the oven. She turns it on 350* and lets it heat through and then puts it all in freezer bags to cook and heat later.  When she unfreezes it later, she then adds a bit of milk, butter, and salt for creamed corn.
So that's what's been going on at my parent's house lately with the garden.  I knew you'd all enjoy seeing what's coming in right now!  I'll share a few pics from New Orleans soon.  We didn't do that much, it was mostly just hanging out and enjoying those girls!
Don't Miss a Post, join my list!