Get away information and a visit to The King and Prince Resort on St. Simons Island, Georgia to help plan your next long weekend or vacation. 
St. Simons is one of our barrier islands here in our fine Southern state of Georgia and it's a beautiful destination that I haven't taken advantage of nearly enough. I recently went back for a refresher visit and loved it all over again, so today I'm sharing another post about The King and Prince Resort where I stayed again this visit. It's been almost 5 years since I was at the King and Prince for the first time and it's still a beautiful and memorable destination. The weather couldn't have been more perfect when I was there in mid-May.
Note: This trip was hosted by The King and Prince Resort on St. Simons. I've stayed with them before and love everything about this quaint historical Southern resort. All opinions are my own! 
Isn't this gorgeous?
I was invited to the resort with a group of travel writers as was the case the last time I visited. After this second trip to the King and Prince, I'm going back a lot sooner. Mark and I have a trip planned for September and I'm taking him to the King and Prince. He's never been to St. Simons and I can't wait to go back with him.
The King and Prince is Beach and Golf Resort and a member of the Historic Hotels of America since 1996, then named to the National Register of Historic Places in 2005. It's also part of the Southern Living Hotel Collection, so you know that's an honor! I love and trust Southern Living magazine.
The hotel dates back to 1935, when it was originally intended as a private club rather than a resort. The name was coined by friends of owners Frank Horn and Morgan Wynn who felt the name befitting its regal atmosphere. The original club burned a short time after it was opened, but the rebuilt King and Prince Club reopened featuring the beautiful Mediterranean architecture that it's known for today.
It opened as the King and Prince Hotel in 1941 with 110 guest rooms. The hotel itself has a very storied history, but I won't get into all of that here. Needless to say, the charm and Southern hospitality from the beginning days of the resort is still intact today. Inside the hotel, the old indoor pool was remodeled a few years ago, right before I visited almost 5 years ago and it's really lovely.
Over the years, the hotel has been remodeled, added onto and updated for the new century, but the charm and rich legacy remains intact.
This big fireplace is the focal point of the lobby area. It's a great spot to sit and chat or just people watch. When I was there in May, I met 2 of my readers who were also there on vacation! They both spoke so highly of going often to the King and Prince and it was such fun to meet them both. They saw in my Instagram stories that I was there and found me on the grounds! I loved it! Please if you see me out somewhere, do come and introduce yourself. It makes my day!
Relaxing in the lobby.
Outside the lobby is a pretty banquette, great for lounging in the morning or afternoon. There's a fire pit for winter nights to stay warm.
The Echo restaurant is right on premises at the King and Prince and is a tasty place for breakfast, lunch or dinner. The nearby bar serves up delicious libations, cold and hot. We had the chance to sample lots of delicious fare from the Echo while we were staying there.
Another peek at the lobby area coming in the front doors. The hotel has an older Historic area and the newer building with beachfront rooms. There are also houses and condos that you can book for big or small crowds. We took a look at some of the houses and they were so nice and spacious, so if you have a big family or a bigger group, these would be perfect.
Here's a King Historic oceanfront room which is where I stayed this trip. Last visit, I stayed in a oceanfront room. Both are very nice accommodations with views of the ocean and that's always a good thing! There's something so relaxing about staying on the beach and hearing the waves crashing outside your room!
We had so many opportunities to eat and drink while in St. Simons and I'll share more of that later, but today we'll focus on the King and Prince. We were greeted with refreshing drinks and freshly baked chocolate chip cookies on arrival.
And the later afternoon after our first excursion out, we had appetizers and more drinks, learning more about the history of the hotel and the amenities. The King and Prince can handle a lot of large groups and conferences as well as family outings, so keep that in mind if you're looking for a beach get away spot.
Dinner from the Echo restaurant did not disappoint and we had such delicious food the entire time we were visiting.
Dessert was this fabulous peach pie, so so good.
Outside my room was this view and I could definitely get used to this! The beach at St. Simons has a really high tide and really low tide, so it was amazing to see that in action. The water went way out from the beach and you could walk out into the water through water up to maybe the waist and end up on the outer sandbars out from the beach. I didn't go that far but many people did. We had time in the afternoon to enjoy the beach and have a little sun bathing. It was gorgeous with a beautiful breeze blowing.
Breakfast at the Echo was delicious as well and we tried omelettes with grits and fruit. So good!
These fried waffle donuts were to die for and the muffins were great as well. We had so much to eat, there was hardly a chance to go hungry.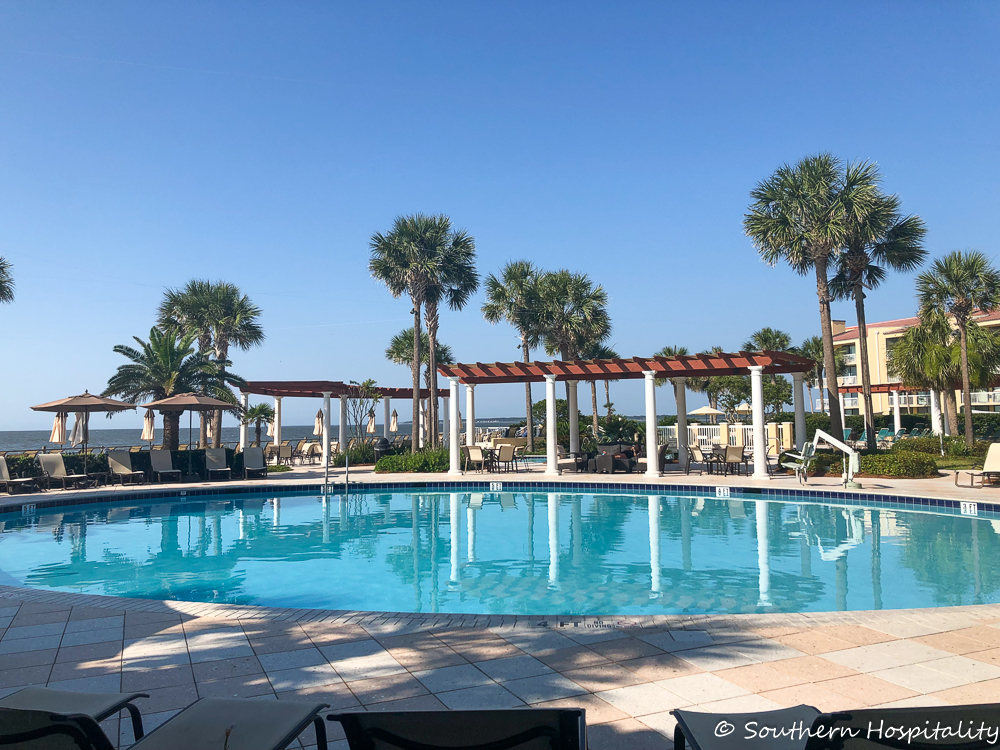 There are 3 pools at the King and Prince and they are so lovely to look at. On the far left are lounge chairs facing the beach and that's where I plopped on afternoon with my book. A more pleasant place to relax, I can't think of!
We also had the chance to do a morning Vinyasa yoga class with local yoga instructor Traci Jo Lee, owner of East Beach Yoga. It was a fun experience to take a yoga class outside with the sea breezes blowing. Even though I don't do yoga all the time, it felt good to stretch the body. I need to do it more often!
The pools and the whole beach atmosphere at The King and Prince is so relaxing and feels like you're a million miles from Atlanta traffic. That's a huge plus right there!
A sunset over the ocean was a pleasant way to end the first evening.
Such pretty sunsets at the beach.
Early morning on the beach.
A look at the outdoor seating for The Echo restaurant, there's nothing not to love about this view.
You can see how far out the tide was here in this photo.
We had our first trolley ride right after arriving at the King and Prince and I'll tell you more about that tomorrow! I'll be back with a look at all of the things we did on St. Simons in 2 1/2 days. It's a great get away destination from Atlanta and is a nice little hidden gem of an island.
St. Simons was voted a Top Ten Island in the Continental U.S. by Travel & Leisure Magazine, The Best Islands in the U.S. by Conde Nast Traveler and the Best Coastal Small Towns award from USA Today. With quite the awards and accolades, St. Simons is a beautiful little treasure on the Golden Isles of Georgia. I can't wait to go back soon!
Don't miss these articles I've written previously about The King and Prince and St. Simons Island. 
Don't Miss a Post, join my list!