I mentioned that I recently had a little getaway to the beach with my sister-in-law, Kim (Mark's sister) a couple of weeks ago. I didn't know if I'd have enough pictures to share, but I do so I'll fill you in on what all we did. Namely, we shopped a little, ate plenty and sat on the beach reading books two days in a row. It was a fast trip, went down Monday and came back Thursday, but it was just what I needed! A beach trip is good for the soul.
You might remember that Kim has a beach cottage in Destin and I shared it a couple of years ago. It's the cutest place with 2 bedrooms and 2 baths. No, she doesn't rent it out, it's private. It's the perfect little getaway spot and right across the street from the beach, close to everything in Destin. If you missed her beach cottage, be sure and click that link to tour it first. It was so fun to stay there.
We were there for 3 nights, so planned out our food situation. Kim has her favorites and Dewey Destin happens to be a fave for both of us. I started going to Dewey's at least 15 years ago when I first heard about them and they are always great for casual outdoor dining and good seafood.
I always get the fried shrimp basket, with fries and coleslaw. It's delish!
I haven't been to the other Dewey Destin (Harborside), but this one on the docks bayside is our fave. It's a hole in the wall, but so good. It's always fun to watch the boats go by and to watch the birds land on the dock too. They are plentiful.
These are some of my favorite pics I took at Dewey's back in 2011. The birds were so plentiful back then!
Brings back fun memories! I have been to Destin many times over the years.
This colorful water tower is nearby.
We caught gorgeous sunsets all 3 nights. The weather this trip was perfect. Mid-80's and low humidity. Just perfect! There are wide sidewalks along her stretch of the beach with plenty of restaurants nearby, so we walked some too in the morning and evening.
Of course, sunsets are my fave and I can't get enough of those.
We took a couple of selfies at sunset. Kim and I had a lot of fun together, we both love to thrift shop and sit on the beach. And eat, we both love good food. We did hit a couple of stores when we got there, a couple thrift stores and also Tuesday AM and TJ Maxx.
That first evening sunset was just gorgeous, with a glowy peach sky and that white sand on the beach.
There really is no prettier beach than the Emerald Coast.
We had two perfect beach days too and both had good books to read. I was reading a John Grisham. Give me a good book and I'm so happy and content.
That turquoise blue water and that white sand is something that will always be near to my heart.
It was picture perfect both days, with a steady breeze. We sat under an umbrella in the shade with that breeze blowing.
Our second night we went to Kim's fave sushi place, SushiMoto. I haven't always been a sushi fan, but it's growing on me (cooked only!). I got this one with cooked shrimp, can't remember the name of it, but it was tasty.
Walking along the boardwalk we saw a sunset wedding happening on the beach. This is such a beautiful time of day.
I love sunsets, don't you?!
I tried to capture all the beautiful light in both directions.
The third evening we went to Pompano Joe's, which is very close to Kim's beach cottage. It's right on the beach and very popular.
We did have to wait a little bit for a table.
I got a grouper sandwich, which I always try to get at least once when I go to the beach.
Another sunset selfie with Kim. The sky was gorgeous. I let my beach hair come out since the wind defeats any good hair days.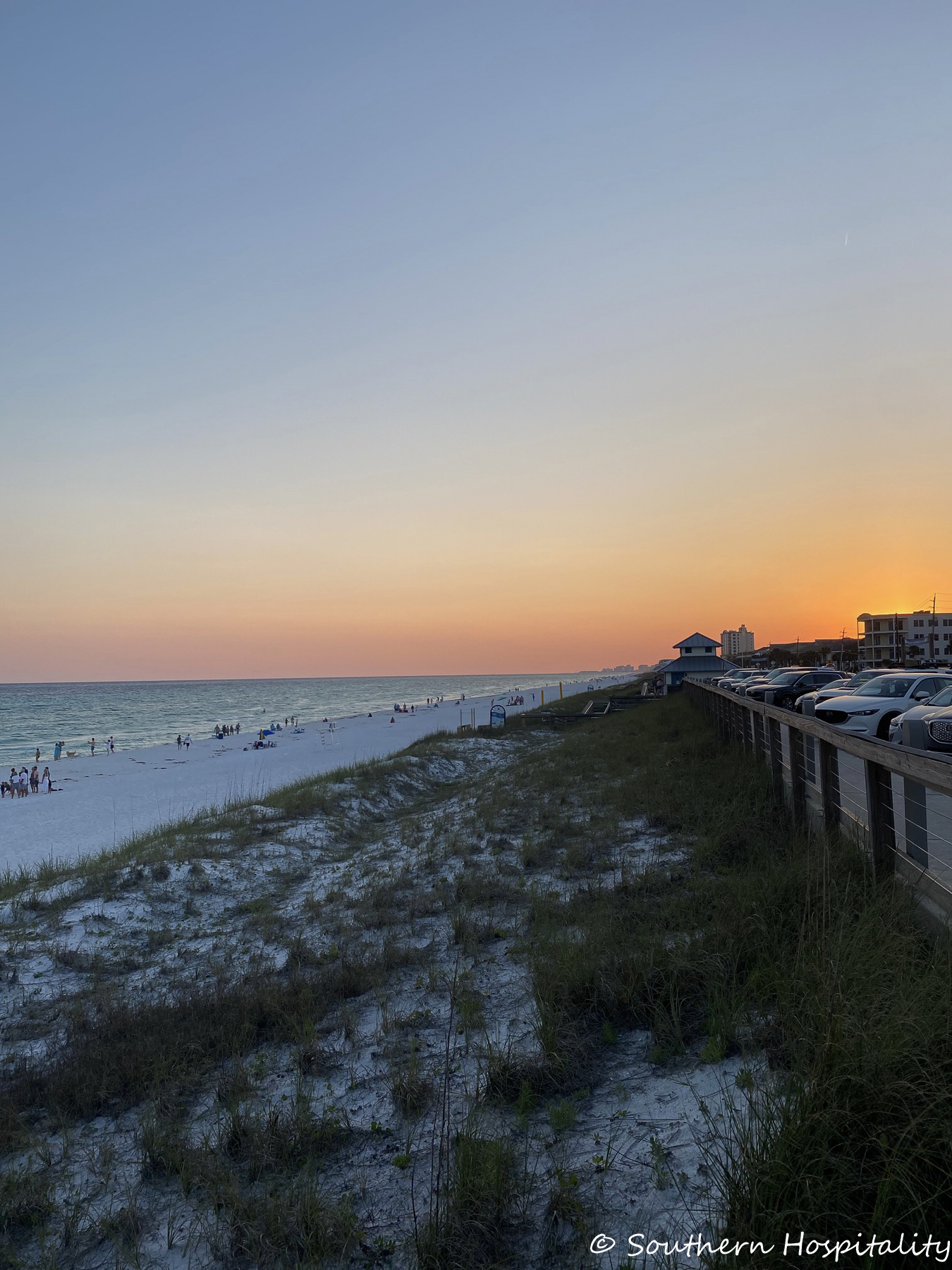 The last sunset, so gorgeous!
Kim's beach cottage has some cute artwork and framed prints. I loved this one in the bathroom:
They drove south one winter until they could stand outside with no coats on. 
We never saw them again
That cracks me up and just about sums it up, doesn't it? So many people move south and never go back. I can't say that I blame them, but I'd like to stop ATL from growing anymore. It's full!
Get a little sand in your soul. Yes indeed, every chance I get!
Such a cute place to say and I'm so glad I was able to go with her on a last minute Destin getaway. It was just what this girl needed!
Don't Miss a Post, join my list!