It's that time of year!  It's the week after Thanksgiving and not quite December yet, but many of us are already dragging out the Christmas decorations, getting our halls decked with a little Holiday cheer.
I'm ready to get going, are you?
I've been so stinkin' busy with getting moved into the house and have barely put my paintbrush down this week, but I do have a few things out that will get me in the mood to usher in the season.  I have been really busy working on the laundry room (which I can't wait to show you the progress on that soon!) and getting some last minute touch up painting done, cause I just want it finished already before I start having company over.  You know how that is!
As a Lowes Creative Ideas blogger and with a little help from our Lowes challenge this month, I picked up a few things that will be perfect for the Christmas party I'm having in just a couple of weeks.  This year,I decided to invite all the single girlfriends that I've met this past almost 2 years, over to my house for a time of celebration together.  It's going to be fun!  After working so hard on the house, I'm ready to start entertaining and I can't think of a more fun party than to get to together with my single friends and celebrate Christmas.
They will be greeted with this cute doormat and we will indeed, Be Merry!
I love, love growing paperwhites during the holidays, so I also picked up a bag of paperwhite bulbs and got them growing.  I had a shallow white bowl that I picked up thrifting this summer and it was perfect for my bulbs this year.  I added rocks on the bottom.
Then, I placed the bulbs inside with a few more rocks scattered around.  They need room for their roots to grow and then all you do is fill with water til the bulbs little bottoms are touching water.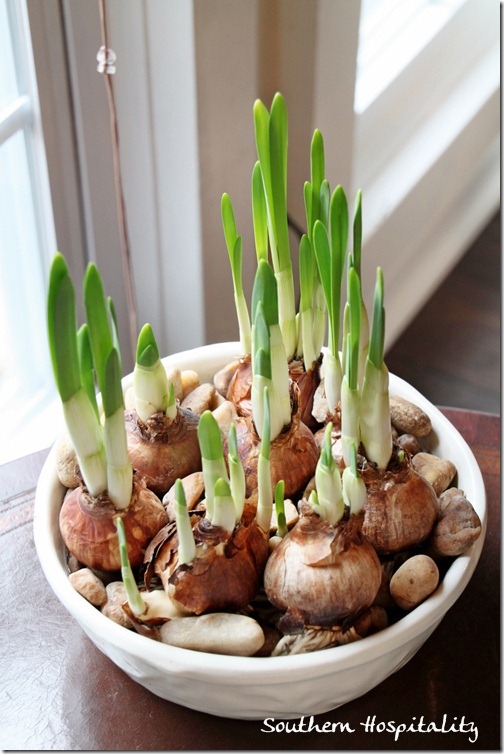 Place in a sunny window and watch 'em grow!  They are taking off already and I hope they will be blooming by Christmas.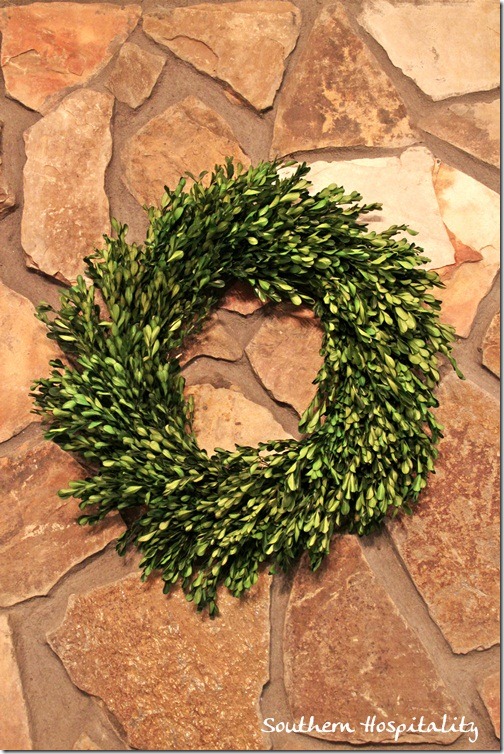 Another pretty that caught my eye was this beautiful preserved boxwood wreath.  I have always loved preserved boxwood, so when given the opportunity to grab this one, I did.  I like it hanging on the fireplace for now, but it can move around house and be used year round.
Many years ago, I used to add candles in my windows.  Did you?  It seems to have been popular ages ago, but when I saw these cute pairs of LED candles, I thought I would give them a try.  They take 2 AA batteries and according to directions, you turn them on at the time you want them to come on every night and then they will stay on for 5 hours and turn off for 19 and will automatically know when to come on again the next night.  I love that idea!  So, I'll be trying these out in my windows.
I'm getting ready for my party and can't wait to get festive and cheery with my girlfriends.  Adding some holiday sparkle and cheer to my house is at the top of my list this year and I'm going to be a busy bee the next few days getting all my house ready for the celebration.
Can't wait to get it all done and show you more.  It's been quite the whirlwind of activity around here, but we are finally making great progress.  Dad has been a trooper and has helped me get my washer and dryer installed this week.
Big thanks to Lowes for giving me a giftcard to help get my house ready for the holiday party I'll be throwing. 
Are you having any parties this year?  Are you ready to celebrate the most wonderful time of the year?
I certainly am and I'm going to make the most of the Holidays this year!  Being in my own home again is a huge part of that and you can bet I'll make this place sparkle and shine.

I do love shopping at Lowes and they have lots of great ideas for decorating for the Holidays.
You can find Lowes on social media here:
Lowes on Pinterest
Disclosure:  I'm a Lowes Creative Blogger and received a giftcard to shop for these Christmas decorations.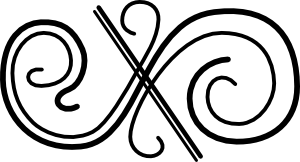 If you're looking for some unique gift ideas, Saturated Colors maps are 20% off  for a few more days this week!  I just ordered a beautiful Georgia map.
Don't Miss a Post, join my list!